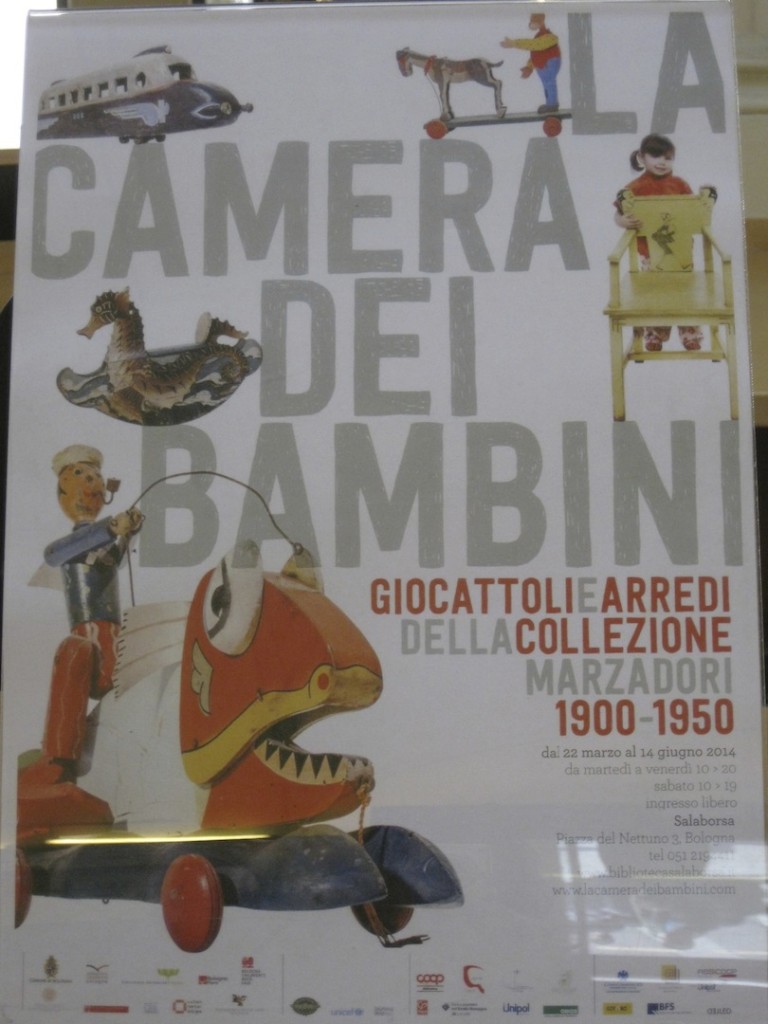 Locandina della Mostra "La camera dei bambini"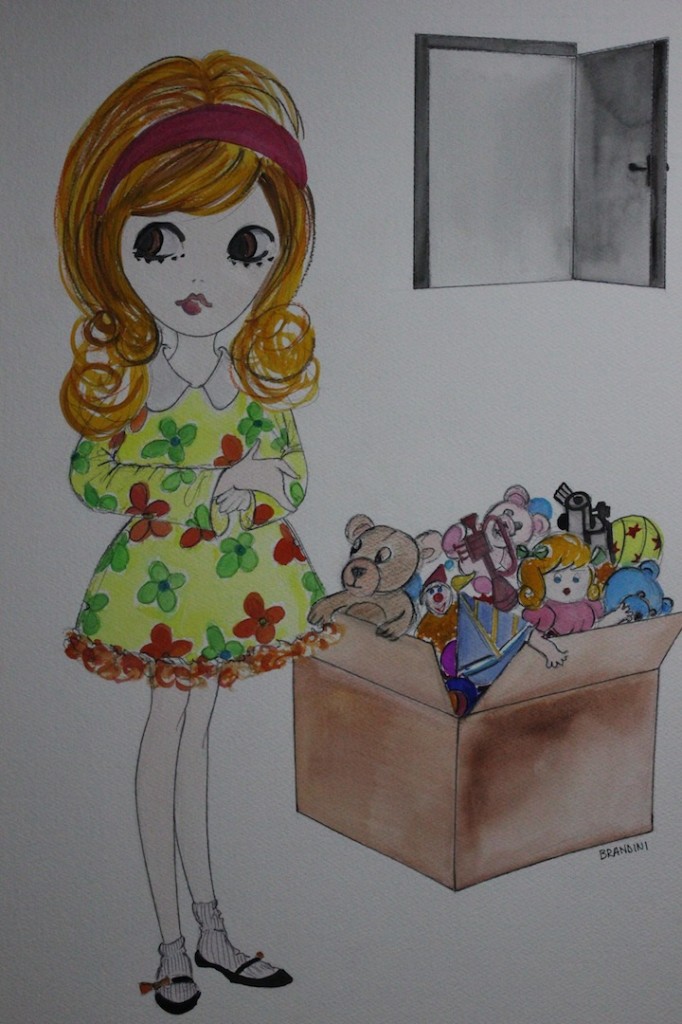 "Fiore" di Beatrice Brandini
A Bologna, fino al 15 Giugno, c'è una bellissima mostra presso la Biblioteca Salaborsa: "La camera dei bambini". Giocattoli e arredi nella collezioni Marzadori, 1900-1950. La location è già un posto meraviglioso, trovandosi in pieno centro storico (nella meravigliosa Piazza del Nettuno), e la stessa Biblioteca, teatro della mostra, è bellissima e decisamente "inconsueta". Ultima ma importante nota, l'ingresso di questa bella mostra è gratuito.
Ero a Bologna per altro e camminando mi ci sono imbattuta, rimanendo davvero piacevolmente sorpresa.
La Fontana del Nettuno, in Piazza Nettuno a Bologna
Alcuni scorci della Biblioteca Salaborsa di Bologna
La mostra allestita in occasione della Fiera Internazionale del libro dei ragazzi, espone e presenta cinquant'anni di cultura dell'infanzia e del design italiano, esponendo più di 400  oggetti, fra giocattoli e mobili per bambini, provenienti dalla collezione di Maurizio Marzadori, famoso antiquario bolognese.
Alcuni giocattoli in legno esposti alla mostra
Alcuni lampadari in legno
Alcuni di questi pezzi sono stati esposti al Moma di New York in occasione della rassegna internazionale "Century of the child".
Camerette 
La mostra è piacevole perché è come immergersi in un mondo d'altri tempi, come se entrassimo dentro un libro di favole, di quelli che ci leggevano (o avremmo voluto ascoltare) i nostri genitori quando eravamo piccoli prima della buonanotte.
Alcuni pupazzi in panno
I mobili sono pezzi importanti, creati da designers come Mario Sturano, Antonio Rubino, Gigi Chessa, ecc. ecc., così come i giocattoli che sono Lenci o pezzi in legno realizzati coi personaggi del Corriere dei Piccoli (sono in mostra anche copie del giornale, fra il 1910 e il 1930).
Birilli in legno
Birilli in legno
Visitando la mostra ancora una volta ci si sorprende della creatività e artigianalità italiana, questi oggetti sono meravigliosi, sia come stile, idea, gusto, sia come realizzazione, intarsiati, cesellati, raffinati, soprattutto se si pensa che la maggior parte di questi ha quasi un secolo di storia alle spalle.
Casa delle bambole   Scivolo e dondolo
Dondolo in legno   Lettino in legno
I giocattoli dei bambini sono importanti, così come lo è lo spazio e l'arredo della loro cameretta, da qui comincia un percorso evolutivo che li porterà a diventare degli adulti. I loro amici, i giochi appunto, sono una parte importante di questo viaggio, se questi oggetti sono stimolanti, esteticamente piacevoli e soprattuto divertenti da indurre un sorriso, il viaggio sarà più interessante e forse tutto sarà più facile…
Cavalli a dondolo in legno
Cavalli a dondolo in legno e poltroncine da barbiere per bambini
Moltissimi i giocattoli in legno, colorati, stilizzati, bizzarri e originali.
Soldatino, attaccapanni in legno                  Ombrelli in panno
Il Corriere dei Piccoli
Interessante anche il fenomeno dei mobili regionali, espressione delle radici locali, frutto di tradizioni, gusto e tipologia di materiali diversi, fierezza e peculiarità del nostro bellissimo paese.
Letto a dondolo e tutine, territori italiani diversi, sud e nord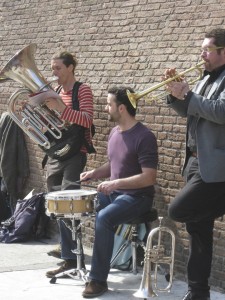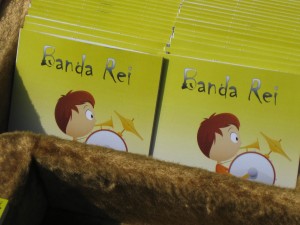 Alla fine, per strada, una musica mi rapisce e delizia, quella di questa band "Banda Rei", interessante…!
Quando ero piccola giocavo con altre cose, diversi erano libri d'evasione, i cartoni animati, ma nonostante il tempo modifichi le cose, confrontandosi e adattandosi ai gusti delle nuove generazioni, quello che non cambierà mai, per ogni bambino in ogni parte del mondo, sarà la sua cameretta con i suoi beniamini: I SUOI GIOCATTOLI.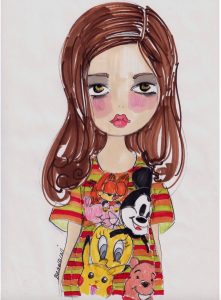 "Cucciolotta" di Beatrice Brandini
Giocattoli vintage, collezione privata
Giocattoli vintage, collezione privata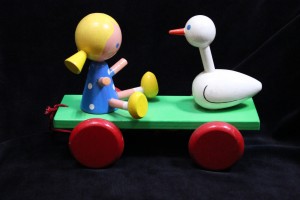 Giocattolo vintage, collezione privata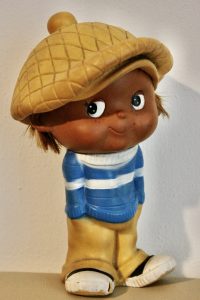 Monello vintage, collezione privata
E' stata una giornata molto bella, mi sono emozionata tornando indietro, ma anche sorridendo, ricordando quel magico momento.
Buona vita a tutti!
Beatrice