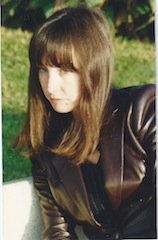 Beatrice Brandini was born in Florence. She lives and works in both Florence and Milan.
She graduated as a fashion designer with the costume designer Anna Anni and after high school she enrolled in the University of Arts to study History of Art. However, while attending the school she was admitted to the Polimoda (the International Polytechnic of Fashion) where she specialized in Fashion Design.
After she finished studying she worked for many years as a stylist, obtaining exceptional, satisfying results, with various prestigious fashion and sports companies (Ferragamo, Champion, Roy Rogers, Franklin, Ribò for Koan of Coin, etc). Her longest and most important experience (more than 13 years) was with Puma, the multinational sport and lifestyle market leader, with whom not only was she a stylist but also had a managerial role, first as Product Manager of clothing and accessories from 1998 to 2005 then as Head of Merchandising for all products from 2005 to 2011.
With Puma, among her most important projects were: the creation of collections for the National team for the F.I.G.C. (Italian Federation of Football), for management and for leisure fan wear, crowned by those created specifically for the 2004 European Championships in Portugal ; for the2006 World Cup in Germany (Italian victory!); the 2008 European Championships in Switzerland/Austria; the 2009 Confederation Cup in South Africa. The leisure fan wear clothing and accessory collections for S.S. Lazio from 2000 to 2010. The creation of two mini collections for pop singers Alicia Keys and Fergie of the Black Eyed Peas, both in 2004.
The creation of the first collection of leather accessories, made in Italy, for the Swedish brand Tretorn, which was bought by Puma. From 1995 to 2001 she also designed and created her own collection of swimwear and accessories, a collection that was appreciated and bought by the most important international Department Stores, such as Joyce in Japan and Bergdorf Goodman and Saks in America. She also received important consensus from the industry's editorials (Fashion, Amica, Grazia, etc). During these years she widened her knowledge of Fashion, Design and Management, by participating in "tendency" meetings with the Fashion Committee (from 1998 to 2002); following seminars organized by Suitex International (2002); attending a course at Bocconi University – Fashion Industry "From design to product" (2005); collaborating with Io IED of Milan on the project for a master in RSP Fashion & Textile Design(2008-2009).
She also had a significant collaboration with Renè Gruau, with whom she created a publicity campaign (1999). From 2011 to 2013 she has been collaborating with the Zucchi group, creating a beach collection and other interesting projects. Her love for art, however, is so strong that as well as making her a collector, she has also been inspired to become an artist-designer, a new challenge that has enabled her to freely express her naturally creative temperament. Between 2009 and 2018 she has participated in some group exhibitions both in Italy and abroad and many of her works have already been published in specialized magazines, art books and catalogues.
Since May 2013, she created her site / blog (www.beatricebrandini.it), where the protagonists are Fashion, Art and Design, as well as design trends. The site immediately gained approval and consents in terms of visuals and prestige (the City of Florence, Pitti Immagine, Triennale, MilanoUnica …).
Since 2015 she has been working with the Asahi Kasei Fibers Italia group to study Man / Woman trends and to create mood boards and illustrations. Activities that also run for other companies.
In January 2017 for the Swiss luxurious watchmaker IWC, she has realized sketeches of the most followed influencers in the world, such as Kristina Bazan, Nicole Warne (@garypeppergirl), Karolina Kurkova, Xenia Tchoumitcheva, Kanika Kapoor, Carmen Jorda, Hend Sabry, Alexandra Lapp, Lana El Salehy.
May 2018: Realization of a work for Mirka Vavrinec, Roger Federer's wife, commissioned on the occasion of her fortieth birthday.
September 2018 – February 2019: Design of the main woman Collection F/W 2019 – 2020 for Fuzzi Spa.
October 2019: One my photo taken for a post on John Currin ( "John Currin @ Museo Bardini, the elegant sarcasm of a great contemporary artist, 2016" ), included in the catalog of Sotheby's Hong Kong for the auction of 6 October 2019.
The love for art, however, is so strong that in addition to making it a collector, it also leads her to embark on the path of an artist – illustrator, a new challenge to be able to "freely" vent her natural creative nature. Between 2009 and 2018 he participated in some group exhibition in Italy and abroad and many of her works have already been published in specialized magazines, art books and catalogs.
November 2019: Article publication by Beatrice Brandini for the Spanish brand Pronovias " The Wedding dress, history and trends of one of the most unforgettable moments in a woman's life".
December 2021: Publication of the book "ICON VINTAGE DRESS" by Beatrice Brandini, available on Amazon also in Kindle format E-Book. March 2022 quote published in "F" magazine. April 2022 Editorial on SUPERZOOM.