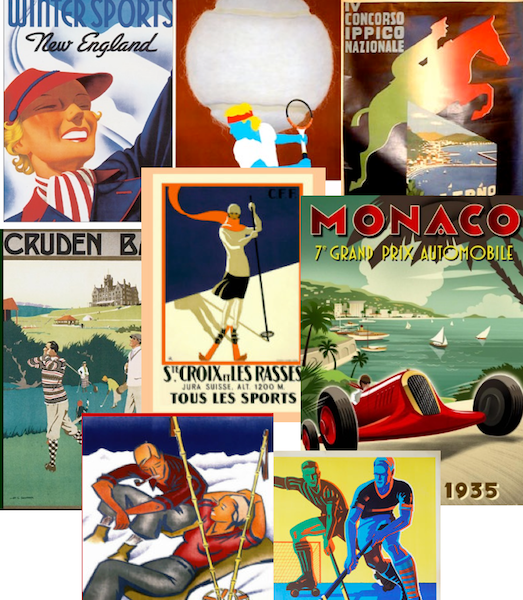 Vintage Sport Postcards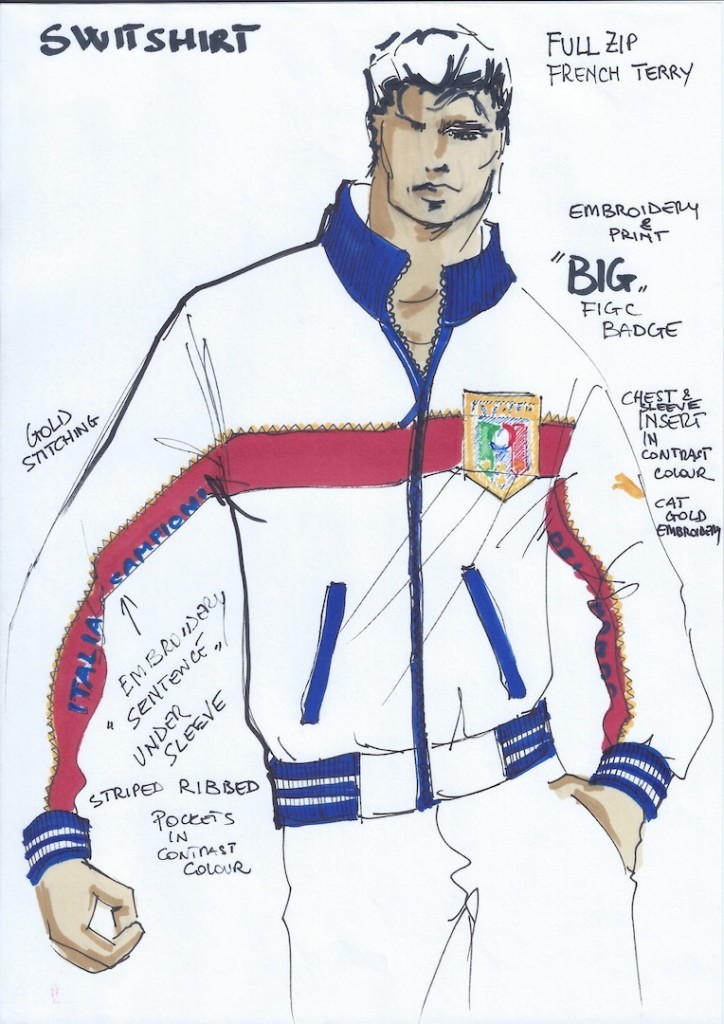 Sweatshirt Puma – F.I.G.C. Italy, leisure collection 2009 by Beatrice Brandini 
I'm not a very sporty person, but I have almost twenty years of experience in this field, having worked in Puma for more than 13 years and for other major sports companies as a designer and consultant. I love the sport as a spectator then, being keen in all competitions beautiful, spectacular, "SANE" … nurturing a profound respect for those who practice the sport competitively or amateur, because I consider their effort, in part, a sacrifice …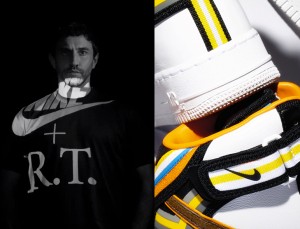 Collaboration Riccardo Tisci – Nike 2014 .. just fantastic! 
Then from some years I love the sport more, or when the "uniform" have become most glamorous, and the fashion has, in some way contaminated this world… The sportswear until the '50s and '60s represented elegance and style, on and off the field, perhaps because it was an exclusive elite, practice it and see it; subsequently became more mass, and it was good, but unfortunately at the expense of good taste, I'm referring to triacetate suits, lycra briefs for men, of the football shirts tights and heavy, that after the match they smelled indecently, and much more ….
Puma Jil Sander, 1998                 Puma Alexander McQueen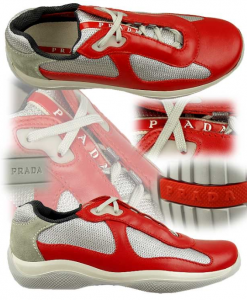 Scarpe Prada Sport, Linea Rossa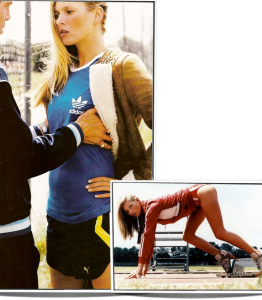 Editorial in Vogue Paris, Kate Moss photographed by Mario Testino 
Fashion has made the sport more enjoyable, by influencing or even shaping it in his own image and likeness (see co-operation, Co-branding between designers and brand), but also fashion, has been able to leverage the technical expertise of the sport, which in recent years have become more and more interesting, by, for example, durable and technical fabrics, that mixed with those "classics", have generated surprising results.
Equestrian Collection, Gucci Cruise 2013. Testimonial Charlotte Casiraghi 
Similarly, athletes have become true icons of style, replacing part of the stars of cinema and music, especially for the younger generation, becoming examples to follow. Luxury brands have realized their "strength" and their potential, enlist, increasingly, as a testimonial (see Beckham, Ronaldo …).
Cristiano Ronaldo e David Beckham for Emporio Armani Underwear, 2009 e 2010
For some years, moreover, the designers have signed the uniforms of the National football, but not those in the institutional field, those called the formalwaer, giving a much more elegant and unique image to the teams, see Dolce & Gabbana for the National Italian, Giorgio Armani for the English, Hugo Boss for Germany, etc.. etc..
Adidas for Topshop                        Stella McCartney for Adidas, SS 2014
Perhaps one of the first to realize the potential of sportswear, comfortable, informal .. was Coco Chanel with the creation of dresses in jersey, fabric until the time used exclusively in the world of underwear; she contributed greatly to the democratization of clothing, clear for leisure and then for play sports. After a while, always from Coco, the birth of trousers for women, pajama from the beach (which she wore a lot of times), the realization of accessories such as scarves and hats, used for winter sports, and then for the city. Even Elsa Schiaparelli, in 1927, created a line "Schiaparelli Pour le Sport" …. It is no  a coincidence that were the women understand that fashion had to be more portable an functional, the rest when it comes to practicality we women have no rivals!
Emilio Pucci for Rossignol, 2007                             Sky by Chanel
Men's Collection Y3 (Yamamoto) Adidas, SS 2014 
Then there was Hermes who, in 1929, created as the first apparel product, a golf jacket, the revolution was in the closing, it was going through a zipper, use, and gestures that will from then, faster and sports. Then comes the turn of Jean Patou, who opened a boutique in Deauville for beachwear, with swimsuits with very innovative, but above all, creating the sports uniform for the tennis player Suzanne Lenglen, the first example of a collaboration between fashion/brand/designer and sports.
Suzanne Lenglen dressed Patou
Women's Collection Y3 (Yamamoto) Adidas, SS 2014 
But there are many other examples, not just a book to enclose and describe them …. Jean-Charles de Castelbajac for K-Way; Karl Lagerfeld for Chanel with the Moon Boot, and the creation of accessories such as snowboards or surfboards; Emilio Pucci  with Rossignol; Jil Sander with Puma; Yamamoto and Adidas with Y3 line, up to Prada Luna Rossa and its line Prada Sport; footwear had become, at the end of the 90s, a great addition, true identification with a brand and membership of a "clan", thanks to an accessory that becomes a status symbol (the unmistakable red band in the sole) and, for the brand, a powerful and shrewd marketing operation.
Linda Evangelista editorial photographed by Steven Meisel for Italian Vogue, 2003 
Many years ago the owner of a famous shoe shop in Florence, Raspini, told me that when he saw formal men formal dresses paired sneakers thought that their "role" of luxury footwear, it was over and with it, the elegance … I think he was right, after all the sports apparel has revolutionized the fashion and style of dress, not always with sublime results, not always improving it, but it is undeniable that the world is evolving and it's interesting, so , defuse something "serious" making it look younger, and through the combination with other things (with the unfamiliar), and above all, making the wearer more casual, young, human …. 
For this W the sport and W the sport that democratizes fashion!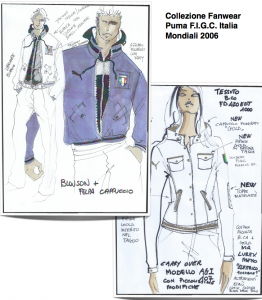 Collection Puma – F.I.G.C. Italian National, 2005, designed by Beatrice Brandini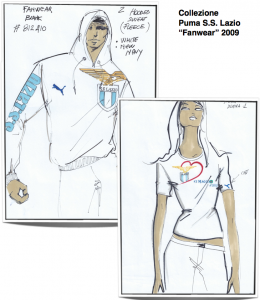 Collection Puma – S.S. Lazio, 2009,  designed by Beatrice Brandini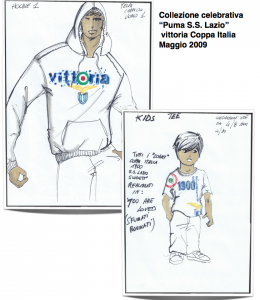 Collection Puma – S.S. Lazio, 2009,  designed by Beatrice Brandini
Latest "goodies" Tom Dixon Collection for Adidas and Raf Simons for Adidas
Photos by Jeanpaul Gaude                 Photos by David Lachapelle
Good life to all!
Beatrice