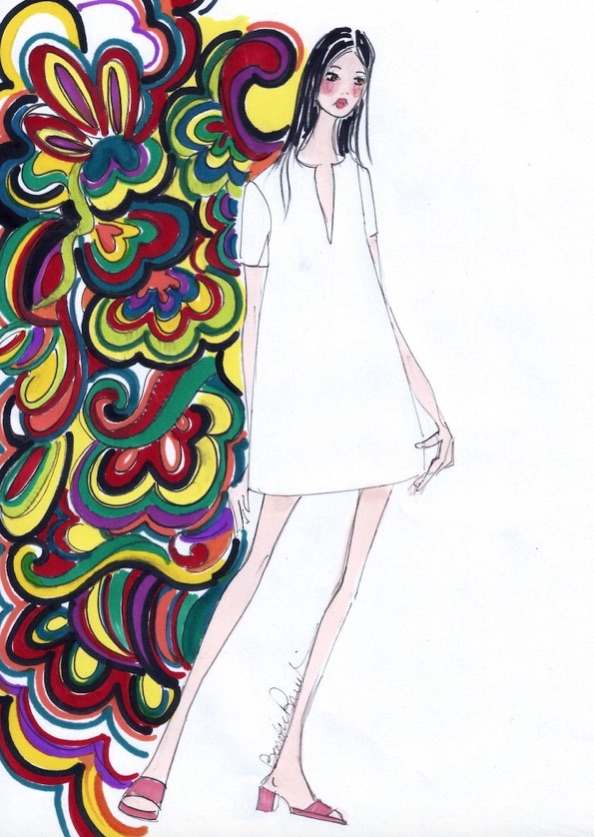 "Ali" by Beatrice Brandini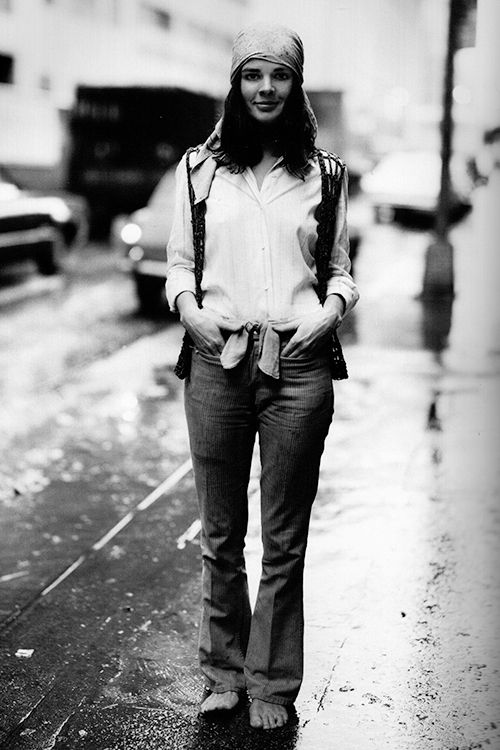 Ali MacGraw
There are women who entering a room capture all the attention around them, they are not always the most beautiful, but they are always the most charming, hypnotic, with an unconventional and very personal style … Ali MacGraw is one of these .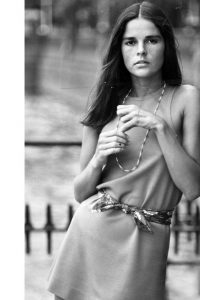 Ali MacGraw
In these somewhat exaggerated times, in which everyone flaunts everything, happiness, money, beauty and power, it seems appropriate to talk about this icon of style and beauty, Ali MacGraw. Also because through a few images we can understand how her style is always current.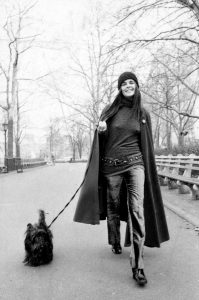 Ali MacGraw
I have already talked about timeless styles in the post of 2014 "Women of pure class …", if you can go to reread it because it is really one of my most popular and successful  (https://www.beatricebrandini.it/women-of-pure-class-and-the-must-have-some-clothes-make-no-mistake/?lang=en5)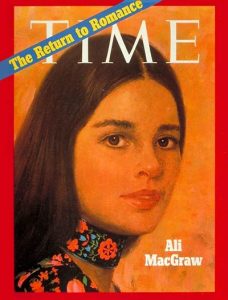 Time cover
Ali MacGraw was born in New York in 1939, attended an art school, and then went to the editorial office of Harper's Bazar just twenty years old, as assistant to the great Diane Vreeland (a destiny that of style!). Shortly thereafter she was noticed and became a model for important newspapers such as Vogue. Her attitude was immediately noticed, hier spontaneity and naturalness were the spokesman for the motto "less is more". In fact, she managed to be special and splendid with very little make-up, and even made a rag become glamorous. From those covers (one is also the one on Time), the step that brought her to the big screen was short.
"Love Story" poster, 1970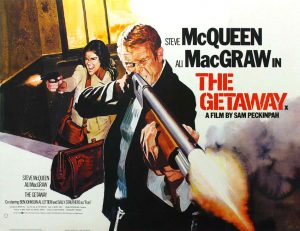 "Gateway" poster, 1972
Ali MacGraw has played few films, but some of them have entered the history of cinema. Like "Love Story", with Ryan O'Neal, which earned her an Oscar nomination and a Golden Globe (won) as a dramatic actress, and "The Gateway", in which she meets Steve MacQueen, an extraordinary character, good, beautiful and damned, for whom she divorces her second husband to marry in 1973. In my opinion they have been one of the most beautiful couples in the history of cinema.
Ali MacGraw with Steve McQueen
Ali embodied the beautiful girl next door, she became an icon of that easy and chic American style. Ex-husband Robert Evans once said that the top ten names at the box office were 9 men and one woman, that was Ali.
Some images that I have prepared to confirm the topicality of her looks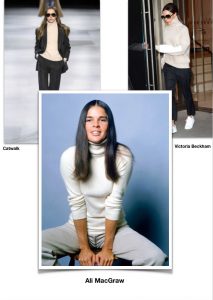 The Dolcevita …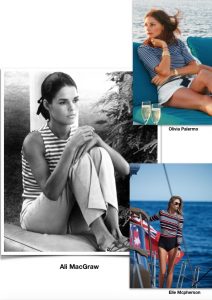 Stripes brought with simplicity and great class. So only Ali, Lauren, Jackie and a few others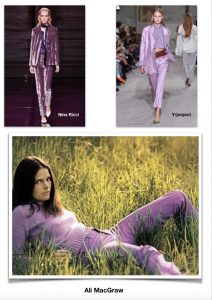 Velvet and lavender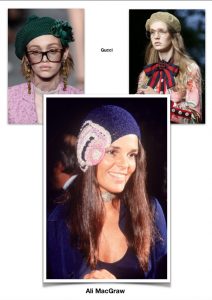 The crochet hat, before the boho chic
But she said she never felt too comfortable with her film career, so it was quite short. She also declared many other things, such as some addictions, love for McQueen as one of the most important and intense (but also unhappy) of her life, and a newfound serenity with the help of Yoga and the freedom to leave long white hair not to have to please at all costs. Brave choice in Hollywood.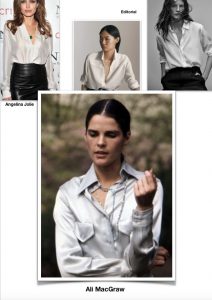 The white shirt .. in satin, irresistible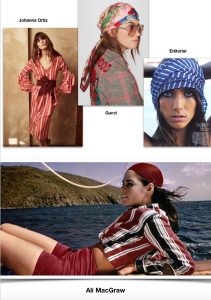 The scarf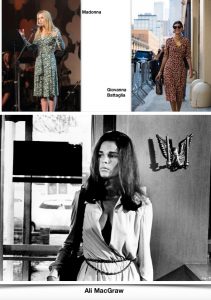 The wrap chemisier
The fur hat
That's if there is a figure I would like to look like in my third age, it is really close to that of Ali MacGraw.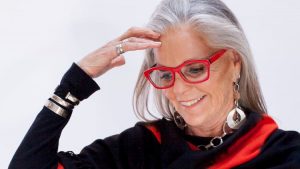 Ali MacGraw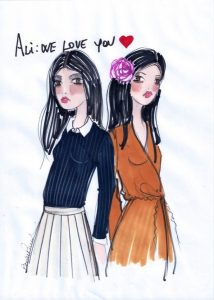 Ali twins by Beatrice Brandini
Good life to everyone!
Beatrice