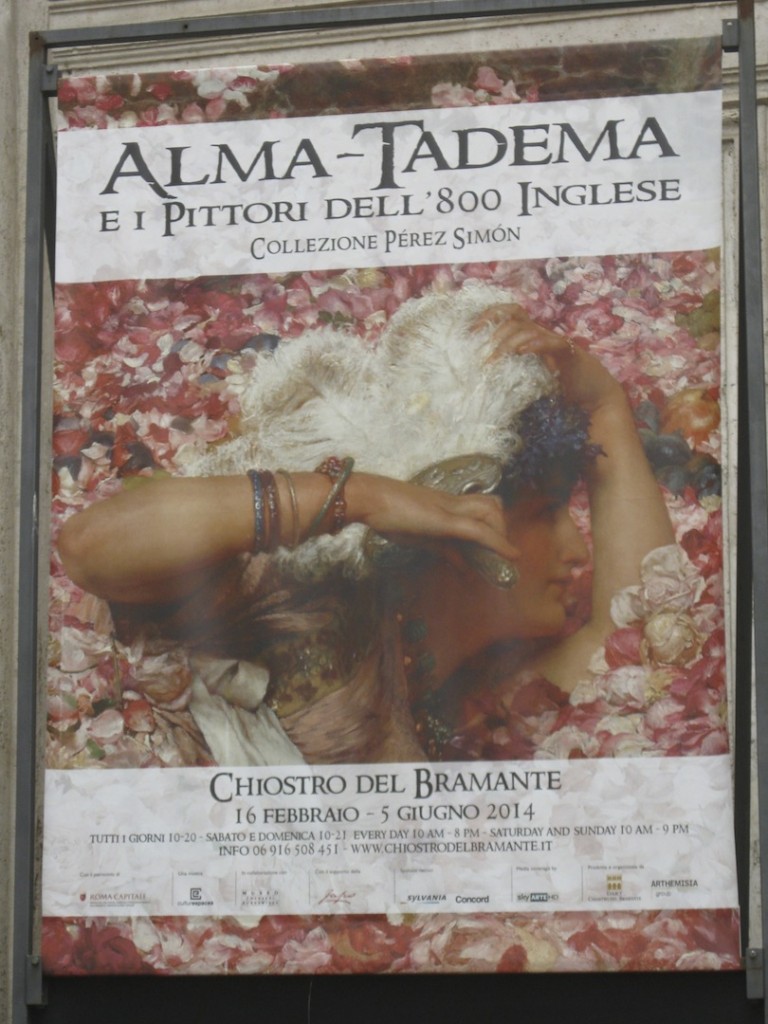 Banner of the exhibition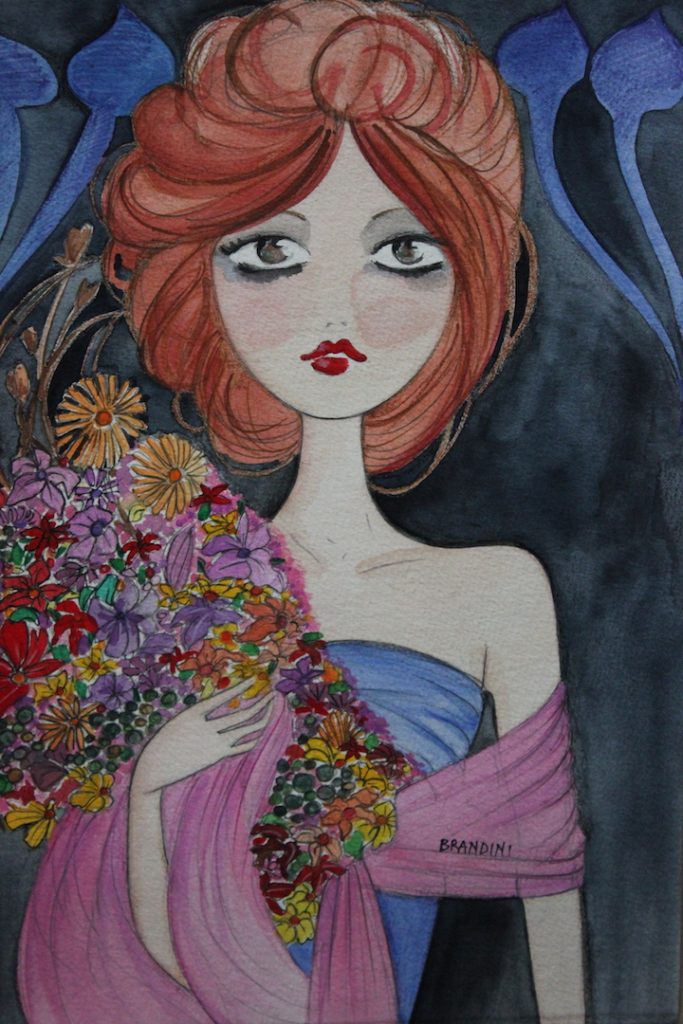 "Water Lily" by Beatrice Brandini
In the cloister of Bramante in Rome there is a beautiful exposition of the greatest artists of the Victorian era, "Alma-Tadema and 800 English painters, Pérez Simón Collection". For me, that time, that kind of painting, its characters, and especially Alma – Tadema, have always been an object of study and passion.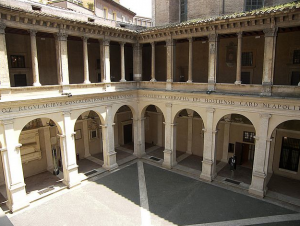 Cloister of Bramante, facade and interior, a magnificent example of Renaissance architecture. 
Lawrence Alma-Tadema was a special and unique artist, depicting the splendor of Roman, Greek and Egyptian, with a particular attention to details, use of color wonderfully harmonious, and a technique that, in spite of perfection, it wasn't redundant.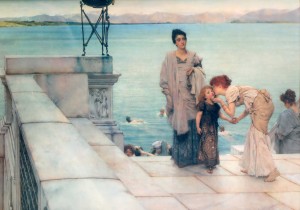 Alma-Tadema, "A Kiss" 1891 
Of Dutch origin, moved to England, where he devoted himself with great success to painting, becoming the most famous painter in the Victorian era, and one who specialized in reproductions of environments, objects, costumes, inspired by archaeological discoveries at Pompeii (important excavations that were realized in the second half of its' nineteenth century), but also, in general, to those greek-Roman and Egyptian.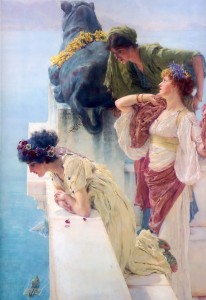 Alma Tadema, "A Coign of Vantage ", 1895. J. Paul Getty Museum, Malibu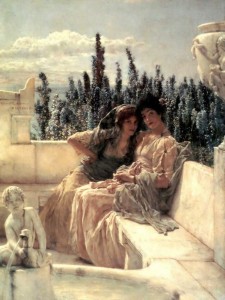 Alma-Tadema "Whispering Noon", 1996. Private Collection 
Representative dell'Aesthetic Movement, whose painters in the Victorian age their webs characterized by mythological episodes, legends, fairy tales, Pre-Raphaelite visions. This artistic movement was initially considered elitist, self-centered and even immoral. The exhibition brings together the works of artists who belonged to this movement, which share similar styles and trends, but distinct from very different personalities.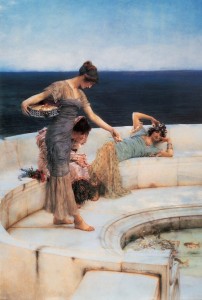 Alma-Tadema "Silver Favourites", 1903 Machester City Art Gallery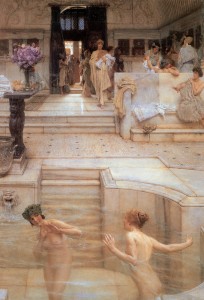 Alma-Tadema "Favourite Custom",  1909 Tate Gallery Londra
At first Alma-Tadema was fond of Egypt, in the time his studies and his research will move to Italy (thanks to his honeymoon), especially to the Roman antiquities, calling them the first time, as an appearance. Just as love at first sight was those towards the ruins of Pompeii, describing the place as "charming, poetic, sad, a place from which I would not ever break away."
Alma-Tadema "Among the ruins", 1902.  Private collection
However, despite the faithful representation of ancient environments, the minuteness of the details,  Alma-Tadema, in the representation of archaeological finds, changing the materials than the originals, even to take a little 'game of the viewer, he wanted to see if he had been able to detect these differences, and also a way to test his skills.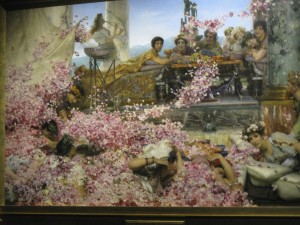 Alma-Tadema "The Roses of Heliogabalus," 1888. Pérez Simón Collection, Mexico 
"Alma-Tadema is difficult to classify not belong to any school, or rather, is himself a school." The Art Journal in 1870. Definition which emphasizes that the artist was very much appreciated and recognized as a model for its time.
In the paintings of this painter, indeed in all of those artists belonging to this movement, there was always the woman. Women sorceresses, heroines, muse, women who could be angels or demons become, perform the function of saviors or tempting . The woman was in fact the main subject dell'Aesthetic Movement. In the last years of his career, Alma-Tadema will focus almost exclusively to the representation of these female subjects, women with thick hair, dreamy-eyed and in love, portrayed in the beautiful marble terraces, with dreamy attitudes but also sensual.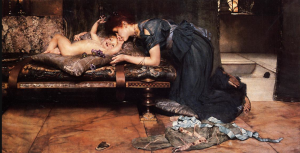 Alma-Tadema "Paradise on Earth", 1891. Private Collection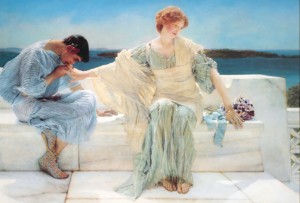 Alma-Tadema "Ask me no more", 1906. Private Collection
But sometimes it happens that even the most beautiful things are not spared by tragic epilogues. In fact, the painters belonging to this movement after a happy time, knew the contempt, defined their art decadent and kitsch, many works have been lost because destroying or defacing them, even, in some cases, were only saved the frames.
Fortunately, there are also people who do not follow the currents of mass taste or the dictates of criticism, it has been that way for the patron Mexican Pérez Simón that in addition to the Renaissance or Impressionist masterpieces, a few years ago bought works by artists dell'Aesthetic Movement. Works that combine the same passion for art and beauty.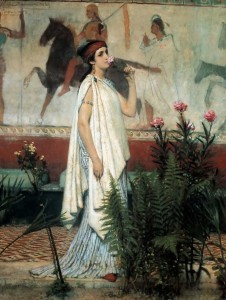 Alma-Tadema, "A Greek woman", 1869. Private Collection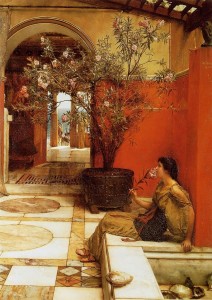 Alma-Tadema "Oleander", 1882. Private Collection
Four sketches Alma Tadema's inspiration for S/S 2015, by Beatrice Brandini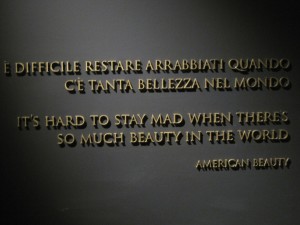 Image on the exibithion
I conclude with this image and a phrase, ultimately perhaps a little abused, but suitable for this post, having regard to these works, and especially for these times: "Beauty will save the world " from "the Idiot" of Dostoevsky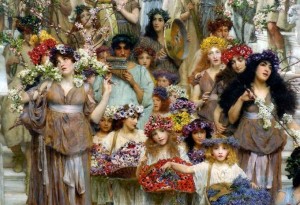 Alma-Tadema, particular of "Spring", 1884. J.Paul Getty Museum
Good life to all!
Beatrice