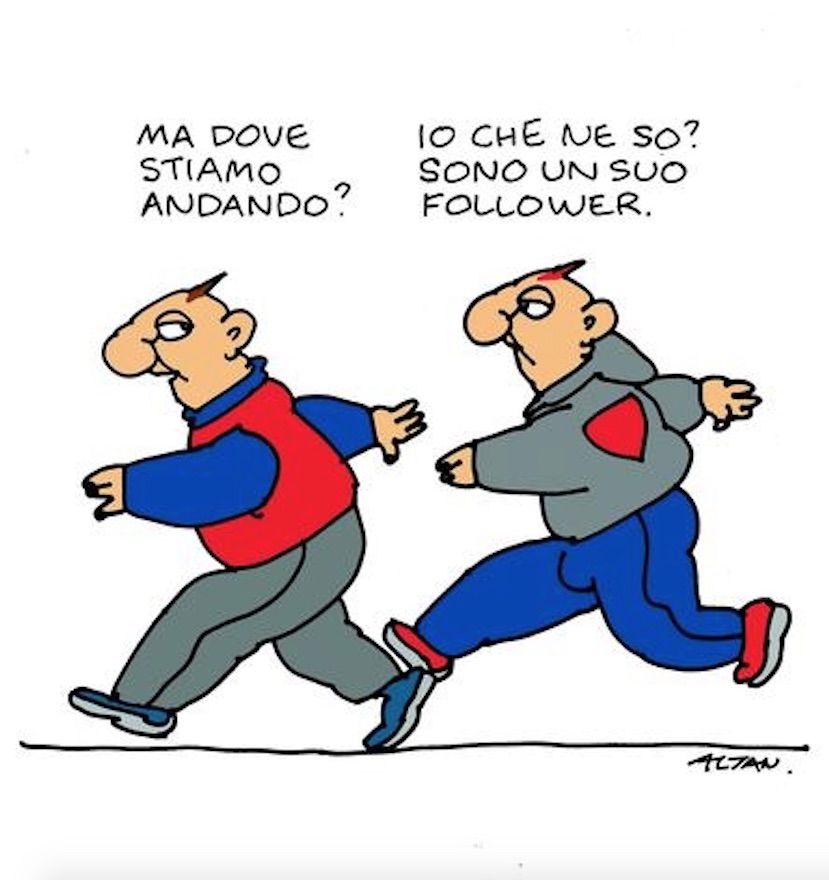 Altan's cartoon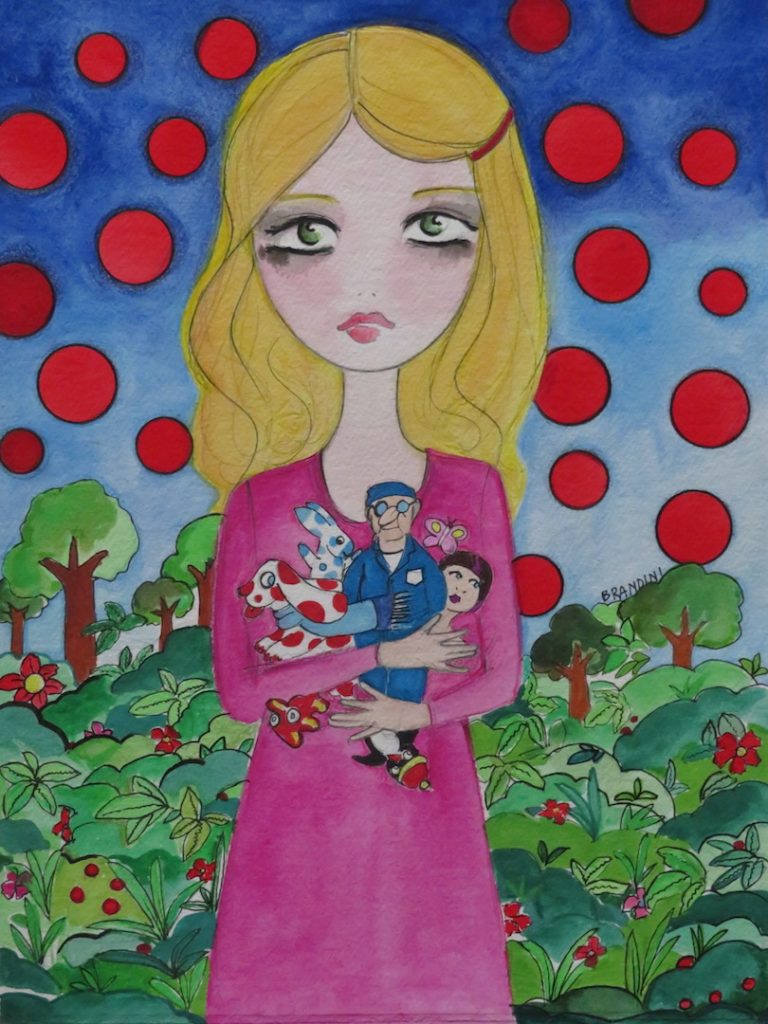 "Appassionata" by Beatrice Brandini
Through the pages of Francesco Tullio Altan my childhood was more serene, youth more aware, adulthood more fun, yes because this extraordinary artist created famous characters for children such as the Pimpa, and adult heroes such as the metalworker Cipputi.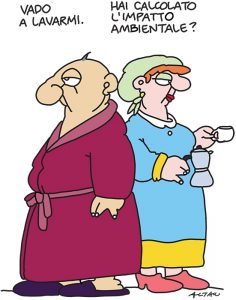 Altan's cartoon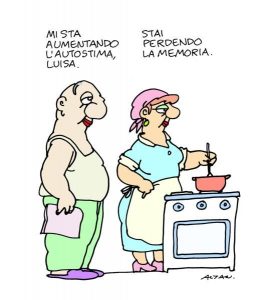 Altan's cartoon
Satirical author, beloved by a very large audience, he has been able to photograph Italian history, starting from the 70s, through his irresistible and caustic cartoons.
The Maxxi in Rome has just given him an anthological exhibition "Altan Pimpa, Cipputi and other thinkers", in which satire and narration for adults and children are fundamental aspects of the same mind and multifaceted personality.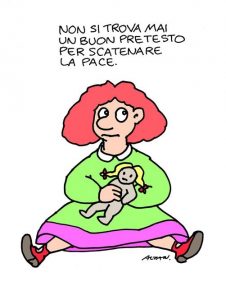 Altan's cartoon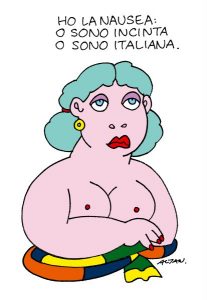 Altan's cartoon
Self-taught artist and author, Altan shows us how a passion, that of comics and drawing, can become your work, your international recognition, in a few words your (good) life.
According to Giorgio Manganelli, in Altan "design and history are mutually the caption of the other … and together they are a lightning strike". Oreste del Buono, somehow his mentor, said: "Altan has given up being the Dostoevsky of the comics in solidarity with a metalworker with a ready-made beat and love for a dog capable of speaking with teapots and continually inventing a life different."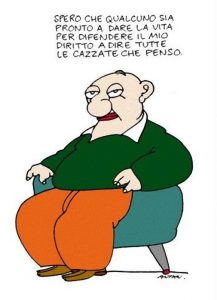 Altan's cartoon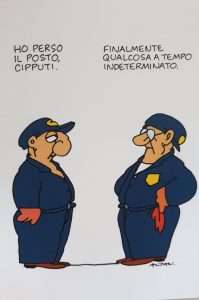 Altan's cartoon
The partnership with Linus magazine was fruitful, in which he initially created the character of Trino, a ramshackle and unprepared god in the creation of the world. Although not everyone knows that his first cartoons were made for the monthly Playmen. He also collaborates with L'Espresso, Panorama and with La Repubblica, all important Italian newspaper.
Since 1992 he has illustrated the whole series of books by Gianni Rodari for Einaudi Ragazzi.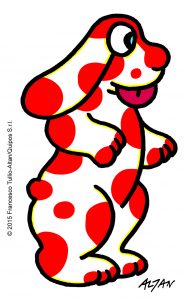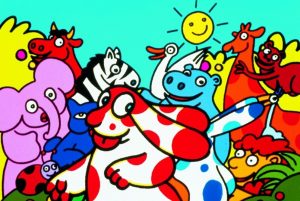 La Pimpa, drawings by Altan
La Pimpa, first published in Corriere dei Piccoli in 1975, is one of the most loved characters by children since ever. I was waiting to see her on TV as my son did until a few years ago. Altan says that he started drawing the little dog in spots when his wife was pregnant, continuing to do so for the little born daughter. Probably in a moment of great happiness and serenity, thinking of telling a story that would make children smile everywhere. reality has far exceeded all expectations.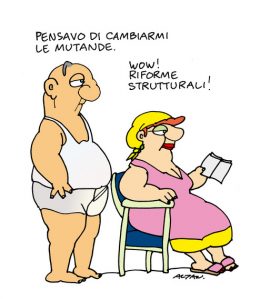 Altan's cartoon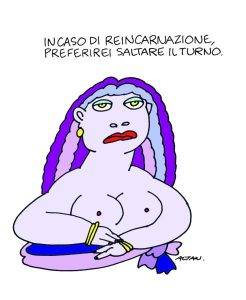 Altan's cartoon
Since 1987 Pimpa has also become a monthly magazine, published in Italy, Argentina and Turkey. Between 1982 and 1983 Pimpa became an international RAI television co-production, distributed and seen all over the world, followed by a second series in 1997 and a last one, in 2013, directed by Altan himself. La Pimpa also won the International Cartoons on the Bay Award.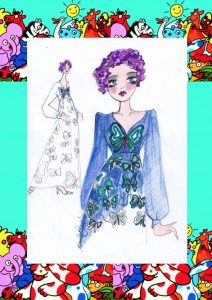 Mini Collection inspired by the wonderful fantasy of Francesco Tullio Altan
Through his cartoons Altan has managed to tell a lot, above all about our beautiful but sometimes fearful Italy, without too many clamor, hitting the target straight, that of conscience. Thank you teacher!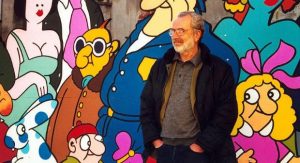 Francesco Tullio Altan
Good life to everyone!
Beatrice