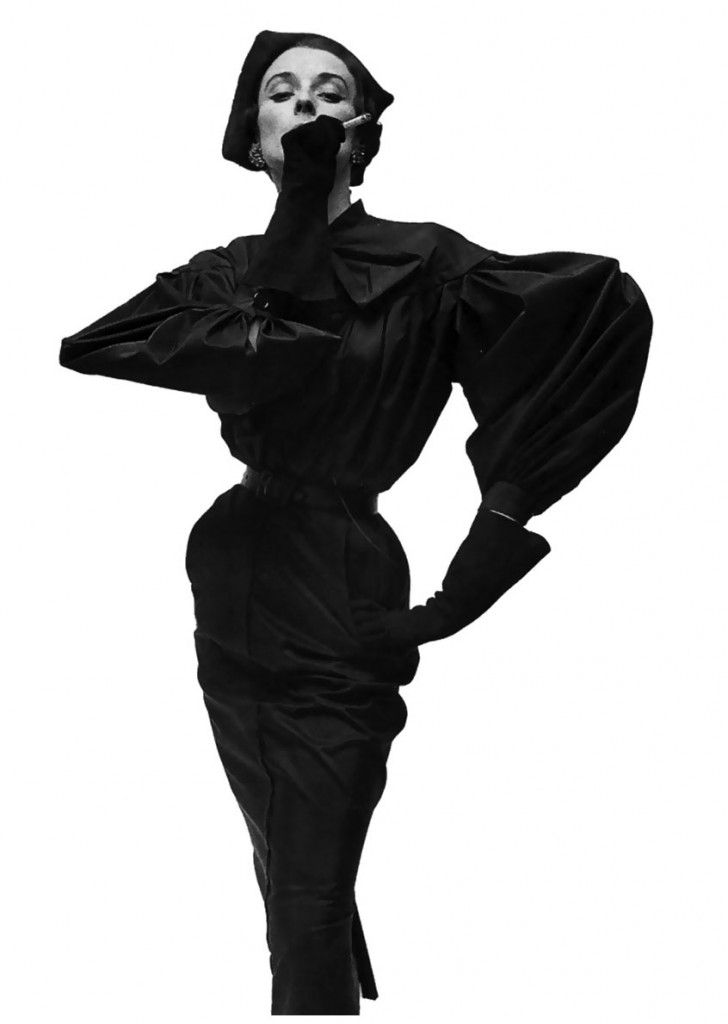 Photos Irving Penn, Balenciaga dress, Vogue 1950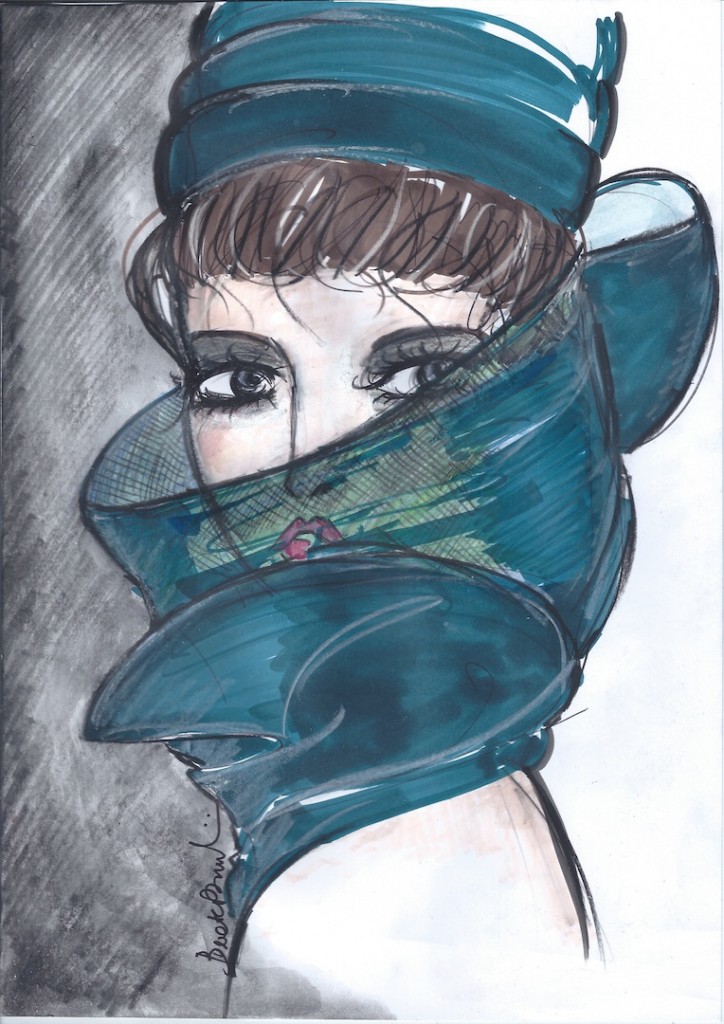 "Dorian" by Beatrice Brandini
On the occasion of the 120 years since the birth of Cristobal Balenciaga, in Calais, Cité de la Dentelle et de la Mode, there is a beautiful exhibition dedicated to this great fashion designer. It is no coincidence that the gift is made in the most famous city in the world for its laces, Balenciaga loved indeed characterize his own creations with the lace, star of cocktail dresses, blouses, tunics, and more.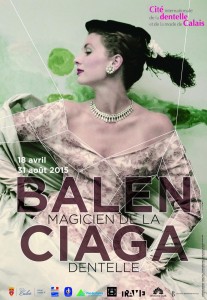 Poster of exhibition: "Balenciaga magicien de la dentelle"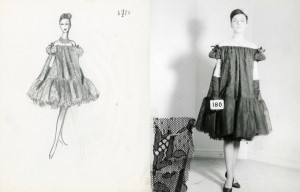 Sketch and dress of Cristobal Balenciaga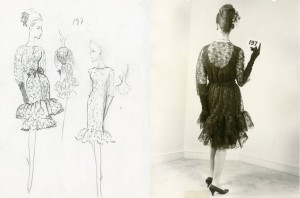 Sketch and dress of Cristobal Balenciaga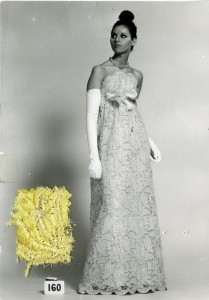 Dress of Cristobal Balenciaga, 1967
Many years ago I saw an exhibition in Rome dedicated to this great couturier and I must say that perhaps is the "fashion" exhibition most beautiful I've ever seen (and I've seen many …). But not for the numbers of proposals or the kind of exhibition, for a reason much more important,  for the clothes on display masterpieces of tailoring, absolutely modern and innovative, if I think that some had more than half a century .
Balenciaga, Spanish-born young transplanted in Paris, he met the fame and popularity very soon. In fact in 1939 the Daily Express wrote: "Officers Orders and journalists as a fist fight for a football game, to see the collection of the young Spaniard who is revolutionizing the fashion." And yet the Courrier of Mode: "with the appearance simplicity, each of its sheath dresses blacks is a masterpiece of haute couture. To examine them carefully, you will discover the subtlety and originality of the cut … "
Balenciaga coat, Irving Penn photos to Vogue, 1950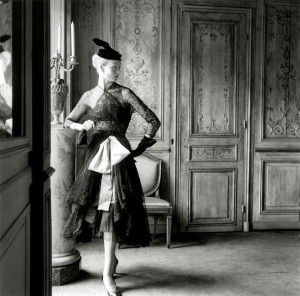 Lace dress Balenciaga, 1951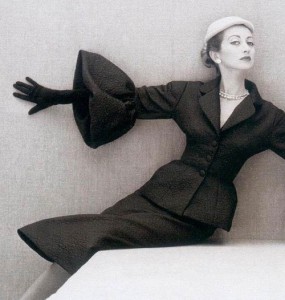 Tailleur Balenciaga
Even Christian Dior, who will triumph in the world in 1947 with his "New Look", admired Balenciaga calling him "the master of us all."
In the early fifties Balenciaga threw shapes absolutely unprecedented for its time, as the balloon dress, the tailleur without a belt, the tweed declined in all its versions (day and evening, suits or dresses), finally the beloved lace,  but played down and desecrated in many and unusual editions. Convinced that elegance and comfort should go hand in hand (I totally agree because the most beautiful dress if doesn't makes woman free and comfortable, don't have sense).
In his studio, surrounded by his loyal and admiring collaborators, he breathed a magic atmosphere, made up of talented, calm and discipline. Balenciaga was a man very demanding but always deeply kind and polite.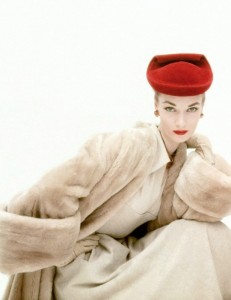 Balenciaga outfit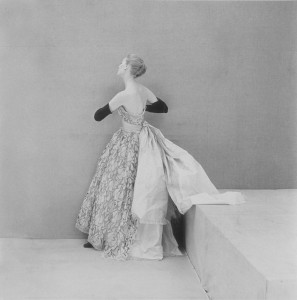 Dress Balenciaga, 1951. Phot Henry Clarke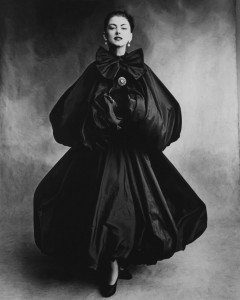 Dress balloon Balenciaga, Irving Penn photos to Vogue, 1950
In 1968 John Fairchild declares on "Women's Wear Daily: "Fashion lives of his ideas, the tailors are influenced by him, the richest society women pay the highest price: the top of American fashion has to follow him. "
Balenciaga was a man of extraordinary capacity. He could assist and partly realized, up to one hundred and twenty tests in one day. Able to personally create a dress and a hat. Very demanding, like all great professionals, he could do, undo and redo even a model to find perfection.
He also had much taste for raw materials, namely fabrics, embroideries, buttons and all the details that make a dress a little masterpiece. Curious, he loved the new materials, fabrics, their weight and their "scent".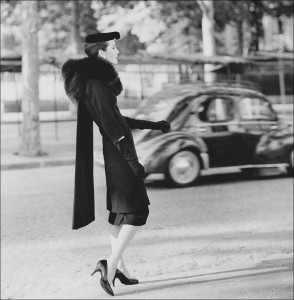 Balenciaga, 1955. Photo Henry Clarke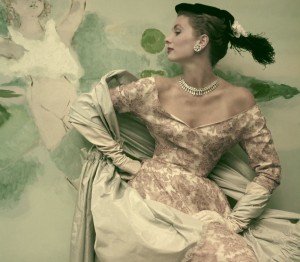 Balenciaga dress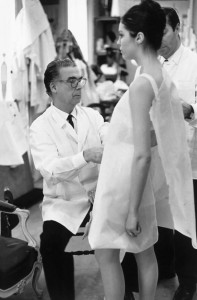 Cristobal Balenciaga in aterlier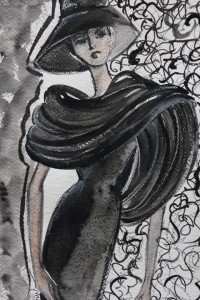 "Marie" by Beatrice Brandini
1968, year of great social upheaval in France and in the world, sees the latest collection of the master. The closure of his fashion house makes him deeply sad, but it is a personal and conscious choice, convinced that luxury and elegance have no more place in the "modern" society. The journalist Sam White writes on '"Evening Standard": "Balenciaga closes, fashion will never be the same again."
"His evening dresses make women elegant as swans". Diane Vreeland
"He created the future of fashion". Cecil Beaton
"To take my models a woman does not need to be perfect, nor even beautiful: the dress will be to make it so". Cristobal Balenciaga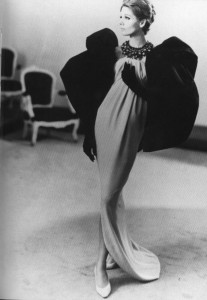 Cape and gown by Balenciaga, 1961. Photo Kublin
Good life to all!
Beatrice