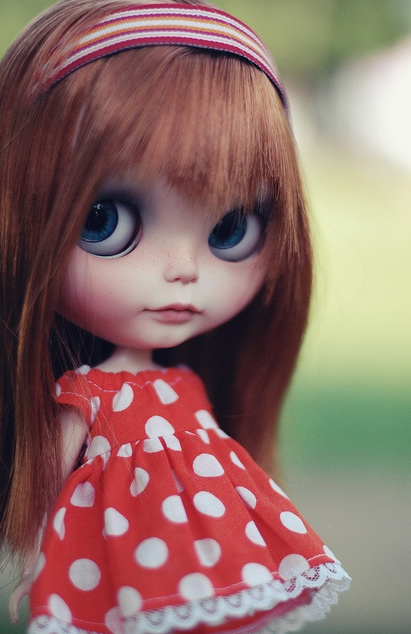 Blythe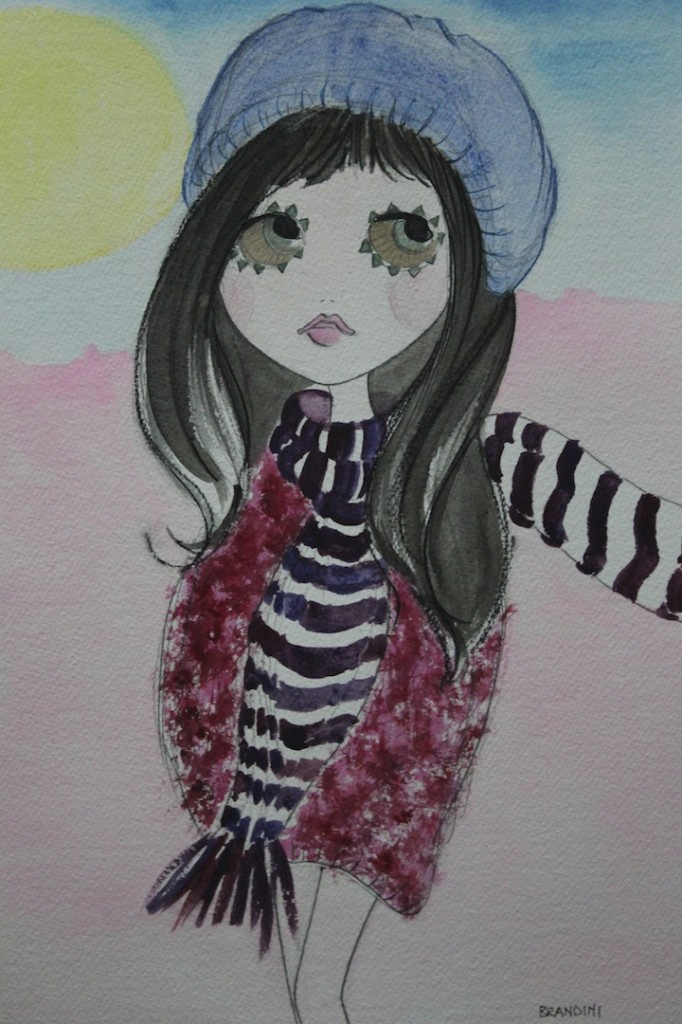 "Brigitte" by Beatrice Brandini
I've always been mad of Blythe dolls created in America in 1972 but withdrawn from the market after only a year because they are considered ill-suited to girls, almost disturbing, perhaps for the expression of the eyes that change color and nuance, I'd say maybe even for a style and elegance that fits most mothers to daughters.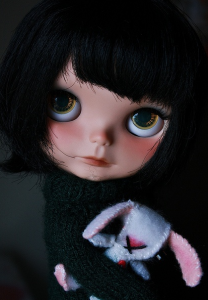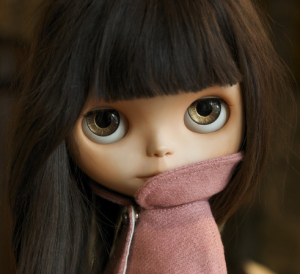 Wonderful Blythe…. 
Then it was a Japanese company to put it back on the market, CWC Tokyo, gathering an instant success (sometimes after a failure we must insist!). Become an object of worship, as well as collectibles, with "crazy" fans around the world, including me.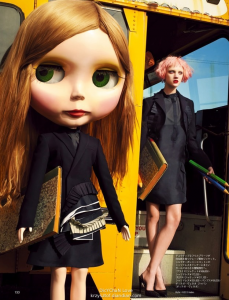 Photo Tisch on Spur Magazine Marzo 2014, clothes Bottega Veneta  
Windows of the store Bottega Veneta in Milan, Blythe gigantic are the protagonists! 
I have seen these days that Bottega Veneta at the Milan Fashion Week, will set up their windows with the giant Blythe (in reality it is a little doll) who wear their spring / summer collection 2014. According to Tomas Maier, the creative director of the Maison, the Blythe perfectly embodies the spirit of the collection for next Spring, but was also chosen for the innate sense of style. If you are in Milan these days absolutely go to see the windows of the shop Montenapoleone and Via Sant'Andrea in the office, I think it's a fabulous thing, otherwise, it is worth seeing. When should become "dummies itinerant" and then appear in their stores around the world.
Collection Bottega Veneta S / S 2014 also worn by Blythe
Collection Bottega Veneta S / S 2014 also worn by Blythe
Already in 2009 the Alexander McQueen dressed for Target (U.S. chain), creating a capsule collection for women and in which the models were exactly the Blythe. Over the years, however, this lovely doll has been dressed by top designers of the world, such as Gucci, Marni, Westwood, Prada, Chanel, Dolce & Gabbana. Some have used it as a testimonial, others as muse.  Two publications "Blythe Style" and "Blythe Moment" collect shots and the testimony of these many collaborations.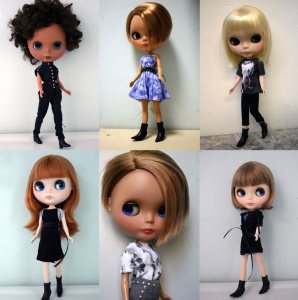 Blythe and Alexander McQueen for Target 
I discovered Blythe in a giant billboard in Milan about twenty years ago, it was an ad for a famous brand of hi-fi (do not remember which one) and from there I tried to not only learn more, but it became a sort of "obsession". It 'was often the protagonist of my board / inspirational mood, I've always found irresistible, a mixture of innocence and awareness, ingenuity and sensuality, but above all an "object" of class, elegance and style.
Blythe, my love….
Until now it was possible to buy only in Japan or on the internet, but the possibilities were rather limited, now it seems that Hasbro wants to market the original at the international level (until now in Italy there were only Littlest Pet Shop Blythe, which is a mini version that does not have much to do with the "original"), I can not wait,  and especially so where will go my next earnings.
SOME IRRESISTIBLE BLYTHE! 
Hello Blythe, I hope to see you soon and settle down in some corners that I have already prepared and just waiting you …..
Good life to all!  
Beatrice