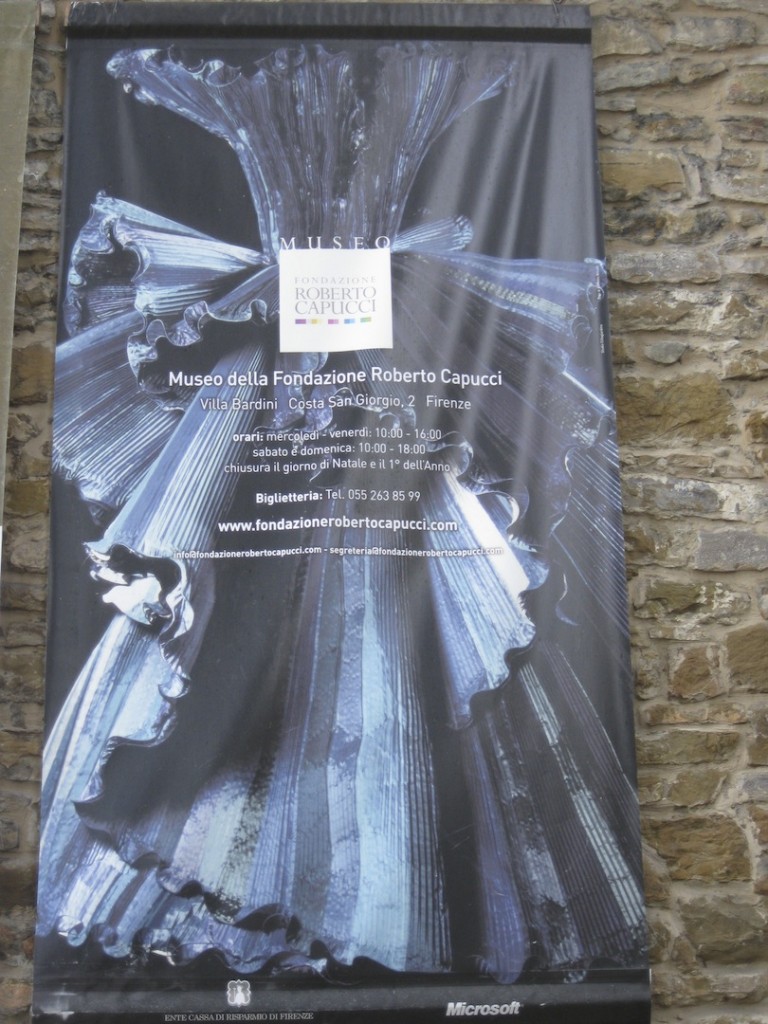 Museo Fondazione Roberto Capucci at the Villa Bardini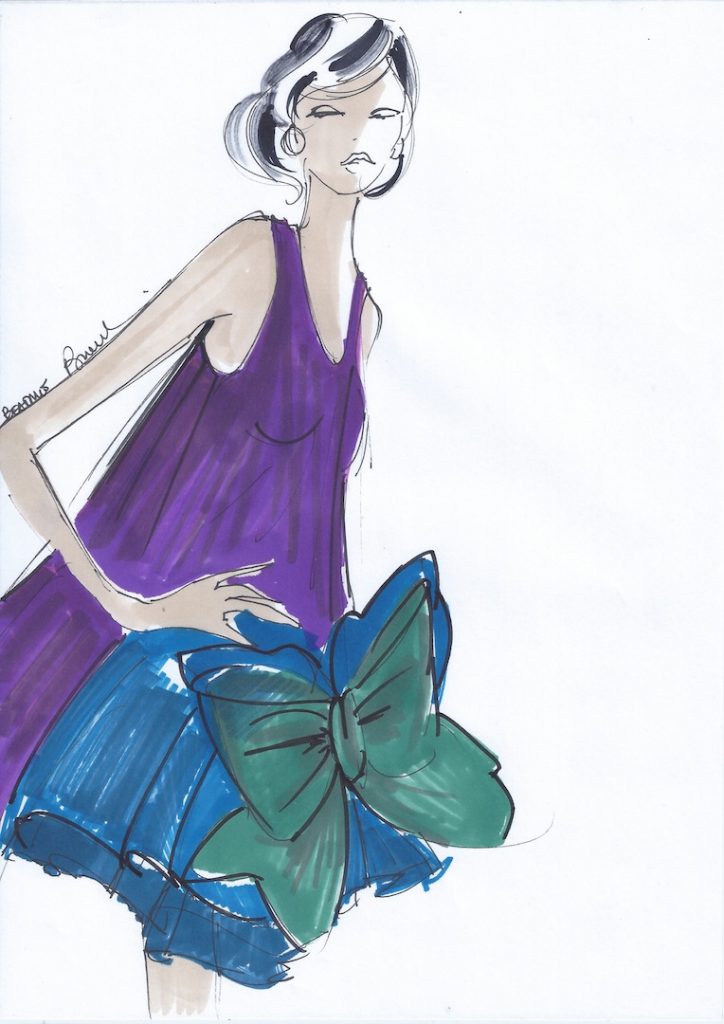 " Suzy " by Beatrice Brandini
"Do of beauty your constant ideal" Roberto Capucci
Roberto Capucci Museum is housed in the Villa Bardini in Florence, between Fort Belvedere and the Pitti Palace Museum Complex , two of the most beautiful and enchanting places in the world. Villa Bardini , with its beautiful garden is a wonderful place , with a breathtaking view of Florence.
Glimpse way street San Leonardo                     Glimpse street Costa San Giorgio
Roberto Capucci is the largest designer of high fashion in the world, his clothes are real works of art, architectural projects , metaphysical studies … So rich and luxurious , but also poetic and dreamy , dramatic , dazzling , exciting …. THEATRE .
Never bend the strict rules of the market, never influenced by fashions and pressures of the system.
Balzac said, " Fashion is a science, an art, a feeling .. " I believe that Capucci has taken his this inspiration.
Two dresses Roberto Capucci in museum
When many years ago I saw an exhibition in Rome (we need to see his creations directly, near, there you can see its powerful ), I thought that those clothes were not fashionable clothes, but something higher, ornaments destined for a perfect world, regal and magnificent.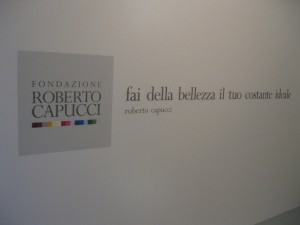 "Do of beauty your constant ideal" Roberto Capucci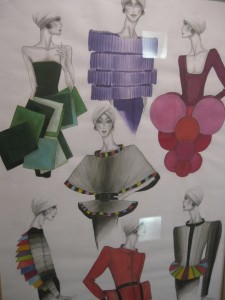 Original sketches by Roberto Capucci in exhibition
Capucci studied at the Academy of Fine Arts in Rome, but his creativity is different, a gift, a unique gift that (as in other cultural fields ) makes men who are part of the "special" , not belonging to the current common, the spirit of the times, but free, free creative beings, free to tell a beautiful story, theirs….
Two dresses Roberto Capucci in exhibition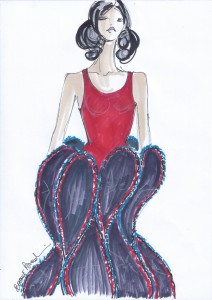 Dress Roberto Capucci interpreted by Beatrice Brandini
Dresses Roberto Capucci in exhibition
It is said that in 1951 the young Capucci showed his sketches to the Marquis Giorgini , who invented Florence as the capital of fashion in the world , clearly the Marquis was impressed and promised to make it show in his home , along with other tailors already famous. Unfortunately, the latter ordered to the Marquis " him or us" and so it was that Capucci was not part of the fashion show ( ah the envy … ). However, when the talent is above all, before or after it emerges and is redeemed , in fact, despite the waiver , its name , however, bounced to the press, which launched him … , a launch in the fashion that does not stopped since.
His shows were theatrical play . His creations designed to self-confident and strong women , art lovers, women who aspire to perfection.
In his long career he has received dozens of honors and awards , most especially abroad, where sometimes more than at home , appreciate and recognize the true talent.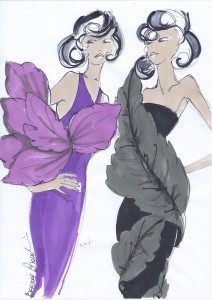 Dresses Roberto Capucci interpreted by Beatrice Brandini
Capucci was born in Rome, where young he opened his first atelier , but his baptism as a couturier takes place in Florence, thanks to the meeting and intuition by Giovan Battista Giorgini recognizing that class and genius, made him a show the first time. They were years full of vitality and enthusiasm, Italy was out of the war with broken bones , but fashion , as always, the spirit of the times , represented the optimism , the desire to own and live ( think Christian Dior who created the New Look right in 1947).
Capucci in 1956 is considered the best Italian tailor and in 1958 he was awarded the Oscar for American fashion.
Two dresses Roberto Capucci in exhibition
It is worth visiting this museum because it really is like walking into an art gallery , is a magical place and dresses by Roberto Capucci are the protagonists of this dream. His creations have to be seen by real closely, it is only so that we can gather all their beauty, from fabrics, colors, shapes. A journey that you will discover this wonderful artist, and for those who love fashion and is studying it, a source of continuous inspiration.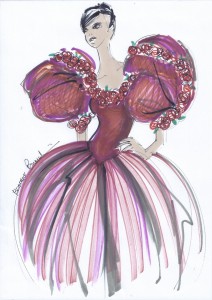 Dress Roberto Capucci interpreted by Beatrice Brandini
Two dresses Roberto Capucci in exhibition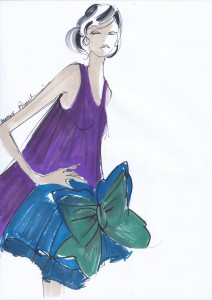 Dress Roberto Capucci interpreted by Beatrice Brandini
Original drawings Roberto Capucci in the exhibition
In what was the way the mansion and stays of Ciaikovskij, Pratesi, Rosai , you've found your rightful place great Master Capucci.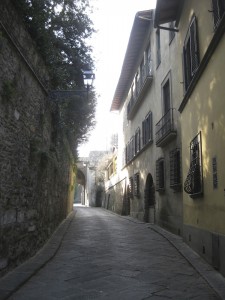 Thank you, because with your fashion you have made us proud to be Italian , and you gave us emotions and dreams.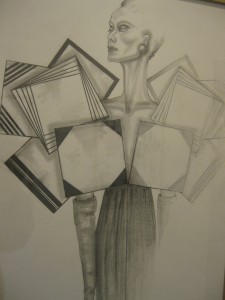 Original sketch by Roberto Capucci in exhibition
Good life to all !
Beatrice