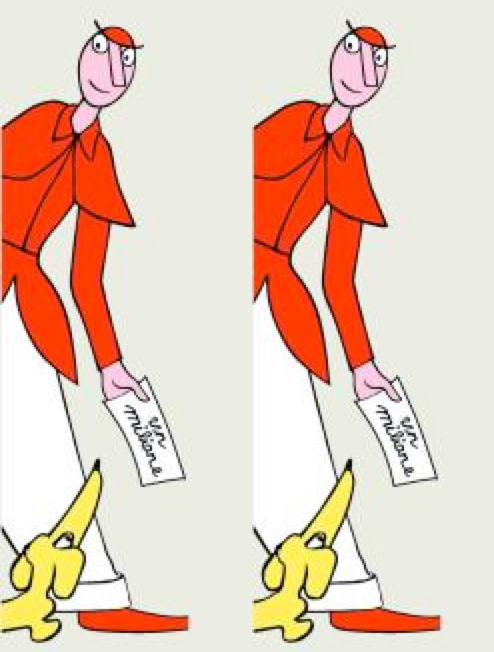 "Il Signor Bonaventura" by Sergio Tofano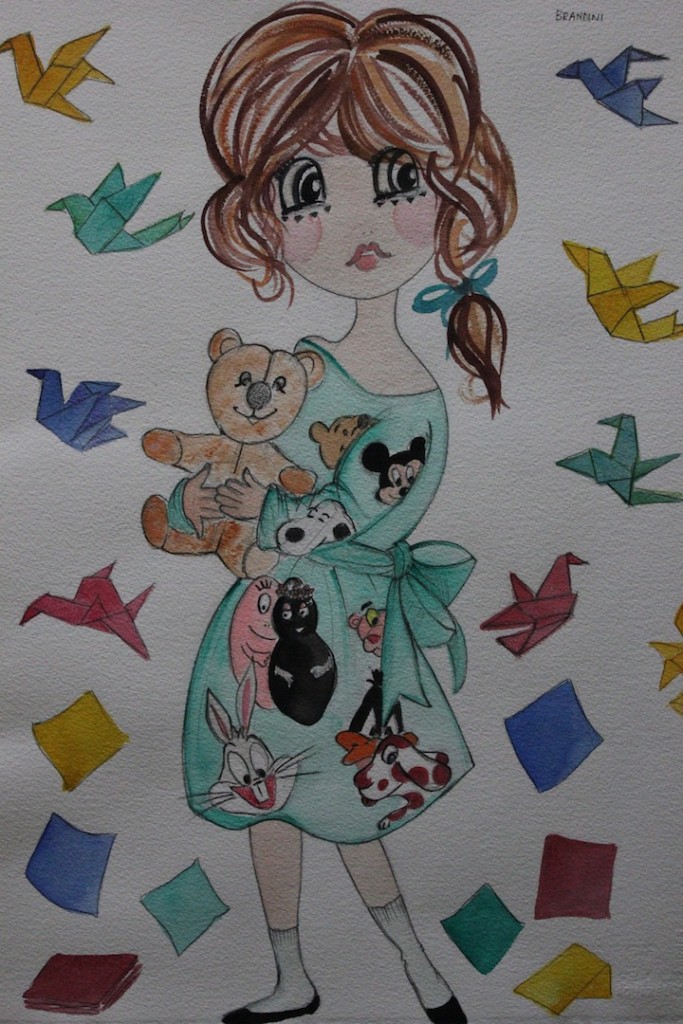 "Mentina" by Beatrice Brandini
Like all parents who have young children, I became an expert in cartoons, in the beginning I have to say in spite of myself, loving the cinema and the film "serious", then being keen and discovering a world of different characters, original, sometimes even educational .  But above all, someone or something that manages to capture the attention of my son even when all seems lost or impossible (especially patience).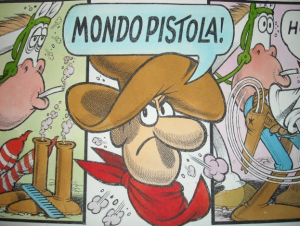 "Cocco Bill" di Jacovitti
I have an avid collector dad of comic books, so I know this kind having visited markets and fairs around Italy;  I considering this form of expression, comics and cartoons, an art form on a par with other, so-called, most noble. In fact, we think the combination Jacovitti – Cocco Bill, Valentina – Crepax, Bonelli – Tex or Dylan Dog, Alan Ford, Diabolik, Mickey Mouse …. Characters that have entertained and enchanted generations, becoming heroes, imaginary friends , companions or accomplices, for young and old.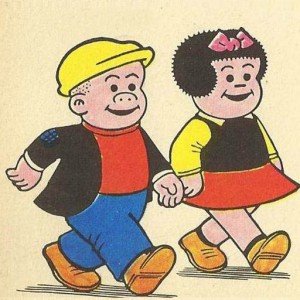 "Arturo e Zoe" by Larry Whittington
Cartoons are a little different, they use a medium faster, television, and therefore have a shorter life cycle and, alas, in recent years a marketing behind that demeans them a little', making them a means of consumption.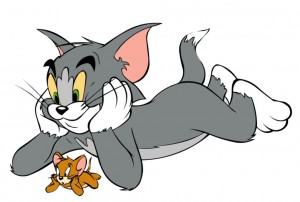 "Tom e Gerry" by William Hanna e Joseph Barbera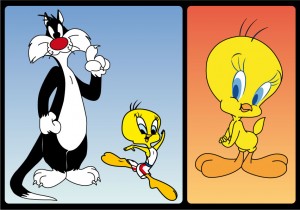 "Sylvester and Tweety" by Friz Freleng 
However, watching them I must admit that at times I not only freely play, but allow me to find a "solution" giving me an idea, or placating the excesses of my son, especially on those days that is neither fish nor fowl, and that you, as a parent, would beat just head into the wall …..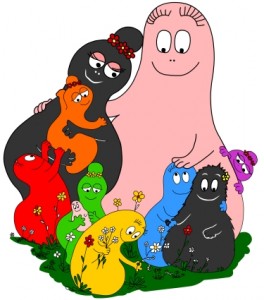 "Barbapapa" by Annette Tison and Talus Taylor 
This post is intended to pay tribute to this important form of expression, cartoons, and virtually all thank its creators for the beauty, grace, and above all the imagination and originality of stories and characters. And, once again, for having saved the situation in moments "topical" in which even the patience of grandparents would have solved or saved the day (I think even when they are sick, very often, or when the weather is bad) .
"La Pimpa" by Altan                                                                               "Snoopy" by Schulz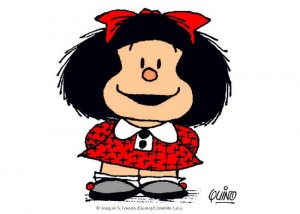 "Mafalda" by Quino
Then I am happy when I see that, like all good things, they do not have a "deadline" but go beyond the years and fashions, holding the comparison with most current, I think the Pimpa and his talented creator Altan, or to Barbapapa, cartoons and comics that I could see even as a child, always "poetic" and fun despite the past decades. I especially loved Charlie Brown – Snoopy and Mafalda, maybe not quite two comic strips by children, but I remember that I enjoyed very much, growing those characters that I identified in the form of cartoons, ironically, telling and exorcised the "human tragedy".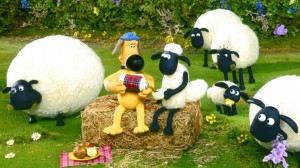 "Shaun the Sheep" di Nick Park
I remember a tender episode, related to the cartoons, or the last movie you saw at the cinema with my grandfather many years ago, the Lion King from Disney .  He greatly enjoyed and his eighty years old, in front of that magic, disappeared immediately making him a child again.
"Peppa Pig" directed by Astley Baker Davies           "Oggy and the Cockroaches cursed" by Jean-Yves Raimbaud
Every generation has its own cartoons, some people today , they go so fashionable that they have become the " catchy " , loved here as in the rest of the world (another great thing is that the cartoons do not have " sex" , at least until a certain age, or "status ") . Today one of the most famous is  "Peppa Pig " , a pig who , with her family, has the advantage of being spontaneous and natural , it is easy for a child to identify with her, as well us with the rest of the family.  Then ( I love it for fantasy and characters ) "Adventure Time" , Finn and Jack , a boy and a dog living in a sort of no man's land populated by strange creatures … Or  "Oggy and the cockroaches cursed" hilarious cohabitation between a cat and cockroach spiteful. Finally, "Mr Bean Cartoon", "Ben and Holly", "Masha and Bear" and the timeless "Bugs Bunny".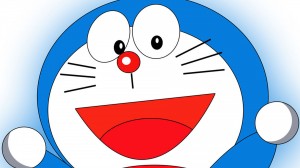 Doraemon by Fujiko F. Fujio
My son really like " Shaun the sheep , a sheep intelligent and ingenious , it can find solutions not possible with fun and practical, the timeless Pink Panther and Doraemon, cat that has a magic pocket from which it extracts ciuschi that are fun and incredibly solve anything.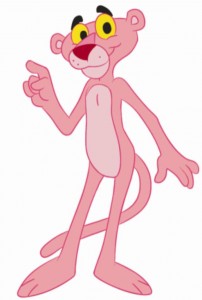 "Pink Panther" by  Hawley Pratt
And again, "Geronimo Stilton", the little mouse who, with his calm cunning, manages to solve every case of chronicle by the triumph of justice; Scoobydoo and Shaggy, that together form a pair of "bungling detective" unlikeliest.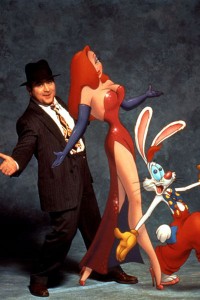 "Who Framed Roger Rabbit" by Robert Zemeckis 
Finally I want to mention just a brilliant film about the cartoon: "Who Framed Roger Rabbit",  in which real cartons (with appearances by everyone, from Disney to those of Warner Bros) and human beings (real actors) live on the screen. With one of the most attractive female characters in film history, the very sexy Jessica Rabbit.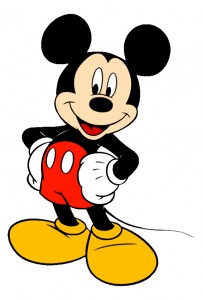 "Mickey Mouse" Walt Disney 
If we think about, we also, at some point in the day,  we could become a cartoon,  our ups and downs, often funny and demented, there do seem hypothetical protagonists of new and future cartoons.
Long live the cartoons!
Beatrice