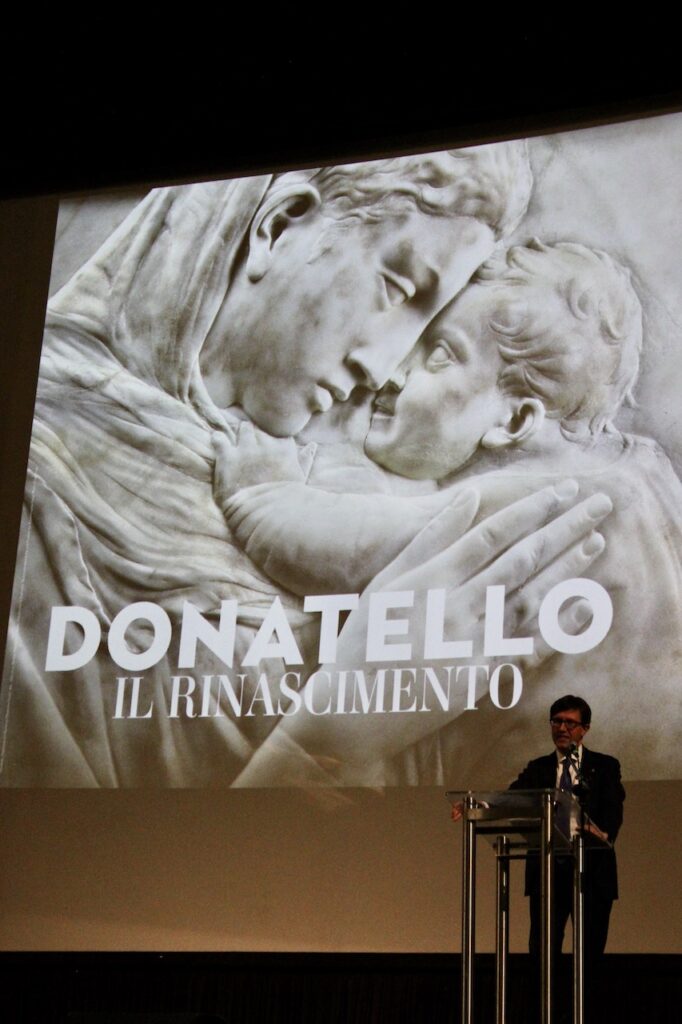 The Mayor of Florence Dario Nardella at the press conference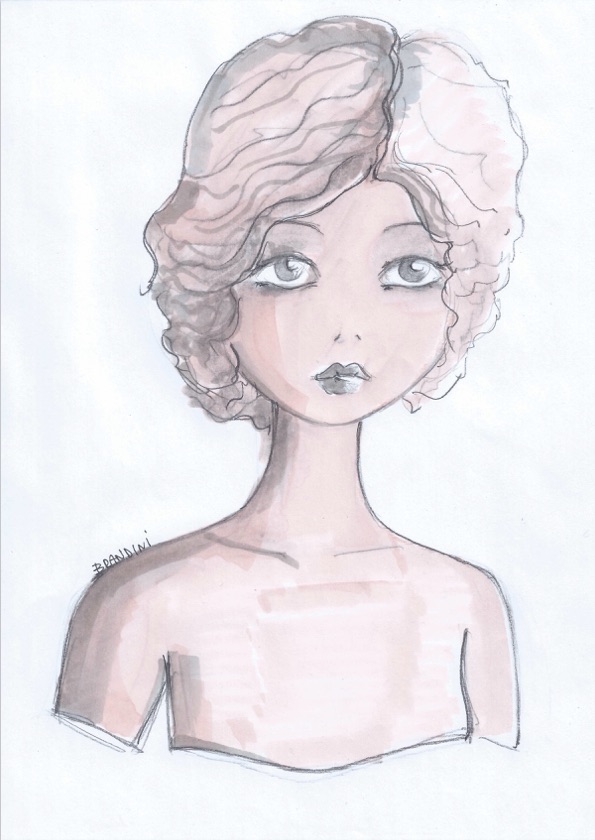 "Puttina" by Beatrice Brandini
From 19 March 2022, the Palazzo Strozzi Foundation and the Bargello Museums will present Donatello, the Renaissance, a historical and unique exhibition that traces the artistic life of one of the most important and influential masters of Italian art of all time.
Donatello: details of Due Spiritelli, around 1436-38. Paris, Institut de France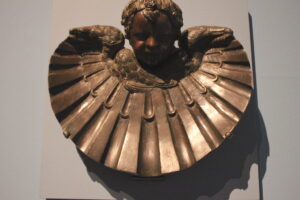 Donatello and assistant Spiritello from Donatello's Cantoria for the Cathedral of Santa Maria del Fiore, around 1439. New York, The Metropolitana Museum of Art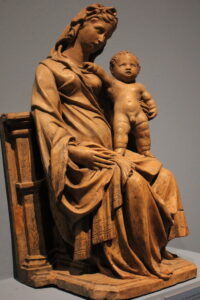 Jacopo della Quercia: Madonna and Child, around 1410-1415. Gallico Castle, Salini Collection
This impressive exhibition, curated by Francesco Caglioti, full professor of Medieval Art History at the Scuola Normale Superiore of Pisa, hosts 130 works including sculptures, paintings and drawings, with unique loans, some of which have never been granted before, coming from almost sixty among the most important museums and institutions in the world such as the National Gallery of Art in Washington, the Metropolitan Museum of Art in New York, the Victoria and Albert Museum in London, etc.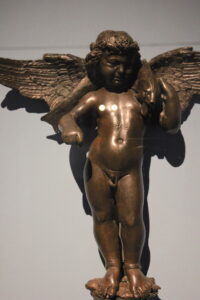 Donatelliana workshop: Spriitello with fish, around 1435-1440. London, Victoria and Albert Museum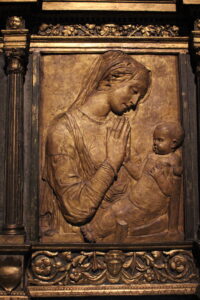 Donatello: Madonna and Child, around 1455. London, Victoria and Albert Museum
Donatello: Saint Louis of Toulouse, around 1418-1425. Florence, Museum of the Opera of Santa Croce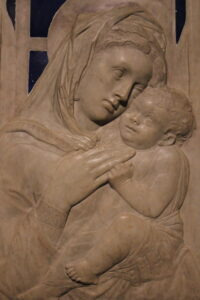 Donatello: Madonna and Child around 1435. Florence, Bargello National Museum
Distributed in two locations, Palazzo Strozzi and the Bargello National Museum, the exhibition offers a journey through Donatello's life and fortune, divided into 14 sections. You can admire the wooden crucifixes that compare two extraordinary artists, Donatello, in fact, and Brunelleschi, one from the Basilica of Santa Croce, the other from that of Santa Maria Novella. We then proceed with the places where Donatello worked, such as Siena, Prato, Pistoia and Padua, meeting young followers such as Mantegna and Bellini.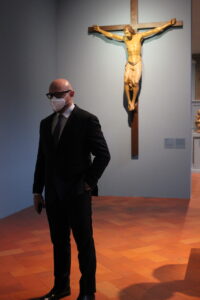 Arturo Galansino Geneal Director of the Palazzo Strozzi Foundation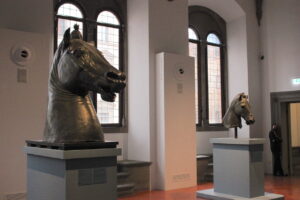 Glimpse Donatello Horse protome (Testa Carafa), 1456. Naples, National Archaeological Museum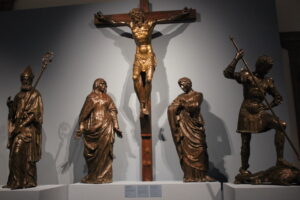 Niccolò Baroncelli and Domenico Di Paris: The Crucifix, the Madonna and San Giovanni dolenti, San Maurelio and San Giorgio 1450-1455. Ferrara, Cathedral of San Giorgio
Revolutionary artist, in ideas and techniques (he used marble, stone, bronze and terracotta), preferred, together with Masaccio and Brunelleschi, by the Medici family, he upset the history of art, imprinting his name and his "codes" in history of western art. His discoveries of perspective, of him the modern concept of humanity, both attributed to sculpture. In fact, Donatello's sculptures excite, with their poignant sweetness but also with their cold cruelty. They know how to instill joy and pain, like few others before and after him.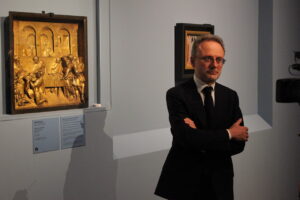 Professor Francesco Caglioti in front of Donatello's Herod's Banquet, 1423-1427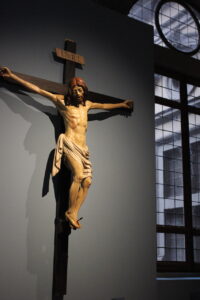 Vecchietta: Crucifix, around 1470. Grosseto, Cathedral of San Lorenzo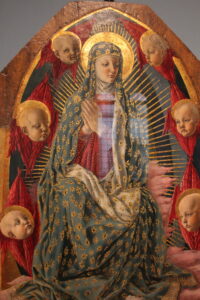 Master of Pratovecchio: Madonna assumed, 1450-1455. Pratovecchio, Monastery of San Giovanni Evangelista
Donatello, the Renaissance, is promoted and organized by the Palazzo Strozzi Foundation and the Bargello Museums, in collaboration with the Staatliche Museen in Berlin and the Victoria and Albert Museum in London, to which it will leave the baton respectively from 2 September to 8 January 2023 , and in the spring of 2023.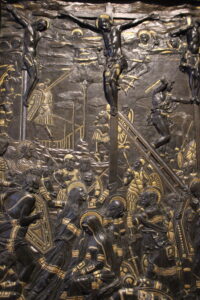 Donatello: Calvario, around 1455-1465. Florence, Bargello National Museum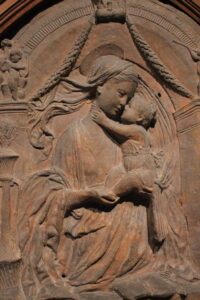 Giovanni da Pisa: Madonna and Child, 1450-1455. Berlin Staatliche Museen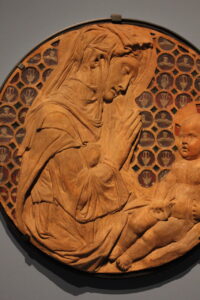 Donatella and workshop: Madonna and Child, around 1440 Paris Musée du Louvre
Alberto Galansino, general director of the Strozzi Foundation defined the exhibition as "an epochal project, the most complete and exhaustive review on Donatello ever made before".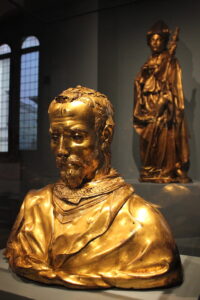 Donatello: Reliquary of San Rossore, around 1422 – 1425. Pisa, National Museum of San Matteo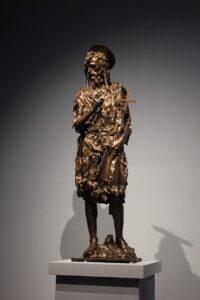 Donatello: St. John the Baptist, around 1455. Siena, Cathedral of Santa Maria Assunta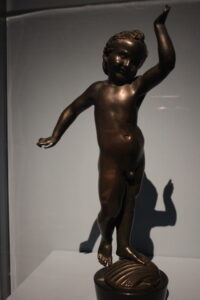 Donatello: Spiritello Danzante, 1429. Florence Bargello National Museum.
"Donatello, perhaps the most daring sculptor of all time, is an artist with a very strong monumental vocation, even when he works in small formats. Whenever one of his works was placed in a space, be it public or private, he activated shocking effects in his contemporaries. Just think of the bronze David, the first nude in a fully rounded statue after antiquity … " Francesco Caglioti
Facade of the Palazzo Strozzi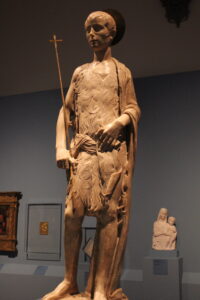 Donatello: St. John the Baptist, around 1442. Florence, Bargello National Museum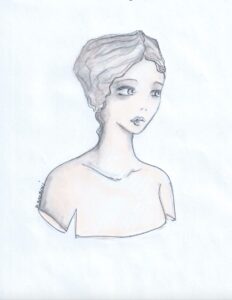 "Mold of a girl" by Beatrice Brandini
And that's exactly the feeling I got when I previewed the exhibition. Palazzo Strozzi has accustomed us to beautiful narratives, modern, strong, revolutionary (at least for Florence), but this "classic" exhibition is not to be missed. I love modern and contemporary art, I am convinced that Florence has been too long away from avant-garde languages, but the exhibition on Donatello has literally kidnapped me, making me understand more than ever how much art can "save us",  and that is something really necessary.
Good life to everyone!
Beatrice