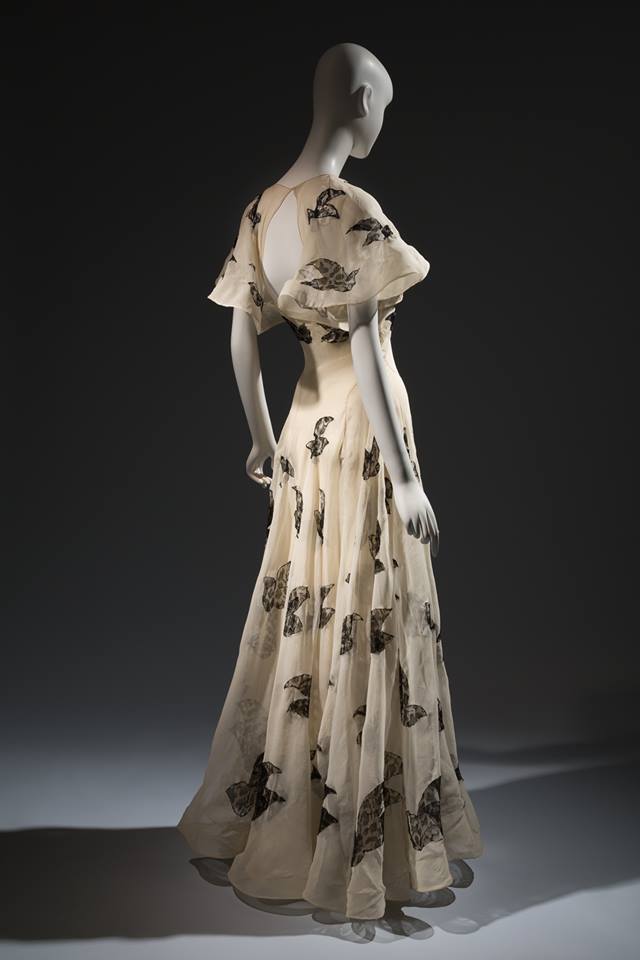 Silk dress by Madeleine Vionnet, in the exhibition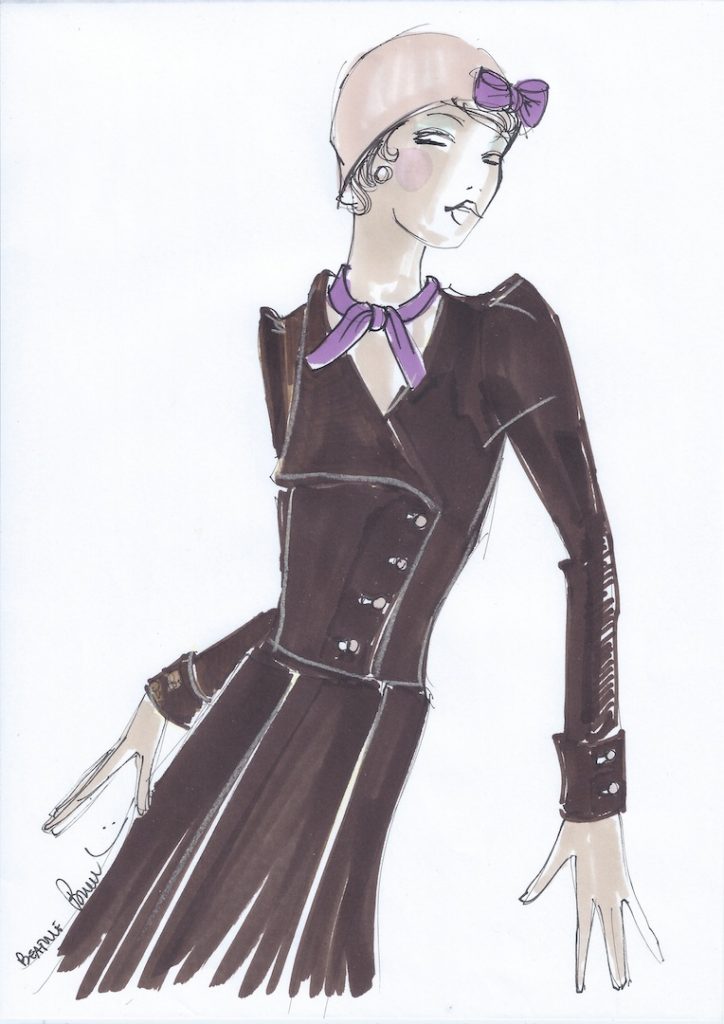 "Bonnie" by Beatrice Brandini 
At "The Museum at FIT" in New York until April 19, there is a beautiful exhibition that explores and highlights the years immediately following the stock market crash of Wall Street of '29: Elegance in the Age of Crisis: Fashion of the 1930s.
Cover catalog "Elegance in an age of crisis" Evening dresses on show 
I consider those years (in truth through the beginning of the twentieth century until the 50s), extremely elegant and innovative, but I think this shows also interesting because current tremendously. The crisis of the period is not far from what we are experiencing now, fashion has always been witness to the era, located at the time of the streets and solutions will be those that will shape the last century. In that scenario so paralyzing and hopeless, fashion indeed found a new way to express themselves by creating new forms, new ideas, new technologies. And who knows that this is not a good omen for us …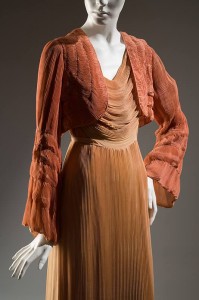 Hélène Yrande, dress on silk and chiffon, France 
On the one hand we witnessed the return to classicism as always, after a crisis, fashion has to convey certainty and optimism, then return to simpler forms and less eccentric, but also more fluid, suitable for enhancing body again a "prisoner" and "suffering", guaranteeing a kind of rebirth. But clothes also suitable for all occasions (no more a set of guidelines for how to dress during the day, if he could no longer afford ..). We also see the emergence of innovative materials, such as synthetic textile industrial revolution.
Munchen Swimsuit, Germany             McGregor Men's beach Robe, USA
The exhibition is divided into various sections, ranging from the sports from swimwear, to high-tech materials for its time (remember that we are in the '30s), to the elegant with wonderful clothes from cuts to the bias of Madame Vionnet, men's fashion, accessories.
The curator of the exhibition, Patricia Mears, deputy director of the Museum Fit & Co., explains that the reason for dedicating an exhibition to the '30s is because the look of that decade was in some way a precursor to the modern one. And I'm extremely agree with this statement.
Gerdner and Wooley LTD Smoking Jacket, London    Anderson & Sheppard suit Men's, London 
In addition, this exhibition has also the advantage of enhancing the richness of male production of those years, hardly a show with this theme talked about it earlier, and in such detail. A production of high quality men's tailoring, with the world's epicenter in London and Naples (as the leaders of the great tailor Vincenzo Attolini who worked for the famous tailoring Gennaro Rubinacci in Naples)) where extraordinary tailors created magnificent complete or jackets for men.
Sketches of dresses 30s by Beatrice Brandini
Sketches of dresses 30s by Beatrice Brandini
Another very important and revolutionary aspect, the exhibition emphasizes, is the birth of fashion "sporty". The desire to be outdoors, always as revenge after a crisis, as well as the physical need to give your body the right valuation and "cure", gaining a new understanding of itself. Synthetic materials in the textile born right now, as a response to this need.
Some images of '30s fashion, actresses and ordinary women … (Chanel image with pearls and cloche in the center). 
In fact, the '30s were an international phenomenon, hence the birth of Franch haute couture  (Vionnet, Lanvin, Patou, Chanel …), the Neapolitan and London tailoring, the bias cuts, tissue sporty, drapes, fantasies and designs on fabrics,  and even Hollywood stars with her and her wonderful toilet. In addition to changing the attitude and approach of women towards fashion and dressing up. The forms less constructed and softer brought about a greater awareness of themselves and their bodies.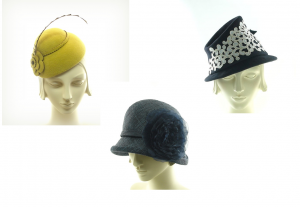 Some vintage hats 30s 
I wanted to make some sketches that reproduce the styles most significant period and attach some photos of the ones I think are the greatest photographers of all time, authors of the best shots in the world.
Photo of Horst and two photos of George Hoyningen-Huene (my favorite!)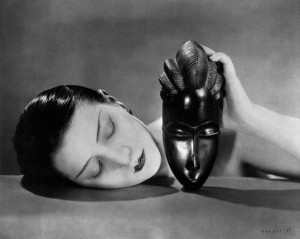 Man Ray photo
I would have wanted to be born in those years, definitely difficult and dramatic, but from an aesthetic point of view extremely elegant, feminine and sensual, when women wore hats with veils, dresses made of satin or silk fabrics, sheer stockings with the line, small and precious accessories, they were really women, almost femme fatal and for my generation that grew up with jeans and sweatshirts (the 80s), all this can be a great fascination.
Good life to all!
Beatrice