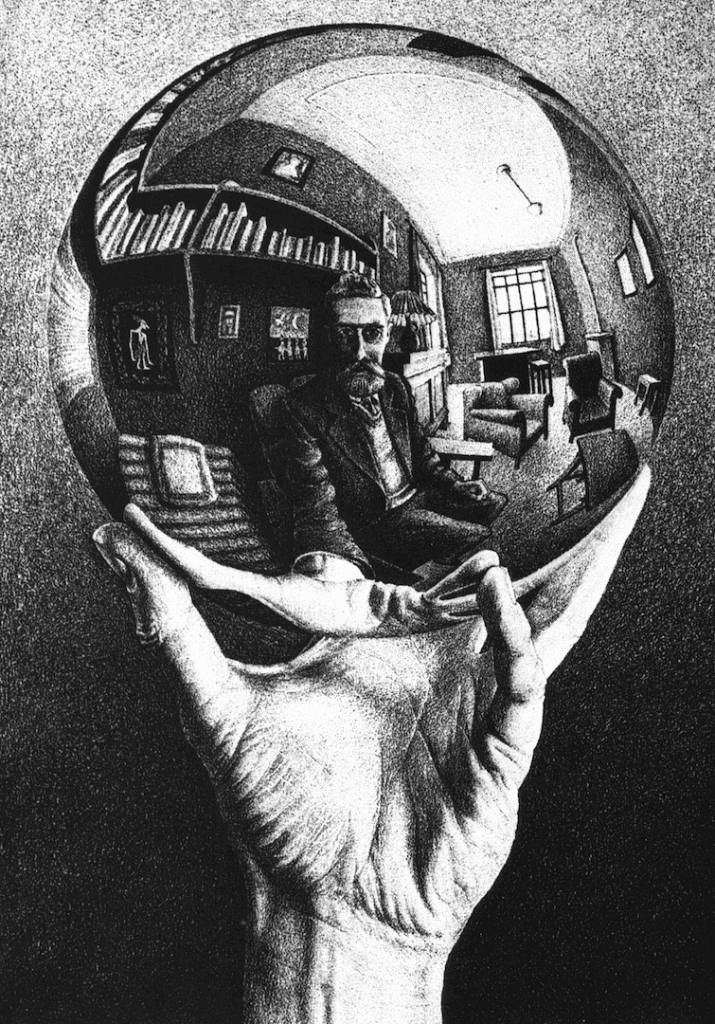 M.C. Escher "Hand with Globe", lithography 1935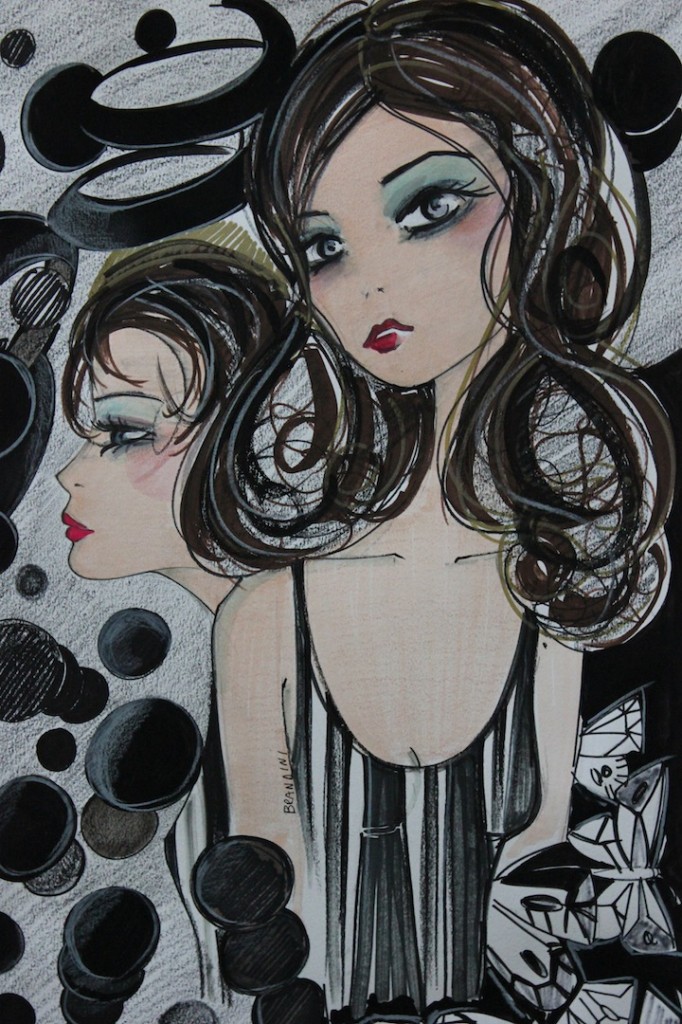 "Anke and Jetta" by Beatrice Brandini
In Bologna, at Palazzo Albergati, there is a beautiful exhibition where you can admire the lithographs, engravings, halftones of Maurits Cornelis Escher; the artist before and better than others, represented common objects as if they were magic, opening us the eyes and above, our imagination.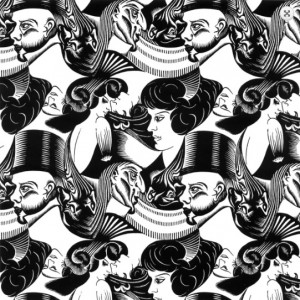 M.C. Escher "Eight heads", woodcut 1922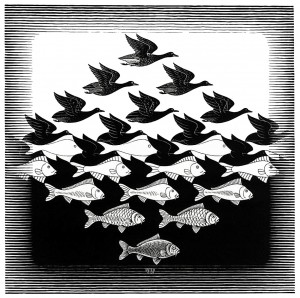 M.C. Escher "Sky and Water", woodcut 1938
Maurits Cornelis Escher was born in the Netherlands, after a short period where he studied architecture, will be dedicated to the decorative arts, in particular the engravings, which will become his primary occupation, giving to the artist popularity and importance in the world.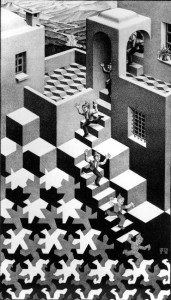 M.C. Escher "Cycle", lithography 1938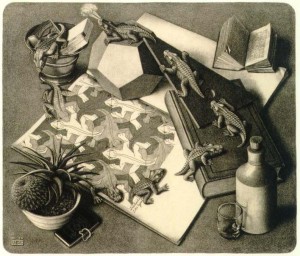 M.C. Escher's "Reptiles", lithography 1943
The special feature of this great and unique artist was to make the changing perspective, represent fantastic visions through strict criteria but variables. His works are illusionistic, mirror, distorted, change artists … so BEAUTIFUL. He said: "design is illusion: suggests three dimensions although on paper there are only two."
M.C. Escher "Balcony", lithography 1945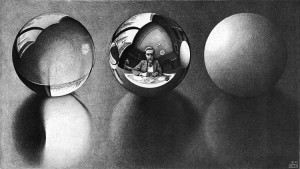 M.C. Escher "Three balls", lithography 1946
Very important was the period that the artist spent in our country (in 1924 he married in Viareggio with Jetta Umiker), where he was struck by the Tuscan countryside such as San Gimignano, Volterra and Siena, or Rome, where he spent more than a decade and that he himself described as having been the best years of his life. Not only that, moving later to the south, was a village of Aspromonte, Pentedattilo, born in the heart of a rock, to inspire him with some engravings and perhaps leaving a permanent influence on him.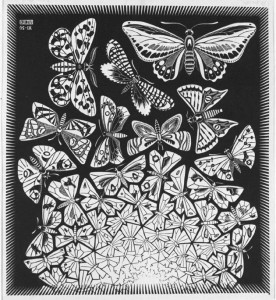 M.C. Escher "Butterflies", 1950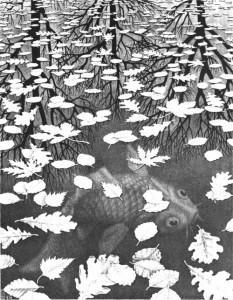 M.C. Escher "Between sky and water", woodcut 1938
In a section of the exhibition in Bologna is really highlights the Escher's love showed towards our country and our artists. Probably would stay in Italy forever .., he was in fact forced to flee and seek refuge in Switzerland due to a political and cultural climate increasingly oppressive under the fascist rule.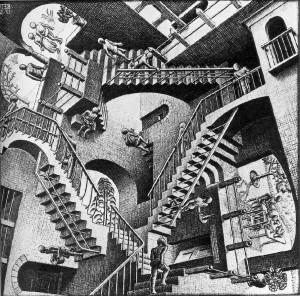 M.C. Escher's "Relativity", lithography 1953
I think this artist has really influenced the graphics, advertising, design and fashion. Even those who do not know him well have seen many images of him inspired, sometimes little quotes (especially in advertising), other real gifts. Think of how many times we have found the work Relativity in the movies, as in Labyrinth with David Bowie in The Lord of the Rings, Harry Potter and the stairs of the fantastic castle of Hogwarts, in Inception by Cristhoper Nolan (beautiful scene!), In night at the Museum – the secret of the pharaoh, with Ben Stiller that enters in his framework ….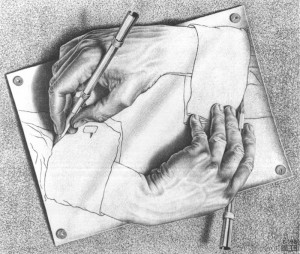 M.C. Escher's "Drawing Hands", lithography 1948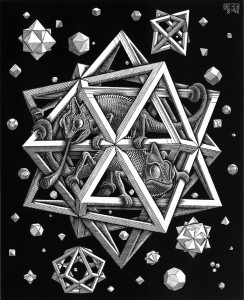 M.C. Escher "Stars", woodcut 1948
Escher works on the metamorphosis messing every perspective, not only architectural but also emotional. Sometimes it is "disturbing" because unexpected and allusive, but especially because it reveals the ambiguity of life and that of being. I love him for this reason, is not always what it seems, that gray area that is in everything (in humans in particular), that we try to hide rationally and humanely, with Escher sometimes explodes, putting us ahead of the reality.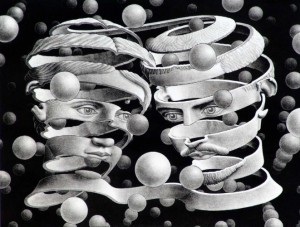 M. C. Escher "Bond of union", lithography 1955
I always say that art should primarily excite, amaze and, above all shake reactions leading us to think … in Escher's work succeeds perfectly.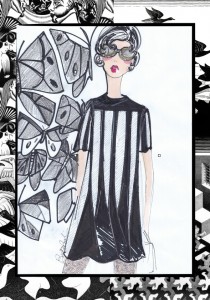 Escher in Fashion by Beatrice Brandini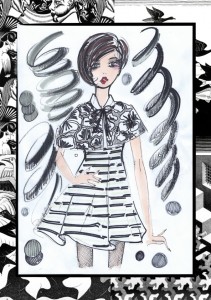 Escher in Fashion by Beatrice Brandini
Inspiration ESCHER: McQueen, Miyake, Loewe, Diane von Furstenberg
Worth seeing this beautiful exhibition that will be open until July 19, the context then is the beautiful Palazzo Albergati century building, badly damaged by fire a few years ago and finally reopened in all its glory. Then Bologna is Bologna, always pleasant to visit, eat (good food), to live ….
Good life to all!
Beatrice