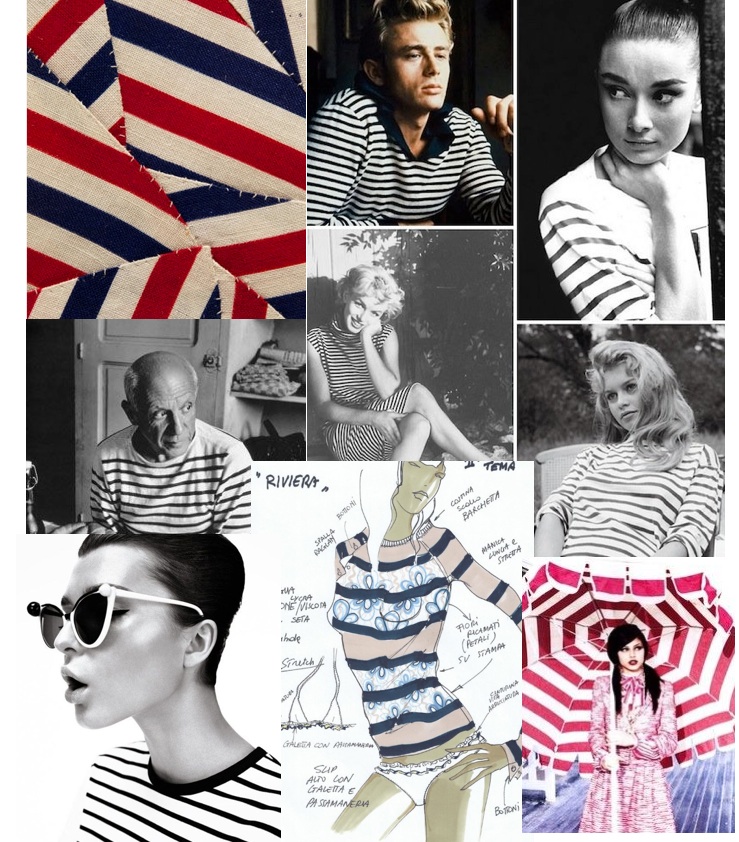 "Mood Stripes"  Beatrice Brandini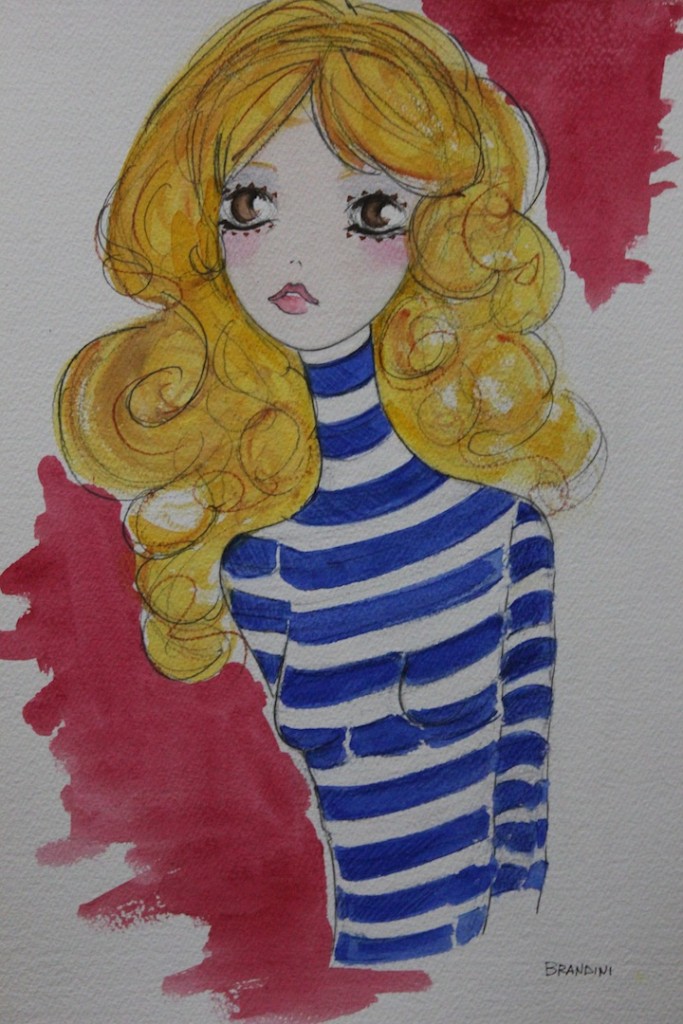 "Gwyneth" by Beatrice Brandini
The stripes are one of the ultimate fantasies/pattern, seasonally cyclical, in reality every spring / summer they will return, uninhibited, elegant, cheeky, challenging, colorful and summer. Within a few seasons, however, have become more valuable and "bizarre", you can dare combining them together or mixing them with other fantasies, in the end everything is permitted because this "is the fashion baby".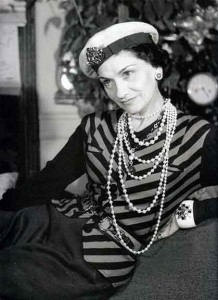 Coco Chanel
Creations of Claire McCardell
The stripes have a long history, Vionnet and Chanel have used them for beautiful creations, Claire McCardell, American designer, important figure as a precursor of the Lifestyle, already in the 45 used for her collections. Then in the 60s the striped skirts or Capri pants, the first bikini with the reasons baiadera, stolen chairs right at the summer bathing.
Missoni Seventies                       Biba advertising
Creations Dior Sixties
In Italy Missoni with their beautiful jacquard often geometric and striped, Biba in London, Dior in Paris.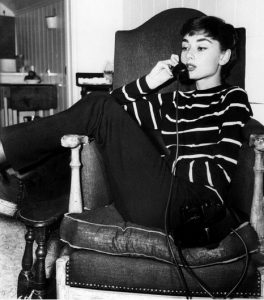 The unforgettable Audrey Hepburn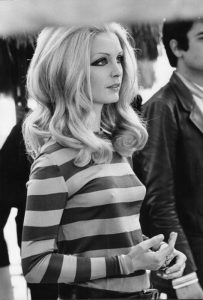 The beautiful Patty Pravo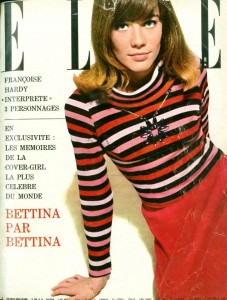 Françoise Hardy in the cover of Elle, 1963 mesh Sonia Rykiel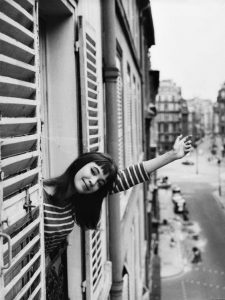 Anna Karina, an attitude to be chic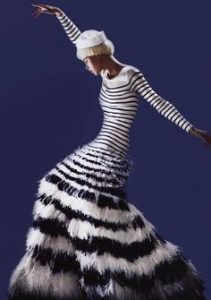 Creation by Jean Paul Gaultier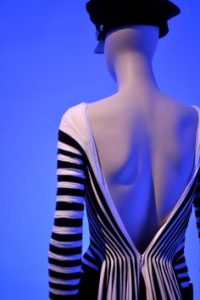 Creation by Jean Paul Gaultier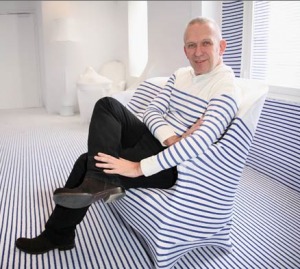 Jean Paul Gaultier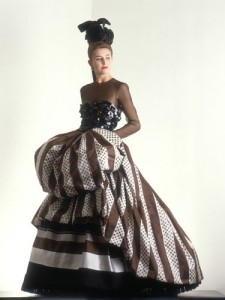 Christian Lacroix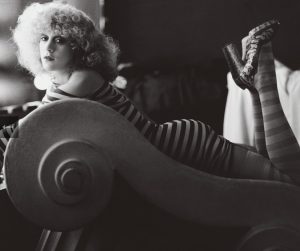 Chloe Sevigny by Inez & Vinoodh,  Vogue Italia 2003
But in more recent times, Sonia Rykiel, in rows that made her trademark; Jean Paul Gaultier who was originally used, and he himself, with his striped t-shirt, become unmistakable uniform. Or Christina Lacroix haute couture stripes and very beautiful stripes.
I love them always, often in its most eccentric versions, but in reality a simple striped t-shirt with a pair of jeans or white pants, is already in itself the quintessence of elegance, simple, very Parisian, terribly chic.
Blake Lively                                                Carine Roitfeld
Olivia Palermo                                              Bianca Balti
Kate Moss                                                     Mariacarla Boscono
Gwyneth Paltrow                                                      Olivia Palermo
Miranda Kerr
I have collected some pictures of the subject stripes, from fashion shows of Spring / Summer 2014, it is very interesting to see how the designers have interpreted the staff and above all very different from each other. Alberta Ferretti: lines folk, poetic and refined. Missoni: tribal and ethnic lines, a modern traveler and citizen of the world. Burberry Prorsum: bizarre, mixed with polka dots and precious as inlays or embroidered Dévoré. Dior: unexpected, almost high fashion, very conceptual.
Alberta Ferretti SS 2014
Alberta Ferretti SS 2014
Missoni SS 2014
Missoni SS 2014
Burberry Prorsum SS 2014
Christian Dior SS 2014
As always, the catwalks are wonderful, but sometimes not everyone can afford these beautiful creations, even for the same use, is not always suitable for these dresses would go to the office or to accompany our children at school … But we need to dream and especially for a cue, example, driving … then women to treasure these trends and adapt to their own pockets and the life of every day. Examples low cost.
Zara SS 2014 conceptual
H&M SS 2014  irregular and hyper Classic
Mango SS 2014 classic timeless, very cool
Benetton SS 2014  cheeky, fresh, colorful and youthful.
Oviesse  SS 2014 most elegant, almost ceremony.
So stripes optical, marinate, colored, precious, classic. I mean the stripes are suitable for all occasions and for all styles. Every woman is different and the stripes will make it a personal interpretation.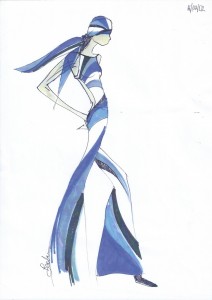 Sketch of Beatrice Brandini 2002
As evidence that the stripes are a great passion of mine, an old sketch from 2002, in which I created a suit / scarf , a bit vintage.
Good life to all!
Beatrice