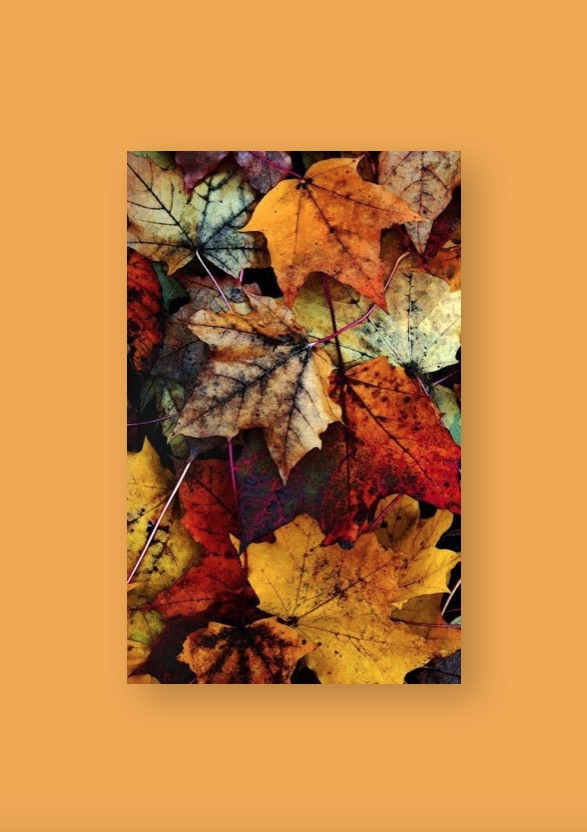 "Autumn"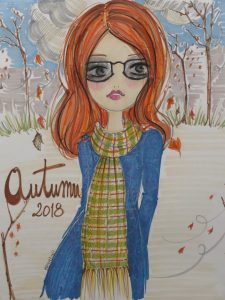 "Candice" by Beatrice Brandini
The fashion shows for the next Fall Winter ended; New York, London, Milan and finally Paris, have seen very different collections as protagonists, confirming an idea of creative fashion but above all FREE. We will dress as we please and like, without diktat and constraints, and finally, without taking ourselves too seriously.
I grouped the maxi trends, making thematic sketches that are perhaps more explanatory and direct than many photos.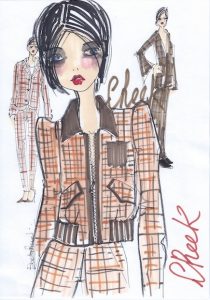 CHEECK by Beatrice Brandini
The first theme is CHEECK, that is checks and squares everywhere. Prince of Wales, but also Tartan. The shapes are often sartorial, elegant, well-made and slightly masculine. Many suits, especially with pants. The most beautiful ones by Bottega Veneta, Loewe, Rochas.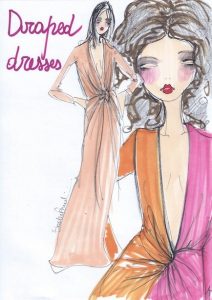 DRAPED DRESSES by Beatrice Brandini
Many dresses draped, fluid, knotted at the waist for a mermaid elegant and glamorous effect. The novelty now is that those proposed in the catwalks for next fall, can be worn in the day, because the fabrics used are easy as jersey, and the colors are brights or like those in shades of beige and brown. Seen by Carolina Herrera and Elisabetta Franchi.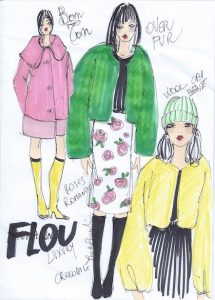 FLOU by Beatrice Brandini
Psychedelic and acidic colors, yellow and green on all, used with irony on sports shape and often over cuts. Seen from Moschino, Prada and Sportmax.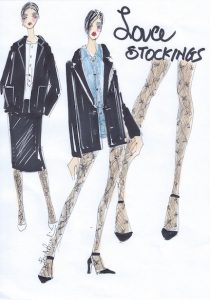 Lace stockings by Beatrice Brandini
We see again the lace stockings so dear to the sparkling nineties. But if thirty years ago they were used in a sexy way, with mini dresses and hyper adherents, now they are worn by mixing with much else, example to the denim shirt, to the long suit, to the boots, only sometimes to the short and tight dress. Seen from Gucci, Alexander Wang, Zadig & Voltaire.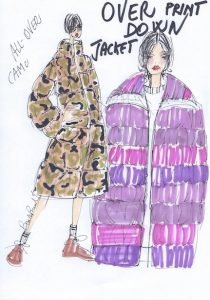 Over Print Down Jacket by Beatrice Brandini
Puffy puffs (hyper padded), long, over. Also in this case they recall the years 80 and 90. The news is that this time they are also printed, very challenging but also very funny. Seen by Marco de Vincenzo, House of Holland and almost all sports brands.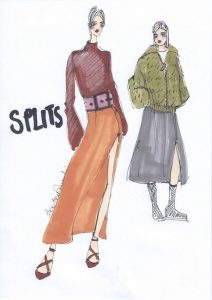 SPLITS by Beatrice Brandini
Split in dresses and skirts, almost always protagonists of an important length. Very feminine, never vulgar. For a refined and aware woman. Seen from Chloé and Dior.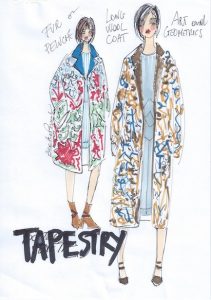 TAPESTRY by Beatrice Brandini
Brocade fabrics, jacquard, reminiscent of the tapestries of the six, seven and eight hundred (period determined according to the design represented, such as equestrian scenes, ramages, paisley, etc.). Very precious, very "heavy" because they are very worked. Seen from Gucci, Off-White and others.
View a lot of leather a bit everywhere. The suits, coats and blousons are beautiful. Often it is black leather or dark brown, with clean lines, sartorial, very sophisticated. Great mastery in treating it to make it almost a fabric. Gorgeous!
View from Tod's Salvatore Ferragamo and Loewe.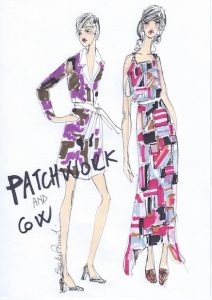 PATCHWORCK by Beatrice Brandini
Many patchwork fabrics seen on the catwalk. Together with this collage of matched fabrics in an, apparently, chaotic way, there is also the spotted effect, that is the spotted effect reminiscent of the fleece of the cows. Printed or embroidered, applied or inlaid, they are always very beautiful and precious. Seen by Calvin Klein, Dior, Phillip Lim, N.21.

MONO EARRING by Beatrice Brandini
Maxi earrings worn individually, to give an eccentric touch to a classic look or to emphasize an important dress bringing only this accessory.
There was also much else, almost always linked by a common denominator called beauty. I know, I'm repetitive, but fashion is the beauty and the skill of the many workers that make it such, as those who produce fabrics, accessories, suppliers, capable of any processing (especially Italian ones); a precious supply chain that covers all stages of processing and production of all types products.
Fashion is not the bandwagon to which too often certain media, ignorant and superficial, associate it, fashion is a very serious business that gives work to miles of people creating beauty, well-being and prestige all over the world.
Good life to everyone!
Beatrice