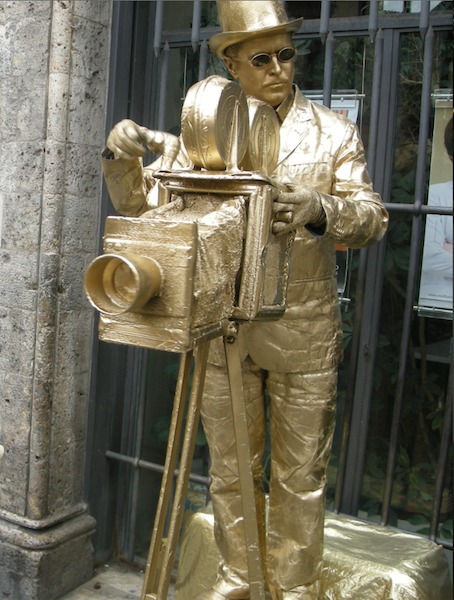 Director on the road ….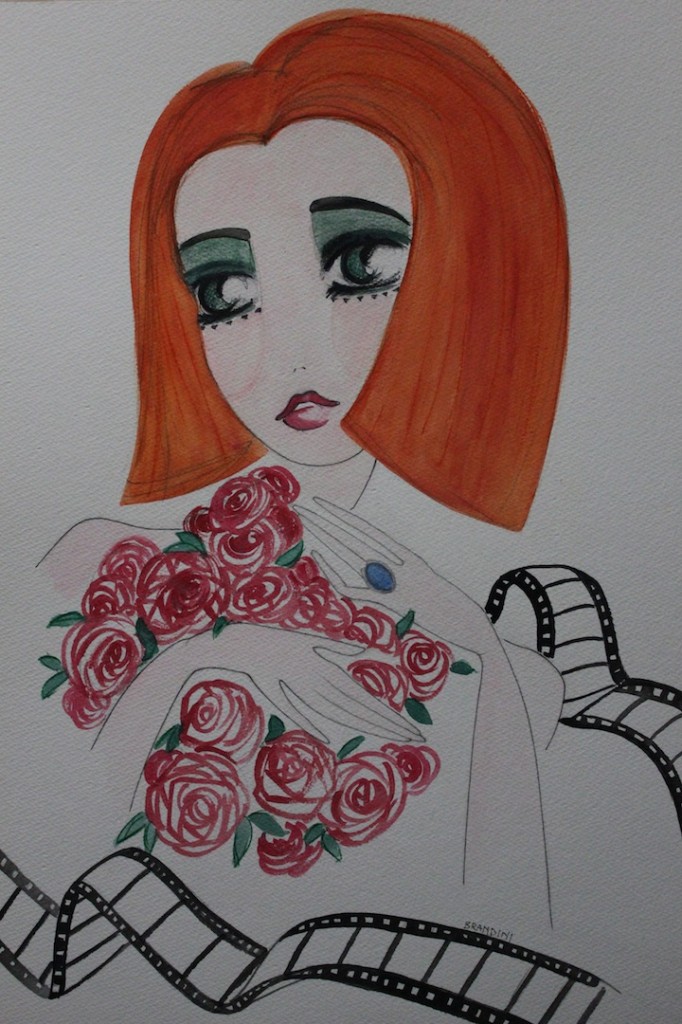 "Clara" by Beatrice Brandini 
I've always been in love with the cinema, one of the things I miss now that there is less time consuming and a little baby, is see a movie at the cinema, the magic of cinema, the darkness and the silence, the pending before the show starts, have fueled my curiosity by reading reviews and fantasizing about the history, scenery, COSTUMES and DRESSES…
Audrey Hepburn in Sabrina        with Dress Givenchy… the class
When I was little and my father took me to the cinema (also very passionate and certainly responsible for many of my loves, like this), I asked him if there were women in the film. I was very young but I remember this recurring question (remembers himself too,  as a sort of obsession). If you go over this fact,  meant already that I wanted to see the actresses, their clothes, jewelry, accessories.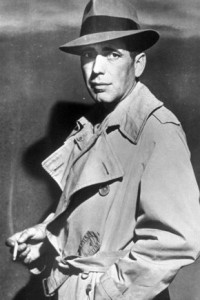 Humphrey Bogart in "Casablanca", mysterious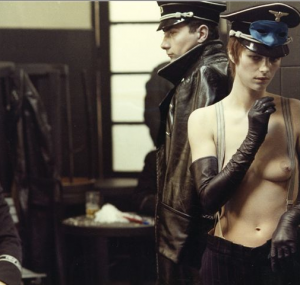 Charlotte Rampling in "The Night Porter", nudity, sensuality, perversion..; no woman has more worn suspenders so sensual.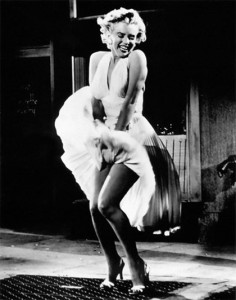 Marilyn Monroe in "The Seven Year Itch", a department store's dress has become a symbol and icon.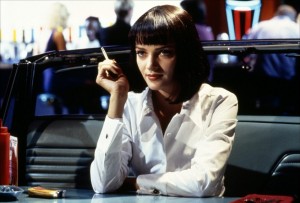 Uma Thurman in "Pulp Fiction", irreverent and sexy transformation.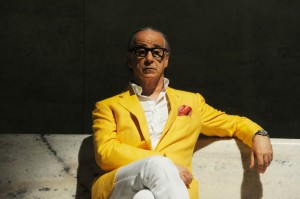 Toni Servillo in "The Great Beauty", the color translates the psychology of the character.
Film and fashion have always been a happy marriage, often a dress has been able to exploit, sometimes even identify and give the character better than anything else; some pictures that show actors and actresses with a certain dress, makeup and hairstyle not only have entered the collective imagination, but have become almost the same success , the "trademark " of the movie, crucial for the characterization of the character. I think to Audrey's little black dress in "Breakfast at Tiffany's" or with leggings and ballet flats in "Sabrina"; Humphrey Bogart trench coat and fedora slightly bent in "Casablanca"; braces on her breasts naked Charlotte Rampling in " Keeper Night " ; a sort of dressing gown worn by Sophia Loren in " Two Women ";  in billowing white dress Marilyn in "the Seven Year Itch"; Uma Thurman in a white shirt and black pants, dancing in "Pulp Fuction "; up to the gaudy jackets  of Jep Gambardella in "The Great Beauty ".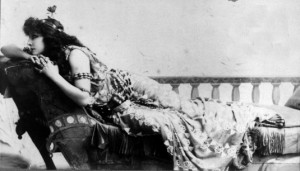 Sarah Bernhardt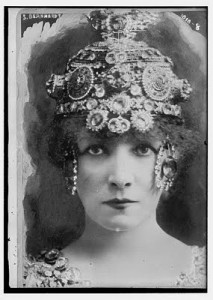 Sarah Bernhardt… the drama
Fashion and film have always cooperate. The first was Poul Poiret, a great French tailor who liberated women from corsets that greatly influenced Hollywood, in 1912 he created the outfits for "Queen Elizabeth" starring Sarah Bernhardt. From then on it was the turn of the costume designers, two names of all,  Adrian "chief designer costume" for Metro-Goldwyn-Mayer and Edith Head (winner with 8 Oscars for costumes and 48 nominations), to them we owe the "construction" of the image of actresses such as Greta Garbo, Joan Crawford, Marlene Dietrich .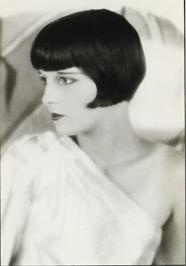 Louise Brooks, the modernity.
Louise Brooks in "Pandora's Box".
Mary Pickford e Lillian Gish, the girls next door.
Clara Bow e Mae Murray, the fatal femmes.
In those years, '20 / '30, the films were still in black and white and the cinema was asked primarily to dream the viewer (even to exorcise ghosts of crises and wars just past), the clothes had to be perfect for this, gorgeous and sparkling. Important to mention movies like "Sunset Boulevard" by B.Wilder with Swanson dressed as Edith Head, or "Lulu, Pandora's Box" where a beautiful and very personal Louise Brooks is dressed as Patou, we are in 1928. Then there were actresses like Mary Pickford and Lillian Gish, naive and carefree, femmes fatal as Clara Bow and Mae Murray (Murray in the movie "The Merry Widow" dressed as a young Adrian). In the 30s fashion becomes important, to the success of the film. For this Hollywood becomes "factory" of fashion from which derive all, in America as in Europe.
Greta Garbo in "Ninotchka" and "Painted Veil", the mystery and class.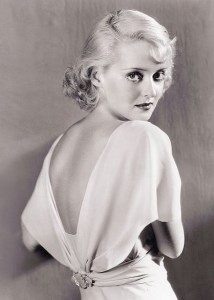 Bette Davis, eyes that speak.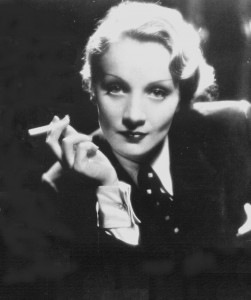 Marlene Dietrich,the ambiguity.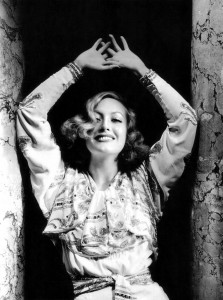 Joan Crawford, the diva, caprice and talent.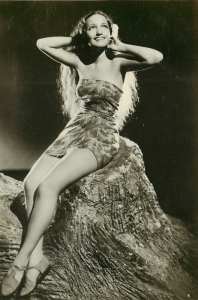 Dorothy Lamour, exoticism.
Hence the adulation, which soon turns into emulation on the part of ordinary women against their heroines, the divas. In "Destiny" Garbo launched the trend of the cloche hat and trench coat, in "Ninotchka" that of basque hat, in the "Painted Veil" that the turban. Bette Davis Hollywood glamour, style androgynous by Marleen Dietrich, Joan Crawford's broad shoulders in suits and a new "geometry" of women, Dorothy Lamour trend of Saragon and oriental fabrics .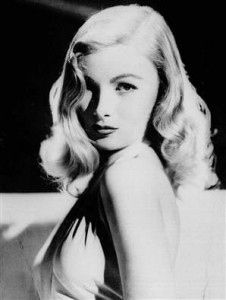 Veronica Lake, Sexy and mysterious.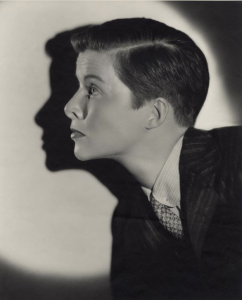 Katherine Hepburn,androgynous and great personality.
Rita Hayworth in "Gilda", the real woman!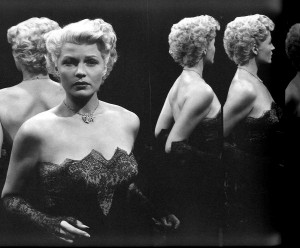 Rita Hayworth in "The Lady from Shanghai", very very sophisticated.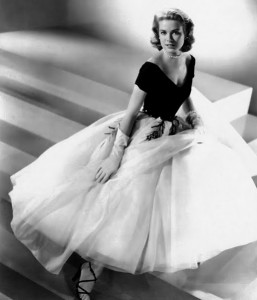 Grace Kelly in "Rear Window", the uptown beauty.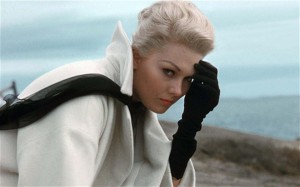 Kim Novak in "Vertigo", enigma, mystery and seduction.
Marilyn Monroe, femininity and fragility.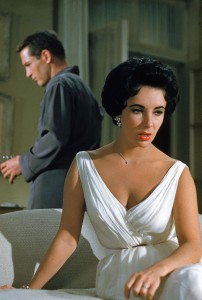 Elizabeth Taylor in "Cat on a Hot Tin Roof",  beauty, sensuality and temperament.
Then Veronica Lake with her imitated hairstyle with tuft that covers the eye; Katherine Hepburn, tomboy style interpreted in a more American practical and the unrestrained use of trousers; Rita Hayworth in Gilda's, the most famous striptease film, femme fatal and sophisticated at the same time; Grace Kelly, the myth of the upper class woman. And also Kim Novak beautiful and alluring, thanks to a plunging neckline and a pendentif connected in dim light, characterized and made unique, some scenes of Hitchcock's masterpiece "Vertigo"; Hepburn, style and elegance; Marilyn Monroe, femininity and sin; Elizabeth Taylor, from a child prodigy to a star woman predator (the dress white cross in front of "Cat on a Hot Tin Roof" copied in department stores achieved a record of sales).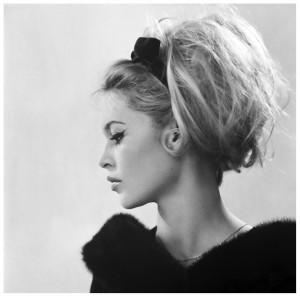 Brigitte Bardot, the coquette.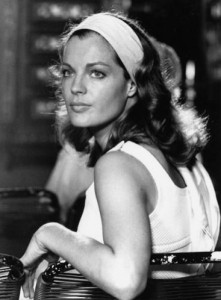 Romy Schneider, wonderful and tortured beauty.
Silvana Mangano in "Bitter Rice" and "Conversation Piece ,  impudent and sensual girl to sophisticated woman.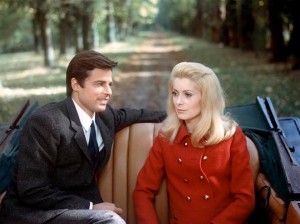 Catherine Denevue in "Belle de jour", the French class.
Then came the Europeans, first of all Brigitte Bardot, with her ponytail, the Capri pants with the dancers shoes, vichy print, balconette bras; Romy Schneider from the interpretations of the sweet princess Sissi passed to the sophisticated direction of Luchino Visconti, wearing Chanel inside and outside the screen. Sophia Loren and Gina Lollobrigida in Italy, both by imposing physicality that valorized above all the waist, but also the attractive Silvana Mangano, with stockings and shorts in "Bitter Rice" (memorable!), and sophisticated in "Death in Venice " or " Family group in an interior", both directed by Luchino Visconti. Also important to mention Catherine Deneuve dressed in Yves Saint Laurent in "Belle de jour".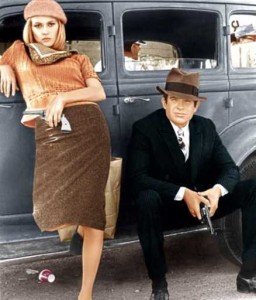 "Bonnie & Clyde", 1967 film with Faye Dunaway absolutely modern and irresistible.
Jane Fonda in "Barbarella", a beutiful Jane Fonda with dresses by Paco Rabanne.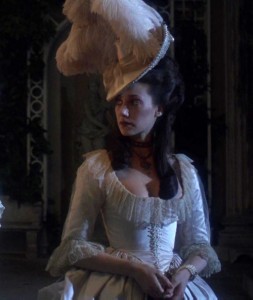 Marisa Berenson in "Barry Lyndon", a harrowing Marisa Berenson with costumes of the great Milena Canonero.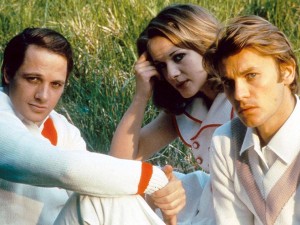 Dominique Sanda in the "Garden of the Finzi Contini", perhaps the film that struck me the most when I was a teenager, dramatic and elegant. The rich Jews in tennis outfit are among the most elegant scenes views in the cinema, the Sanda is the embodiment of education, beauty and independence, marked by a tragic destiny.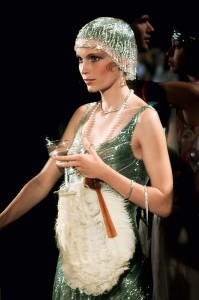 Mia Farrow nel "Grande Gatsby". Oscar for costumes and a lovely Mia Farrow, became an icon.
Other unforgettable films, thanks to the clothes worn by the protagonists were: "Bonnie & Clyde" with Faye Dunaway; "Barbarella" with Jane Fonda (Paco Rabanne dresses), "Barry Lyndon" with Marisa Berenson (costumes by Milena Canonero, prize Oscar for this film), "The Great Gatsby" with Mia Farrow (prize Oscar. Also in the latest version of Baz Luhrmann and designer clothes by Prada). "Out of Africa" with Meryl Streep (costumes always Milena Canonero); "American Gigolo" with Richard Gere (Armani suits), "the Tanenbaum" with Gwyneth Paltrow (Fendi Fur); "Dolls" by Takeshi Kitano (Yohji Yamamoto clothes); "I am Love" with Tilda Swinton (clothes Fendi and Jil Sander).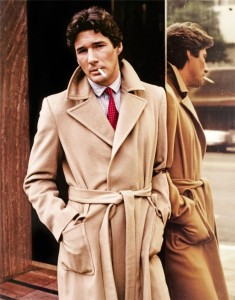 Richard Gere in "American Gigolò", the birth of a sex symbol, with Giorgio Armani's clothes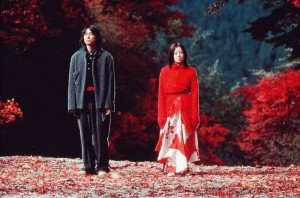 "Dolls" di Takeshi Kitano, pure poetry and clothes of the master Yamamoto.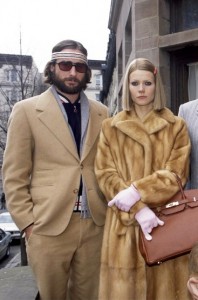 Gwyneth Paltrow in "Tanenbaum", visionary, irreverent and caustic movie, with Gwyneth Paltrow inseparable from its fur (Fendi)
Tilda Swinton in "I Am Love", Tilda Swinton icy Milanese lady, fire under the ashes.
A special note is for Gabriella Pescucci, Oscar-winner for "The Age of Innocence" and for creating magnificent costumes for masterpieces such as  "Once Upon a Time in America", "The Name of the Rose",  "The Adventures of Baron Munchausen", "The chocolate Factory ".
I'll have forgotten a lot, I have listed movie and actresses who hit me, conditioned or influenced . Then, as with all other things, each of us is different, fortunately, and has separate reference models. In fact there are women who identify with strong female models, I am as the great Tina Turner in Mad Max, other with women more funny, as Jamie Lee Curtis in "A Fish Called Wanda", sweets, as Paltrow in Sliding Doors, seductive , as Katherine Turner in Body Heat.
But this is the magic of cinema and fashion, to make us dream and want to be like these beautiful women, no matter if there will ever, important was the stimulus that have given us to improve.
All of this beautiful cinema transported me (imagining) at the Oscars, where I would dress the two actors candidates for the best evidence of acting, in this way,  20s inspiration for her, new dandy for him.
Dresses for actress/actor nominees for the Oscar by Beatrice Brandini
Finally writing this post I had the knowledge that actors and actresses often embody roles that do not belong them, but because of the history and the "power" of cinema (also by means of their costumes), become "others." A spotlight off everyone returns to their lives and himself, which sometimes is not as golden as it might seem, because they neglect their private life to give us great emotions and flashes of happiness .
Good life to all!
Beatrice