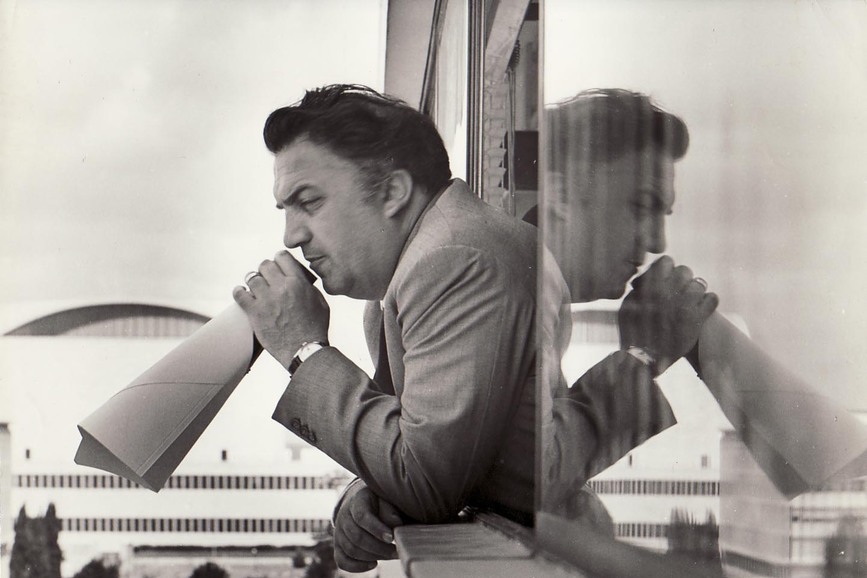 Federico Fellini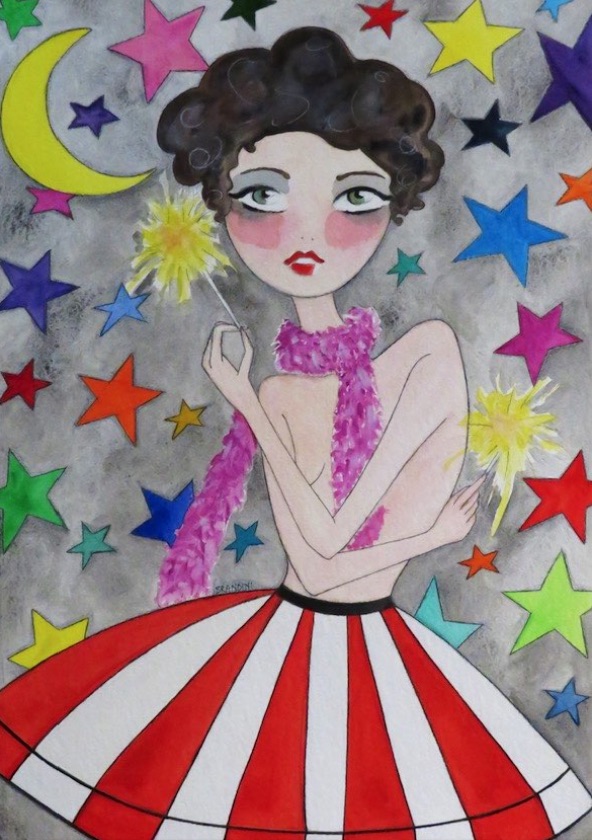 "Stellina" by Beatrice Brandini
An exhibition in Rimini, which will end in March but which will pass the baton in Rome, "Fellini 100", and another which will be inaugurated at Palazzo Reale in 2021, pay tribute, on the centenary of his birth (20 January 1920), to one of the most important personalities of international cinematography: Federico Fellini.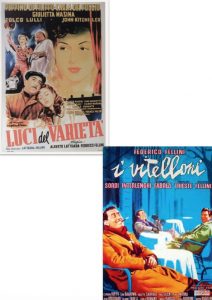 Posters taken from the films "Luci del varietà" from 1950 and "I vitelloni" from 1953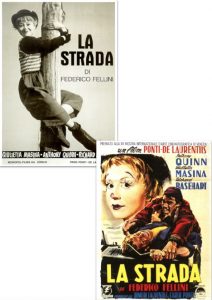 Poster taken from the movie "The road" of 1954
Federico Fellini was a great artist, his imagery, beautifully told through his films, became famous all over the world, capable even of coining words or adjectives (Felliniano, the "Dolce Vita"), which became popular and used in language common.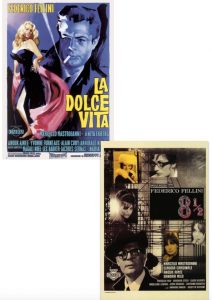 Posters taken from the films "La Dolce Vita" of 1960 and "8 and 1/2" of 1963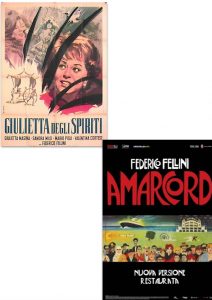 Posters taken from the films "Giulietta degli Spiriti" from 1965 and "Amarcord" from 1973
Through his films, Fellini recounted Italy and in particular Rimini, the region of the soul, he built an ideal of beauty, investigated human psychology, made us emotion and smile, but above all enriched our lives of imagination and feeling.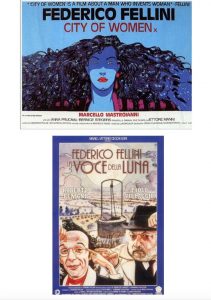 Posters taken from the films "The city of women", from 1980 and "The voice of the moon"  from 1990.
Fellini's approach to art begins very early, already in 1936, the year in which he makes caricatures that will be published and that will be noticed by the manager of the Fulgor cinema in Rimini who will commission him to portray the stars to promote films. Therefore, when he moved from Rimini to Rome, he did it as a draftsman and in the prestigious magazine Marc'Aurelio, a humorous magazine that boasts names such as Cesare Zavattini, Furio Scarpelli, Age, etc. among his collaborators.
The passion for drawing will never abandon him, some of his films or scenes, were born precisely from visions translated on paper. Later he also turned his attention to other illustrators. The poster of the City of Women (1980) was illustrated by a young Andrea Pazienza, just as the collaboration between the director and Milo Manara was long.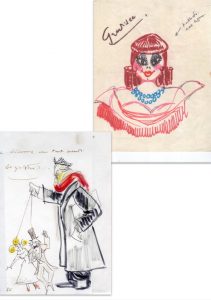 Drawings by Federico Fellini
"Why do I draw the characters of my films? Why do I take graphic notes of faces, noses, mustaches, ties, handbags …? Maybe I already said that it is a way to start looking at the film in the face. " Federico Fellini
Gelsomina's soldier's cape and her striped shirt are all born first from the pencil and the color.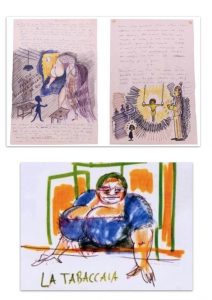 Drawings by Federico Fellini
In Rome he was an author and screenwriter, even when he went on to directing he never abandoned ideation and writing. He was also an actor, but Federico Fellini was above all a great director. The debut behind the camera was with Alberto Lattuada with whom he made a four-handed direction for the film "Luci del Varietà" (1950).
Drawings by Federico Fellini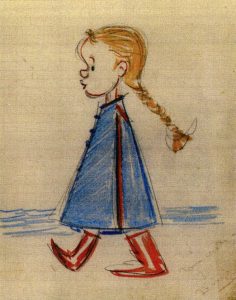 Drawing by Federico Fellini dedicated to her granddaughter when she was a child
Fellini's first film as director was "The White Sheikh", in 1952, which was not a great success. The next, "I vitelloni", with five magnificent protagonists (Franco Interlenghi, Alberto Sordi, Franco Fabrizi, Leopoldo Trieste and Riccardo Fellini, brother of the director), instead won the silver ribbon for the best direction and for the best actor not protagonist (Sordi), he was nominated for an Oscar for best original subject and screenplay. From here on, Fellini's career was crowned only by countless awards, among these it is important to remember the Legion of Honor in 1984, the Premium of the Emperor of Japan in 1990, and the five Oscar awards, one of the very few directors to have received many times this award.
Some of the unforgettable women in Federico Fellini's imagination and cinematography: Giulietta Masina and Anita Ekberg; Sandra Milo and Anouk Aimee
"Who guides you on the creative adventure? Only the trust in something or someone hidden inside you, someone you know little, who shows up every now and then, a sly and wise part of you who started working for you could have favored the mysterious operation ". Federico Fellini
Some of the unforgettable women in Federico Fellini's imagination and cinematography: Anouk Aimee and Claudia Cardinale; Gradisca or Magali Noe
Federico Fellini has inspired many creatives, even those of fashion. It was in fact didactic when it came to deciding and choosing stage clothes, but surely because he understood, before others, how much aesthetics (dress, accessories, beauty) was an integral part of his characters, a way immediate and effective to explain its psychology.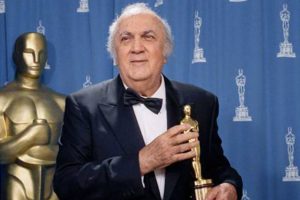 Federico Fellini in Los Angels in 1993, awarded the Oscar for his career.
Federico Fellini was an all-round artist, able to surround himself with magnificent collaborators, among all we remember Nino Rota for the extraordinary soundtracks (Oscar winner for the Godfather of Coppola), and Piero Gherardi for the sets and costumes (nominated six times for Oscar, he won two, for the costumes of the Dolce Vita and 8 and 1/2).
"Nothing is done, everything is imagined." Federico Fellini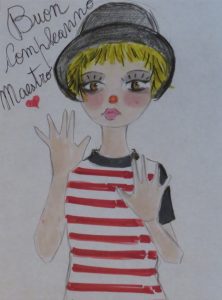 "Gelsomina" by Beatrice Brandini
I could go on and on very much, there are many things to say about this unforgettable teacher, I only quote one of his sentences that better than any other word can conclude this post, confirming that those who have passions and ideas, those who try to achieve them working hard, daring and always defending them, they are the ones who will leave an indelible mark on the life of all of us.
"Fellini_Circus" Mood by Beatrice Brandini
"Fellini_Circus" Mood by Beatrice Brandini
"A different language is a different outlook on life." Federico Fellini
Good life to everyone!
Beatrice