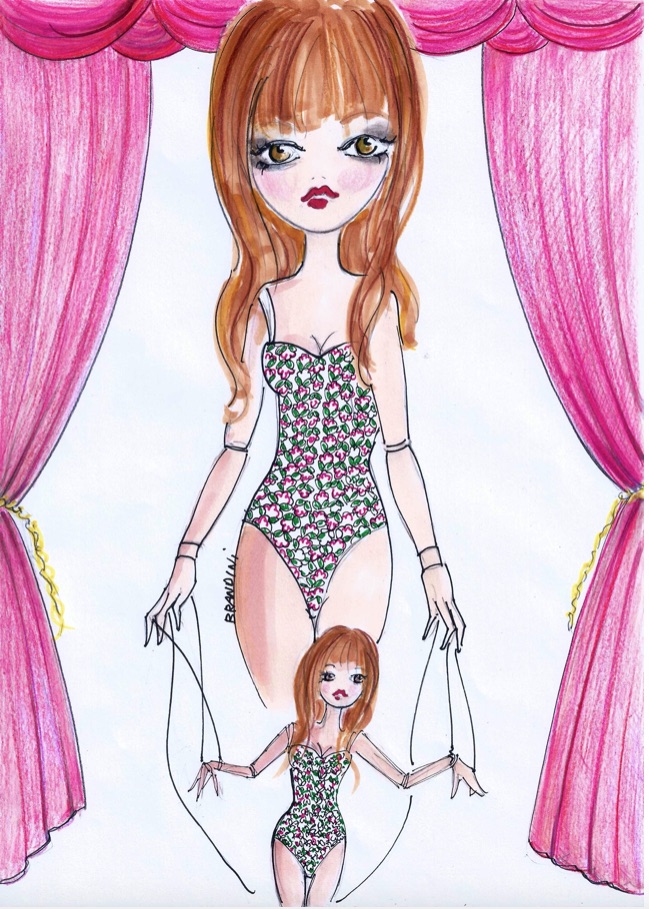 "Puppet and puppeteer" by Beatrice Brandini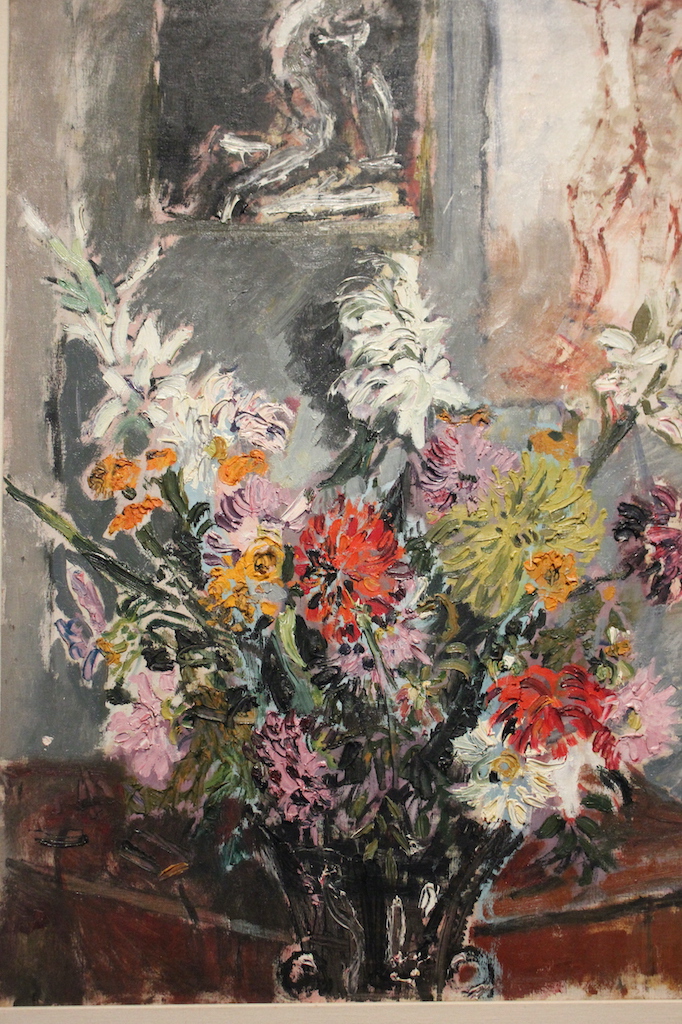 Work of Filippo De Pisis
Filippo De Pisis, Giulio Paolini and Luca Vitone meet at the Museo del Novecento in a three-part dialogue, within an exhibition project from 18 March until 7 September 2022.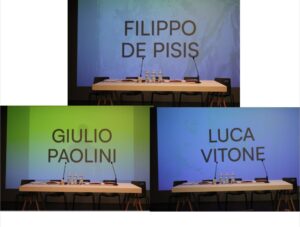 Press conference: Filippo De Pisis. "The illusion of superficiality" Museo del Novecento
Works by Filippo De Pisis at the Museo del Novecento
Three artists, apparently very different from each other, are reinterpreted from an unprecedented perspective. Three solo exhibitions, separate but connected, which give life to a very interesting exhibition.
Glimpses of the exhibition room dedicated to Filippo De Pisis
Works by Filippo De Pisis at the Museo del Novecento
The artistic career of Filippo De Pisis, a famous and eclectic painter and writer from Ferrara, and that of Giulio Paolini, one of the great protagonists of Italian and international art from the 1960s to today, is not totally different. Their art, their works, are a puzzle full of allegories, the objects and elements that make up their creations, must first be deciphered and then understood, both, in this artistic exercise that sometimes resembles a puzzle, give life to the game of art.
Work of Filippo De Pisis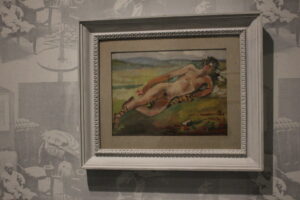 Work of Filippo De Pisis
In de Pisis's works, as in those of Paolini, there is a continuous coming and going in the history of art, with references to artists belonging to past eras, a sort of labyrinth of paintings within other paintings.
Their works are remembrance and memory, lightness and melancholy, with figurative references (loves) ranging from El Greco to Goya, from De Chirico to classical art.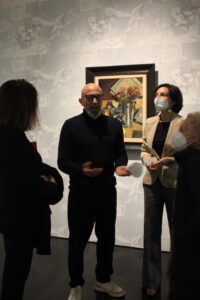 Sergio Risaliti and Lucia Mannini, curators of the exhibition in front of a work by De Pisis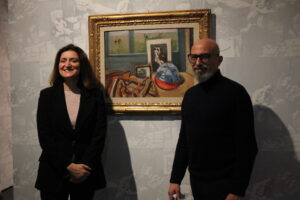 Sergio Risaliti and Alessia Bettini, Deputy Mayor of Florence
The Filippo De Pisis exhibition. The illusion of superficiality, born from an idea by Sergio Risaliti, co-curated by Lucia Mannini and organized in collaboration with the Associazione per Filippo De Pisis, hosts over forty works by the Ferrara painter and scholar on the first floor of the Museo del Novecento.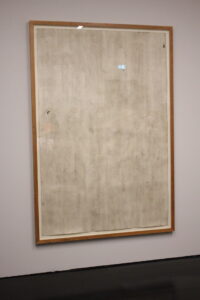 Luca Vitone: Rooms
Luca Vitone
Accused of performing a painting with a "decorative superficiality", above all because of his famous quick and light brushstrokes, De Pisis has instead created works rich in references and autobiographical and cultural references. This is why the exhibition aims to "redeem" the complexity of this artist, who often anticipated many ideas of the conceptual art of the Sixties.
His magical suspension between reality and unreality, which we find above all in his still life, invites the viewer to reflect, inviting him to investigate in the deepest sense of the things present in the painting.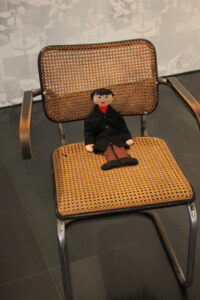 Alter-ego (coincidences) by Luca Vitone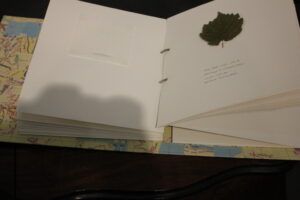 Genova nel bosco (herbarium) by Luca Vitone
Giulio Paolini, on the other hand, is the protagonist of an unpublished exhibition project, which brings together works of his most recent production in dialogue with Renaissance architecture in the ground floor rooms of the Museo del Novecento. The title of the exhibition, When is the present?, Curated by Bettina Della Casa and Sergio Risaliti, accompanies us in the artist's reflection on time and our inability to grasp it. As usual, Paolini uses a vast repertoire of literary, mythological and philosophical references, through photographic reproduction, collage and plaster cast. From the birth of the Renaissance perspective, to the survival of the myth in iconography. After all, Paolini has often declared his great love for Beato Angelico and defined the Museum of San Marco in Florence as his ideal museum.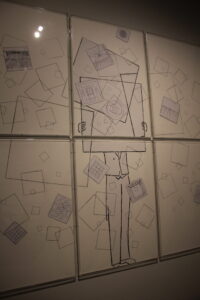 The art of not being there, 2018 – 2019 by Giulio Paolini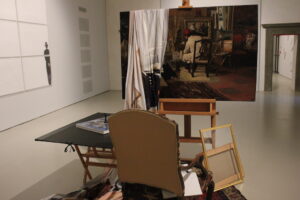 Work of Giulio Paolini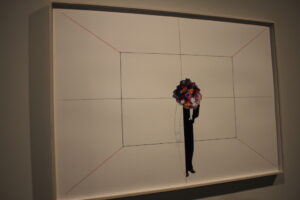 Work of Giulio Paolini
Luca Vitone enters the exhibition project by continuing this game of Chinese boxes, with a series of site-specific works within the D'après exhibition. Vitone presents the herbarium, an installation within the exhibition space that hosts the exhibition dedicated to De Pisis, which alludes to the botanical interests of the Ferrara-born, who loved to call himself a naturalist and entomologist. Or his puppet, whose appearance portrays Vitone himself, a transfer mechanism that we find in a rag puppet that appears in a photo of De Pisis in his studio, a photo used by Vitone to also create a wallpaper that wraps, in the its entirety, the exhibition rooms on the first floor of the museum.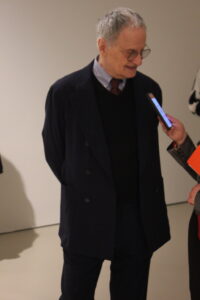 Giulio Paolini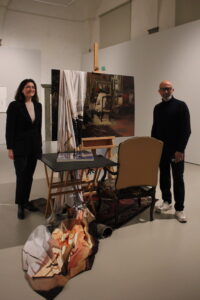 Sergio Risaliti and Alessia Bettini
"They call him superficial, this painter, and they don't realize the nine thousand meters depth he reaches without even wearing a diving suit […] De Pisis knows how to give the inattentive the illusion of superficiality" Elio Vittorini.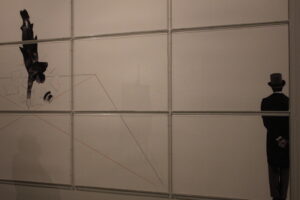 Work of Giulio Paolini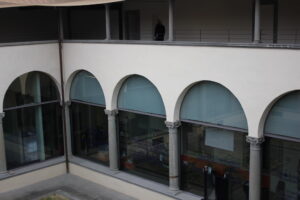 View of the cloister of the Museo del Novecento
A great idea because it connects three great artists, apparently different, but which an interesting reading game helps us to bring them closer, transporting us to a game, the game of art. These exhibitions are very good for our wonderful and Renaissance Florence, a city that everyone loves but which must "surprisingly" look ahead.
Good life to everyone!
Beatrice