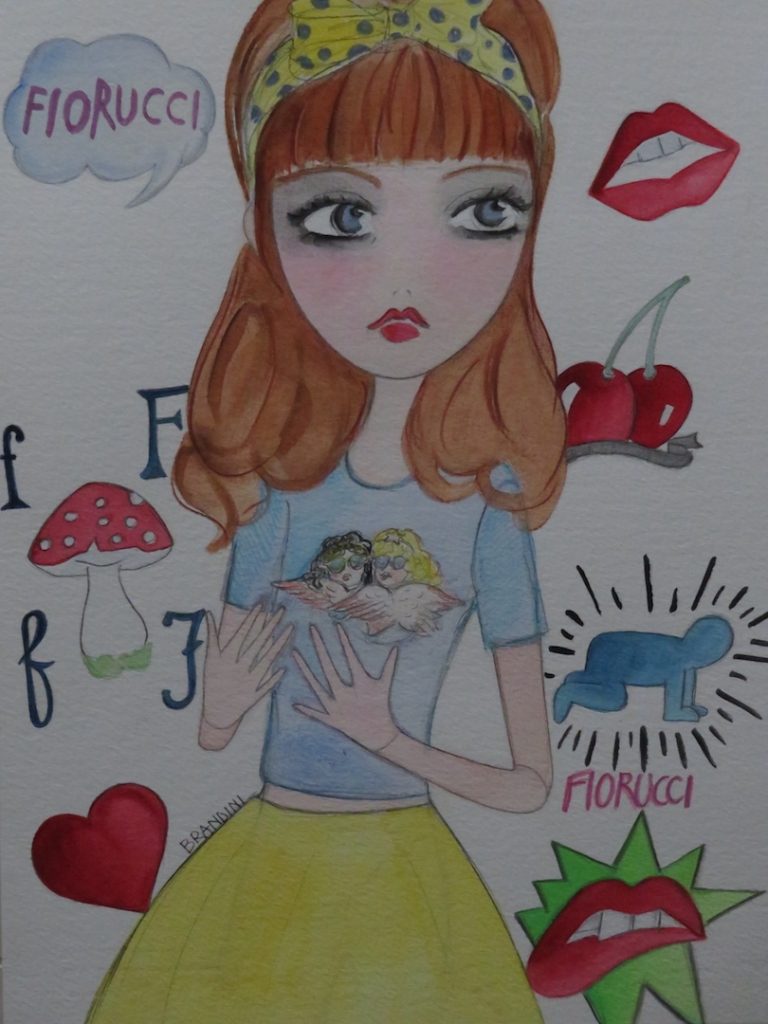 "Fioruccina" by Beatrice Brandini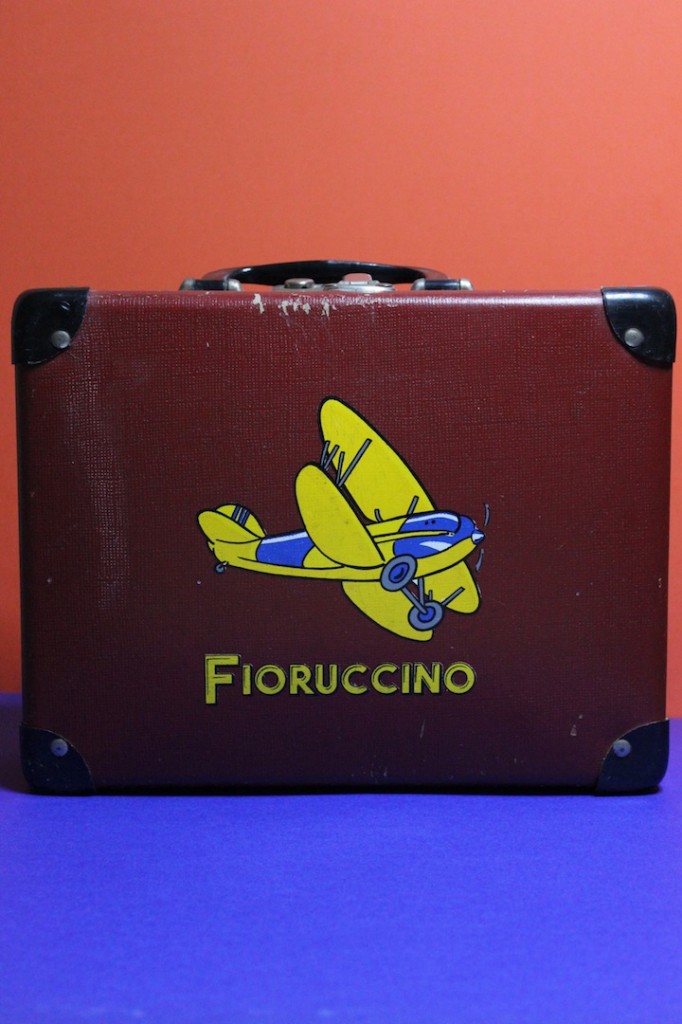 Vintage suitcase Fiorucci
The disappearance of Elio Fiorucci it was for me very saddened. When I was a kid I spent my weekly allowance for his colorful, humorous, kaleidoscopic creations (some from around the world), so as to deserve the title of "Fioruccina". I was in junior high, late eighties, and his fashion, his accessories and his objects were really something innovative and different.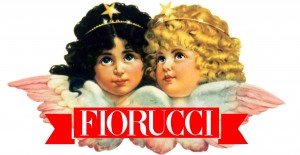 Famous Angels logo by Fiorucci
His famous shop in Milan, in Passarella Gallery, was a puzzle whose pieces were scrapes of Times Square, Carnaby Street, the Pop Art of Andy Warhol, Basquiat or Haring graffiti, fashion gipsy and hippies of Zandra Rhodes and Ossie Clark, the Vivienne Westwood's punk, the sexual revolution expressed by the miniskirt of Mary Quant.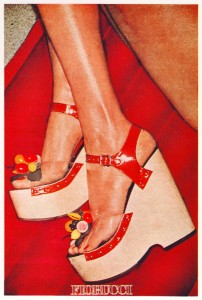 Fiorucci summer shoes, 1974
Before they opened the concept in Florence (in Strozzi Square where now there is Emporio Armani), I went to Milan (already adolescent), or asked to my father to take me in its many work missions, mainly to go  from Fiorucci. Anyone who knows me knows this, because I was a torment.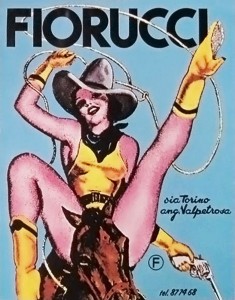 Shopper bag Fiorucci, about 1970 
Fiorucci was a reference point for Milanese and not only, a crossroads of art and multi-ethnic (unknown word in these days), a way to feel international, not glamorous, but more free and creative.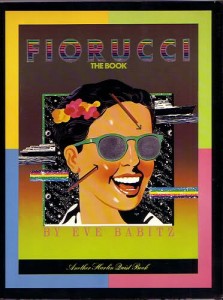 Cover Fiorucci look book
Fiorucci dresses made with humor and lightness, always trying to meet the "needs" of young people.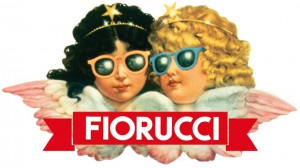 Angels logo update 
Comics cartoons that customized the clothes were "fashionable" very first of Manga. The dresses made of rubber, with beads, embroidered with straw, appeared before ethnic and exotic contamination, used by fashion many decades after.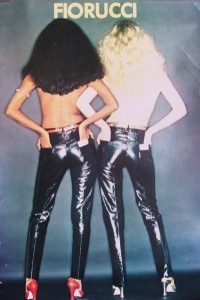 Fiorucci advertising campaigns by Oliviero Toscani 1975-1978
Sexy gowns, wedges with fruits and other trinkets that Fiorucci created or brought in Italy, already in the sixties.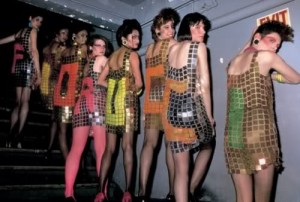 Fiorucci Girls in the night club
And yet, the rivolutionary and "scandalous" campaigns (some at the hands of a young Oliviero Toscani, before the Benetton's collaboration); the research of dress or accessories at the flea market, today, abusing paternity and mastery, defined "vintage".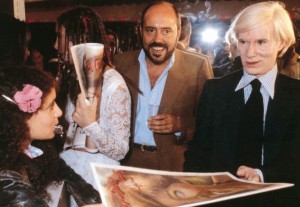 Elio Fiorucci with Andy Warhol in Los Angeles, 1978
The logo of the Angels, became "status" when there wasn't this term but only brand, logo reported everywhere, exspressing grace, poetry but also irony (especially when were added to the sunglasses), the essence of his poetry, his feel, his "soul".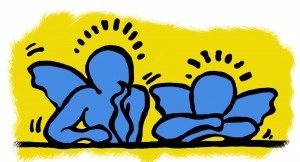 Collaboration with Keith Haring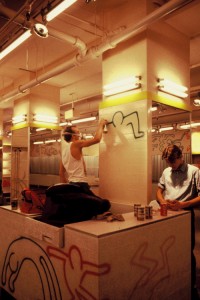 Keith Haring at work inside the Fiorucci Milan store in Galleria Passarella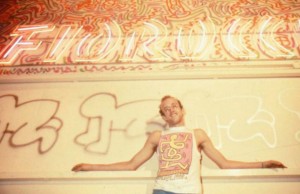 Keith Haring with his murals in the Fiorucci Milan store 
Enzo Biagi, who interviewed him for the Corriere della Sera in 1976, headlined the article "The man who destroyed the fashion", reffering, I think, to his ability to create trends without hig fashion models, without the haugtiness by couturier/artist, without pretension.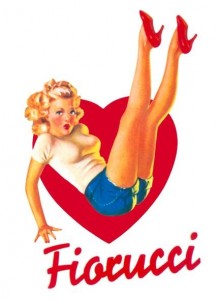 Fiorucci advertising campaign and logo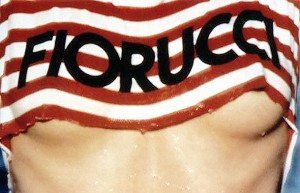 Fiorucci advertising campaign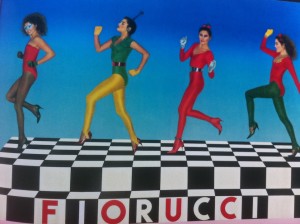 Fiorucci advertising campaign 
Creative, democratic, animal-rights, pure, laic… Elio Fiorucci was all that and much more. We feel very much miss him, partly because he belonged to the class of people, unfortunatly more and more rare, I call FREE.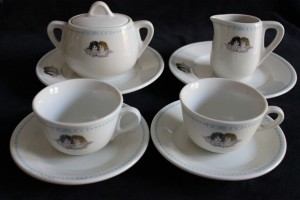 Vintage Tea Cup Set by Fiorucci and Richard Ginori
Milan and the world now will be less colorful and cheerful.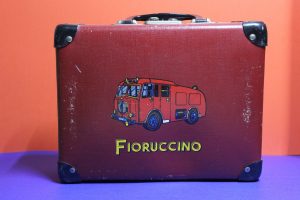 Vintage suitcase Fiorucci (front back)
Good life to all!
Beatrice