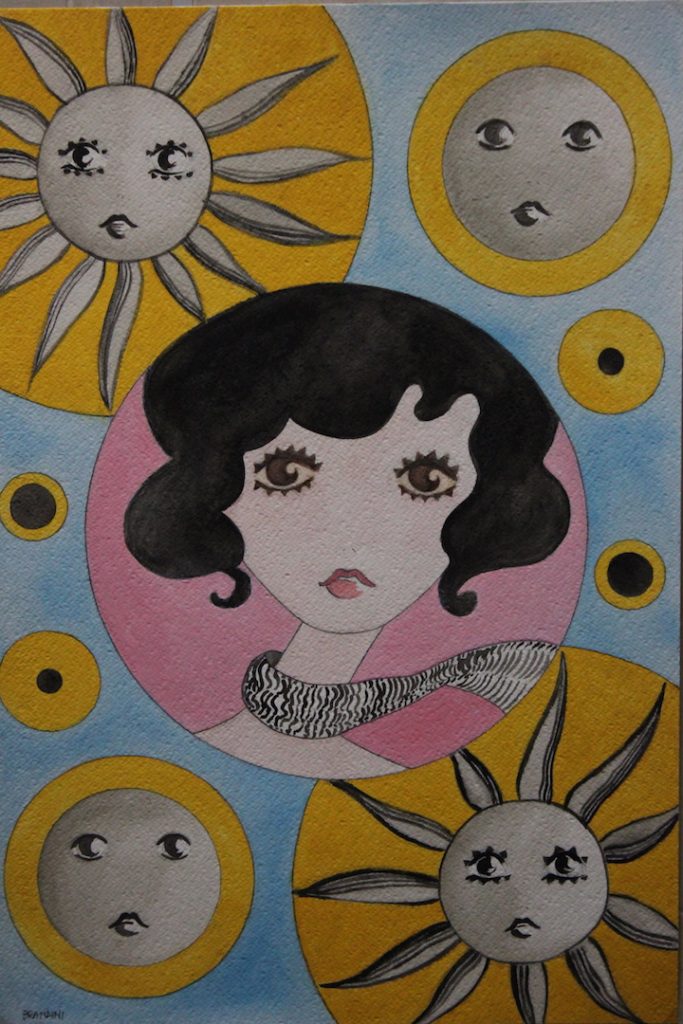 Lina by Beatrice Brandini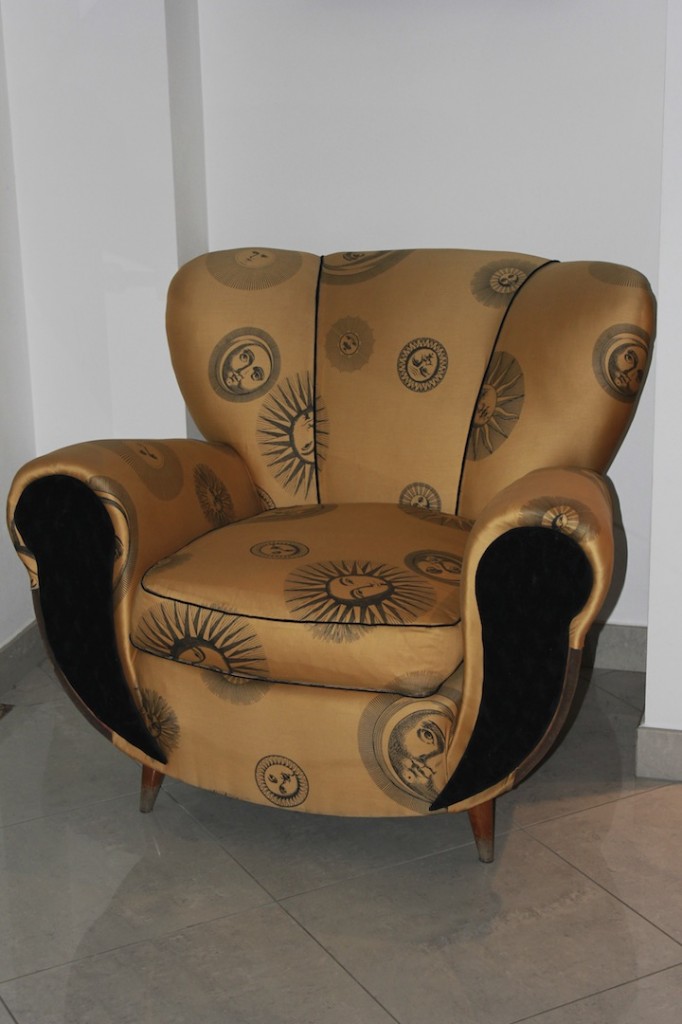 Fornasetti from an idea of Beatrice Brandini, vintage armchair   
In the splendid setting of the Triennale Design Museum in Milan, until to 9 February, on the occasion of the centenary of his birth, there is a beautiful exhibit of Piero Fornasetti: "One Hundred Years of practice madness."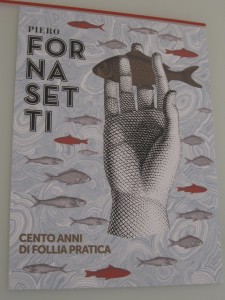 Banner of the exhibition
The exhibition is curated by his son Barnaba Fornasetti, which draws incredible historical archive of his father (which he curated) 1,000 items shown here.
Some glimpses of the magnificent structure of the Triennale
Two monumental statues of Mario Sironi, in the Triennale.
Once again, first of all I want to say a few words about Milan , where I lived for more than 12 years .
"Needle and Thread", a sculpture by Claes Oldenburg and Coosje Van Bruggen – Piazza Cadorna
Tribute to Milan as a city of fashion, and the industriousness of the Milanese.
To me it is always a beautiful city, full of atmosphere and interesting stimulates. Milanesi maybe you don't see this like me, but believe me that coming from other cities (I live in Florence is not the end of the world!) the impression is that you make things work well, certainly better than elsewhere. People are always so busy working and trying to do something in life, whether it be big or small does not matter, the important thing is to have passion and commitment.
Speaking of exposure, it follows a sort of story of the Fornasetti's universe, where they found all the elements dear to this great artist, there is in fact the painting section, that on the plates, screens, umbrella stands, collaboration with Gio Ponti… It seems to be catapulted into a fantasy world, a sort of Alice in Wonderland, I myself have been several times in awe, because the exposure is scenically magnificent, enhances and emphasizes every single object exhibited.
Some of the dishes by Fornasetti (collage)
Room of the dishes, hang on the walls and magically suspended in the air
Piero Fornasetti was born in Milan in 1913, from a wealthy bourgeois family, he began as a child to be prone to drawing and art (he said: "I was born a painter, I started at the age of ten years"), in fact attend the 'Academy of Brera where, however, he will be expelled after just two years, the cause is the character of the artist, not prone to the rules, even if he will justify and liquidate it with: "I taught what I wanted to learn …."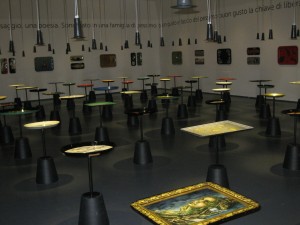 Room Trays
Trays exposed
Piero Fornasetti was a free spirit, during his life he refused any label, embracing a multitude of "roles" of art, was indeed a painter, decorator, designer, printer, designer, gallery owner and curator …; curious and insatiable collector Fornasetti is often stated that "there is no boundary between art and craft. Everything is art ".
Screens by Fornasetti
The screens were among the favorite items from Fornasetti, because with their function as architectural element movable, were perfectly suited to play illusionistic, almost theatrical. Surfaces suited to the many transformations, smooth and decorated with trompe-l'oeil effects.
Objects and furnishings by Fornasetti
Objects by Fornasetti
Great collector Fornasetti nourished and expressed his creativity thanks to this passion. In fact, if we consider the whole serial production (remember that among all of the plates that depict Lina Cavalieri, opera singer of the nineteenth century), we can understand that the inexhaustible, imagination, curious, playful of Fornasetti was the result of variations on the theme (showing precisely defined Theme and Variations), as only a methodical and insatiable collector who collects items may perceive, that every little change/variation, which in the "common" eyes  escapes.
Objects and Trays
Vases and Umbrella stand
"With Fornasetti you never know where it ends the art and begins the game" …. Isa Tutino-Vercelloni
Drawings for the covers of Domus's magazine, chair and lamp with movable cube
Important meeting with Gio Ponti, which occurred after Fornasetti had submitted to a competition at the Triennale, (where Ponti was the director), printed scarves. The project was rejected (maybe they were not suitable, perhaps had nothing to do with the theme of the competition … or maybe the commission was wrong?!), but Ponti was nonetheless impressed with the beauty of the decorations. This episode marks a turning point for the work of Fornasetti, in fact here comes a friendship and a collaboration between the 50s and 60s become very close. "Ace in the field of inventions and productions of art" as defined by Gio Ponti.
Mirrors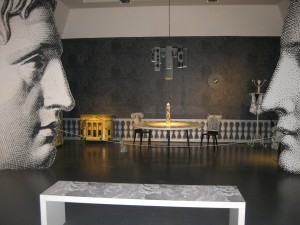 Rooms and furnishings Fornasetti
The first complete furniture created by Fornasetti dates back to 1951 is for Casa Lucano. The favorite instrument and definitely suited to create illusionistic effects is once again the trompe-l'oeil.
Collage Fornasetti
In his long career decorate with frescoes in Palazzo Bo in Padua, the interiors of the San Remo's Casino, the first class cabins in the liner Andrea Doria ….
After the war Fornasetti had exported the Italian style in the world, but in the '60s, when the triumphant rationalism, highly ideological, banning considered mawkish and superfluous decoration, Fornasetti's creations are kitsch … Will be opening a store in London, in 1980, called "Theme and Variations," to revive the activity and interest in this great artist.
Chair "hung"                                                Piero Fornasetti in a photo by Ugo Mulas
I've always been in love with the object of Fornasetti, because for me art should make us feel better, so I try to surround myself with nice things, but especially ironic, playful, magical and intelligent in their eccentricity.
Too bad not having been able to know you, not having been able to declare my "love" and my respect …. as well as share some characteristics, such as collecting and collage, that unite us.
Mirror trompe-l'oeil effect and Vase
 I hope that you can find a place of honor in the Olympus of Genes!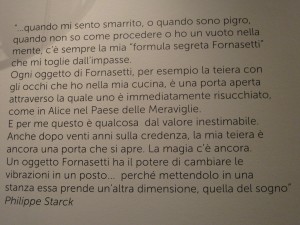 Certain statements on Fornasetti by famous designer (Munari, Sottsass, Starck).
Some Outfits by Beatrice Brandini inspired by the poetry of Fornasetti
Goodbye teacher Fornasetti.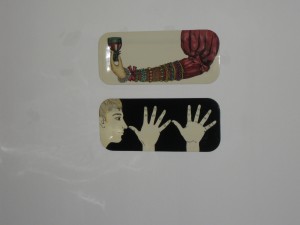 Good Life to all!
Beatrice