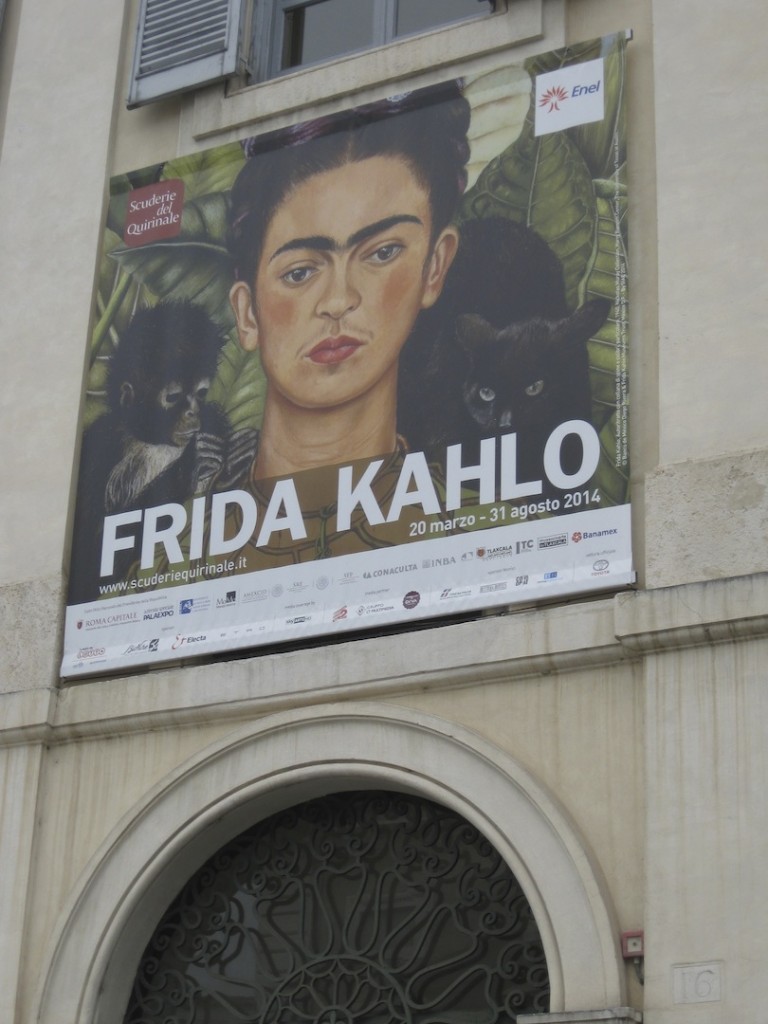 Banner of the exhibition "Frida Kahlo" in Rome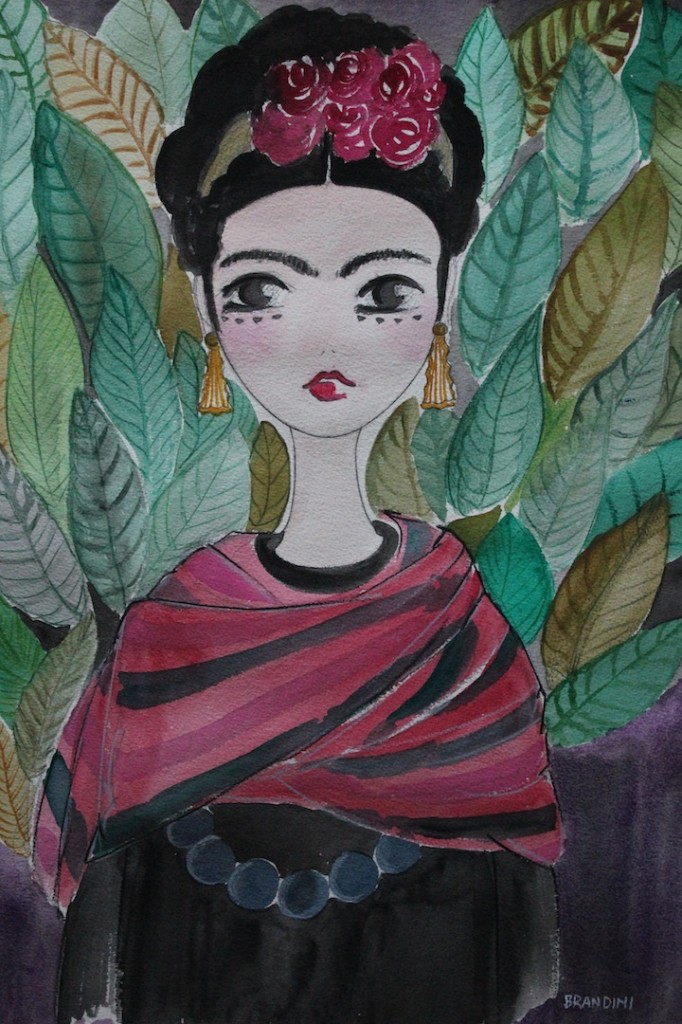 "Frida" by Beatrice Brandini 
Undisputed icon of Mexican culture and modern,  forerunner of the feminist movement, perfect subject for marketing and merchandising, but especially women indomitable, courageous, free and independent. 
"I've always painted my own reality, not my dreams …" Frida Kahlo, 1953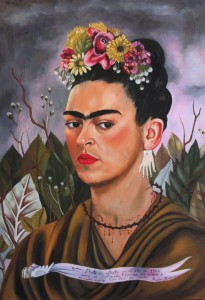 Frida Kahlo's "Self-Portrait for Dr. Eloesser", 1940. Private Collection 
At the Quirinal Stables,in Rome,  until August 31, there is a beautiful exhibition of Frida Kahlo, which brings together masterpieces from collections around the world, from public and private collections, have never been exhibited in Italy. Show that wants above all to investigate the relationship of the artist with the artistic movements of the time, Mexican Modernism from the International Surrealism. It 'a really beautiful show; I appreciated the works for some less "discounted" and unknown to me, such as drawings and some abstract, and for the part of the beautiful and melancholic portraits, many of Nickolas Muray, which captures the true nature of Frida Kahlo .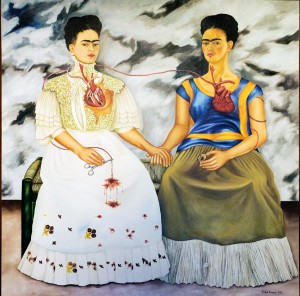 Frida Kahlo "The Two Frida", 1939. Mexico City, Museum of Modern Art 
In the life of this incredible artist, there are many things to tell, however, two are the most significant episodes in her life and, consequently, for her art: the encounter with Diego Rivera, the famous Mexican muralist artist, artistic partnership and private that will never run dry, and her big physical suffering. Born with spina bifida, never diagnosed and treated properly, and victim of a dreadful accident that miraculously survived, events that will leave trauma in body and spirit forever.  In spite of this, the lead character and temperament to react, tragedy turns into passion for art, compulsion immobility, lasted for months, the approach to painting, to which will be devote for the rest of her life, a way to exorcise the pain, physical and moral.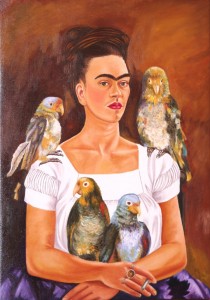 Frida Kahlo "Me and my parrots", 1941. Collection Mr. & Mrs. Harold H. Stream, New Orleans 
There are many paintings that celebrates self-representation, here the self-portrait assumes a vital importance, both in terms of number of works on the exhibition, and for the values that refer to the myth of Frida, those iconographic symbols and cultural factors that have made Frida Kahlo, an icon of the twentieth century. These canvases, personal and intimate, were a kind of self-analysis, the personal anxieties and visions of the artist. So when they asked her the reason of her many self-portraits, Frida replied that herself was the thing that she knew best.
"What do I need feet if I have wings to fly?". Frida Kahlo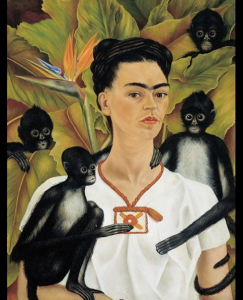 Frida Kahlo's "Self-Portrait with Monkey," 1943. Jacques and Natasha Gelman Collection, Mexico City 
At the end of the thirties some of her works were exhibited in New York and Paris, though they were difficult times, especially economically. Things became "easier" when the Mexican Ministry of Education asked her to teach at the Academy "La Esmeralda". The students adored her, worshiped by some to become her followers, known as "Los Fridos." To them  is dedicated to the canvas Self-Portrait with Monkey, where students are precisely represented as adoring monkeys.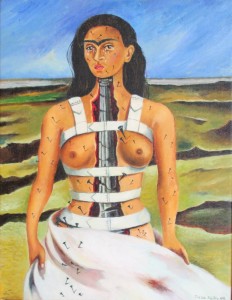 Frida Kahlo "The broken column," 1944. Museo Dolores Olmedo Patino Mexico City. 
In 1944, Kahlo suffered yet another surgery four vertebrae were welded to a metal rod 15 cm long. The pain became unbearable and she painted the picture "The broken column", where in her face, seemingly detached, appear tears, nails on the body that hurt flesh and soul and a bust/corset, that makes her body like a cage, unbearable. It's the graphic transposition of her physical and psychological pain.
She met André Breton, the father of the surrealist movement, and was he who launched her on the world of surrealism and in the European scene. However Frida never felt surreal. In fact, she declared: "I never thought of being a surrealist painter. I have always painted my daily reality of suffering and also my paintings, also the more strange, are the faithful chronicle of my life. "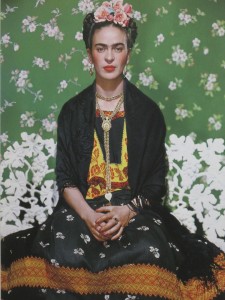 Frida in "white bench", photo by Nickolas Murray, 1939 
There are many elements that proposes in her paintings, such as the heart, here not iconography of love and romance, but a symbol of suffering. Or crowns of thorns, which often round the neck, causing pain and blood, they become the negation of liberty, coercion, certainly also for her physical condition. No pain experienced in life is excluded in her art. The fetuses of its countless abortions, the scars of many operations suffered, medical equipment, tears, heartbreak result of the troubled relationship with Diego Rivera. "The anguish and pain. The pleasure and death are nothing but a process to exist". Frdia Kahlo.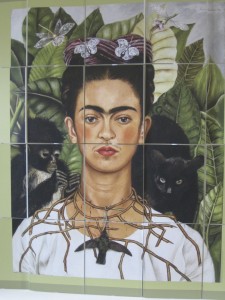 "Self-Portrait with Necklace of Thorns",  1940. Wall painted on the exhibition
In 1953, due to a serious deterioration of health, is a leg amputated (she had "predicted" this tragedy fifteen years before representing it in a painting).But through it all, her last painting, made eight days before the death, is a tribute to life. Frida portrays a still life, represented by some watermelons red and juicy, and in a slice will write "Viva la Vida". Frida had understood, more than anyone else, that life is suffering, a mystery can not be deciphered, and that the only thing to do to survive is live it greedily, enjoy every moment of our existence as if it were the last.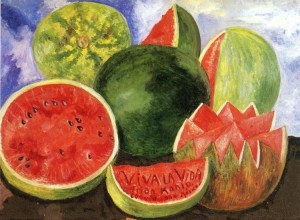 Frida Kahlo's "Viva la Vida" 1954 Museum of Coyoacan Mexico City 
She took leave writing in her diary: "I hope the exit is joyful and I hope never to return back."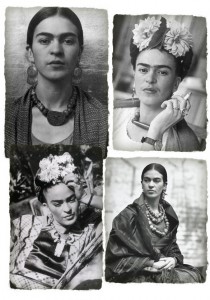 Frida Kahlo in some pictures 
Frida Kahlo lived with passion, love, friendship, parties, smoking, alcohol use, a full life and deliberately exposed. The incarnation of women's emancipation and freedom. Always true to herself.
"I lived for art, I lived for love." Frida Kahlo
L'Officiel 1998 Laura Bridge photographed by Iris Brosch. Harper's Bazaar November 2001, Mariacarla Boscono photographed by Nathaniel Goldberg. German Vogue, March 2010, Claudia Schiffer photographed by Karl Lagerfeld.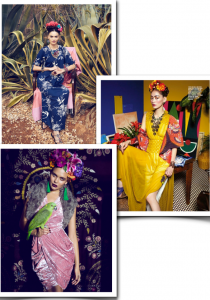 Others editorial paying homage to Frida Kahlo (Bijou Brigitte lookbook 2014; DV Mode 2011; Singles Korea, 2012)
A small proposal inspired to Frida … by Beatrice Brandini
A small proposal inspired to Frida … by Beatrice Brandini
Wonderful Frida!
Goodbye Frida, I hope you have found peace and serenity.
Good life to all!
Beatrice