Gianfranco Ferrè, Repubblica.it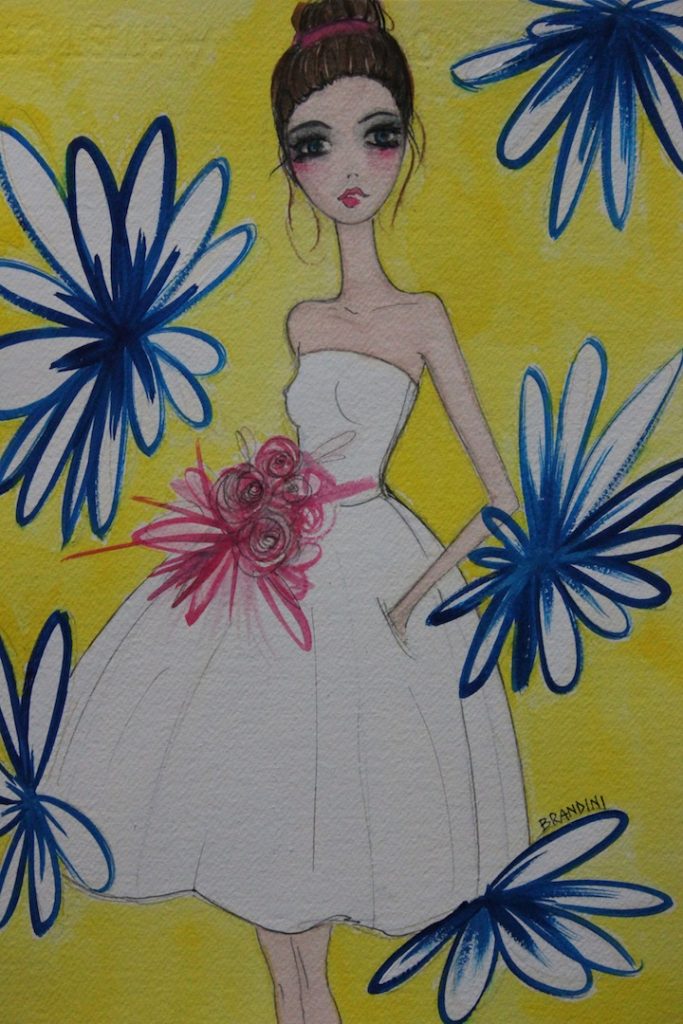 "NADINE" by Beatrice Brandini
Today I talk about one of the greatest designers (fashion designer is a "reducing" term if we talk about Ferrè) that the " Made in Italy" has ever had. His collections and garments are worthy of a display at a museum of costume , but also in the design museum , innovation museum , art museum.
I'm terribly sorry becuse since his sudden death, did not have the proper recognition, no one has dedicated a posthumous exhibition, a small or large museum/archive (with the exception of the splendid work of the Ferrè Foundation), that it has celebrated as it does for larger artist.
Documenting better, I discovered many amazing and touching things. I knew the creative, the architect, the first Italian designer called in the temple of French luxury and entrepreneurship, from Dior, paving the way for all the other young Italian talents (Marras from Kenzo , Tisci from Givenchy, Pilati from Saint Laurent, etc… ). But I did not know bashful and shy man, a tireless worker, who had a long and patient apprenticeship , who was also working for three companies at the same time in three different cities . Who knew fabrics, materials , but also the machines that were used to achieve them, demanded a lot from their assistants, employees, suppliers, but above all from himsel.
Two dresses by Ferrè for Dior
Determined and shy, sharp and soft, conservative and unconventional, rigorous and greedy, a soul full of contradictions, but always honest and sincere; anchored to its roots, tied to his family and to the province, Legnano, his hometown.
As a student of architecture was catapulted into the world of fashion, where in a few years won international fame, never fitted to the head. He was trying, like everyone else, its place in the world, but knowing that he would travel, which would make women more elegant, it would go away with the imagination.
His " debut " in fashion was thanks some accessories, more precisely the belt, which carried for the friends, and that, through word of mouth , quickly became sought after. In fact, being very nice and modern, were also noted by Rosy Biffi, homonymous boutique in Milan.  Was the husband of Rosy , Franco Limonta , who asked to draw Ferrè a small collection of leather garments, this episode which could be a nice and relaxing way from architectural firms, was his debut in fashion, it was 1968. (Rosy Biffi once said, "with him I made the most beautiful shops that I remember in life. And I sold everything ").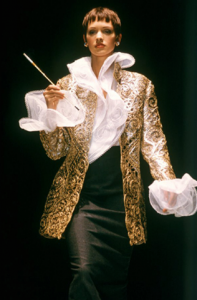 Fashion show Ferrè
From then on, his name began to circulate, especially among journalists , Anna Riva and Anna Piaggi two names of all and among the first to understand the skill, the commission accessories for Arianna and Vogue's editorial . His friends recall that Ferrè was one who looked away, not ambitious, but with high and vast ideas. The only groped for something that was beyond the province from which he came.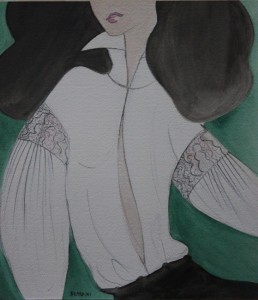 "NATHALIE" by Beatrice Brandini
In these years he has worked with various companies, remember to Walter Albini support for the creation of accessories, the collections for Ketch, and  for San Giorgio. The latter sends him even in India, search for fabrics, washes, inspiration. This trip will mark him deeply, affecting his aesthetics and laying the groundwork for what will inevitably and constantly style Ferrè: silks , gauzes , the lines, the iridescent fabrics, red, the color sacred to the goddess Lakshmi, patron of beauty and abundance, gold, the kurta, the famous Indian shirt with the collar on the price list. But the India's "lesson" was also important for learn the dedication end rituals of work, where Ferrè was recognized a lot, the true spirit of prêt -à-porter, which began as a creative craft but never separated from craft and industrial resources.
Edda Dondi, from Dondi Jersey, remember that Ferrè was not limited to choosing fabrics, EXPERIMENTING, asking to make special things, putting a strain on even the machinery. But he knew what he wanted and how to achieve it. Before Ferrè, the Dondi company was a simply company of the elastic knit, after meeting Ferrè, who also became their advisor, realized jersey fabrics with copper wire and silk, linen yarn with raffia. "It was a creative genius but also a researcher",  said Edda Dondi.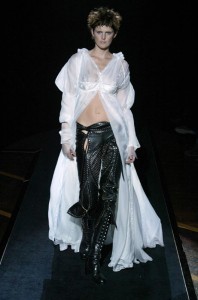 Fashion show Ferrè
However, the most important meeting, what will mark the fate of Ferrè, was with Franco Mattioli, a concrete and forward-looking industrial, with a textile company in Bologna,  the Baila. This gentleman believed in the young Ferrè at their first meeting, so as to suggest they draw their first line, in complete and total freedom, it was 1974. Despite the undoubted talent of Ferré, the collections were not understood, too forward and creative for that time, this did not discourage Mattioli who continued to believe in him,  for five years Baila collections were produced and marketed by Ferré, never achieve the desired success.
1978 born the Gianfranco Ferrè, in eighty square meters in Via Conservatorio in Milan, partners, fifty percent , the industrial of Bologna and the designer of Legnano. Fundamental figure of Rita Airaghi, a co-worker, assistant, secretary, friend, and perhaps the true alter ego for Ferrè .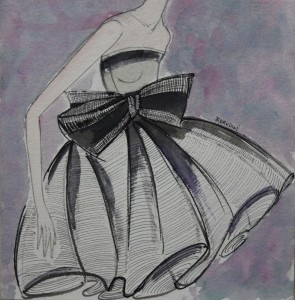 "CAMILLE" by Beatrice Brandini
From here on out is a consecration, especially on the part of foreign markets, first of all the United States. In 1981 he was inaugurated in Milan, Via della Spiga, the first boutique of Gianfranco Ferrè, thirteen years after the flag boutiques become 130 and 400 the retails worldwide .
In 1982 the first Ferrè man collection. In 1986 the first Ferrè Haute Couture collection. In 1989 the contract to design for Dior Haute Couture .
Despite these impressive achievements Ferrè repeated: "The success for me is out the door, I do not ostento and I learned that in order to feel strong, we must firmly maintain our values ."
I conclude this "story", as often happens when I talk of these kind of characters, with nostalgia and a bit 'of bitterness. Reassures me just to think that when you went away you found your beloved, and your creations are and always will witness your immense talent.
Goodbye Gianfranco and thank you!
Good life to all.
Beatrice