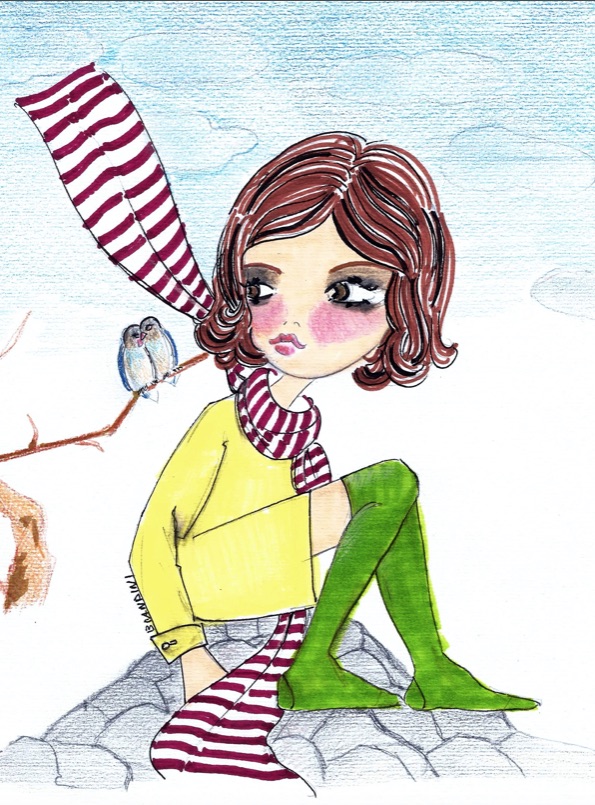 "Giada" by Beatrice Brandini
This is the story of a transformation, of a change, the one perpetuated by Giada.
Giada had always been very good, graduated with honors from Bocconi, she had earned a master's degree in London and then returned to Italy and embarked on a career that naturally promised to be radiant, at an English bank based in Milan.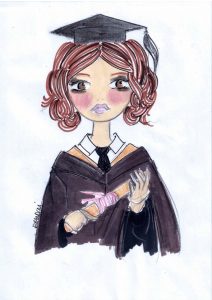 "Graduated Giada" by Beatrice Brandini
Giada had always had to prove that beyond her angelic aspect, she was a determined and very prepared woman. A woman who made her way in a predominantly male world, such as that of finance, in which women had to prove twice as many as men to be considered their equal, and hope for a managerial leadership role.
Things were going well, however her private life was sacrificed and almost non-existent. A little because of the exhausting working hours and the constant transfers to the English office, a little because Giada thought that a sentimental story could distract her from her career goal. She was not cynical, she simply had worked so hard to get there, she had given up a part of childhood and adolescence, always bent over books and exposed to increasingly demanding challenges, first of all against herself, therefore nothing in the world could break that dream.
One Christmas, her manager gave her a package, in gratitude for the work done and the goals achieved. She was the first woman who had achieved that recognition in that branch.
Opening the Giada package, she discovered that inside her there was a first class ticket for a holiday on a Caribbean island in one of the most beautiful and evocative resorts of that archipelago. She jade did not know what to say, she certainly was happy, deeply moved, that gift also meant the recognition of her work and her role.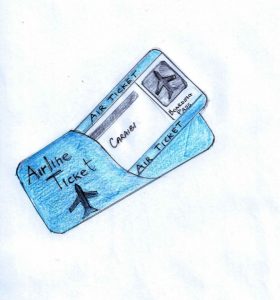 "Award ticket" by Beatrice Brandini
The other consideration she made was that perhaps this was the first real vacation since childhood; she had no longer had the opportunity to take a break, even when she was studying, her holidays were dedicated to perfecting a language or to a master's degree, to obtain other skills that increased her already important curriculum.
She didn't even have a suitable wardrobe, always in a jacket and trousers. She decided to bring very few things with her, it was so hot and she would have been on the beach a lot, what she wanted was to unplug from her life that she had practically always lived.
The hotel and the place went beyond the rosiest expectations, it was all enchanting and perfect, a dream place. She jade she began to go to the beach and sunbathe, she had never felt so free. She was alone, completely immersed in nature, in a place that seemed suspended from the rest of the world.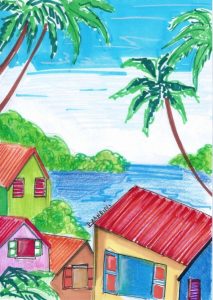 "Caribbean island" by Beatrice Brandini
No phone ringing, no meeting or conference call, no sleepless night to complete powerpoint presentations with the next goals. Giada seemed to get used to all that silence and that loneliness of her, she didn't mind what she felt and she saw reflected in her mirror. She never paid attention to how she looked, she never realized how beautiful she was.
Early one morning she decided to take a bath going even further out, she was a good swimmer and there the sea was a delight. However that morning something happened that changed Jade forever, or at least her perception of her world.
A jellyfish touched her and she lost consciousness. She woke up in her room, where the hotel doctor explained what had happened. They immediately recovered her from the water and injected her with an antidote because that rare jellyfish was incredibly poisonous.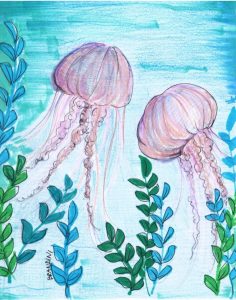 "Jellyfish" by Beatrice Brandini
Giada immediately felt better, even if weak and frightened. However, her first reaction was to thank the one who had saved her life, so she wanted to join him in the clinic near the resort where she worked. When she arrived there, she understood that behind the luxury and perfection of the place, she was hiding in a different world, the inhabitants of the island were mostly fishermen who lived on a few dollars a day. Tourism had brought only apparent wealth, and certainly most of this was destined for the extra-luxury resort chain owned by a Dutch holding company.
Giada saw children with nothing, houses that looked like slums … In the world there were many extremely poor and precarious places, but there everything was more emphasized because from the wealth and the most extreme luxury for which international guests were destined, we passed to absolute poverty , simply by turning a corner.
Giada, she understood that what she had always loved to do, that the world she had always been attracted to, that of finance, perhaps she could give her something more.
Returning to Italy she decided to create a fundraiser, a kind of non-profit organization, which would develop the lives of the citizens of that place, education, health, rights. To be dedicated to that wonderful place that had not only saved her life, but by saving her had also cured her soul.
Her priorities had changed. She certainly did not want to abandon her job, nor her career for which she had sacrificed so much, but through her work, her earnings, her knowledge, she could concretely do something important and help someone.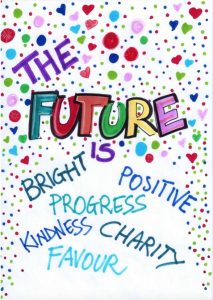 "Positive" by Beatrice Brandini
She changed everything, the way of approaching others (she had forgotten how to smile), her relationship with her colleagues, she had evaluated the possibility of falling in love with her … who knows what life would have in store for her, but it was worth living from protagonist.
Good life to everyone!
Beatrice