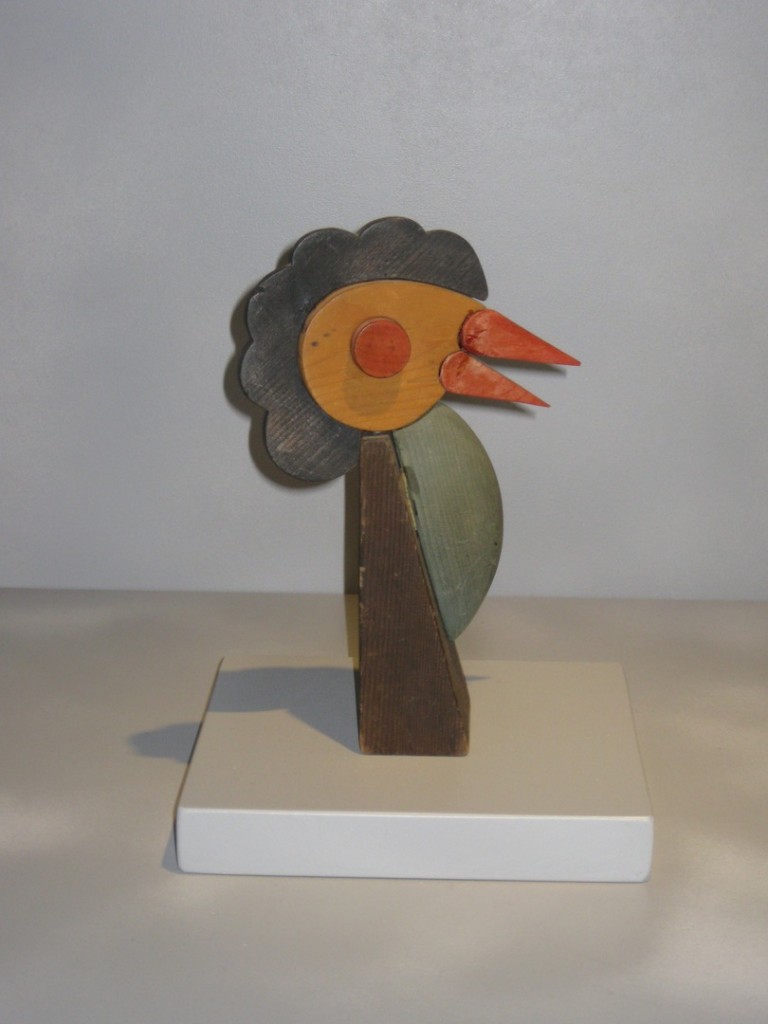 The Parrot" by Fortunato Depero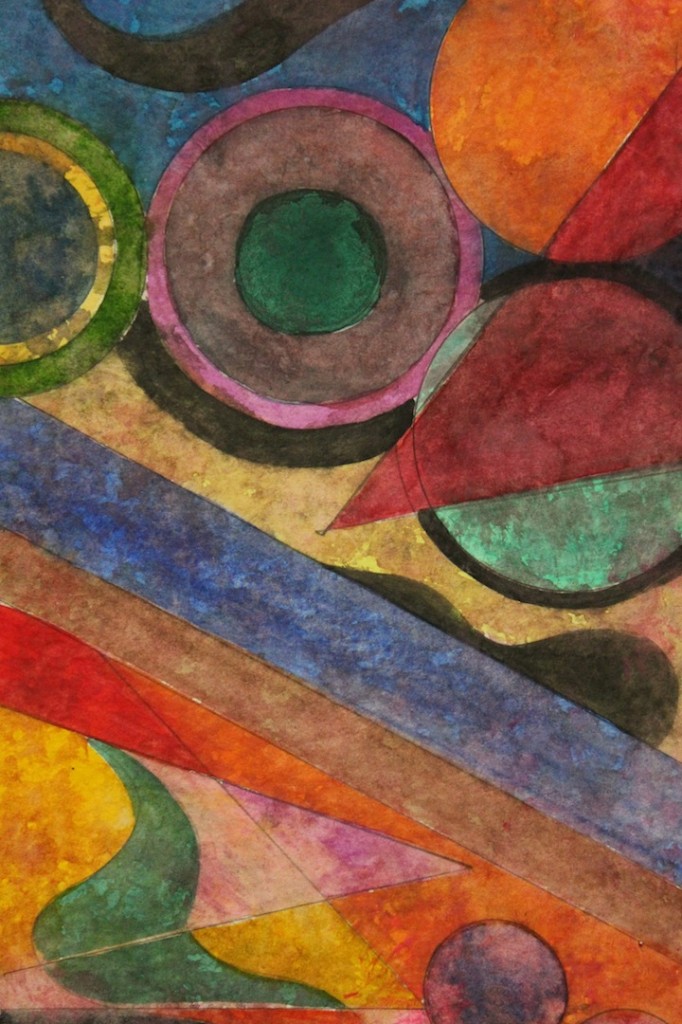 "INFINITY" by Beatrice Brandini  
I went to see an extremely interesting show in Pistoia: "Grandi Maestri, piccole sculture" (Great Masters, small sculptures).
Thanks to the newspaper the Corriere della Sera, in the local news of the Corriere Fiorentino, which had dedicated an entire page to the same, because in spite of the magnificence of the show, it seemed to me that it hadn't been advertised very much.
To begin with, once again the setting was a wonderful building, Palazzo Sozzifanti, recently restored, designed by the great architect Bernardo Buonatalenti at the end of the sixteenth century. The rooms on the ground floor will be devoted to exhibitions and I am curious and eager to learn about upcoming events!
Then, the quantity and quality of the works was so extensive and prestigious, they could be further divided and subdivided in more than one exhibition.
Sometimes you visit a museum and what you see, even if it is wonderful, is infinitely inferior to your expectations, especially in terms of exhibition proposal. Abroad, I have happened to visit a museum or an exhibition, only to discover that the most important work was displayed all by itself in one hall! This is intended as constructive criticism because maintaining and valorising our cultural heritage, vast and marvellous, is a duty that rests on each one of us. We have the good fortune to be able to stroll along the street and have before our eyes architectural and natural landscapes of infinite beauty, sculptures, paintings of the greatest artists in the world; let's appreciate and respect them more!
Without a doubt, Pistoia left a good impression on me for the kindness of the people, their professionalism and the good food (in the success of a trip, outing or stroll, everything has its importance). Maybe I got lucky, but I had breakfast in an excellent pastry shop in the centre, Armando, and I ate a delicious platter of cold cuts, cheeses and vegetables at the Tavern Gargantuà.
Even within the show the staff was friendly, helpful and prepared, I was in fact allowed to photograph, they explained some things about the show to me, and smiled at the exuberance of my baby. Thank you all.
The exhibition was made possible thanks to Lorenzo Bertini, a great collector, who in his lifetime has collected more than 600 sculptures, a great many of them on exhibit, as testimony of a voyage into the sculpture of the twentieth century.
The exhibition is organised in a way in that it presents the different artistic movements that have characterised the last century, ranging from the early twentieth century avant-garde movements such as Expressionism and Futurism, to Pop Art…. With works by internationally renowned artists such as Modigliani, Picasso, Depero, Moore, Dalì, Pomodoro, Chia, Manzù, Paladino, etc., etc..
If someone had asked me which sculpture I would have wanted among those on exhibit, I wouldn't have been able to answer, they were all magnificent! However, I "found" my favourite that I want to share with you.
But first I want to tell you that I believe that dedicating oneself to a collection is a wonderful way, as well as a "healthy" one, to spend one's time. We cannot all collect art, especially at this level, but searching for the rare item or the missing one is an exquisite and stimulating feeling; it does not make a big difference, at least in intention, if the search is in a great auction or at the flea market. What they all have in common is a PASSION for something, and passion is truly one of life's engines.
The first photograph. "Il Pappagallo/The Parrot" by Fortunato Depero is one of my favourite works of art. Not by chance was it used for the poster and the cover of the catalogue (along with Dalì). It's a little bit because I love Futurism and the aesthetics of Depero, especially when he illustrated advertising posters, a way to "use" art and make it "popular". Finally, because Depero was the most poetic but at the same time ironic, of all the Futurists, this parrot is one example. An eclectic artist, he devoted himself to painting, scenography, furniture, illustration…. Even designing toys, and whoever makes a child smile or dream has to be a special person!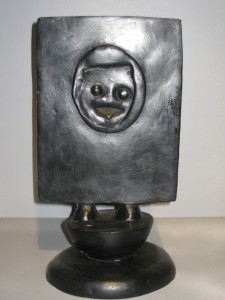 "Cher Bibi" by Max Ernst. An immensely creative and innovative artist. I was particularly struck by the irony of this sculpture, it is in fact a small face showing its tongue in bas-relief. It is as if someone was turning toward the viewer and spitefully sticking out his tongue.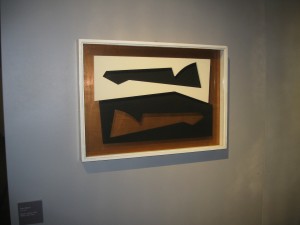 The wood sculpture, "Quadro Scultura/Sculpture Painting", by Hans Richter for its colours and geometric purity. I really love the chromatic combination of brown with cream and black, the strength of this sculpture is also given by its utilisation of different materials, wood, copper, glass.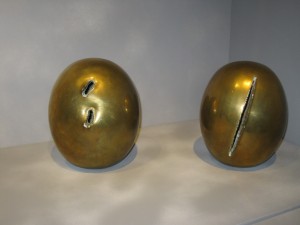 The "Due Sfere/Two Spheres" by Lucio Fontana, one of the most acclaimed and famous Italian artists at the international level. For me, this is among the most elegant of the last century. The concept of "cuts", unmistakable ones, and "holes" as a symbol of emotion, sensitivity, eroticism of the entirety of life.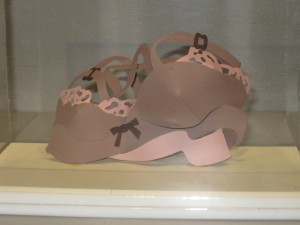 I adore Tom Wesselmann, with his women who are erotic, fun, expressive. He is among the most recognisable artists of the Pop Art. On display is "Dropped Bra", a pink bra made of cardboard, as a symbol of eroticism and as a substitute element of the female body itself.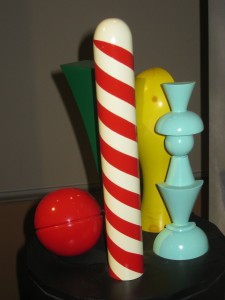 Lucio Del Pezzo. Another great "Pop" artist with his playful, abstract, metaphysical geometries. Looking at his work is like stepping into the world of Alice, right inside Wonderland! On exhibit was "Geometrie/Geometries" from 1990.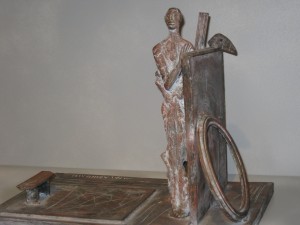 Mimmo Paladino. Immense exponent, together with the great Clemente and Chia, of Transavantgarde. His mannequins, pictorial or sculptural, are solitary, emaciated, almost masks. The sculpture in the show, "Untitled" of 1997, is a very thin figure that is leaning on a rectangle (painting? internal wall? outside wall?…) of bronze which in turn supports a frame. At an extremity there is an isolated banquet. Every object becomes a symbol. The poetry of this great artist is inspired by archaic art, but also by Klee and Picasso, while still creating art that is instantly recognisable and peculiar.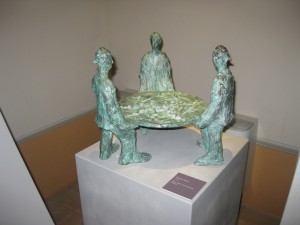 Roberto Barni with his "Servi Muti/Mute Servants". I really love the sculptures by this artist because although there is always a touch of irony, here in the absence of faces, they are SERVANTS, (irony but also social accusation!), I read in all his works a constant veil of melancholy that moves me.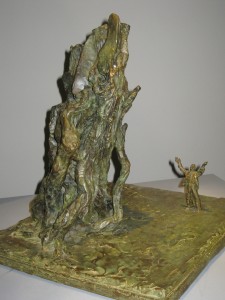 "Paesaggio/Landscape" by Giuliano Vangi. He is an artist that I admire and I would like, more than others, to have in my collection. I was dazzled during one of his one-man-shows at the Forte Belvedere, about twenty years ago. He was dramatic, pessimistic, sometimes even "monstrous" in defining traits of faces or bodies. But immensely great and modern. On exhibit is a sculpture from 2000 in which a man is very small, in front of a threatening and dominant nature, helpless and defeated.
This was not a topic about fashion, (as I said, I will also speak often of art), but art too is nourishment, especially for creative, sensitive, poetic people…. And "beauty" should be something one can't live without.
Beatrice