Beach collection S/S 2001 by Beatrice Brandini                                                                                  photo A.G.
It all begins with a search, research drawn from a picture you have in mind, a perfect woman, a state of mind,  an ancient custom, a travel, a scene from a movie, the detail of a painting, a vintage dress, a scent that takes you to distant worlds….
Sketches by Beatrice Brandini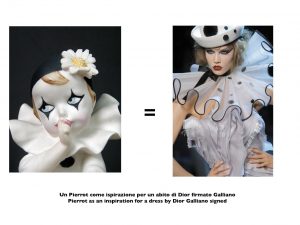 The Mask of Pierrot as an inspiration for a look of Galliano for Dior
This is why in my blog I do not speak only of topics specifically related to fashion, but of topics that, in addition to being my passions, are a source and nourishment to a creative process. Things that happen in everyday life, related to culture and society, but also and above all subjects such as art, cinema, music, fundamental "subjects" of inspiration for a creative.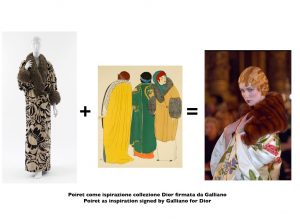 Poiret as an inspiration for a look of Galliano for Dior
Some decades ago a designer, (the word stylist was still far away, and now has given way to that of creative), we asked simply to have good taste, a good hand and a lot of ideas. Today it would be impossible to replicate the success they have had some talented couturier, being "still" in his own studio. The world is fast, very fast, and a creative needs to be fully engaged in reality, must be knowledgeable, attentive, ready to thousands of anxieties that come everywhere (media, network, street).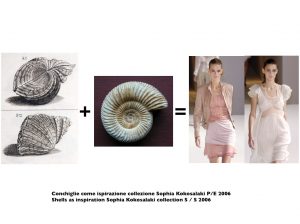 Shells as an inspiration for a Sonia Kokosalaki collection S/S 2006
Today is also essential to ask yourself some questions, a sort of briefing, to which every designer must think and respond, a way to finalize inspirations and goals. Some important questions are those related to the market, how to understand their needs or deficiencies; identify a target audience (age, purchasing power.etc.), the markets in which it will have more penetration my product, (thanks to commercial investments as flag stores), the positioning of the price range, the construction of the collection in terms of references and subdivisions of product types (how many coats, jackets, dresses, t-shirts) .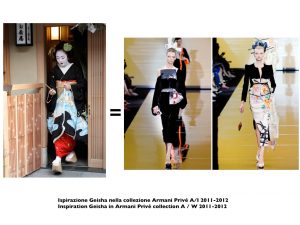 Geisha inspiration for Armani Privé collection F/W 2011-12
I have tried to show how some ideas or quotations have given rise to the initial idea of a dress or a whole collection, are examples from past collections, I tried to put a picture from the side, as if to say "how did we get to that result? " I'm not in the head of Galliano and Armani (I'd like) but I'm sure, without being presumptuous (some examples are eloquent), which is what they have thought also, developing their idea. This does not mean that the dress is created simply through a starting point, but I wanted to make it clear in a simple way that fashion  "eats" everything and that ideas are the result of many cares.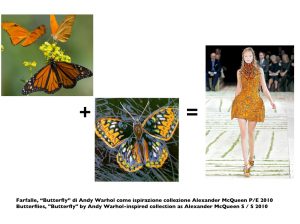 Butterflies, Butterfly by Andy Warhol as an inspiration of Alexander Macqueen S/S 2010
Once you set the content of their own personal exploration, begins what is called the creative process. In which the next step is to research materials (fabrics, accessories, details).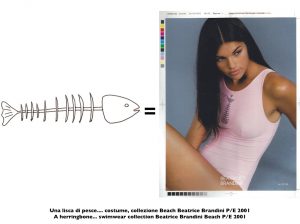 Fishbone… swimsuit by Beatrice Brandini S/S 2001
I started working from Ferragamo, first with an internship before being confirmed for a brief but very interesting, are then passed to sportswear, where the longest and most prolific experience lasted over 13 years (with Puma), with "flash" related to  fast fashion industry, trends and outwear. I had my own line of beachwear for over seven years, advertised and sold in the best magazines and in major departement stores … This is to tell and share with you that I have lived fashion in all its aspects, as well as product manager. Every experience has been important and formative and what I have capitalized is that at the beginning it does not matter how many drawings are yours within a collection, how many photocopies make you do, how many floor plans you have to correct, how many boxes open or iron clothes, the beginnings they are hard for everyone, but what matters is that everything will be useful to you and because it must be done, let's do it with commitment and will. Considering that fashion is your dream, think that only being in a company in the industry is a great fortune, as well as a great opportunity.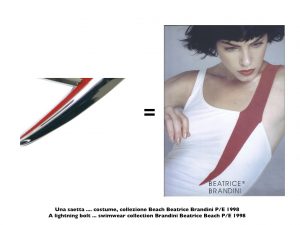 Lightning as inlay swimsuit by Beatrice Brandini S/S 1998
Cultivate your ideas and ambitions, nourish your soul and mind, if this is your dream, fashion, your opportunity will come, and will be even more beautiful than you had imagined!
Good life to all!
Beatrice