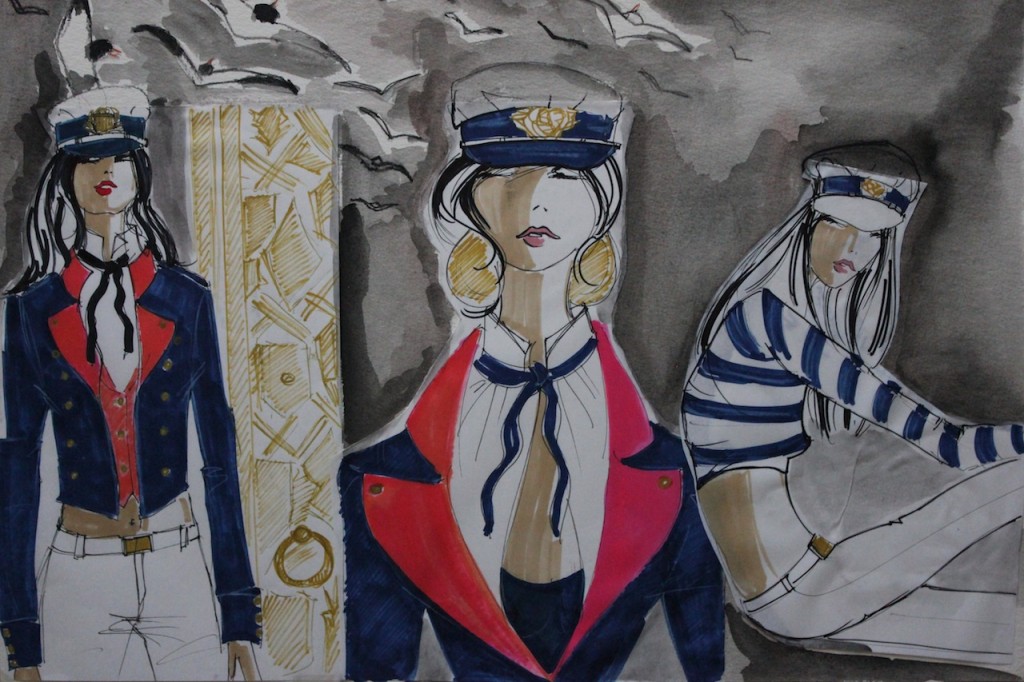 "ADVENTURERS" by Beatrice Brandini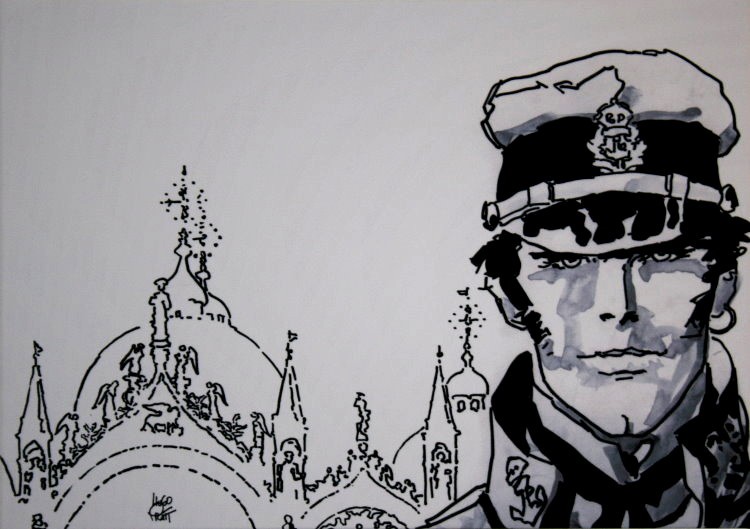 Corto Maltese by Hugo Pratt
I have a daddy lover and collector of comic books, my childhood was characterized by these magazines full of colors, characters, fantastic trips. Among those I have loved, since a child, there was Corto Maltese. This male figure has been for years the image of my ideal man, adventurer, elegant, brave …. a dream for young women, an inspiration for the boys. Today I will speak of him, of his great creator, Hugo Pratt, and the mythical sailor's jacket, the Pea Coat.
The comics of Hugo Pratt know capture the reader from the first images, of course thanks to its protagonist, Corto Maltese, a captivating and modern design and the complexity of the stories. The plots are in fact the happy meeting between action and fantasy (with the magic and the power of dreams), between adventure and humor, history and fantasy. Hugo Pratt was really a great storyteller.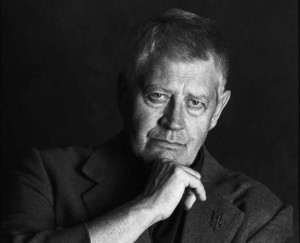 Hugo Pratt, photo Pino Ninfa
Pratt was born in Rimini in 1927, but it moves very young in Venice (important place, the protagonist of some stories of Corto Maltese, a town maze where real and unreal does not stand ever at all). Then follow his father Rolando, military career, in Africa, another place full of inspiration, which will frame or suggestion of many adventures of Hugo Pratt.
Corto Maltese is born in 1967, in the journal Sgt.Kirk, with its splendid history "Ballad of the Salt Sea". "Like the white wing of the albatross on the monotonous breath of the Pacific, so too idle to wander, goes the sail of the true sailor". Hugo Pratt leaves to the final drawing of "Ballad of the Salt Sea" the sense of wondering felt by Corto Maltese. And this wandering, drifting by the waves, it is not the best way to know and understand even themselves? This is why stories of Pratt have a very specific audience, which is not usually the comics, who follows Pratt loves him madly, plunges into his stories from the point of identifying with them.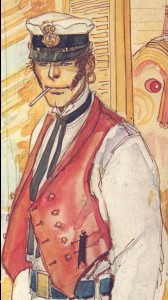 As for the "excellence", Hugo Pratt was able to leave his unique and precious sign also in other areas, has designed a Formula 1 car with the colors of Gitanes cigarettes, backpacks, French phone cards, album covers (for Paolo Conte, Sergio endrigo, etc.), movie posters, really a variety of different things, all with an incredible imagination and beauty.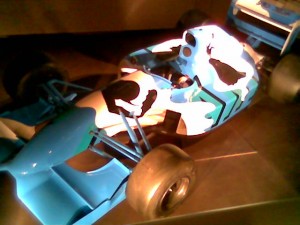 Car by Hugo Pratt
He has exhibited in international museums such as the Grand Palais in Paris.  He was awarded by Jack Lang, then French Minister of Culture. He was quoted by Allen in "Hannah and Her Sisters" and Tim Burton's Batman. Umberto Eco said: "When I want to relax I read an essay by Engels, if I want to commit myself I read Corto Maltese"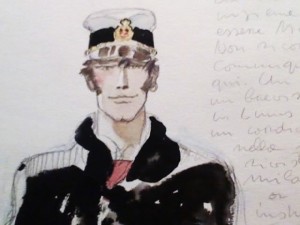 I imagine a wonderful paradise populated by all these great characters, Crepax playing cards with Pratt Vreeland chatting with Piaggi, Modigliani arguing with Matisse. Souls lofty, imaginative, rich in culture, a heavenly inspiration, as it was in the earthly one. Thanks Hugo Pratt, for making me dream!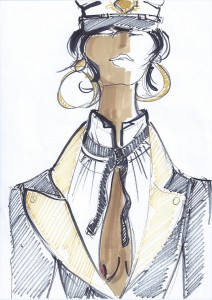 Sketch by Beatrice Brandini
I think the popularity of the character Corto Maltese, its become a style icon, is attributable in part to his physicality and his clothing. His "uniform" has been revived many times, in the collective imagination is a sign of elegance a bit 'slightly bohemian' understatement. The key element is his coat, also called Pea Coat. A heavy wool coat usually in navy. Originally worn by sailors of European fleets and later by the U.S.. Characterized by wide lapels, from large pockets, gold buttons, or logoed with anchors or other marine items. We find images with this jacket since 1720 and since then has undergone substantial changes. Testimony, as always, that the good things last sign over time.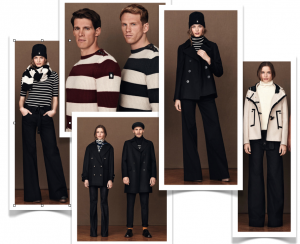 Advertising Marina Yachting campaing F/W 2013-14
I find the Pea Coat images from the latest collections, the most beautiful in my opinion are those that belong to the Marina Yachting collection A / W 2013-14, for this reason I have "created" mini collage to show more images possible. The marine-inspired collection is very sophisticated, elegant and non-trivial, see the use of unusual colors such as ocher, olive green paired with burgundy or navy printing, sincere congratulations!
Marina Yachting fashion show
Beautiful also some Burberry and Ralph Lauren proposals
Burberry proposal
Ralph Lauren men proposal
Finally, some personal interpretations of the style "Marine" and some photos of proposed low cost.
Mango F/W 2013-14
H&M Jackets                                                     Zara Jackets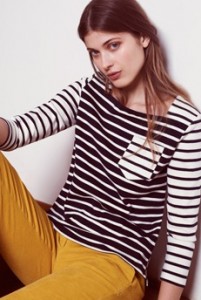 T-shirt Petit Bateau
Wear the peacoat, a striped t-shirt or a sweater cable-knit two-tone, is, in my opinion, the easiest way to look smart, timeless. These garments are timeless, like the little black dress or a nice coat of Max Mara.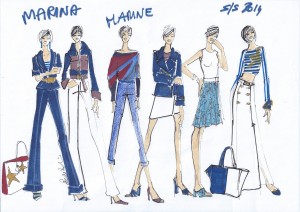 S/S 2014 "Marina" Mood, Beatrice Brandini
Good life to all!
Beatrice