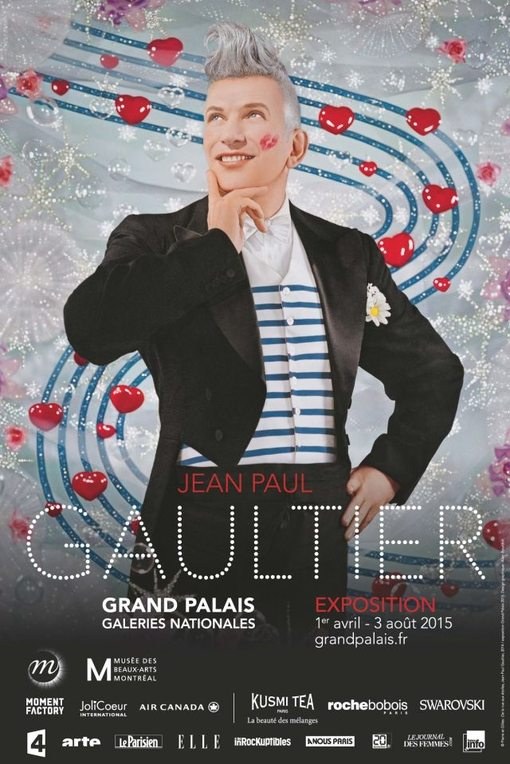 Exhibition poster J.P. Gaultier in Paris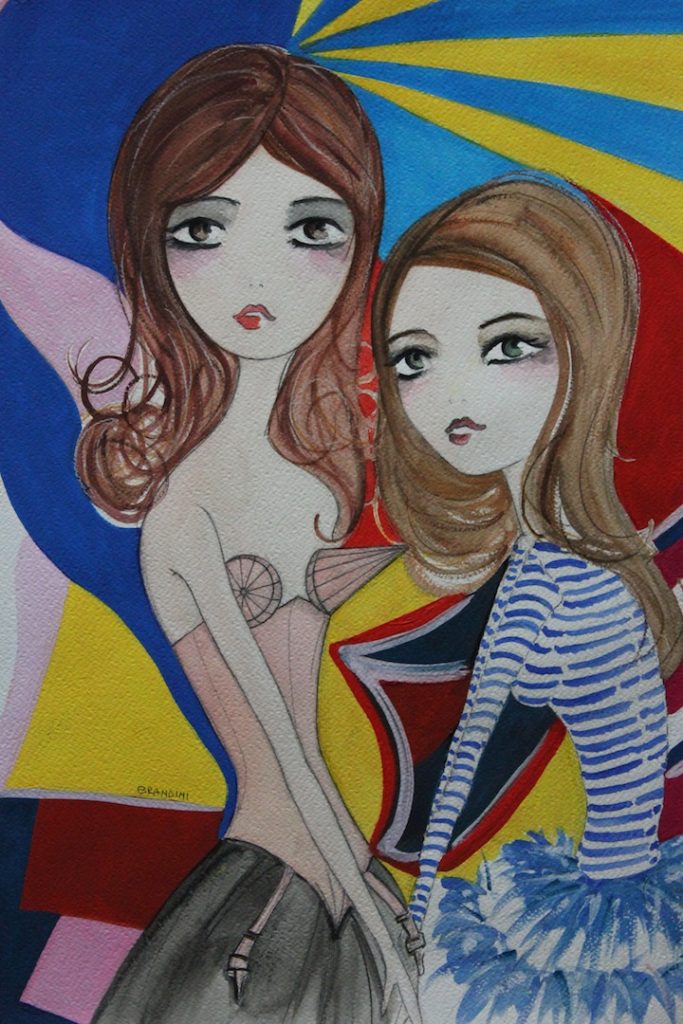 "Mannequins Gaultier" by Beatrice Brandini
Jean Paul Gaultier is one of the greatest fashion designers that, since the end of the seventies, continues to amaze us with his creative, tailoring, ironic and precious collections.
Until August 3 Paris pays tribute to this histrionic and very talented stylist (it's sad to see how the fashion abroad is protagonist like great artists [in the same building was just inaugurated an exhibition of Diego Velázquez], while in Italy yet struggling to find space and visibility!), at the Grand Palais.
Glimpses of the exhibition "Jean Paul Gaultier" at the Grand Palais in Paris
Glimpses of the exhibition "Jean Paul Gaultier" at the Grand Palais in Paris
The exhibition event, from the spectacular scenery, highlights the universe of Gaultier,  through clothes, sketches, photos, video clips, artwork … For the exhibition's curator, Thierry- Maxime Loriot, "Gaultier is a world of tolerance. Feel free to play with fashion, to go beyond stereotypes and tyranny media. His fashion is avant-garde, embodies the concerns and challenges of a multicultural society, challenging the rules sociological and aesthetic".
Glimpses of the exhibition "Jean Paul Gaultier" at the Grand Palais in Paris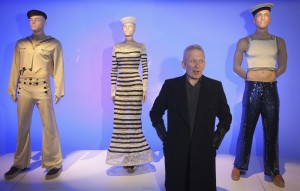 Jean Paul Gaultier at the exhibition in Paris
I love Gaultier from always, I like the approach ironic and seemingly "light" behind his fashion, but especially the fact that he was always able to read and translate the changes in society. I think of the Punk; equality and tolerance between sexes (gay marriage, etc. Etc.); the corsetry-underwear for outdoor use; to clothing with symbols from desecrating madonnas modern, among the first to mix the sacred and the profane; fashionable unisex, the male becomes female and the female becomes male and many other things.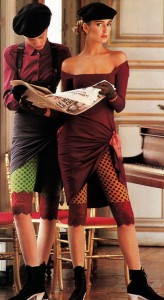 Photo by Gilles Bensimon for Elle France, 1988. J.P.Gaultier dresses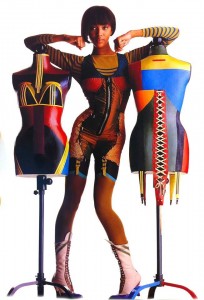 Photo by Gilles Bensimon for Elle USA, 1990. Dresses JPGaultier, mannequins inspiration from R. Lindner
Photo by Steven Meisel for Vogue Usa, 1994.  J.P.Gaultier dresses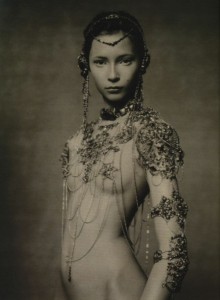 Photo by Paolo Roversi for Vogue Italia, 2003. J.P.Gaultier dress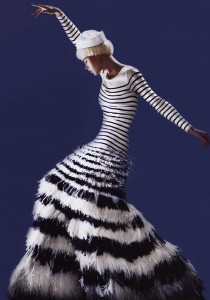 Photo by Geoff Barrenger for Elle Canada, 2007. J.P.Gaultier dress
He was one of the first to work with cinema industry, but his were not simple costumes, his creations have been part of the history, psychology of the characters, pure scenery … I remember "The Cook, The Thief, His wife and Her Lover " by Peter Greenaway (1989), or "Kika" by Pedro Almodovar (1994).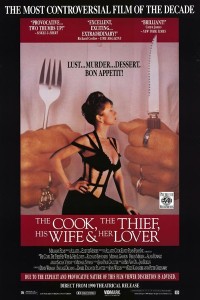 Film poster "The Cook, the Thief, His Wife & Her Lover" by Peter Greenaway with Gaultier's costumes
Gaultier's costume for "Kika" by Almodovar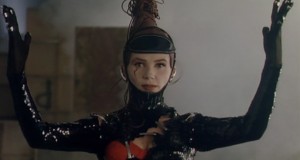 Victoria Abril in Kika by Almodovar, costumes by Gaultier
Bitterly I read that from next season leaves the pret-a-porter to devote himself to the haute couture. I am sorry because the pret-à-porter are a more effective way to reach people, high fashion, however, the prerogative of few elected. But I understand the reasons that the same Gaultier explained, or that today's fashion is too tied to marketing strategies, that creatives are much less free compare before. Therefore, I understand that a pure and "anarchist" spirit as that of Gaultier did find it hard to adapt to all this.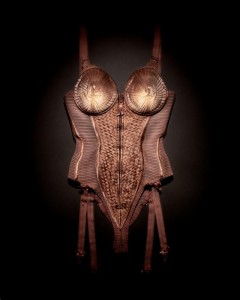 The corset created by J. P. Gaultier worn by Madonna's "Blond Ambition World Tour"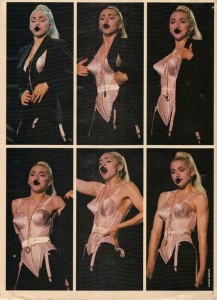 Costumes of JPGaultier for "Blond Ambition World Tour" by Madonna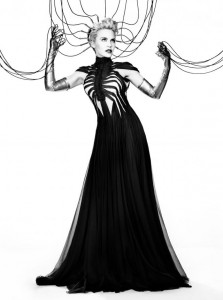 Kylie Minogue, photo by William Baker, Gaultier dress, 2008
Probably from now on will be able to devote himself to his creations-dress just as if they works of art, maybe he can intensify the creation of costumes for major artists (in the past already for Madonna and Kylie Minogue), or collaborations with cinema and theater … If I was the director of the Folies Bergere, or the Cirque de Soleil, I would not doubt about what to do …
Backstage fashion show J.P.Gaultier 2010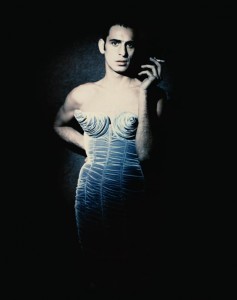 Photo Paolo Roversi, Tanel Bedrossiantz wearing a dress from the collection JPGaultier A / W 1984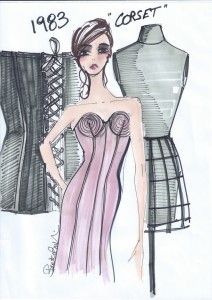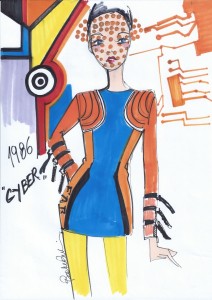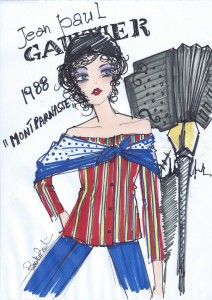 Iconic pieces of Gaultier by Beatrice Brandini
Wishes great Jean Paul, that life will always smile like your fashion has done for us.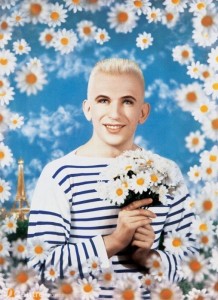 Jean Paul Gaultier photographed by Pierre and Gilles, 1990
Good life to all!
Beatrice