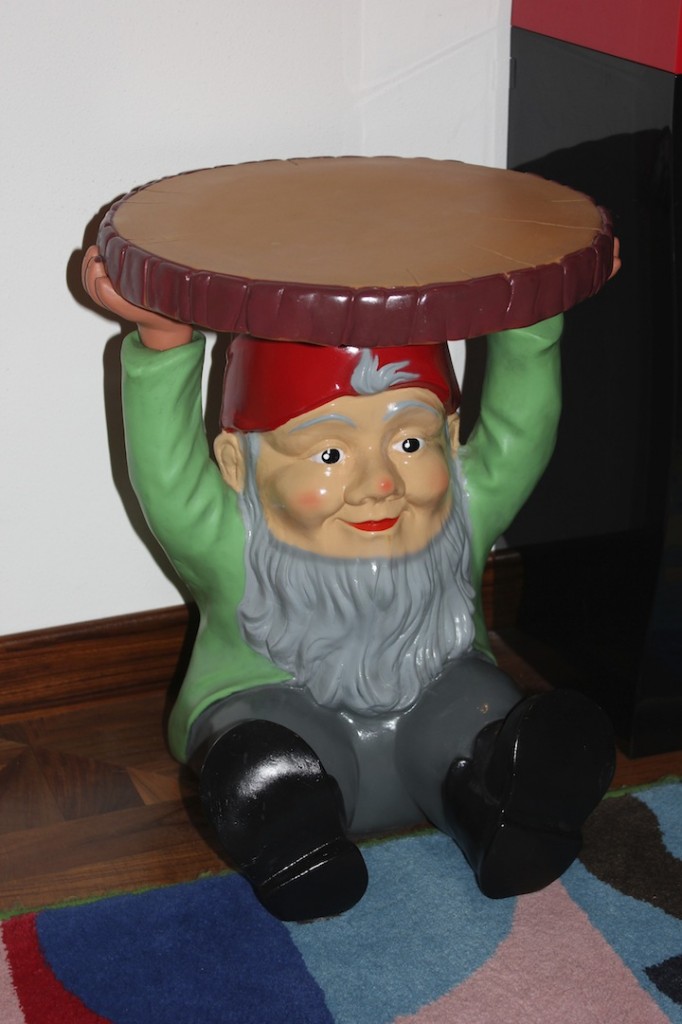 Kartell: Stool "Attila" by P. Starck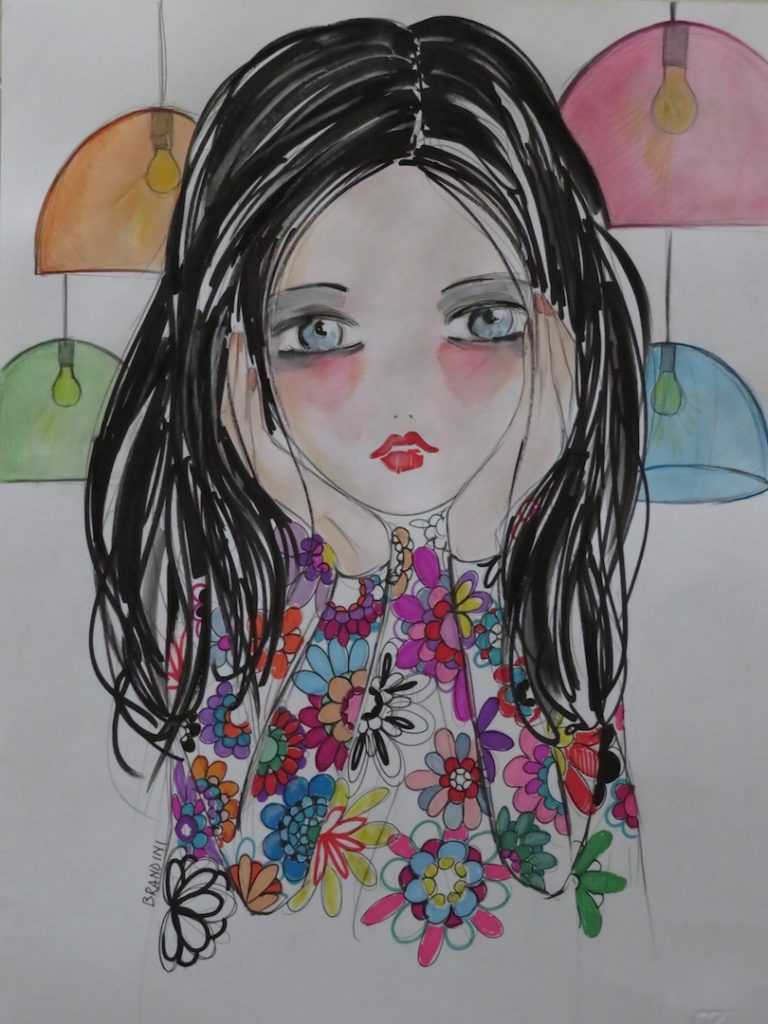 "Gaia in the colored lights" by Beatrice Brandini
Kartell is an Italian company founded in 1949, a company that with its production of objects has ennobled the plastic, making it stylish, colorful, playful. It's been almost seventy years but still surprised by its creative originality.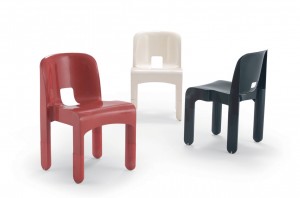 4867 Chair, Joe Colombo for Kartell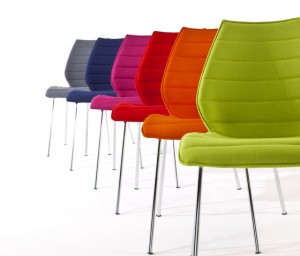 Chairs Maui soft, Vico Magistretti for Kartell
"My intention was to produce objects that have innovative features, designed as an application of new production technologies, addressed the economy of the material and the efficiency of the process." So said the chemical engineer Giulio Castelli, founder of Kartell.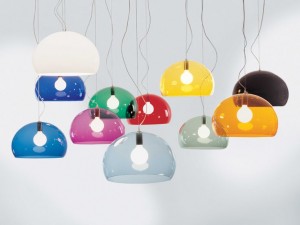 Fly lamps by Ferruccio Laviani for Kartell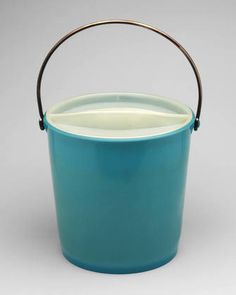 Bucket with lid by Gino Colombini for Kartell
Kartell has been one the first companies that back in the postwar period  has believed in design and collaboration with designers. One of the first was Gino Colombini that  created the first entirely plastic bucket aesthetically beautiful. The object in question is called "bucket with lid Ks 1146" and won in 1955 the prestigious Compasso d'Oro, will be the first of many other Compass .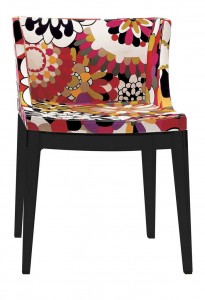 Mademoiselle chair by Philippe Stark (Missoni fabric) for Kartell
Mademoiselle chair by Philippe Stark (Moschinoi fabrics) for Kartell
From that point on, architects and designers have succeeded and created objects entered the imagination of beauty "accessible", the object aesthetically interesting even if intended for common use. I think of as creative as Marco Zanuso, Gae Aulenti, Joe Colombo, until Philippe Starck, Vico Magistretti, Patricia Arquiola, Ron Arad, with their wonderful creations.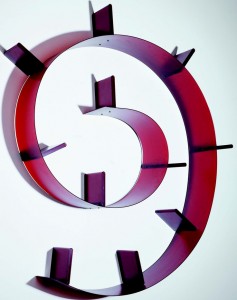 Library "bookwarm" by Ron Arad for Kartell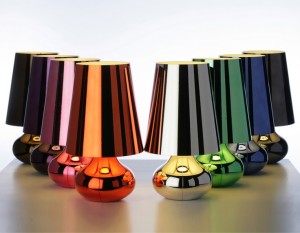 Cindy Lamp by Ferruccio Laviani for Kartell
In 1972 Kartell participated in the exhibition of MoMA "Italy: The New Domestic Landscape". On show are three housing units by Ettore Sottsass, Marco Zanuso and Gae Aulenti. In the same year catalog objects Kartell enter the permanent collection of the Museum.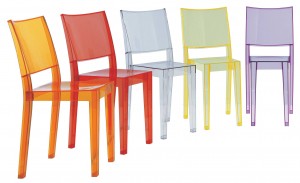 La Marie chairs by Philippe Starck for Kartell
The Marie was born in 1999, the first chair in the world completely transparent in polycarbonate, made from a single mold by Philippe Starck. This chair introduces on the world the concept of transparency related to furniture, from this moment, the plastic becomes "precious".
I think theirs plastic chairs looking "fragile" (because often transparent) but in reality very robust. I think of the colored and lyrical lamps, sometimes  replicating old forms (the Bourgie), others representing the emblem of the essential and modern simplicity (such as FLY lamp). I think of the library spiral (the Bookworm), admired in hundreds of movies, editorials, video, emblem design 90s. I think the chair transparent from baroque (the Louis Ghost); I think of Mademoiselle, my favorite, with the base "covered" by various designers to become and adapt to what you want.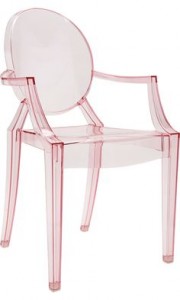 Louis Ghost chair by Philippe Starck for Kartell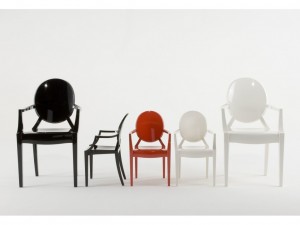 Louis Ghost and Lou Lou Ghost chairs by Philippe Starck for Kartell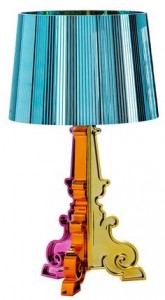 Bourgie lamp by Ferruccio Laviani for Kartell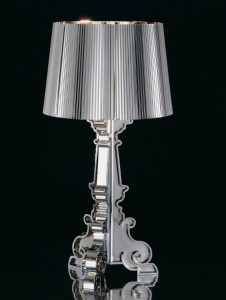 Bourgie lamp by Ferruccio Laviani for Kartell
In 1979 Kartell wins yet another Golden Compass (in total has won 9!) This time attributed to the Company. The motivation of the jury of the Golden Compass Award is the following: "For the company policy based on the consistency of the design of its products and on constant research and evolutionary picture". I think this has distinguished the company from many others and has contributed to its enormous success. It is not easy to be consistent, the events of recent years, especially those related to policy, prove it. But it is not easy to be also in the creative sphere because tastes change and you do not always found people's tastes … and so is more easy to "stumble" adapting to new trends or needs. Instead, I believe that the consistency is a great value,  it is also for this reason that I admire so much Kartell.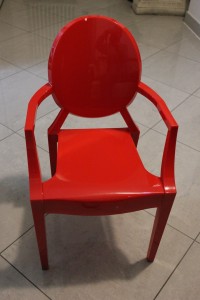 Lou Lou Ghost chair by Philippe Starck for Kartell, for the most important person in my life!
Good life to all!
Beatrice