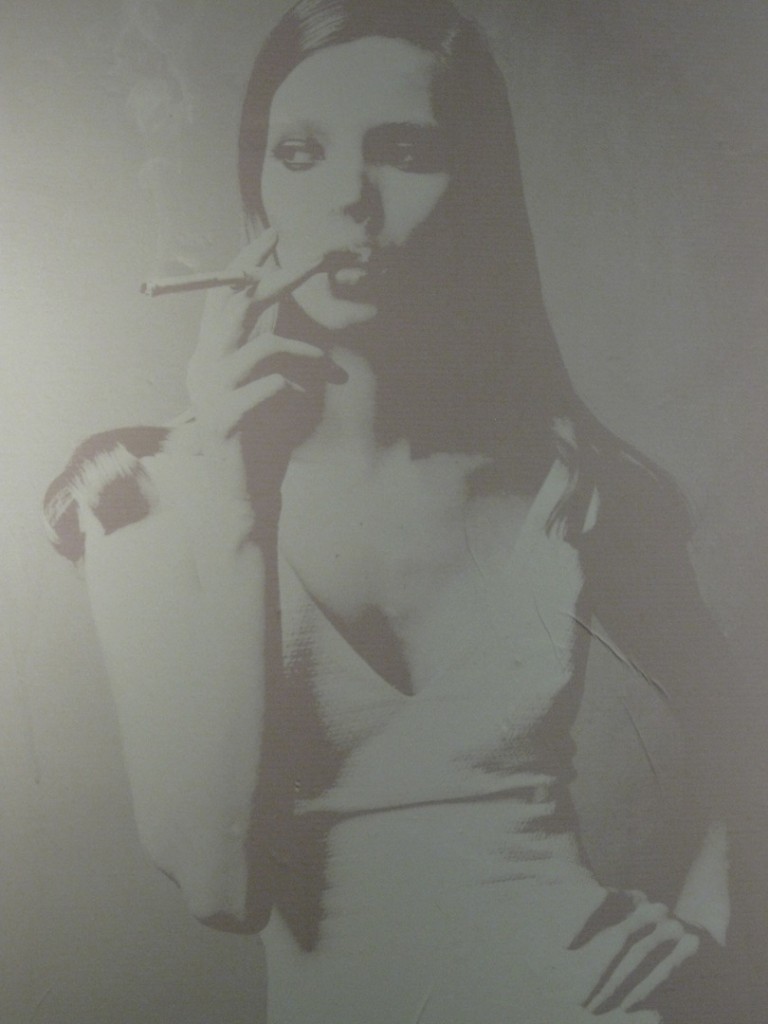 Playing mural photo Satoshi Saikusa for W Magazine, 1995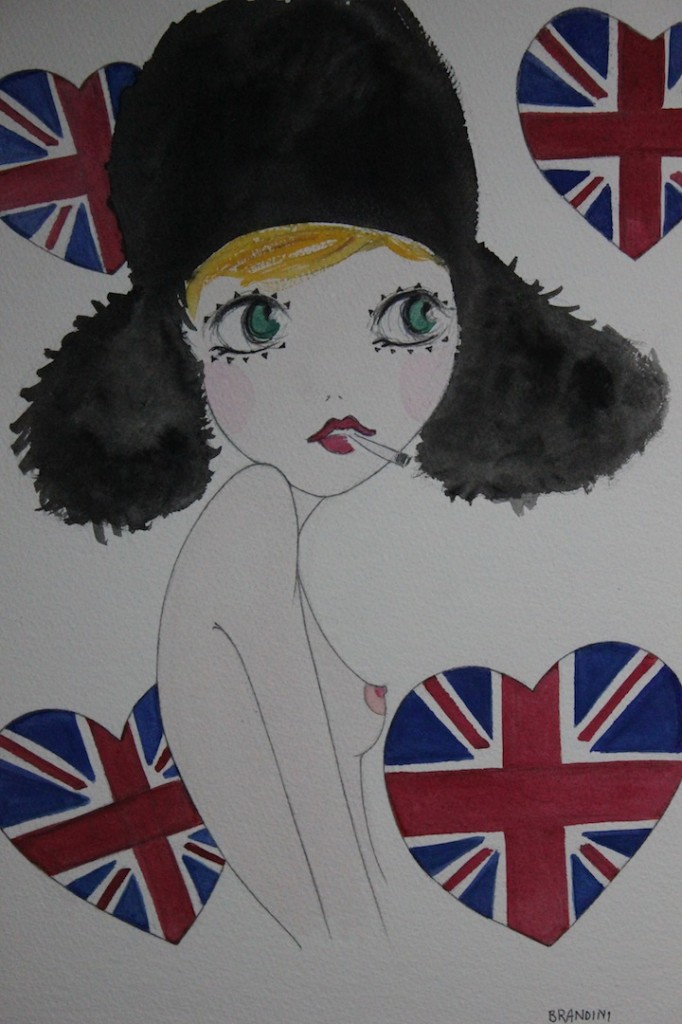 "Kate" by Beatrice Brandini
I went to see an interesting exhibition at the Ono Gallery in Bologna, dedicated to Kate Moss "Kate Moss The Icon," in which some of the greatest photographers and contemporary artists, make a tribute to her, in a time span ranging from 1988 to 2013. The exhibition will be open until May 1st. It 's the first exhibition in Italy dedicated to Kate Moss.
Images and views of the Galleria Ono 
The Gallery Ono promotes art in many forms (it is my own belief, with different interpretations), or through photography, video art, artwork, books, music, installations. Inside you will also find a bookshop, a music shop and a lounge bar.
Photos Albert Watson, 1993. Immense portrait photographer, he worked for the European and American magazines such as Harper 's Bazaar, Rolling Stone, Vogue, Times, GQ ....
Anyone who knows me knows how much I love Kate Moss, I follow her from the beginning, witnessing the evolution physical and professional over more than 25 years. Testimonial of the most important fashion brands in the world, starring in hundreds of fashion shows, some memorable (such as John Galliano, when both were still not famous, who saw in Paris with the school in 1990 ) and beautiful advertising campaigns (CK , Dior ….) . But the thing that made her unique is her style, unmistakable, an unconventional  and rock soul, decidedly natural and a great capacity for transformation. The style of Kate . Whether you're wearing a creation from high fashion or a dress found at a flea market for  few dollars, her style is incomparable, different, extraordinary. But is not elegantly understood in its most traditional sense ( not talking about Rania of Jordan or  Ines De La Fressange ), but an elegance that becomes style, a way of bringing things different from all the others.
Photo by Albert Watson 1993
"Kate is a great stylist. That stuff is cheap or luxury, she is good at everything." Karl Lagerfeld
When to immortalize her on the street, for an inauguration,  a party, a music festival, she is always perfect (from my point of view is often better than a shooting),  for the look and the "occasion", the capacity to adapting and shaping her image to the event, mixing different things between, also if are not always "perfect", but on her they become…. Often these  are photos stolen from paparazzi, obsessed with her life, taken at four in the morning, in which a common woman would be horrible, she, though disheveled, tipsy, is always fascinating and unconventional, cool.
"When Kate is wearing a dress became hers. She wears different from anyone else, and without any fear referential. "Alber Elbaz
Photos Satoshi Saikusa, 1995 for W Magazine. Great Japanese photographer and portraitist , author of famous advertising campaigns.
She is not a conventional beauty, she is not perfect (not very high for the standard of the models, especially for catwalk ), but she immediately became an icon, a beauty to capture, to disclose, to copy, to be taken such as muse. If you then casts her rise in the years in which were found , the 90s , she becomes a real sociological phenomenon to be analyzed. In those years raged supermodels like Claudia Schiffer, Linda Evangelista, Naomi Campbell, Cindy Crawford … perfect and unattainable beauty. But not only that, glamorous women, unreal, which rose from the bed if not for a cachet more than one million dollars (famous statement of Evangelista). Then came Kate, immediately has upset the concept of beauty and in which they identified (or would want to) millions of women.
"Kate is just totally cool." Juergen Teller
Photo by David Ross Elliott, 1988. This Irish artist and photographer has captured a young, unknown, Kate Moss.
Photo by Jurgen Ostarhild, 1992. German photographer and artist.
Discovered at age 14 at JFK Airport in New York, with a fresh beauty and uneven, scruffy-looking (it's in those same years, the birth of the grunge phenomenon), debuts on The Face, upsetting the fashion and communication world.
"Kate Moss is the Marilyn Monroe of the twenty-first century." Philip Treacy
Photo Roxanne Lowit, 1993. American photographer known for pictures taken in the backstage of the most important fashion shows in the world. 
Even art has elected her as a muse (a unique example of model / muse, at least in its magnitude and significance), and this is a very important aspect to understand her popularity. Modern art is both popular and conceptual, and perhaps this is the secret of Kate. I think of Lucian Freud (pictured naked, pregnant, in the studio of the painter), Marc Quinn (sculpture in yoga pose), Damien Hirst (portrait "morphological", half real, half muscle structure) etc. etc.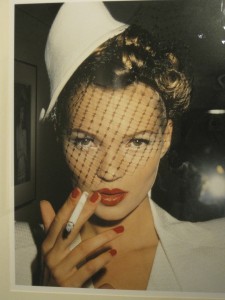 Photo Roxanne Lowit, 1994 
Even in the sentimental choices she has always proven to be a maverick, not malleable. While many of her colleagues have chosen billionaires men, safe and predictable, even if hidden behind rock stars, she loved almost always men not traditionally beautiful (if an exception is Johnny Depp), but most of all free men, bad boys, and she loved sincerely (as the liaison with Pete Doherty).
"If you think about it, at the beginning Kate was "that strange"… yet despite everything, has managed to become the most influential model of her era … A woman who has the power to wish for millions of other women around the world the clothes that she wears so naturally. " Manolo Blahnik
Walls with photos of Albert Watson 
Another great features from this woman, especially in the world of supermodels, is almost more than twenty years that she is always the same (except for a period in which she had wonderfully short hair), true to herself, with the same haircut and the same image. Never followed trends but has anticipated.
"Buy clothes and accessories at flea markets, and wearing them so fabulous and original as to make almost all of her irresistible look." Stefano Gabbana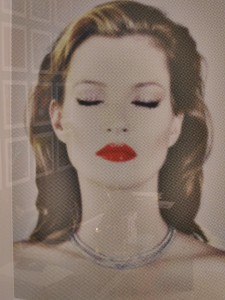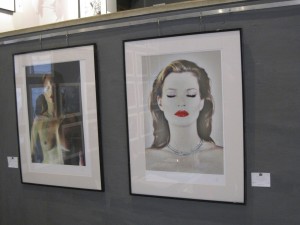 Photo Chris Levine, She's Light (Dots and Laser), 2013. Visual artist, user of different means of expression,  in this case the light. 
We like you so much Kate, we women adore you and we know how difficult it is to obtain the approval of the same sex.
"Kate style" sketches by Beatrice Brandini
"Kate style" sketches by Beatrice Brandini
We will see you again for a long time, immortalized by the greatest, even when you're a lady a little gray, a little bohemian, always chic. 
Good life to all!
Beatrice