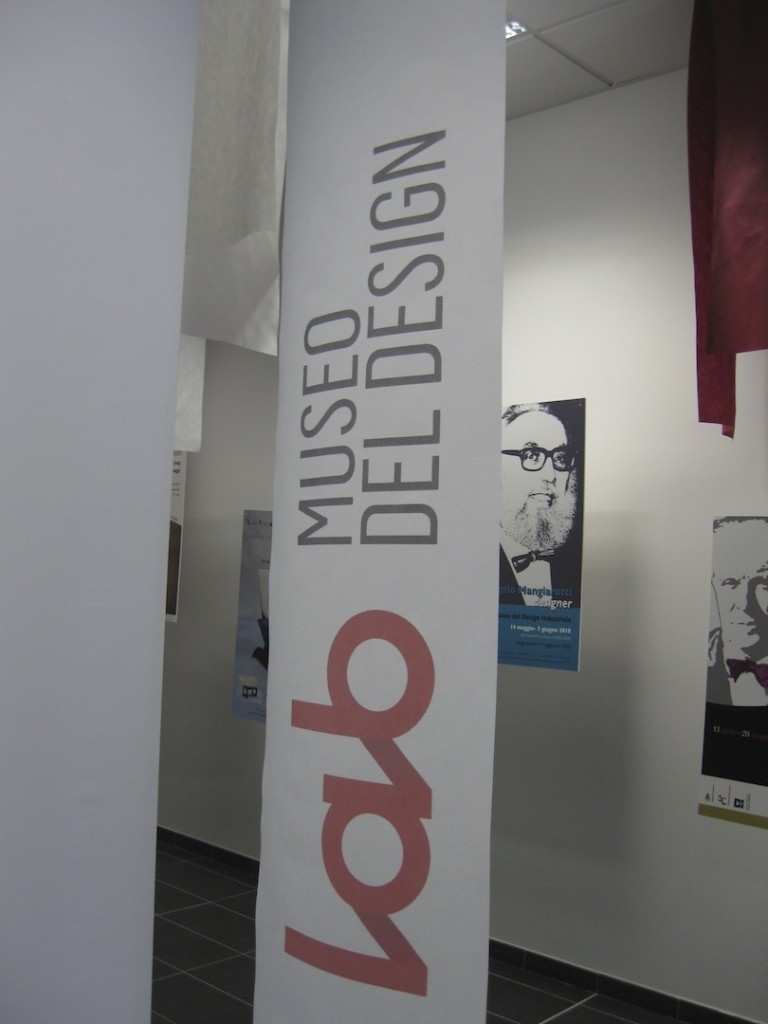 Entrance to the Museum of Design Lab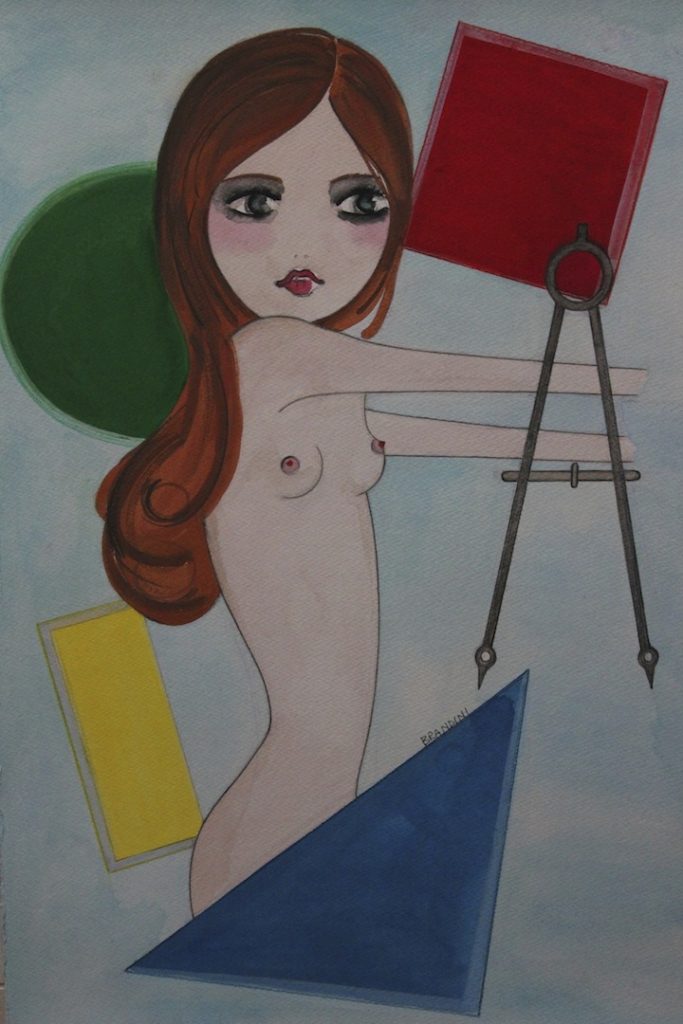 "Artemide" by Beatrice Brandini
In Calenzano , near Florence, there is a wonderful Museum that is responsible for collecting the most significant pieces of Italian design from the '60s to the present day. It is the Museum of Design Lab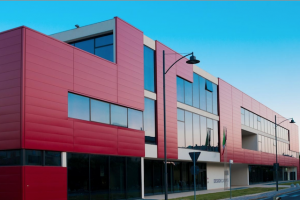 Building Facade Lab Design Museum
As is often the case for the Italian heritage, especially the cultural one, is not very " hyped ", surely it is known by fans and all lovers of the objects that have shaped the history of our design, but in my opinion, deserves a wider visibility.
Giò Ponti chair, ISA 1955                        "Arco" lamp by Achille and Piergiacomo Castiglioni in 1962 for Flos
"UP 5 Woman " armchair by Gaetano Pesce, 1969 for B&B      "San Luca" armchair by Achille Castiglioni and Piergiacomo, 1960 for Frau armchair
" Armchair Sacco" Gatti ,Paolini and Teodoro, 1968 for Zanotta     "Dezza" chair by Gio Ponti, 1965 Frau armchair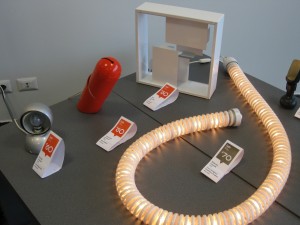 Exhibition lighting 60s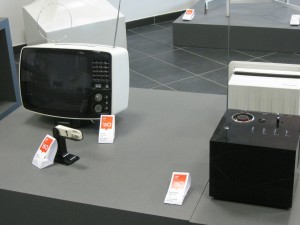 Exposure HiFi 60s
Gio Ponti Plates, Ceramics Pozzi 1967                         "Valentina" Ettore Sottasass, 1969, Olivetti
The museum is the result of collaboration between the foundation Anna Querci for Design , the Master of Science in Design from the University of Florence and the Municipality of Calenzano. It is also important to mention that it is a non-profit organization, which has only the noble aim of encouraging, promoting and enhancing the knowledge and study design.
"Atollo" lamp by Vico Magistretti , 1970 for Oluce "Papillon" armchair Guido M.Rosati, 1971 for Giovannetti  "Boalum" Livio Castiglioni and Gianfranco Frattini for Artemide in 1970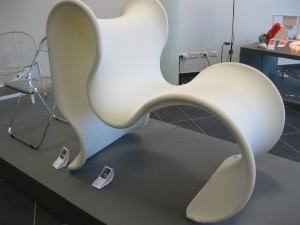 "Fiocco" chair , 1970, Study Center research Busnelli
Even the world of design, such as fashion, created through a complex process that not only involves the construction of a product thanks to all of an artist, a technician and a craftsman (designer-pattern maker-garment ), but to be described as accomplished and successful, we must recognize that the man you are and who you become the ultimate user.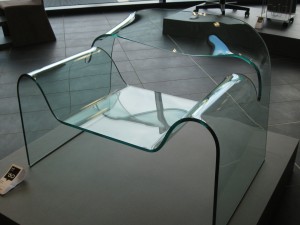 "Ghost" armchair Cini Boeri and Tomu Katalanagi, 1987 for Fiam Italia
The objects attest to the change in taste , but most are , like any art form, the will of an epoch. Think of the 60s with the advent of Pop Art, where design objects become more playful, colorful, often excessive (and I quote the armchair "Sacco" of Gatti Paolini and Teodori ), or to the '80s, with the ' Reagan hedonism, in which objects become pure aesthetics, smooth surfaces and mirrored, and yet the twenty-first century objects, in addition to aesthetics, it asks for a "contribution" ethical and moral (I think the chair "Donna" by Gaetano Pesce, in which the artist has created thinking of the woman's womb and its still difficult human condition in some parts of the world, then a complaint) .
Showcase with Tisanière and Teapots         Cesare Casati Thepots 1996
The museum currently has oltre140 pieces, among them a few things that have really made the history of our design and our country ( the chair " Leggera" of Ponti, the typewriter "Valentina" by Sottsass, the chair " Sanluca " of Castiglioni etc.etc….). This museum also has the distinction of being the first to expose the works of Italian design. The display of objects is divided for decades, the '60s, '70s, '80s, '90s and 2000s, and it collects some iconic pieces, displayed in museums around the world, others that have revolutionized the aesthetic and the taste, not only Italian, and others who have changed our daily life, improving it. In fact, next to some furnishings important because highly innovative, there are things in common use, such as coffee pots, cutlery, motorcycle helmets, or bike ….
"Nemo" chair by Fabio Novembre, 2010 for Driade Store      "Chair One" of Konsantin Gricic , 2002 for Magis
"Alveo" garden set Chiaramonte & Marin, 2003 for Emu      "RA" lamp Ettore Cimini , 2002 for Lumina
"Nobody's is Perfect" chair by Gaetano Pesce , 2000     " Canasta " armchair Paolo Parigi 1989 for Paris Heron.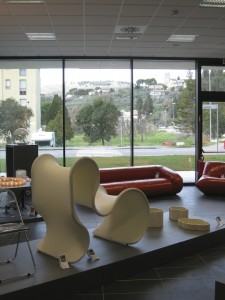 Glimpse Museum 
The protagonists of Italian design have made our country famous all over the world. Sometimes I smile to see "D Casa" of the Repubblica as well-known personalities foreign object or furniture bought for their homes, and with great satisfaction (no surprise) I realize that most of them are Italian.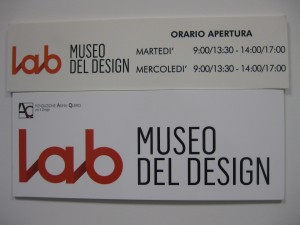 Lab Design Museum 
It 'also this is a priceless heritage, let's keep it, increase the value, promote its study and its research, so that other young people and future architects or designers can carry on this great tradition.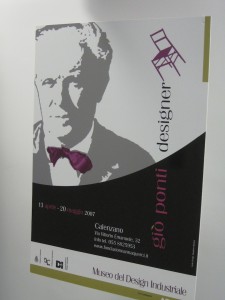 Exhibition poster on Gio Ponti in 2007 
Good life to all!
Beatrice