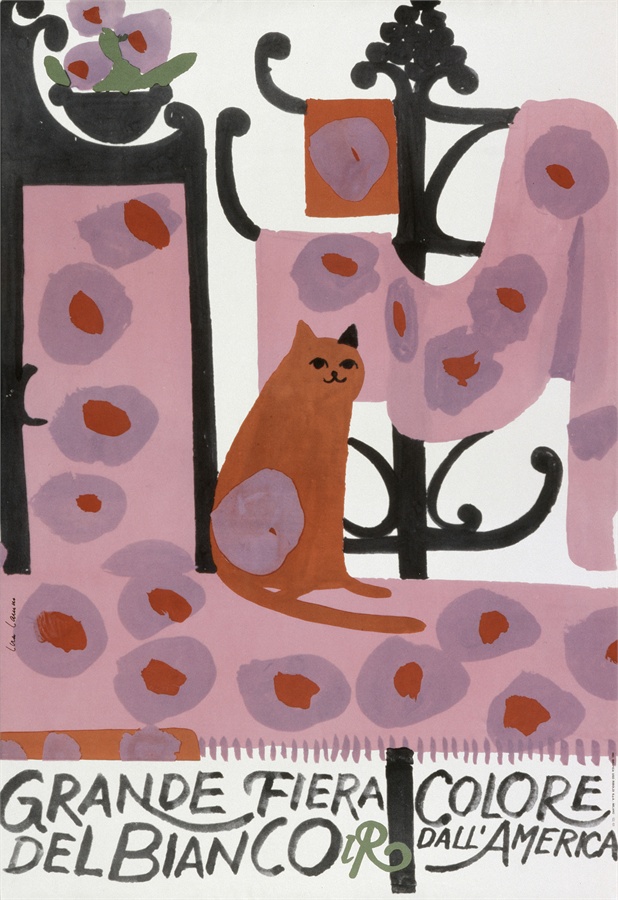 Poster by Lora Lamm for La Rinascente, 1961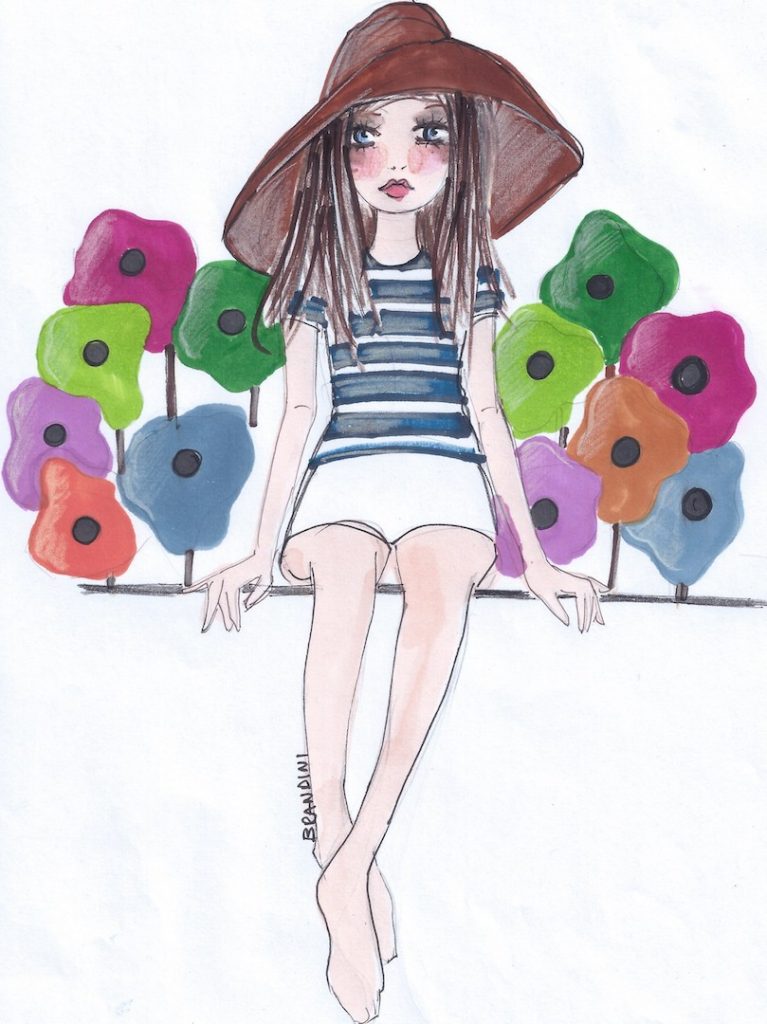 "Felicity" by Beatrice Brandini
It was a long time since I wanted to talk to you about this great artist and illustrator, perhaps the first female graphic artist, to whom important companies commissioned advertising campaigns in the Milan of the 1950s, Lora Lamm.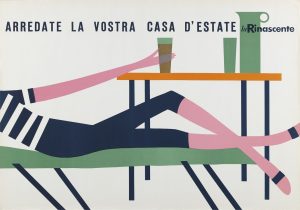 Poster by Lora Lamm for La Rinascente of 1956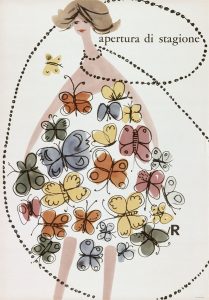 Poster by Lora Lamm for La Rinascente of 1957
What today seems normal to us, that is AD women in command of multinationals, designers of important fashion houses, scientists and researchers, astronauts …, it was not at all until a few decades ago. It was not at all if you were a woman.
Lora Lamm, born in Switzerland, and, after graduating from the Kunstgewerbeschule in Zurich (a school of applied art chaired by one of the godfathers of the Bauhaus, Johannes Itten), landed in Milan in 1953, first at the Studio Boggeri where Bruno Munari also worked , then in the creative department of La Rinascente, thanks to his classmate Max Huber (creator, among other things, of the La Rinascente logo brand).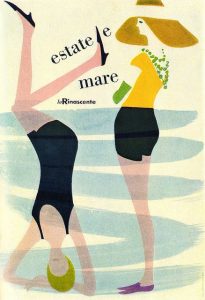 Poster by Lora Lamm for La Rinascente of 1958
Poster by Lora Lamm for La Rinascente of 1960
These were important years, the Lamm, with her clean, graceful, delicate colors, contributed a lot to the formation of Italian design in the 50s and 60s, in an active, stimulating Milan, that of the economic boom, in which the best engineers were called by companies to reconstruct the identity of the city and re-launch Italy itself.
Lamm will also dedicate itself to other important companies such as Pirelli, the Centrale del Latte in Milan, Elisabeth Arden, Niggi, etc., although the most significant and recognizable images are those dedicated to the collaboration with La Rinascente, in which it dealt with of catalogs, posters, invitations, labels and advertising.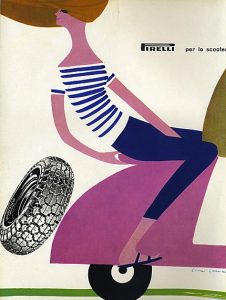 Poster by Lora Lamm for Pirelli of 1959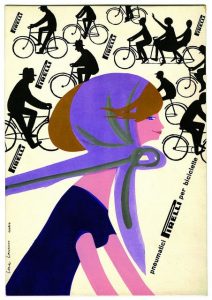 Poster by Lora Lamm for Pirelli of 1960
Personally I find the feature of Lora Lamm incredibly modern, capable, in very few brushstrokes, of evoking a style, a product, a concept. She is also a pioneer of a more contemporary feminine representation because her women are "people", protagonists, not contour dolls. An unmistakable trait, almost childlike, which only apparently seems "simple".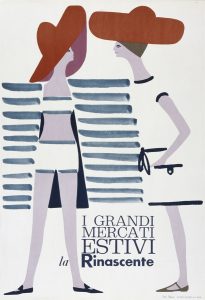 Poster by Lora Lamm for La Rinascente of 1960
If we look at her protagonists, like the one on the 1959 Pirelli tire scooter, or the women of the 1961 "la Grande Rinascente summer markets", we will notice that they are very modern women, we could be our daughters or grandchildren. Striped t-shirts, leggings, a simple but very refined tunic, everything is perfect and incredibly modern, considering that in those years women wore suits, status symbols of an emerging bourgeoisie. This is also why the Lamm is so contemporary.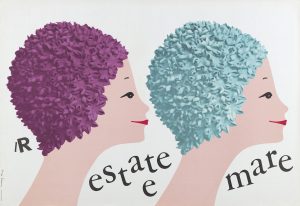 Poster by Lora Lamm for La Rinascente of 1960
For Pirelli she collaborates in the creation of posters and objects. Pirelli has always been a forerunner of the use and promotion of graphics and advertising (let's think about what the Pirelli Calendar has become).
She collaborated with important photographers such as Aldo Ballo and Ugo Mulas.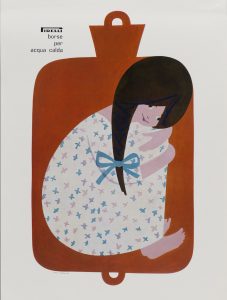 Poster by Lora Lamm for Pirelli of 1960
In 1960 one of her portraits appears in the magazine Gaphis in an article by Gillo Dorfles, undisputed discoverer of talents destined to cross the centuries. As if to say that creativity and talent is a business among elected representatives.
Lora Lamm is a wonderful world, full of colors, free and joyful, a world in which we would all like to live forever.
Sketches '60 Fashion mood by Beatrice Brandini
Good life to everyone!
Beatrice