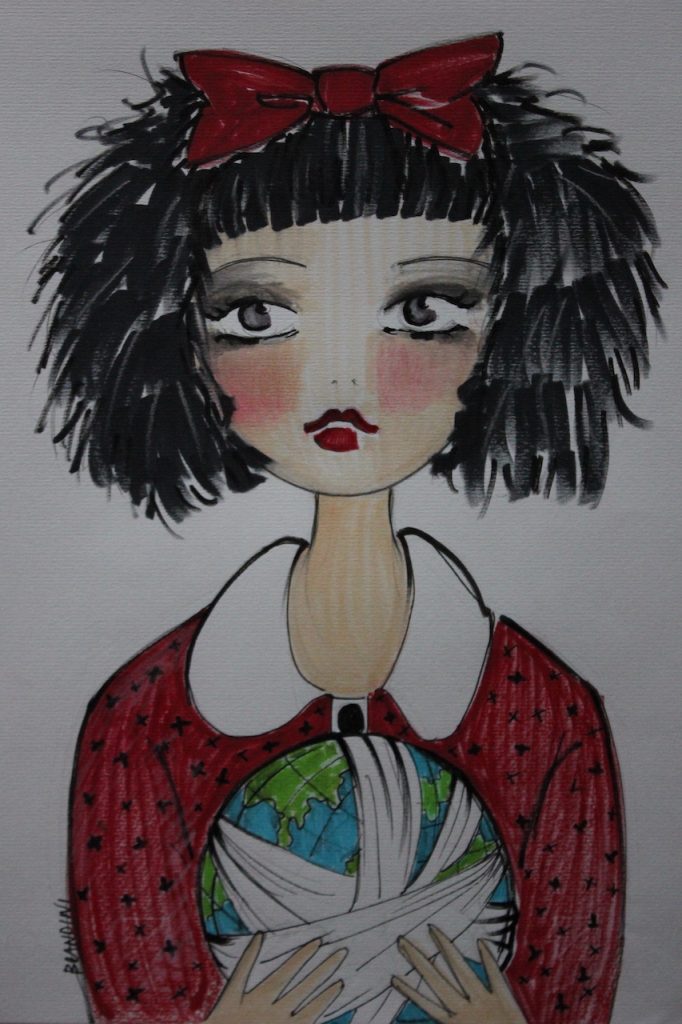 "Mafalda years 2000" by Beatrice Brandini
Mafalda by Quino
When I was little I had three favorite comics (I already talked about Snoopy), the other two were Zoe (by Arturo and Zoe) and Mafalda. Two sui generis girls, irreverent and funny, very politically incorrect. And it's kind of weird because I'm actually different, much more conciliatory and I think sweet.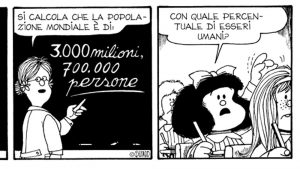 Strip of Mafalda by Quino
Probably this passion for these two little heroines arises because both represent what I admire in human beings, namely the ability to express their ideas and not necessarily be conciliatory and intellectual honesty.

Strip of Mafalda by Quino
Zoe and Mafalda had character and, if contextualized in the years in which they first appeared (born respectively in 1938 and 1963), we can understand how modern and revolutionary they were.

Strip of Mafalda by Quino
Mafalda was born from the pencil of the Argentine designer Joaquín Salvador Lavado Tejón, known by everyone as Quino (also called this in the family to distinguish him from his uncle Joaquín, also an illustrator), who in 1963 invented Mafalda for the Mansfield appliance company. The client did not like the character and was discarded. However Quino thought that he had created something special and began to develop the first strips based on this little 6 year old girl named Mafalda.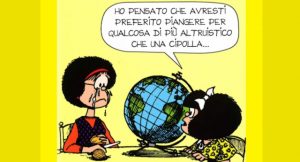 Strip of Mafalda by Quino

Strip of Mafalda by Quino
Mafalda was a different protagonist, not classically beautiful, often angry and very busy on political, ecological, feminist issues. The publisher appreciated it from the start; already in 1966 the comic was translated into thirty languages ​​and was selling millions of copies. In Italy she appeared in an anthology of Feltrinelli, Bompiani also published the first book entitled "Mafalda the contestant", the preface was by Umberto Eco.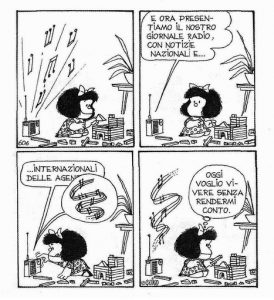 Strip of Mafalda by Quino
In the seventies Quino also lived in Italy, a necessary migration to escape the Argentine dictatorship of those years, then in Spain and Paris.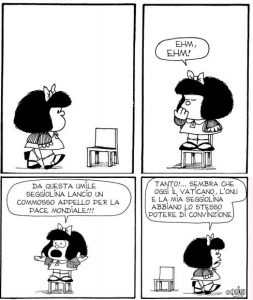 Strip of Mafalda by Quino
Umberto Eco, in love with comics that he defined the ninth art, compared Mafalda to Charlie Brown, and said of the girl from Buenos Aires: "hero of our time", adding "Nobody denies me now that comics are (when it reaches high levels of quality ) a costume spy and in Mafalda the tendencies of a restless youth are reflected, which here take on the paradoxical aspect of a childish dissent … .. "
Comics have enormous power, that of amusing us, of distancing us from reality (never so redeeming as in the Covid era), of creating parallel worlds with very little effort. We think that all the film productions that have grossed the most in recent years are all taken from comics, Marvel or DC it makes no difference.
For this I thank my father who made me love comics, I saw them everywhere in the house, he took me to Lucca Comics, decades ago, when the authors were there to sign copies and you had the opportunity to see them at work or hold them. the hand.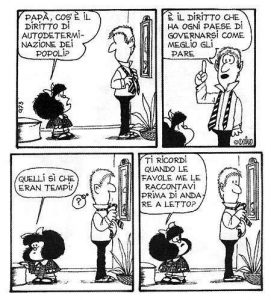 Strip of Mafalda by Quino
Quino recently passed away, the historic Argentine comic book publisher Danile Jorge Divinsky said: "All good men, in Argentina and around the world, will mourn it."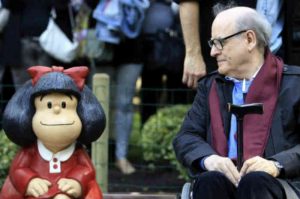 Quino with the statue of Mafalda in Buenos Aires
Mafalda was a special child, often wiser than adults, adults who had stopped fighting for their ideals, which is why Mafalda was so angry.
Fashionable Mafalda by Beatrice Brandini
Mafalda taught adults some great truths, the same ones that will survive forever. Mafalda will remain eternal, an example of a woman who is always ahead of everyone.
Good life to everyone!
Beatrice