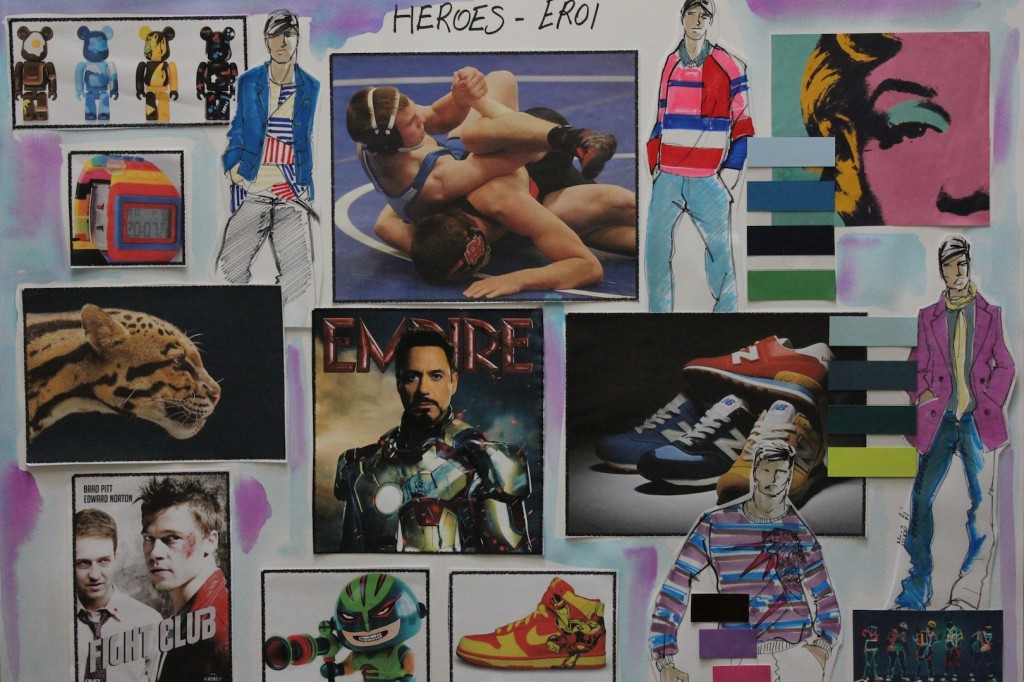 "EROES" Mood by Beatrice Brandini
"Men dream"…
It 'nice to talk about man's fashion and of the masculine universe they belong to our fathers, brothers, friends, partners, husbands, sons …… Thanks men, sometimes we don't understand you, but we love you unconditionally ….
I wanted to highlight three themes for the coming Fall/Winter, the ones I've "felt" the strongest and, as always, those more prone to my taste.
RURAL- RURALE ,  HEROES-EROI,  RUST-RUGGINE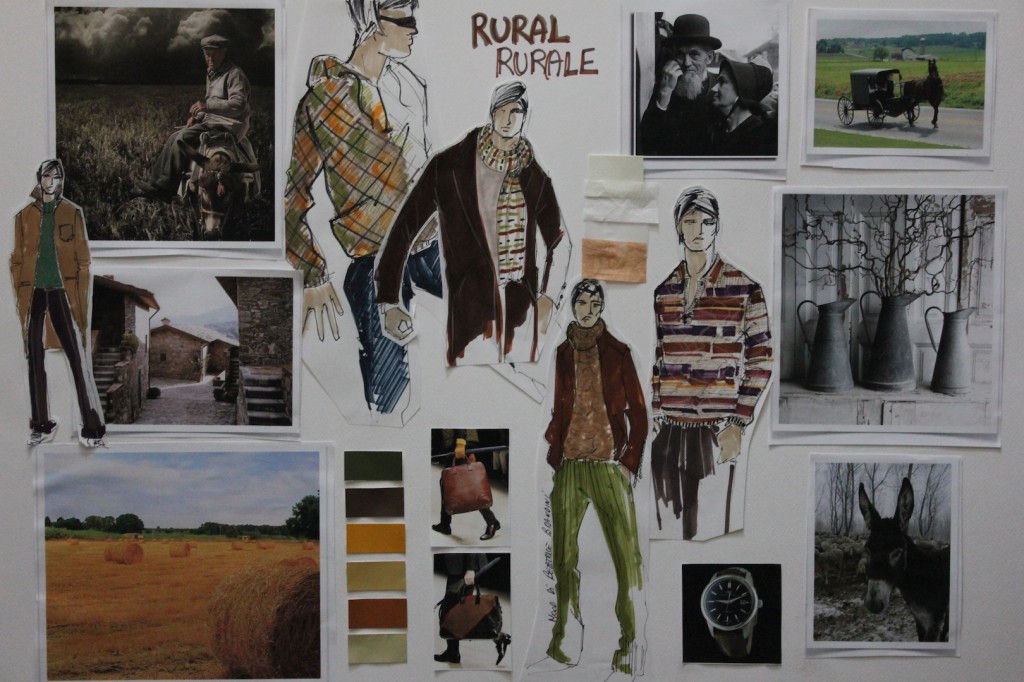 "RURAL" Mood by Beatrice Brandini
The first issue Rural also means rustic, natural, simple, agricultural. The natural landscape is one of the Sienese countryside or Tuscan Maremma. A reference also to the community of Amish as an example of simple and timeless life.
Fabrics and patterns: Plaid, Tweed, Tartan, Check, Felt, Corduroy and Moleskin delavè, felted Wool, heavy Canvas.
Accessories such as wooden buttons .
Colours: Terracotta, Yellow Spiga, Sage Green, Khaki, Putty, Saffron.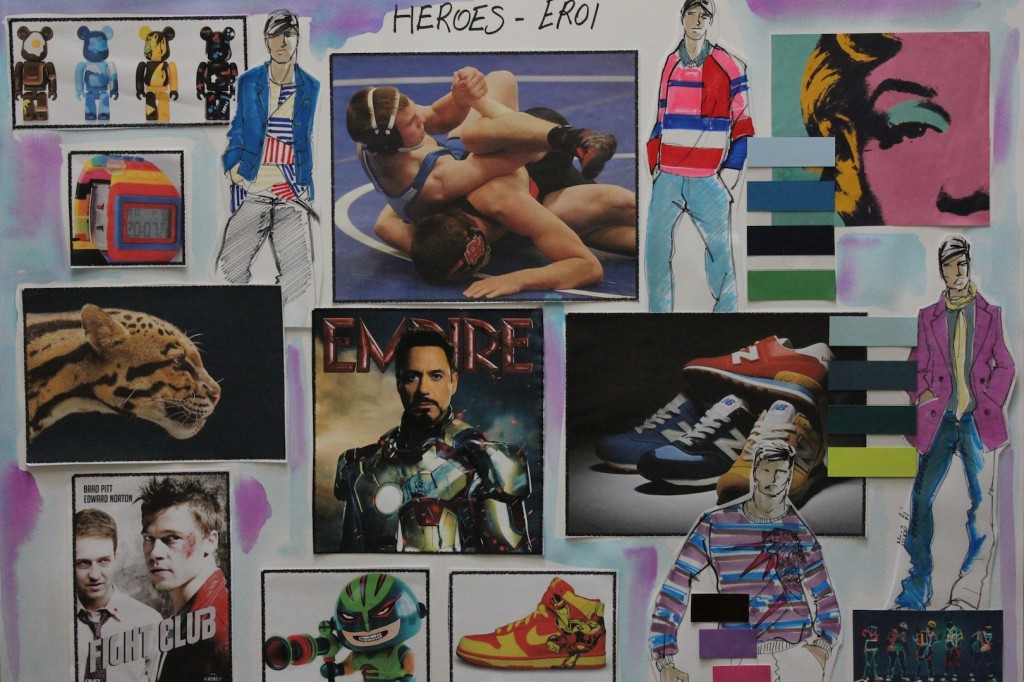 "EROES" by Beatrice Brandini
The second theme Heroes wants to emphasize a more aggressive aesthetics, wild, chaotic. The power of sports competition, the 80s, the kitsch.
Fabrics and patterns: Nylon, Plastic, Satin, reptile Printed leather, fake fur as details or finish, Fur disheveled. Sporty touches such as  colour blocks, zip, mesh, and also sporty shape as sweatshirt, especially crewneck, stirpes, Japanese patterns, "scribbles ".
Accessories such as evident colored zip, striped rib, transparent labels also be used externally.
Colours: Fuchsia, Pink shiny, Sky Blue, Lemon Yellow, Olive Green, Red Chilli, Tangerine.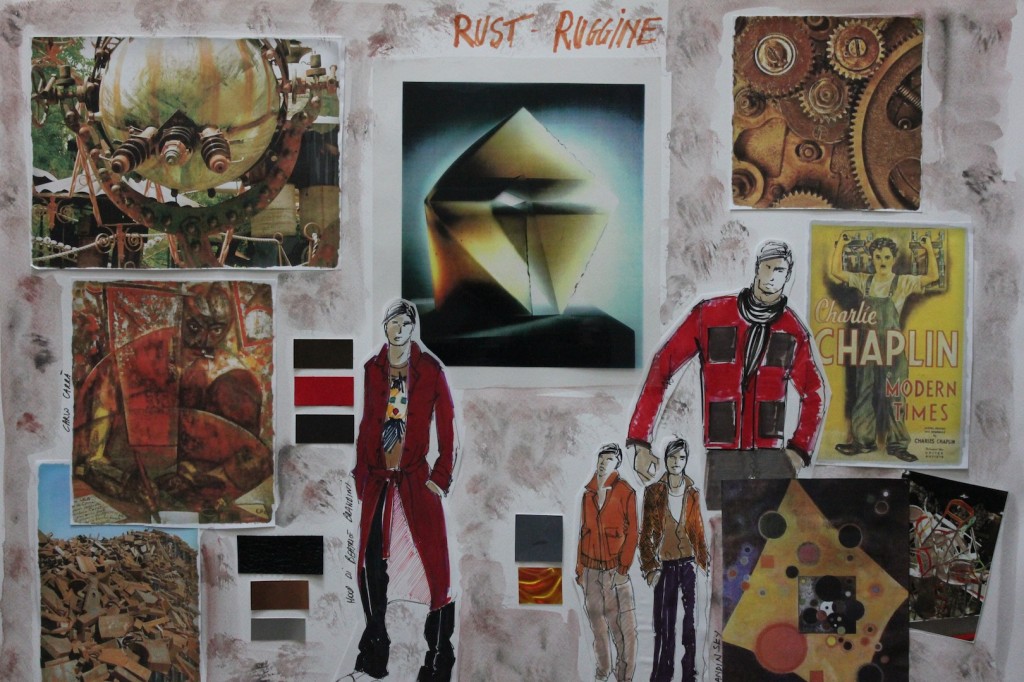 "RUST" by Beatrice Brandini
The third theme Rust, such as oxidized metal, old, worn…. In my view this is an idea of reuse, such as the rediscovery of old to reinvent.
Fabrics and patterns: moves surfaces, interesting and "confused." Coated, laminated, Lurex, but also Felt, Velvet and Denim with special laminations. Wool, Velvet, Leather.
Accessories such as metal buttons, metal details, old military belts.
Colours: Metallic colors, Bronze, Burnt Orange, Grey mélange, Chestnut Brown, Bordeaux, Red Raspberry, Currant.
Good life to all!
Beatrice