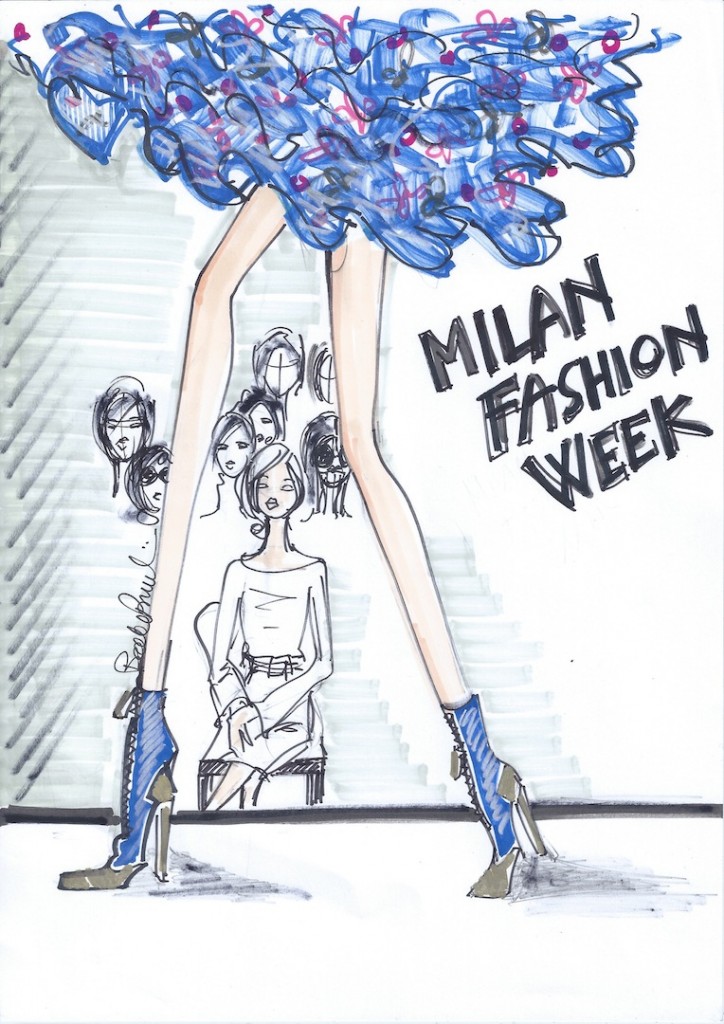 "Catwalk" by Beatrice Brandini
Continues the journey on runways around the world to discover and understand what are the trends for the coming Fall / Winter. How will we wear, what we love, what we will enhance what we penalize (but we would like at all costs!) …, What will make us crazy …. As previously emphasized, New York and London, will be a fashion FREE AND LUDIC, beautiful (especially in Milan!), Where everyone will dress (finally!) as he wants ….
Even for Milan I collected the trends that I felt stronger and felt more attractive, not necessarily the most views, but those who have, in my opinion, a stronger impact because they cover a wider aesthetic that becomes art, music, society ….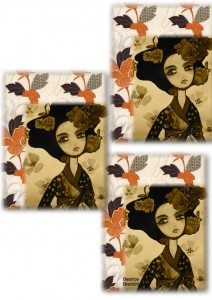 Mood "East" by Beatrice Brandini
I wanted to emphasize with East Asian atmosphere that characterize some collections, or just some details. These are mainly fantasies, rather than shapes, translated into prints, embroidery or applications. In a nutshell is "an eastern "aesthetic graphic" view in the runways, thanks also to fluid and shiny fabrics like silk or satin. Probably we look at East for philosophize and get lost a bit ', in times that instead is, unfortunately, really tense.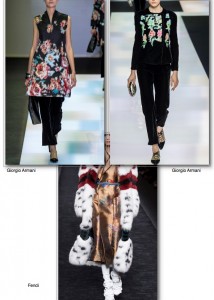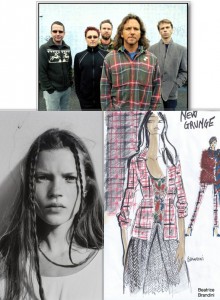 "New Gunge" mood by Beatrice Brandini
This trend is not as strong as seen everywhere, but who proposed it, or just borrowed as a quote, I think he did it because he revolutionized the grunge era, starting from music to tap the culture and of course fashion. It 'a grunge less conceptual, but always important. Many check and wool like tweed, shetland, boiled wool and fringed.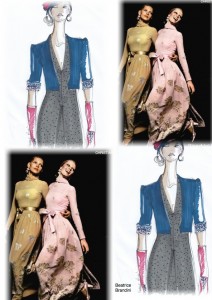 "Vintage" mood by Beatrice Brandini
For years now that fashion borrows styles from past eras, often it is just in a decade in particular, as the seventies, in which fashion house and creative draw quite unashamedly (making a very clear distinction, however, between shape / cut of the past with the fit, materials and workmanship of this years). For next winter it is not about a specific period but many quotations. There are the twenties with their flow properties of the fifties with the enhancement of the waist, the seventies with knee-length skirts (or mini) and leather boots …. Then there are houses like Gucci that make the difference in the influence of a trend rather than another. For next winter Gucci looks to the past without nostalgia but with much modernity.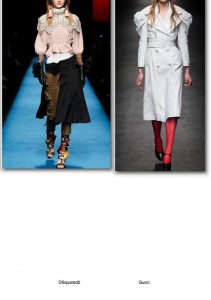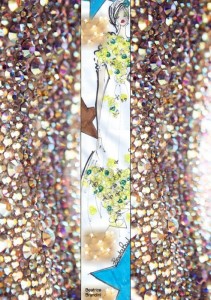 "Sparkley" mood by Beatrice Brandini
Wow what shimmer is the next Winter. I picked up only a small part of what is actually seen in the catwalks of Milan. So lame, so many mirrors type applications (like the balls in discotheques years 70/80), sequins, leather silver, bronze, gold …, glossy and matte metallic effects, often as a detail. a sleeve, a sweater, a hem …. or protagonists of beautiful evening dresses. the tissues become even metal, sometimes rolled, crumpled like candy card. wool is also lurex.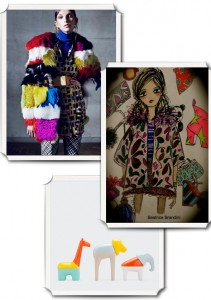 "Mix and Match" mood by Beatrice Brandini
Has for some years that mixes everything in fashion …, very different prints together, tissues, proportions … all things that if only they had been presented in the recent past would have cried foul … I always love the 'irony in fashion, the fun part, colored, funny … I want to surround myself with a worldbetween Disney and Wonderland.. for this when I was a child people called me Fioruccina or Moschina (Fiourucci / Moschino). Fashion today is much more free and creative, offering us a very interesting show where art, creativity, play, perhaps a touch of madness … alternate and mingle ….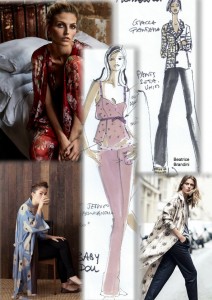 "Homewear" mood by Beatrice Brandini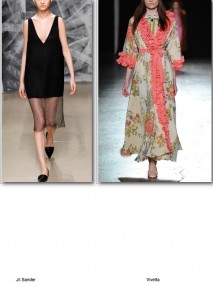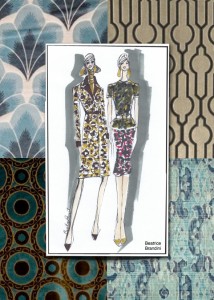 "Upholstery" mood by Beatrice Brandini
I have called this trend "upholstery" because the tissues used to this theme really seem stolen from a store that sells vintage sofas and armchairs made of those magnificent velvets, brocades, jacquards … that the twenties onwards represent the forms of art. The design and fashion draw on this "archive" for their creative process, of which the result is really interesting.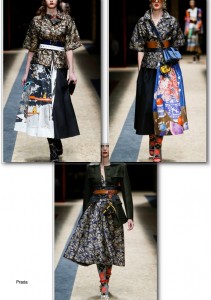 It 'also the curtain fell on Paris … I'll talk about it in a few days.
Good life to everyone!
Beatrice