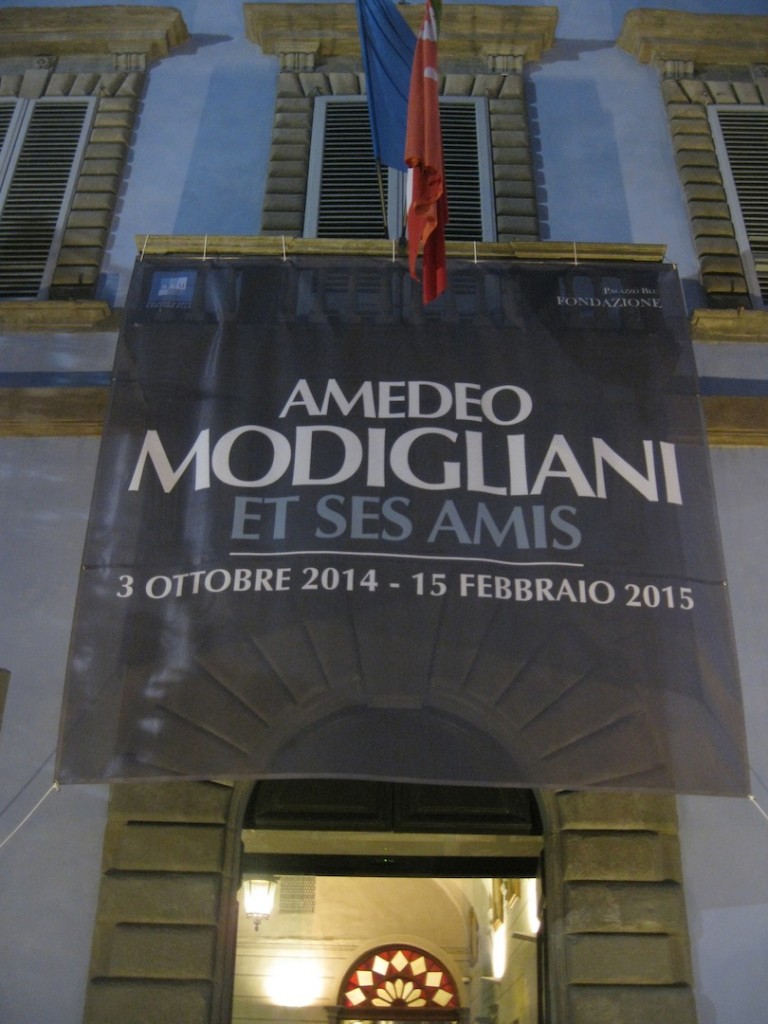 Facade of Palazzo Blu, venue of the exhibition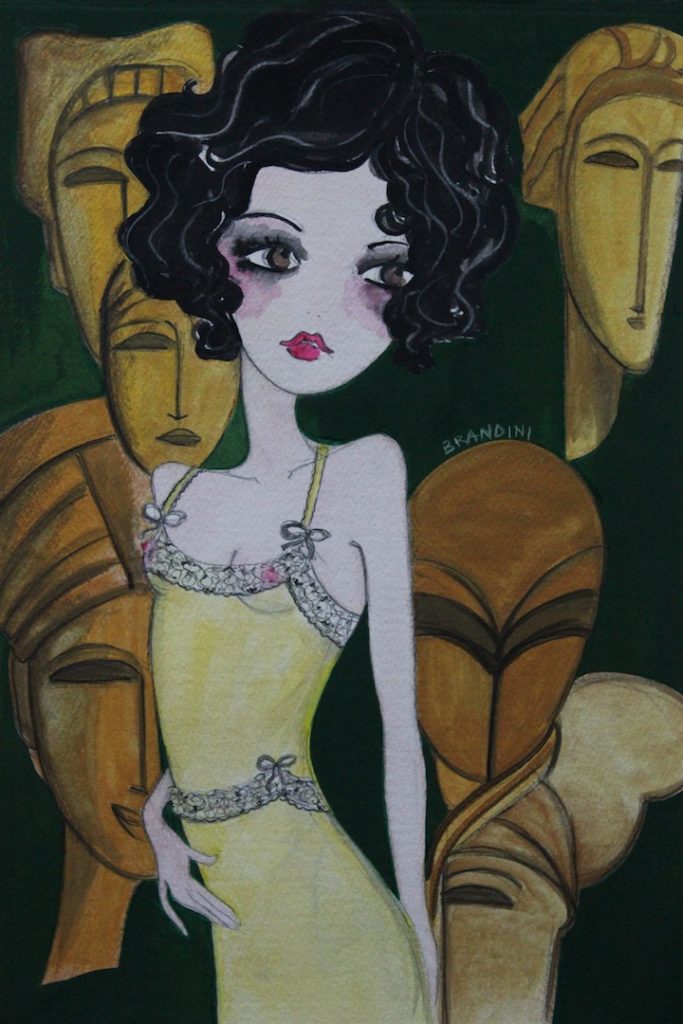 "Jeanne" by Beatrice Brandini
In Pisa there is a beautiful exhibition on Modigliani: "Amedeo Modigliani et ses amis". Not the first time I talk to him, I had already done for the exhibition at the Palazzo Reale in Milan .., definitely will do it again because I believe that Midgliani is a really special artist: unique, brilliant, creative, but also tormented, misunderstood, beautiful, outrageous …
Panels and glimpses of the exhibition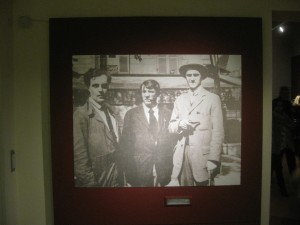 Photo showing Modigliani along with Picasso
The exhibition, in the splendid rooms of Palazzo Blu (here organize an exhibition more beautiful than the other), has a rich and interesting selection of works from the Centre Pompidou in Paris, showing the period of its formation in Livorno up to that of his maturity (although talk of maturity in the case of Modigliani is really an understatement, given his tragic and untimely death) and highest artistic expression.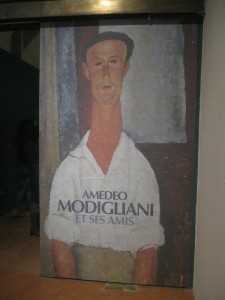 Banner of the exhibition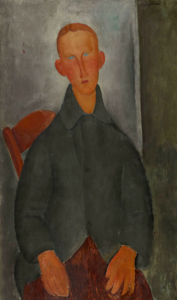 Amedeo Modigliani "Young boy red", 1919. Centre Pompidou, Paris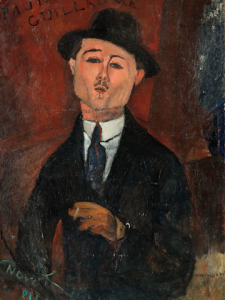 Amedeo Modigliani "Paul Guillaume", 1915, Musée l'Orangerie, Paris
Most of the exhibits in fact belongs to the so-called School of Paris. Term attributed to that group of artists who met in the French capital in the first decade of the twentieth century, with the intent to experiment and explore new techniques, focusing especially on the figure, in contrast with current instead of abstract art had made their point strength, Cubism and Futurism among all. Paris is for Modigliani and for the many artists that like him were trying stimuli, the emblem of freedom and modernity, the city in which to experiment and "liberate" their creativity; a city where in the same year there were people like Picasso, Chagall, Jacob, Braque, Cocteau, Giacometti, and in fact the exhibition "Modigliani et ses amis" proposes, among others, works by Léger, Utrillo, Severini, Derain, Picasso, Chagall. In addition, it is not always usual, a selection of sculptures by Modigliani and other great masters, of all I must quote the famous "Mademoiselle Pogany" from Brancusi.

Amedeo Modigliani "Female Head", 1912. Centre Pompidou, Paris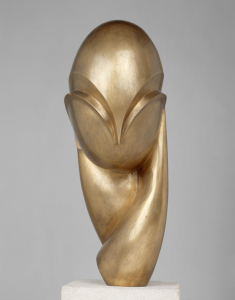 Constantin Brancusi "Mademoiselle Pogany," 1933. Centre Pompidou, Paris
I don't know why I love so much Modigliani, certainly because he's good, certainly for his troubled life and at times dramatic, for his sensitivity and suffering, for his huge personality (brilliant, angry, enthusiastic, generous), but I think also because he was (and still is) DIFFERENT by all. He tried (and succeed) to do something new, despite the frequent and important influences of artists, Amedeo Modigliani created a personal style and instantly recognizable.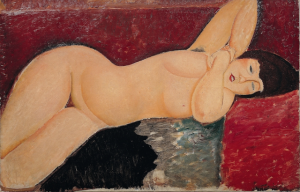 Amedeo Modigliani "Reclining Nude", 1917. Pinacoteca Giovanni e Marella Agnelli, Turin
Amedeo Modigliani "Lolotte", 1917 and Portrait of Dedie, 1918, Centre Pompidou, Paris
His subjects, especially women, with those eyes elongated and often glassy because without pupilless, frontally placed in front of the viewer, almost autonomous, are always, in spite of the above features, very expressive and romantic. Almost always characterized by an aura of sadness, restlessness, strangeness of context, from the time, from the canvas,  irresistible. Even nudes are different, especially if contextualized in the years in which they were performed. The models are shameless (just like their mentor), complacent and exhibit their body with huge naturalness.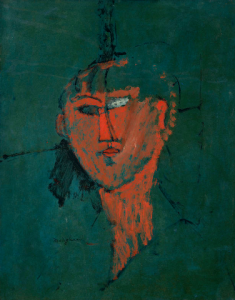 Amedeo Modigliani "red head", 1915. Centre Pompidou, Paris
Modigliani drew very quickly but to get the result he was looking for could run a hundred sketches before moving on to the canvas. For this the drawings by Modigliani are an integral part of his work.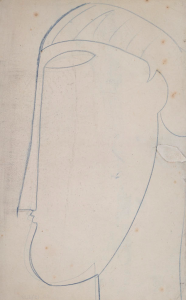 Amedeo Modigliani "Head Profile", 1912. Centre Pompidou, Paris
Finally I want to focus on the figure of Jeanne Hebuterne, also because many of the paintings in the exhibition of Pisa portray she. She was a young painter who fell in love with Modigliani and made him father, an immense love but unfortunately short and tragic. They met in 1917, just three years before the tragic death of the artist. When Modigliani died on January 24, 1920, the day after Jeanne Hebuterne, the eighth month of the second pregnancy, committed suicide by jumping from the window.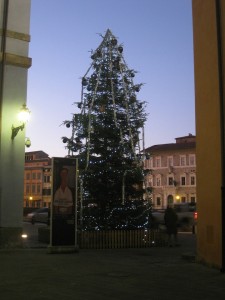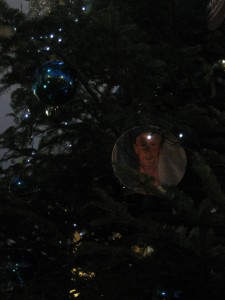 Christmas tree set up at the entrance of the exhibition at the Palazzo Blu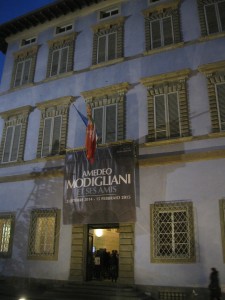 Facade of Palazzo Blu, Pisa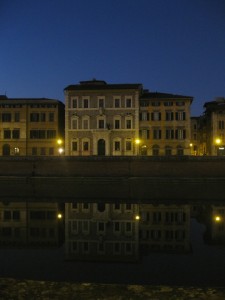 Glimpses of the Lungarno in Pisa, in front of Palazzo Blu
Rarely speak of such personal aspects of the life of an artist, much less when, as in this case, are so tragic. I made an exception not for voyeurism or "theatricality", things that I hate, simply because it is a story that moves me and that, despite everything, is full of poetry, love and human frailty. Something that characterizes and is part of each of us.
Photos of Amedeo Modigliani, staging shows
So I imagined dress Modigliani in our days, by Beatrice Brandini
Amedeo Modigliani is considered one of the greatest artists of the modern art, his works are in museums and most important collections in the world, those that are auctioned are auctioned to incredible amounts. Despite this in life he had little success and even less comfort. Twist of fate or of stupidity that often, then as now, does not recognize the greatness and talent, doing  irreparable damage.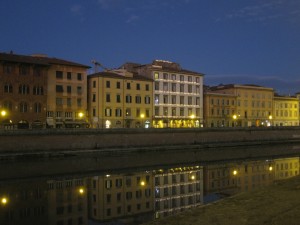 Glimpses of the embankment in Pisa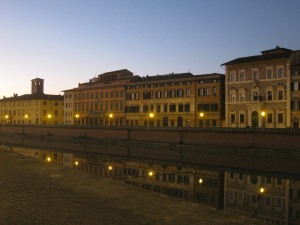 Glimpses of the embankment in Pisa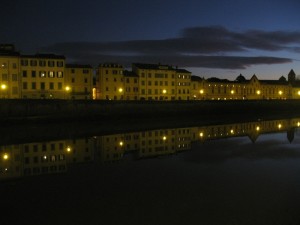 Glimpses of the embankment in Pisa
Glimpses of the embankment in Pisa
Good life Amedeo,  that you might have found peace next to your beloved Jeanne.
Good life to all!
Beatrice