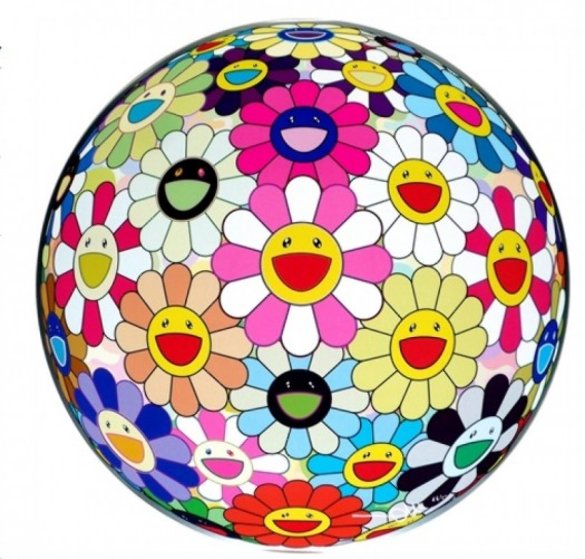 Takashi Murakami: "Flower Ball 3D Pink", 2007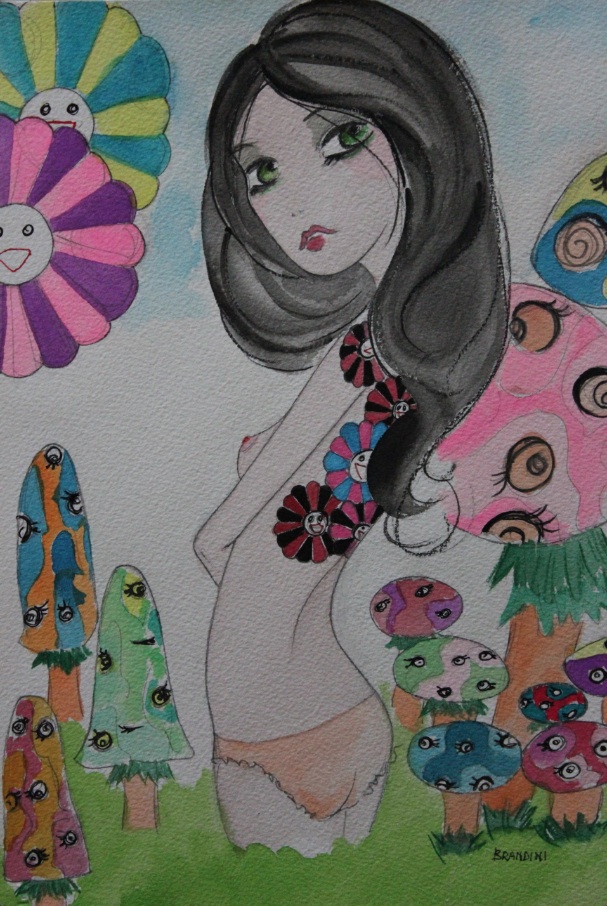 "Yuki in the Murakami's woods" 
I can't not love this artist so playful, colorful, cartoony, imaginative ……, author of the eyes and floral patterns unmistakable. With his art allows me to go back in time, in a fantastic island that (surely deluding myself) I think can "protect" me from the ugliness of the world …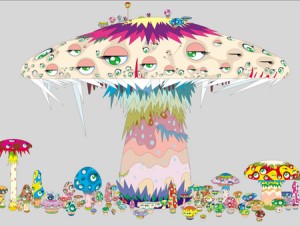 Takashi Murakami "Champignon" 
In Milan, in the Hall of the Caryatids of the Royal Palace still for a few days, there is a beautiful exhibition of Takashi Murakami. Paintings, sculptures, self-portraits and the first feature film directed by the same artist: Jellyfish Eyes.
Hall of Caryatids at the Royal Palace, the exhibition "The cycle of Arhat" staff of Takashi Murakami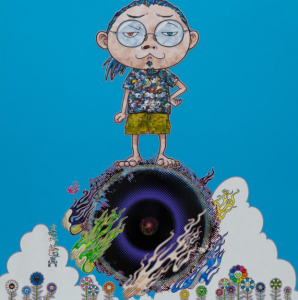 Takashi Murakami "Courtesy Blum & Poe," Los Angeles 2014 
Murakami is a contemporary Japanese artist most famous in the world, who through his Factory (since 1996 Hiropon to become, in 2001, the Kaikai Kiki Company), has created a personal style made of infantilism, color, manga, surprise. …, a spokesman for the Japanese culture that characterizes contemporary Japan.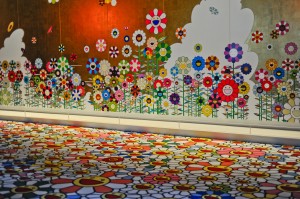 Takashi Murakami "Blossoming Flowers in This" 
The idea of a factory is an explicit homage to Andy Warhol (also through the title Cowboy Murakami has used the work "My Lonesome Cowboy"), but if the Warhol Factory in New York was the crossroads of underground movement, that of Murakami does not have anything so "artistic and sentimental," is in fact a real company with approximately ninety people who work there stamping a card (you imagine Edie Sedgwick or Truman Capote stamp a card or simply live with the employee?). The artist made personally and by hand all his drawings, scans and colors them with digital techniques, and then pass them to the servers that use the serigraphy on canvas.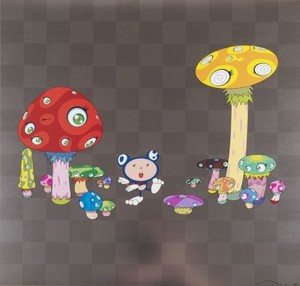 Takashi Murakami "Guru Guro", 2008 
Murakami was born in Tokyo in 1962 In 1993, follows a traditional degree in painting at the University of Tokyo and won a scholarship issued by the MoMa that will take him to New York. In 2008, Time magazine has declared Murakami as the most influential representatives of contemporary Japanese culture.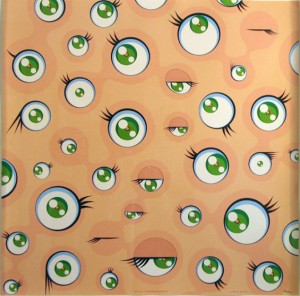 Takashi Murakami "JellyFish Eyes" 2001 
Very business-oriented, personally negotiates licenses and commercial contracts. He created and numbered silk screened balloons gadget; produced and marketed dolls, calendars, t-shirts, skateboard …; bags, trunks, cases for iPod … for Louis Vuitton, at the invitation of Marc Jacobs, has always been the sponsor of the combination of fashion and art; has collaborated with Issey Miyake … making the uncertain boundary between "high art", for intellectuals and wealthy collectors and "low art", ie one characterized by mass-produced items and addressed to the mass consumer, playing before others the desire (which in Japan is perhaps the greatest adepts), of owning a luxury item entered the collective imagination.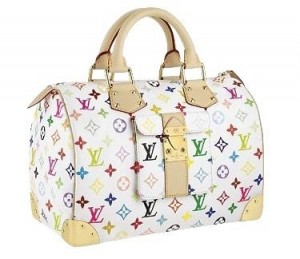 Marc Jacobs and  Takashi Murakami for Louis Vuitton Monogram Multicolor
Other examples of collaboration between Takashi Murakami and Louis Vuitton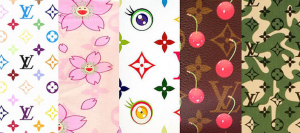 Fabrics Murakami for Louis Vuitton: Monogram Multicolor, Cherry Blossom, Eyes Series, Monogram Ceries and Monogramouflage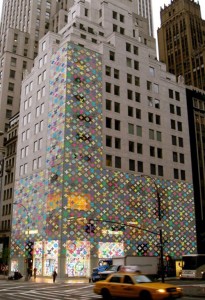 Louis Vuitton store in New York customized by Takashi Murakami 
Murakami covers three topics in a cyclic manner, universal themes that are "beauty", "sexuality" and "death" and, though his tract, its colors and above all his subjects seem childish, light, ironic, for a more careful vision reveal themselves for what they really are, or witnesses and  transpositions of complex issues of 'actuality of Japan, made up of atomic and environmental catastrophism, the cult of the body strengthened and changed, inadequate physical activity, repressed sex ….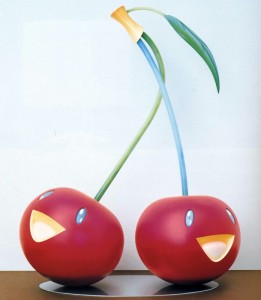 Takashi Murakami, sculpture 
I believe, I've said many times, that art should make us feel good; what we like, we are going to see in a museum or in a personal, what we dream to acquire, through a poster or lithograph, must primarily make our lives more enjoyable and not just aesthetically; everywhere will be hung, exposed, resting … we remember a particular moment and will make us understand that life, despite the difficulties and disappointments, can be always beautiful. Art for me is this and performs this function, that's why I always loved her and, through her, I have always built an imaginary world of total protection …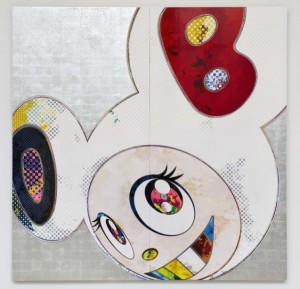 Takashi Murakami's "And Then (White) 6000 
Murakami says: "The artist, in addition to conveying a conception of the world and criticize the society,  must meet the expectations.  Is the law of the market. To sell, the company must know the desires of the final, to predict the needs". This is also why I love Murakami, is not hypocritical, not to say that art should only be feeling and passion, but recognizes them, now more than ever, a role related to the business (Jeff Koons and Damien Hirst teach). But at the same time Murakami is a meticulous artist (early in his career a work cost him four months of work, dedicating to it 18 hours a day), a great connoisseur of the past, especially that related to his nation, Japan, which always treat with great respect.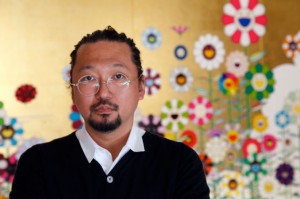 Takashi Murakami, Koichiro Matsui photo 
Thanks Murakami, I love what you do and feel me at peace with the world. I would like to have your artwork to hang in the bedroom so I can sleep blissfully happy.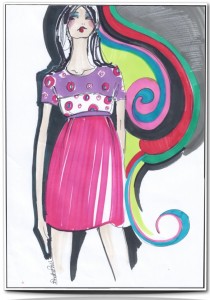 Mini collection "inspired by Murakami," Beatrice Brandini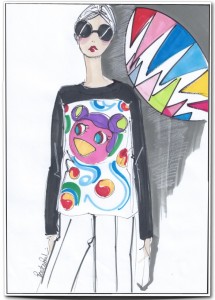 Mini collection "inspired by Murakami," Beatrice Brandini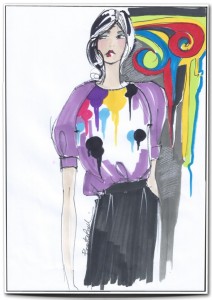 Mini collection "inspired by Murakami," Beatrice Brandini
Good life to all!
Beatrice