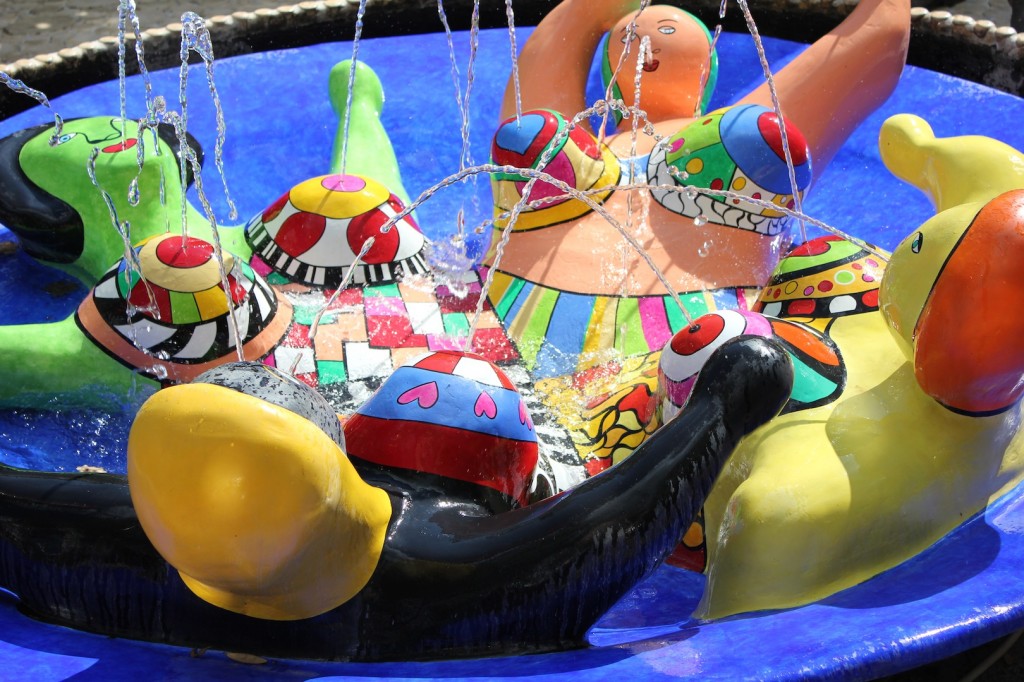 Niki the Saint Phalle, fountain in the Tarot Garden, Garavicchio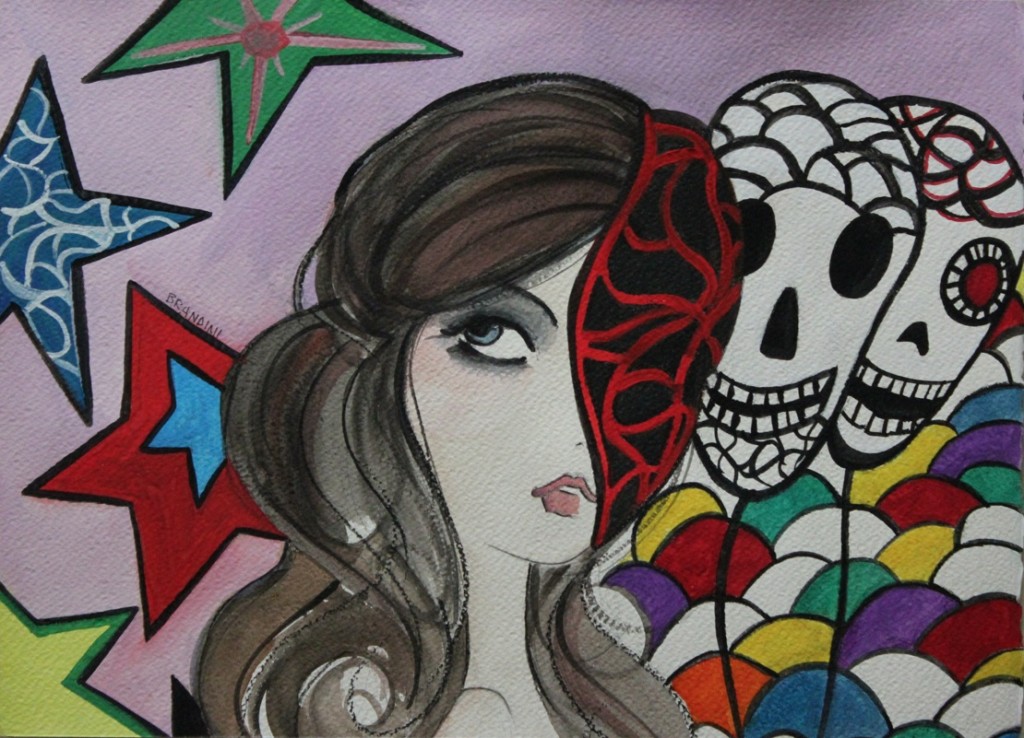 "The Temptress" by Beatrice Brandini
Niki the Saint Phalle is counted as one of the exponents (only female) of Nouveau Realism, one of the first artists who used art as a warning against racism and in favor of minorities (feminist avant la lettre, before the girl power and riot grrrl). Equipped with a great creative personality, left us fantastic works that give us joy and happiness.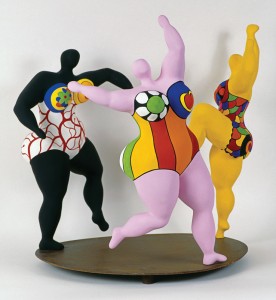 The work of Niki Saint Phalle
Niki Saint Phalle in the cover of Vogue (1952) and Elle (1946)
Niki the Saint Phalle was born in France from an aristocratic family that will allow her to travel and learn about the world. Interested in art in its many forms (literature-writing, theater-acting, art-painting), the young Niki also pose as a model for magazines like Elle or Life, and acted in a few films. But it is a result of an emotional fragility that discovers and will use painting as therapy and that from there, fortunately for us, never abandoned.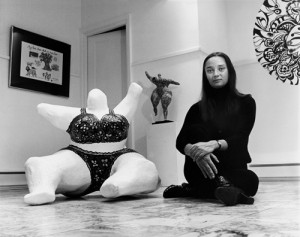 Niki the Saint Phalle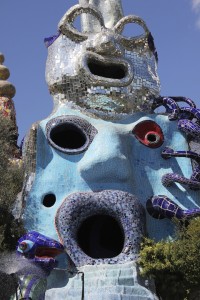 Tarot Garden (The Magician) by Niki the Saint Phalle
Details in the Tarot Garden
The first exhibition is the 1956 in Switzerland where she will meet Jean Tinguely, who will become her second husband and with whom she will create works of exceptional, as the masterpiece (not just for me) of the Tarot Garden in Garavicchio, Capalbio, in Tuscany.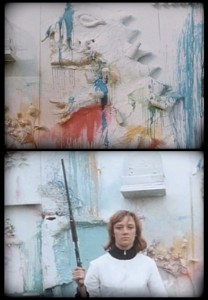 Niki the Saitn Phalle "Shooting Paintings"
One of her first "performance" is the "Pull" or Shooting Paintings, or actions in which public and artist "collaborate" being able to shoot with a rifle on plaster reliefs where inside there are bags of paint, hitting them takes a explosion that squeezes out the color. But those same shots, you will find out later, can also be a sign of anger and protest, especially against the father, a man who had childhood behaviors of Niki, would not deserve any forgiveness.
Sculptures of the Saint Phalle Niki
With Robert Rauschenberg, Jasper Johns and Jean Tinguely participate in concert Variations II by John Cage at the American Embassy in Paris.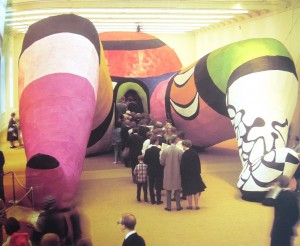 "Hon-She" sculpture by Niki the Saint Phalle
Since 1965, explores the female universe representing it with life-size figures. These works become the Nanas, imposing sculptures that made her famous, and who are a little her "trademark". Colorful and bursting, on paper or in materializing sculptures, reached its apotheosis in the "Hon" (meaning "Her" in Swedish, named in honor of the country who commissioned and hosted this opera, Stockholm), a monumental sculpture long 28 meters high 6 and wide 9, in which a woman is lying on her back in the act of giving birth. Visitors could observe the sculpture entering into her vagina! Through a series of stairs and steps, you could get to a terrace above the belly, from which we enjoyed a panoramic view.
Works on the Tarot Garden, Gravicchio (Capalbio, Grosseto)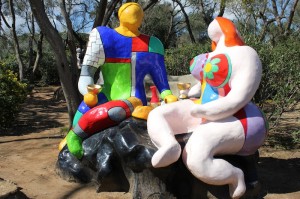 "The choice," Tarot Garden
Works in the Tarot Garden, Garavicchio (Capalbio, Grosseto)
But her most beautiful creation is complete and one that achieves a Garavicchio, namely the Tarot Garden. Opera inspired by Gaudi's Park Güell in Barcelona, where, 22 sculptures (some habitable) are inspired by the major arcana of the Tarot, as the Empress, Temperance, Strength, World, etc. . These beutiful sculptures, made of cement armed, are then covered with magnificent mosaics made of mirrors, ceramics, glass, bas.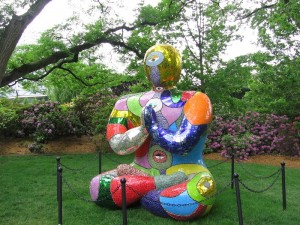 "Buddha" by Niki the Saint Phalle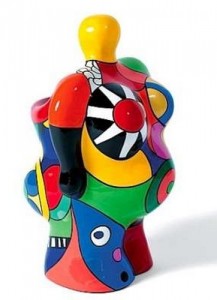 Sculpture of the Saint Phalle Niki
The same Niki says that the garden was made with LOVE, MADNESS, ENTHUSIASM and FAITH …  all aspects needed to create something unique, wonderful and MAGIC!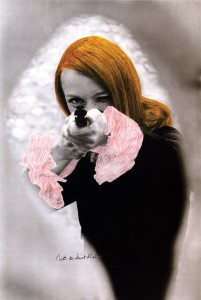 Niki de Saint Phalle on the movie Daddy, 1972. © Peter Whitehead
"Men are very incentives. They invented all these machines and the industrial age, but have no idea how to improve the world". Niki de Saint Phalle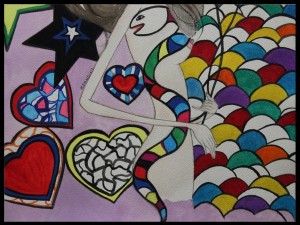 "Body Temptress" by Beatrice Brandini
Some outfits that Niki probably would have liked, by Beatrice Brandini
I think you were still happy, that has not always been easy (but who is?), perhaps knowing that left so much beauty you paid off from everything, including fatigue and suffering. Thanks Niki, you'd be a friend that I wanted to have.
Good life to all!
Beatrice