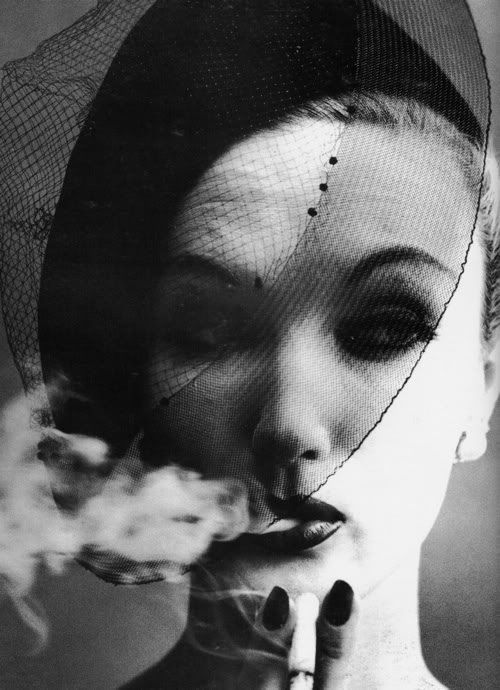 Lisa Fonssagrives, photo Irving Penn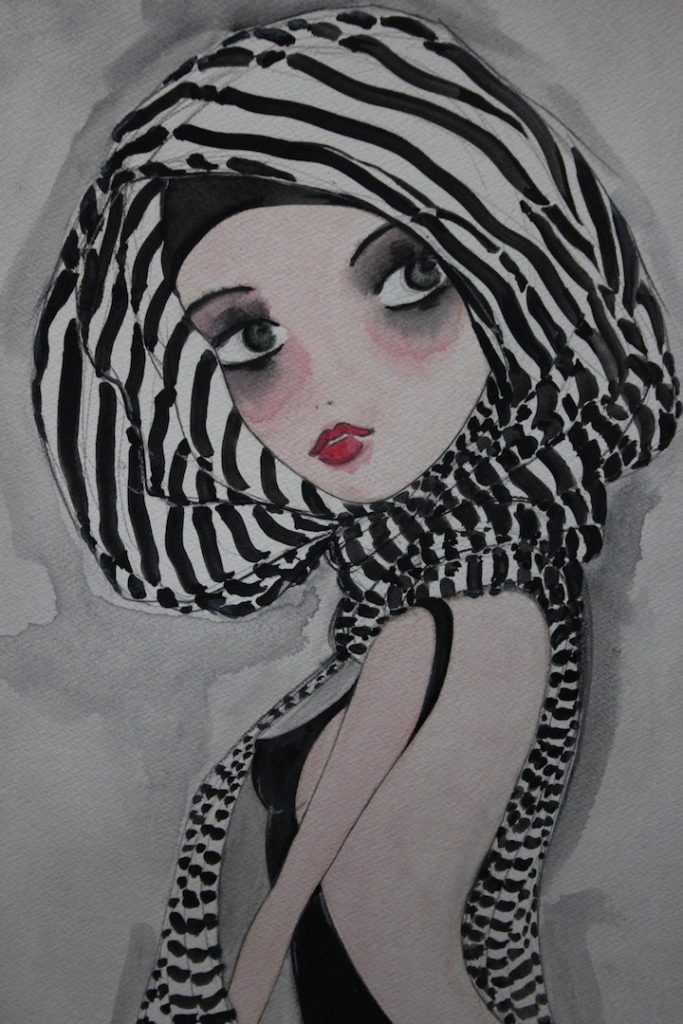 "Jean" by Beatrice Brandini
In Paris a great retrospective celebrates one of the most important and talented photographers of the last century: Irving Penn. inaugurated a few weeks ago (open until January 2018), in the year 2017, marking the centenary of the birth of this incredible master of photography.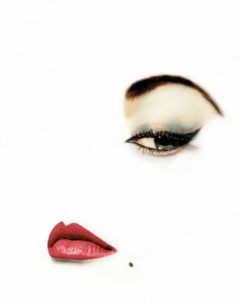 Jean Patchett photographed by Irving Penn for Vogue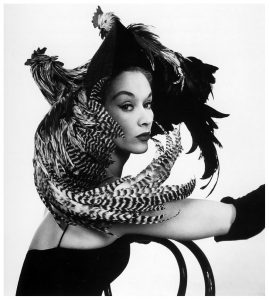 Lisa Fonssagrives photographed by Irving Penn in 1948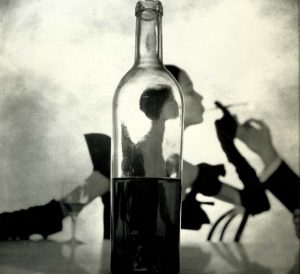 Photo Irving Penn, 1949
Irving Penn was perhaps the photographer who, before each other, has elevated fashion photography to art photography. Its elegant, unique and modern shots have been from the 1940s to a few years ago, witnesses of an age that we look with deep nostalgia. Fashion, advertising, still life and portraits of the most influential personalities of the twentieth century (Marcel Duchamp, Pablo Picasso, Truman Capote, Salvator Dali, Miles Davis, Audrey Hepburn and dozens of others) are the protagonists of a career long over sixty. Penn said: "The human face is like the façade of a building: you have to enter, dig, find out what's behind." He captured the intimacy of his subjects, taking note of the soul's quietness (shameless or hidden). Sometimes an insolent arrogance, or the subtle cruelty, ironic and never evil, which often characterizes special minds.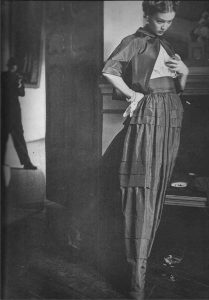 Jean Patchett photographed by Irving Penn for Vogue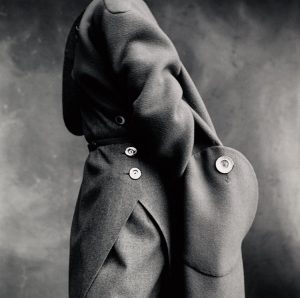 Molyneux pocket detail, photo Irving Penn. 1950
He was not subjugated by the success of the character he portrayed, he wanted to photograph the personality that concealed behind the fame and celebrity of the subject. For this reason he was one of the first to use a simple gray, aseptic background, a way for giving full emphasis to the human presence of those who were retracing.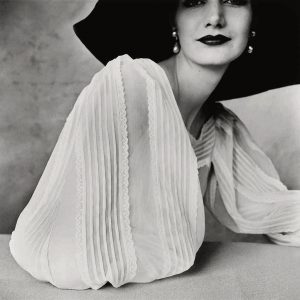 "Large Sleeve" photo Irving Penn, 1951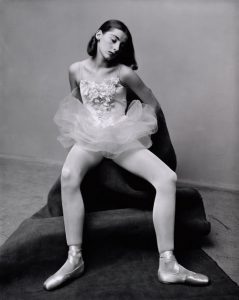 Tanaquil Le Clercq. Photography of Irving Penn, New York 1947 (one of my favorite shots).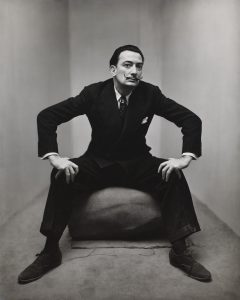 Salvador Dalí photographed by Irving Penn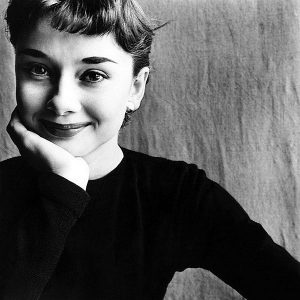 Audrey Hepburn photographed by Irving Penn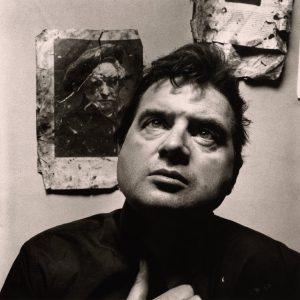 Francis Bacon photographed by Irving Penn, 1962.
… "Very often what is behind the façade is more rare and wonderful than the subject knows or can believe." Irving Penn
Vogue's collaborator for more than half a century (the first cover he made is 1943, from then on will be over 150 covers for the famous magazine). For the bible of fashion has the opportunity to experience more techniques, but beyond the creative expression used (mainly black and white, but also color, studio and exterior shoots, synthetic or more carnal portraits), Penn will be always the creator of timeless elegance, the result of an incredible analytical sensitivity and of a great figurative culture (very young, he started as an illustrator for the magazine Herper's Bazaar, and before he had attended the art school to study design and painting). In his photos, we can find so much art, echoes Caravaggeschi, but also Morandi and Magritte.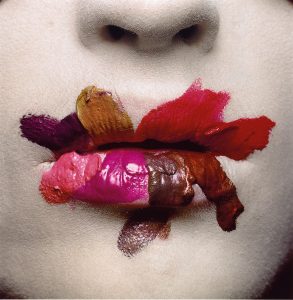 "Mouth", photo Irving Penn for l'Oréal Paris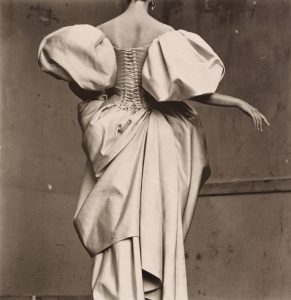 Christian Lacroix dress, Paris 1995. Photo Irving Penn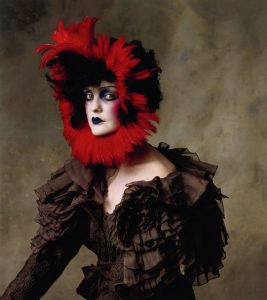 John Galliano dress, New York 2007. Photo Irving Penn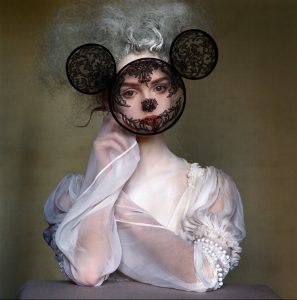 Dress Yves Saint Laurent, New York 2005. Photo Irving Penn
Incredible also its dead nature combining teatrality with pathos and decadence. So are the animal skulls, the cigarette bites soaked by intense lipstick, or its flowers, cut, melancholy, but no less expressive.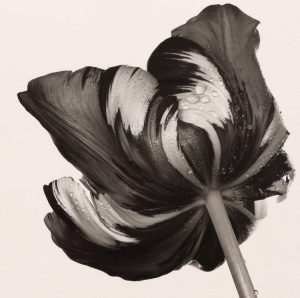 Cottage Tulip "Sorbet", New York 1967. Photo Irving Penn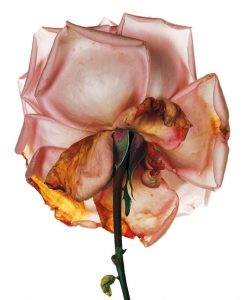 Rose "Blu Moon", London 1970. Photo Irving Penn
Since 1948, Irving Penn made a further revolutionary change by deciding to literally bring his characters to the corner, giving birth to the series of "Corner Portraits". An angular set, an acute angle with two adjacent panels. What could seem like a constriction, an almost claustrophobic space, became its trademark, and, according to Penn himself, a comforting manner by the subjects photographed. This confinement, surprisingly, seemed to give comfort to people, calming them, the walls were a surface on which to lean or push against. "… limiting the movements of the subject seemed to raise me from one part of the problem of taking care of them." Irving Penn
Always at the same time, thanks to a photo shoot in Peru, Irving Penn will love the ethnography of indigenous tribes. Hence the emergence of services and great reportage on this subject.
Also important is the professional association (then sentimental), with model Lisa Fonssagrives, who will meet in 1947 and will no longer leave, becoming her favorite model / musa. Perhaps one of the first top models in fashion history. Incredibly elegant and great professional.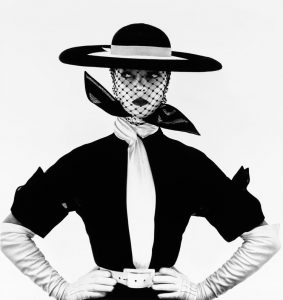 "Black & Whtie", Vogue cover, Jean Patchett photographed by Irving Penn.
I conclude with one of the most emblematic photos of this extraordinary artist. Your photos have excited us and will continue to do so. Future observers will just be able to admire, just like us do now, your perfect job, witnessing that the beautiful does not know the boundaries.
Good life to everyone!
Beatrice