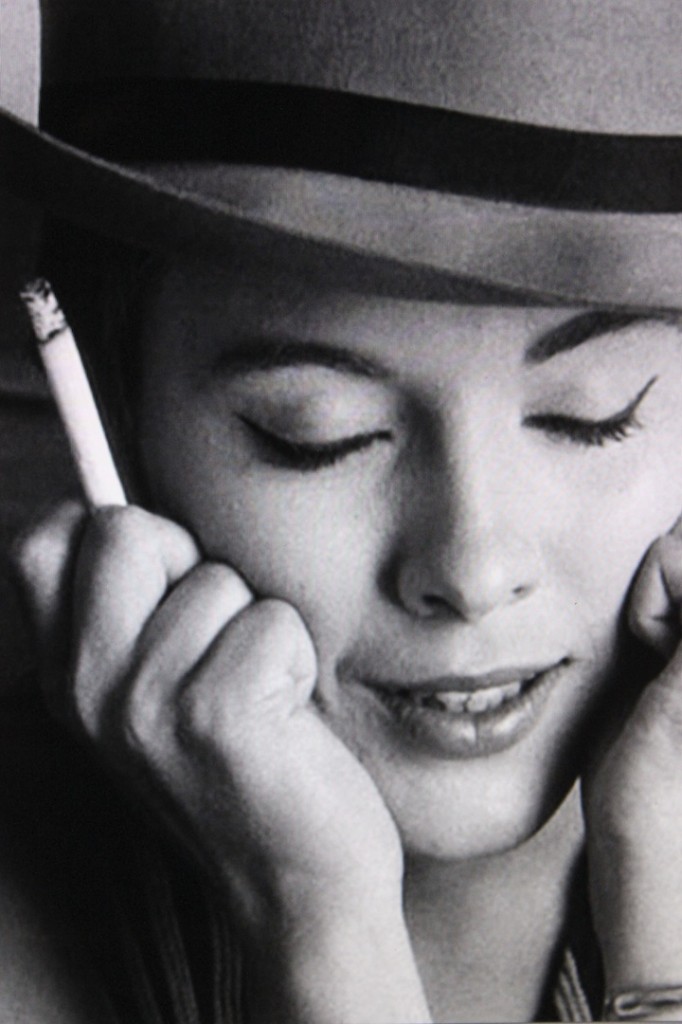 "A' bout de souffle" by Jean-Luc Godard, 1960 Jean Seberg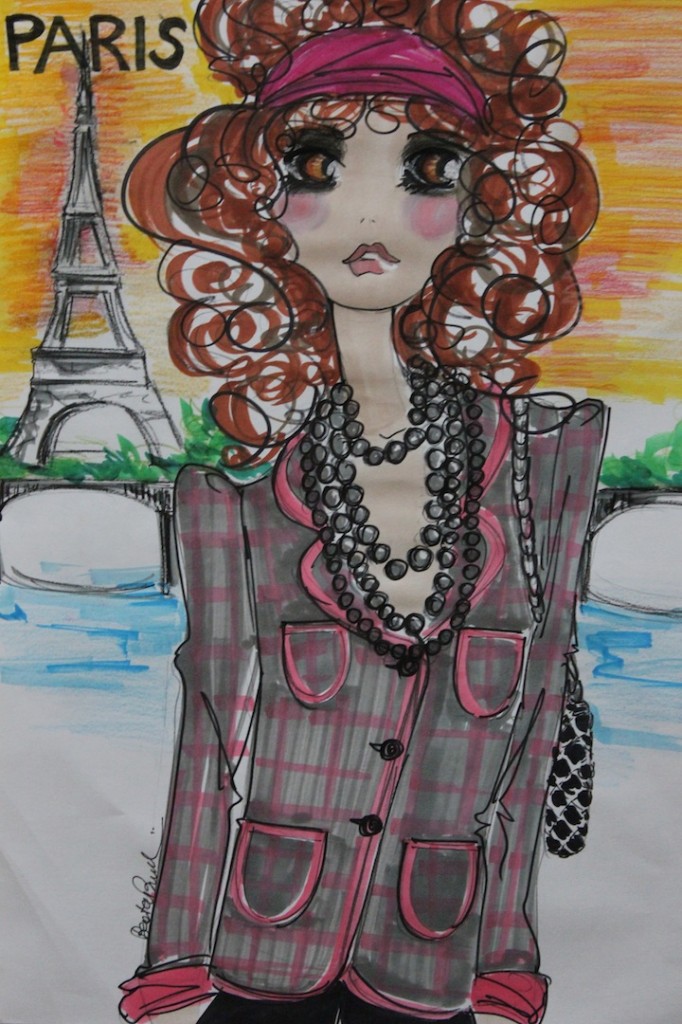 "Amélie in Paris" by Beatrice Brandini
Here we are with the final round of fashion shows Spring / Summer 2015 Paris stage. Paris …. beautiful and fascinating city, with its women très charmantes …. Yes, because if it is true that there are beautiful women everywhere, as well as well dressed and charming…, it is also true that French women, in particular those Parisian have a really special allure, unique, instantly recognizable.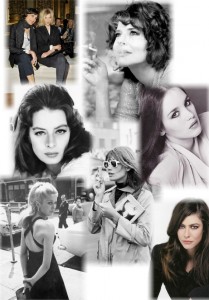 That 's what I mean by Allure French …
Balenciaga, sophisticated collection that takes inspiration from cycling to become couture. Beautiful interpretation of the "mesh" and the palette almost exclusively focused on black and white, with light touches of pink and lilac.
Chanel, the house icons reinterpreted and revolutionized … For this season a lot of space fantasies graffiti / pop art. Beautiful proposals of pinstripe fabric with off white.
Chloe, there's always a touch a little bit bohemian, as a everlasting girl. Denim, broderie anglaise, mesh … all interpreted in an interesting way but also salable and wearable.
The new course of Christian Dior continues …. Women friendly, Romantic, but absolutely modern. Collection much more minimalist with little touches of eccentricity in the accessories or cuts. The use of the white is "spatial".
Givenchy, this collection emphasizes what are the passions of Tisci, or a sensual woman, but also a bit 'gothic and dramatic, with a touch of fetish retrieved from high boots like a sock on the skin and the "corset". Beautiful interpretation of the leather, in the style and workmanship, as well as the  pieces in black and white with lace.
Miu Miu, retro sixties silhouettes and fabrics go in that direction. It 'a little girl who wants to play at the lady with knee-length skirts high waist, cropped trousers and short jackets reinterpreted with fabrics "classics" such as tartan or embossed effect astrakhan.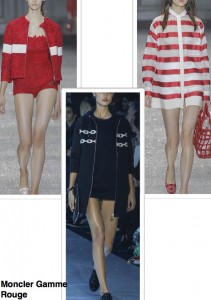 Beautiful as always, the collection Moncler Gamme Rouge; This season the sailor knot, lace and stripes, are the most characteristic and interesting.
Dries Van Noten, true to his philosophy that always offers a range of patterns and fabrics that leave you speechless … such as brocades, tie geometric design, shantung … This season is  a modern hippy girl the protagonist of the collection, very beautiful.
Macro Trends from Paris: 
Sportswear: a chic and sophisticated way to interpret and wear  the sport.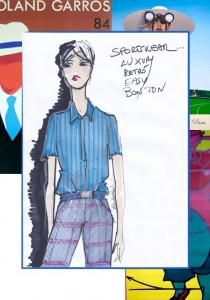 "SPORTSWEAR" by Beatrice Brandini 
Still accessories, especially sunglasses …. In all forms, in all materials, mini or maxi …. eyes, the next P / E will be hidden …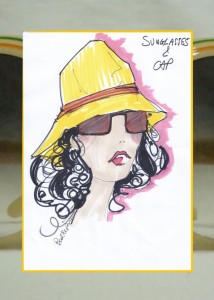 "SUNGLASSES & CAP" by Beatrice Brandini 
Nude Look: many transparencies, many effects "I do not see." The tissues become impalpable and lightweight, veils the skin. This nude look it is not (almost never ) vulgar.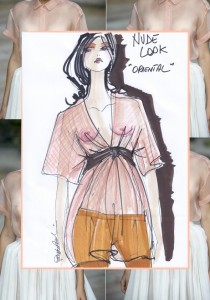 "NUDE LOOK" by Beatrice Brandini
Rochas, Alessandro Dell'Acqua offers a woman in flower but very contemporary, it is as if he had two souls, a baroque and minimalist, a romantic and an essential. Beautiful floral patterns, beautiful outfit in black and  white.
Stella McCartney, fluid, creative, a little 'vintage. So much denim, knitting, patterns … is a stylish sportswear.
Valentino, a poetic collection that looks to classical antiquity. Mosaics, embroidery, broderie anglaise, chiffon … every dress is a little poem. Very nice!
Giambattista Valli, for me the most beautiful collection ever. Taste sixties but more refined and thoroughly modern. It 's like the simplicity of the design is married with the craftsmanship and imagination. Small outfits that are little gems, trouser suit absolutely "must have" …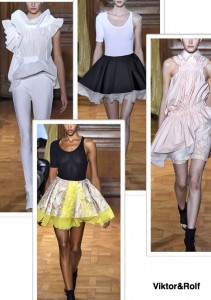 Viktor & Rolf, a collection that veers in sportswear but always conceptual and innovative.
Vionnet collection from the Greek goddess, with more contemporary touches such as the interpretation of the accessories.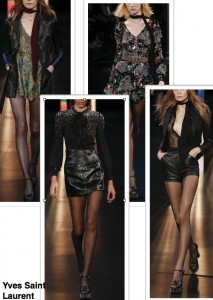 Yves Saint Laurent. Very vintage 70s, maybe a little 'too …. Chiodo, sequins, skirts, lame. For a young woman and sexy.
Louis Vuitton has also played a woman who squints to the sixties. Very interesting and wide to the proposal of leather garments. Flared lines to A. 
I'm glad that many Italians as talented as Alessandro dell'Acqua, Giambattista Valli or Riccardo Tisci are the creative directors of Maison historical (and challenging) as Givenchy and Rochas, a sign that the Italian talent, the creativity, the profession, but also humility, are yet strong values.
See you in February with the Fall Winter 2015-16 …. 
Good life to all
Beatrice