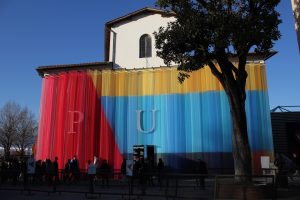 Installation Pitti Uomo 97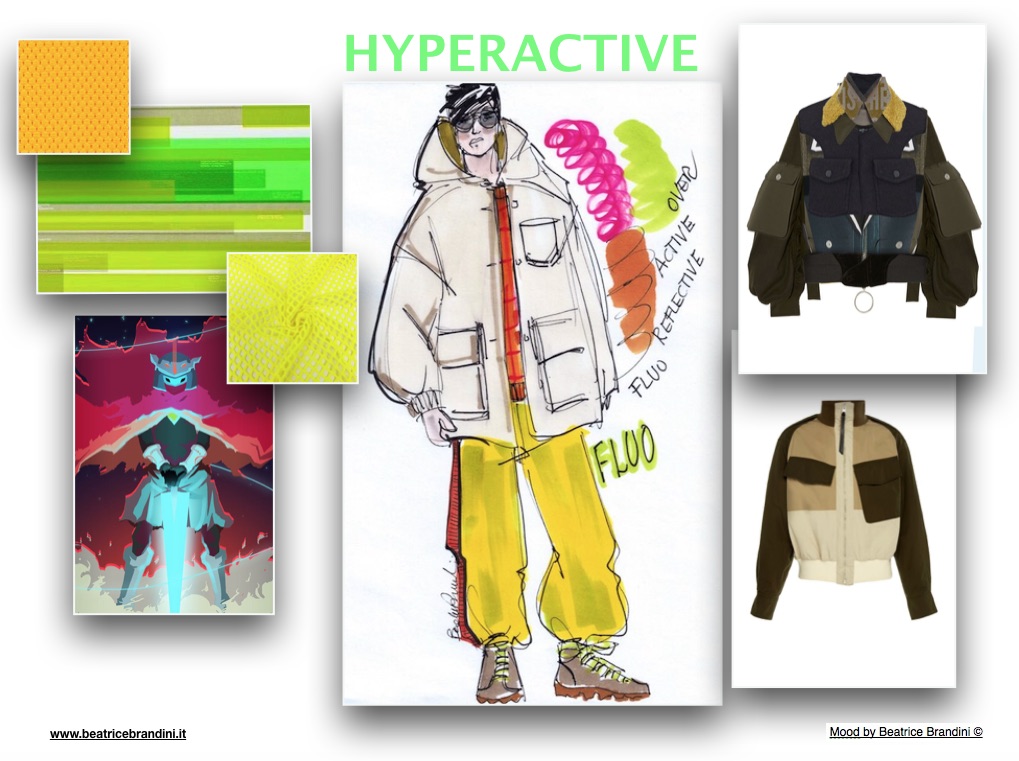 HyperActive, mood by Beatrice Brandini
he most important men's fashion fair is taking place in Florence, Pitti Immagine Uomo, with the biggest players in menswear and lifestyle protagonists. The fair confirms itself as the suitable scenario for capturing trends but also for understanding strategies, new challenges and possibilities of international retail. Many events and special projects, inside and outside the hall, which every six months transform Florence into a beautiful and caledoscopic creative factory.
The opening press conference of this edition underlined how the issue of sustainability is increasingly important. The new generations are sensitive, willing to pay more for a sustainable and traceable product. Small and large Italian companies are among the most virtuous at an international level, and it is a fact that must be underlined since we don't talk too much about it.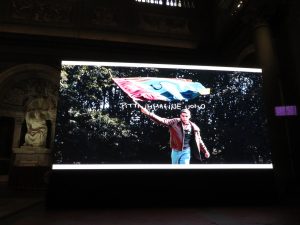 Press conference opening Pitti Immagine Uomo
Ivan Scalfarotto, Dario Nardella, Claudio Marenzi and Carlo Maria Ferro
Video message from H.R.H. Prince Charles of England Patron of the Campaign for Wool. A campaign in favor of wool, perhaps the queen of natural fibers, a fiber as an ecological choice, for a cleaner and more sustainable world.
Glimpses of the Salone del Cinquecento in Palazzo Vecchio, venue of the conference
The fair brings together 1203 brands, of which 540 are foreign; the expected buyers / visitors are around 40,000, in an exhibition area of 60,000 square meters. In 2019, Italian exports in the textile and clothing sector registered a + 6%, confirming that the textiles is a fundamental voice of our economy, characterized by small and medium-sized enterprises, the backbone of the country.
The Woolmark Company: for the first time some proposals made with some of their most important partners.
SchneiderS Salzburg quality, style, tradition and innovation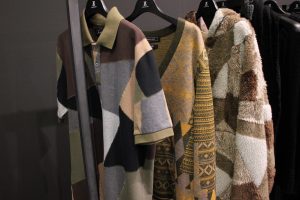 Tokio Knit x ANREALAGE
Tokyo Knit The culture of knittting in Tokyo, which has characterized Japan since the sixteenth century, with the highest quality products and aesthetic research.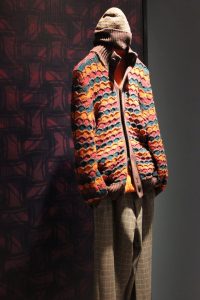 Drumohr: A nice mix of England and Italy, tradition, eccentricity, quality
Proposals Accademia Costume & Moda and The Woolmark Company, in collaboration with Maison Valentino and Dyloan Bond Factory
Paul & Shark: timeless sportswear lifestyle, always very beautiful
Paul & Shark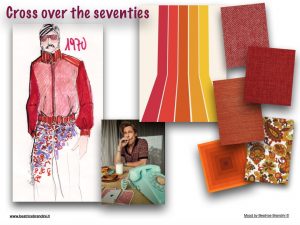 Cross 1970, mood by Beatrice Brandini
A dip in the seventies with a lot of nostalgia. Pattern, design, colors and shapes. A manly and sexy man, with velvets and prints, all with a lot of irony. Bordeaux and red.
Eighties Tailor, mood by Beatrice Brandini
American Gigolo and Wall Street together, formal with new volumes. A lot of gray, optical, herringbone wool, checkered, plaid, flannels.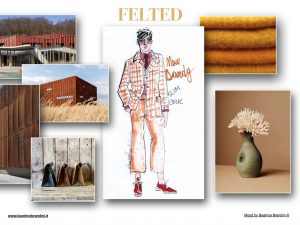 Felted, mood by Beatrice Brandini
English touch, modern architect in the country side. Boiled wool, Casentino wool, corduroys, paintings. Warm colors many shades of yellow.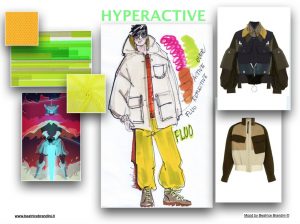 HyperActive, mood by Beatrice Brandini
Active, street, over …in the Eighties way. Graphics, volumes created by cuts such as pockets and hoods. Padded and quilted. Soft colors, reflective details.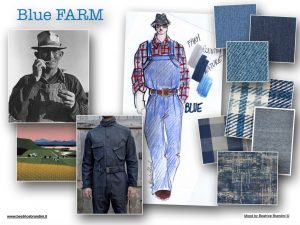 Blu Farm, mood by Beatrice Brandini
A new age denim-loving farmer. Plaid, wool, check, always in shades of blue.
Gabriele Pasini: beautiful collection inspired by the Byzantine mosaics of Ravenna. The spasmodic search for the best fabrics, innovative cuts and hand-made interventions on each garment transform the collection into a modern couture. Strengthened also by the experience gained in the past with the Neapolitan Masters.
Gabriele Pasini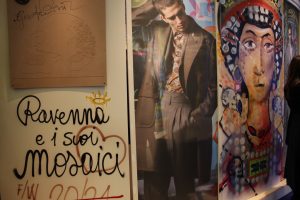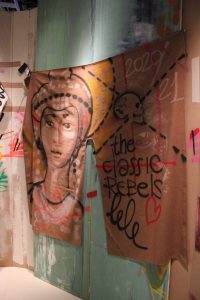 Gabriele Pasini
Gabriele Pasini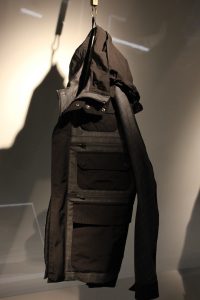 Lardini by Yosuke Aizawa
Lardini: always a pleasant confirmation. Beautiful all the outfits and every single piece presented.
Lardini
Armani Exchange: a sportswear line of the King: Armani, mixes icons of the nineties, such as duvets / paninari, with more sophisticated solutions for a sport / urban.
Armani Exchange
Colmar: the work they are doing on the brand is always interesting, the duvets are beautiful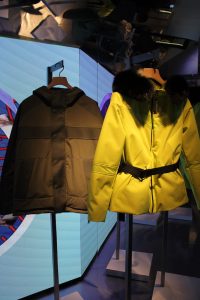 Colmar
Karl Lagerfeld: some of the most important testimonials / friends of the late Karl, paid homage by custumising a white shirt, the designer's icon leader, creating true works of art.
Karl Lagerfeld
Karl Lagerfeld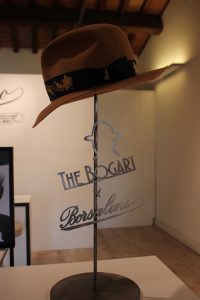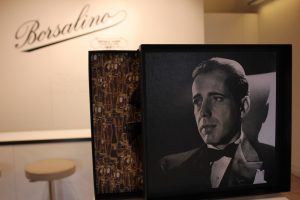 Borsalino: the hat par excellence. The tribute to Bogart in Casablanca is beautiful, the new hats are beautiful, which, in the full Borsalino tradition, are a mix between a work of art and an everyday object.
Borsalino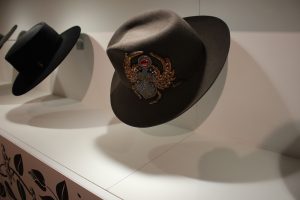 Borsalino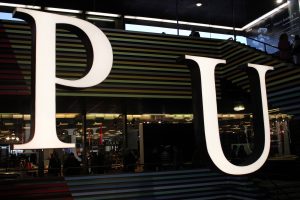 Pitti Uomo 97
See you in June! I always have a bit of nostalgia at the end of these magnificent days of men's fashion, inexorably (but fortunately) they mark the passage of time, and make us understand how FASHION is truly an art form.
Good life everyone!
Beatrice