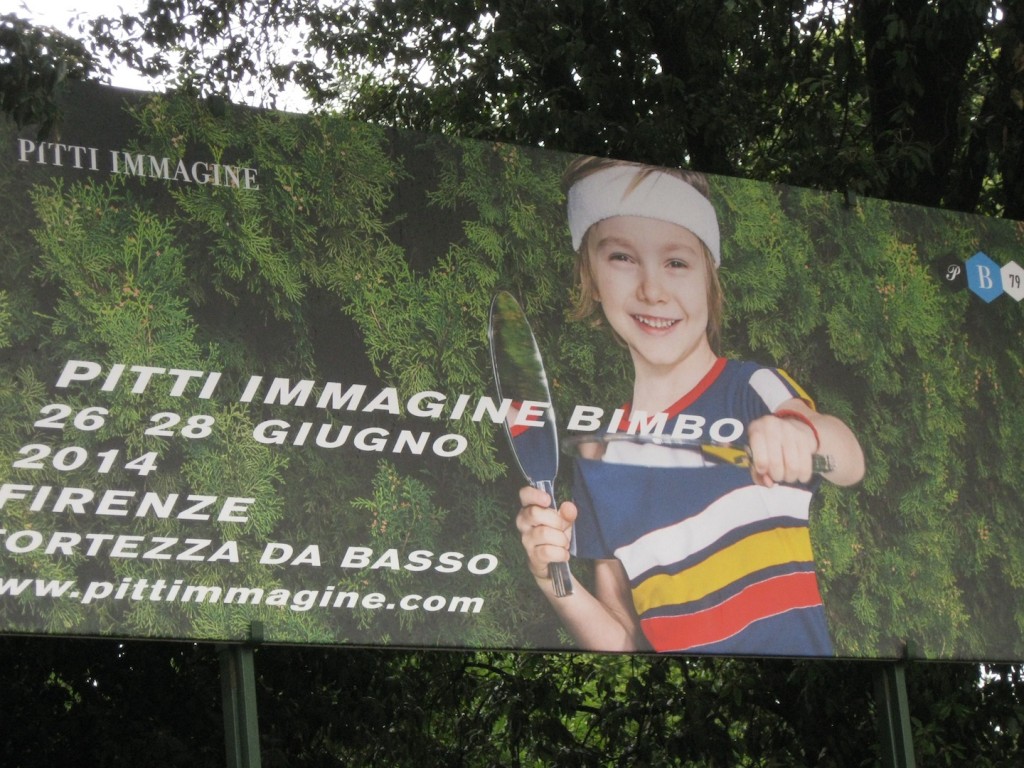 Banner 79° Pitti Bimbo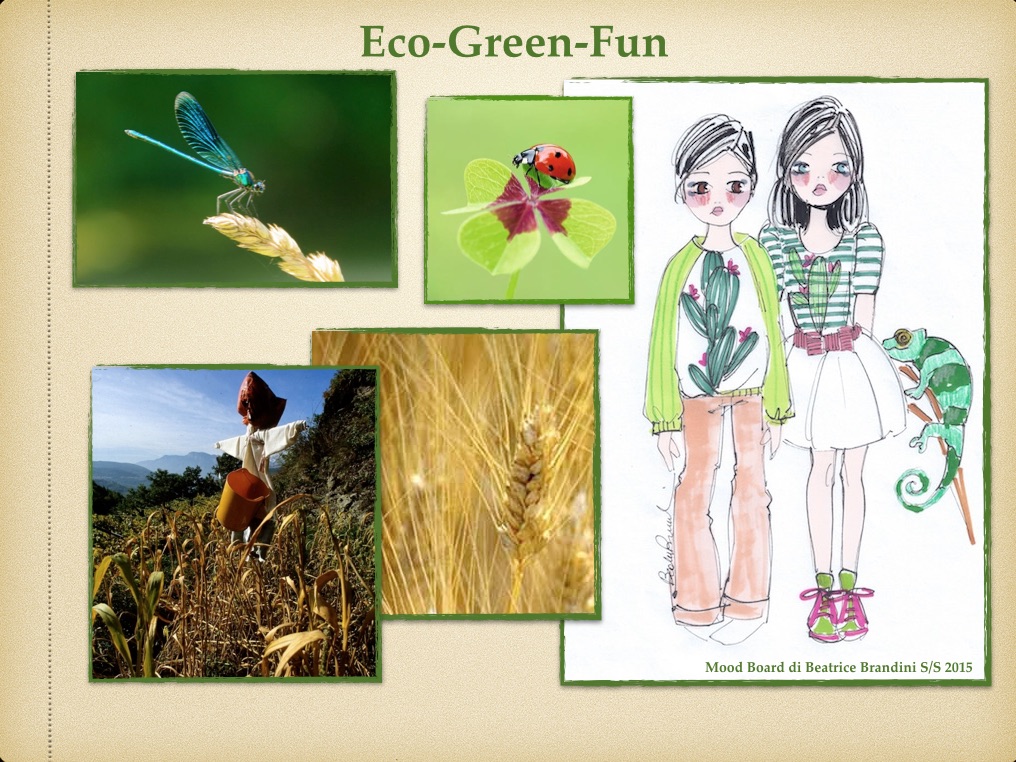 Mood Board Eco-Green-Fun of Beatrice Brandini
Continued my visit to Pitti Bimbo in the second day … I took some pictures, more of the things that I have been particularly impressed; Unfortunately some brands did not allow me to do so, yet not everyone understands the   "serious" web means a lot of publicity …
I also worked 4 mood board capturing trends within the most representative of this edition.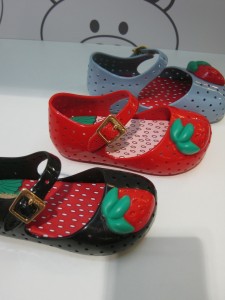 Mini Melissa, unfortunately I can not wear, reasonably, but I would have loved to do it ..
Mini Melissa. Melissa shoes are fantastic, the Brazilian brand that makes plastic shoes as if they were of high fashion shoes, these proposals as a child then they are a blast from the past, the desire to play, something from which you never want to separate … Fabulous!
Mini Mellissa, collaboration with Vivienne Westwood …
still Mini Melissa, a shoe more beautiful than the …
Lesy, dream dresses for little princesses … Their slogan is "Made in Italy with love" and I must say that we see ….!
Still beautiful proposals Lesy
Bobux, shoes for children but very nice especially "revolutionary" because they are based on the concept of natural walking, in a nutshell wearing them is like being barefoot, the feet are at liberty, but also safe and secure. Genius also the fact that the subjects "mascotte" applied watching the baby and not "viewers", confirming that the baby is, and must be, the protagonist.
Stella Jean, the Haitian-Italian designer, creating collections characterized by the mixture of textile traditions of the southern hemisphere, the Caribbean and Africa in the foreground. Serve with strong overtones but definitely interesting. Those present at Pitti Bimbo combine a retro style with beautiful African prints. Beautiful collection, beautiful style!
Stella Jean
Others proposals Stella Jean, when the fabrics and patterns are the key to ..
An Italian Theory, I found this brand at Pitti Uomo (yes, I know … too late), I was impressed and I posted some pictures of their bags, very funny, I have recommended it to friends buyers .. Now at Pitti Bimbo they debut with kids collection and I have to say that the style ironic and irreverent, inspired by of the things that make us Italian unique in the world, the food, is perfect for these little ones, finally, without taking itself too seriously. Behind all this there is Alessandro Enriquez, a young and eclectic character, former star of many experiences.
Others proposals An Italian Theory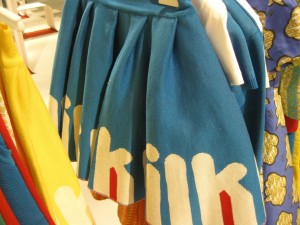 An Italian Theory skirt, vintage flavor in the colors and in the interpretation of the logo.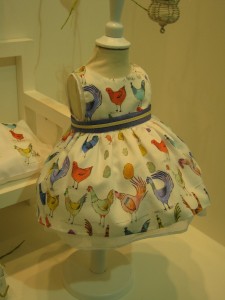 Baby Graziella, this baby dress is one of the nicest things in the "traditional and classic" area, which I saw at the show!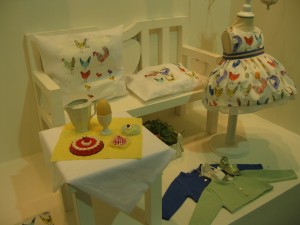 Baby Graziella, everything is perfect, the equipment, collection, colors and prints. Talented!
Anne Kurris, Belgian designer, school of big tradition and creativity … It's nice things because it mixes fantasy and cuts in some sort of apparent chaos, may seem "strange", but if you look carefully they are very imaginative and different, for a little girl who wants to be a rock princess!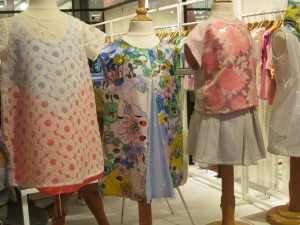 Other proposals Anne Kurris
Lapin House, greek brand that had made a really nice set-up. Funny dolls with miniature reproductions of dresses.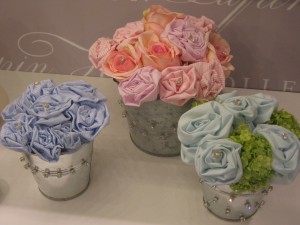 Lapin House, delicious buckets of flowers textile ….
Allo&lugh, Korean brand that I had already noticed and posted in the last Pitti Bimbo, remains a product cute and appealing, with a complete offer, perfectly coordinable.
Other proposals Allo&lugh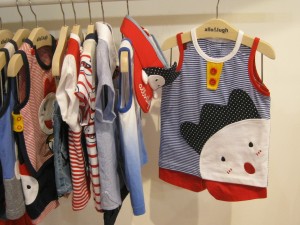 Allo&lugh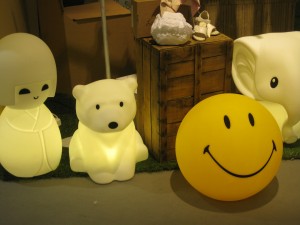 Irresistible these lights for a baby bedroom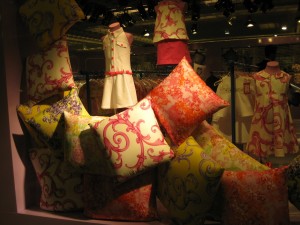 Young Versace, beautiful patterns, typically in line with the brand, and nice "showcase".
These are my Mood Board: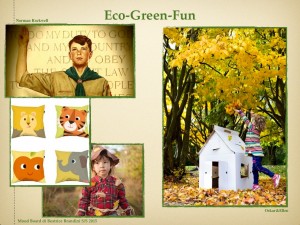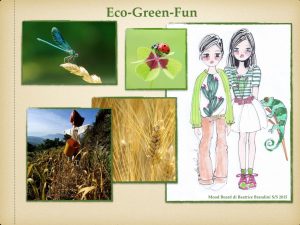 Eco – Green – Fun, Mood Board of Beatrice Brandini. 
Desire to stop time, to return to live simply, with an eye to nature and its preservation. But irony and fun, aggregation, and freedom. Warm and vibrant colors of the earth and of nature, such as bright greens and yellows of orange.  Ironic pattern nature interpreted as a comic book.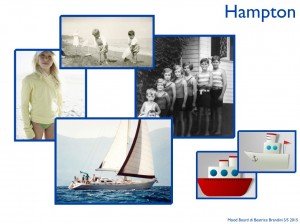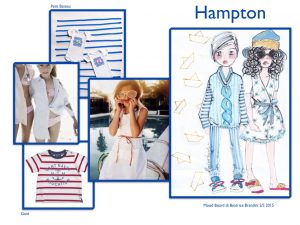 Hampton, Mood Board of Beatrice Brandini
The summer and the sea in a classic and understatement way. Stripes, marine iconography, all shades of navy; desire for simplicity, the refined and the most difficult. Woven fabrics of cotton wool, linen, cambrì, chintz, but also denim. For the female part of St. Gallen, tunnels, laser cut floral motifs.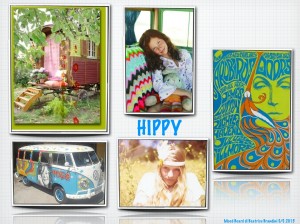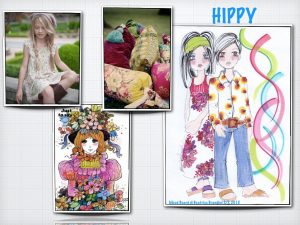 Hippy Mood Board of Beatrice Brandini 
A bohemian spirit, freedom on the road, the flower children … Colour, color and more color. The floral patterns and a bit 'vintage. Bright colors, soft focus and acids. Natural fabrics are mixed with synthetic ones, with effect matt / glossy, smooth / rough.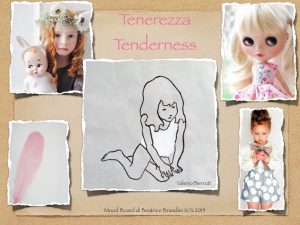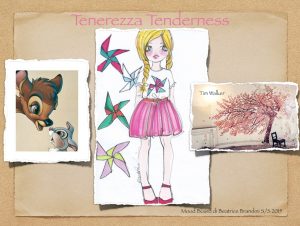 Tenderness, Mood Board of Beatrice Brandini 
More feminine theme, inspired by the desire for tenderness and what is old and simple, those "used to be" …. Handcrafting, dusty colors, patterns and decorative elements such as polka dots or playful cartoon "classics." Light and impalpable fabrics, organza, tulle, lace, but also plush and cotton, mixed to create effects of rupture and "chaos" ….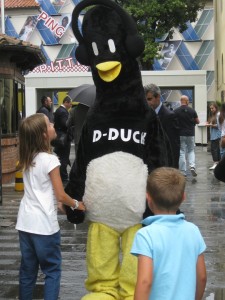 At the entrance to this mascot was a joy to the children but also for adults, those who, like me, will never grow up …. 
Good life to all!
Beatrice