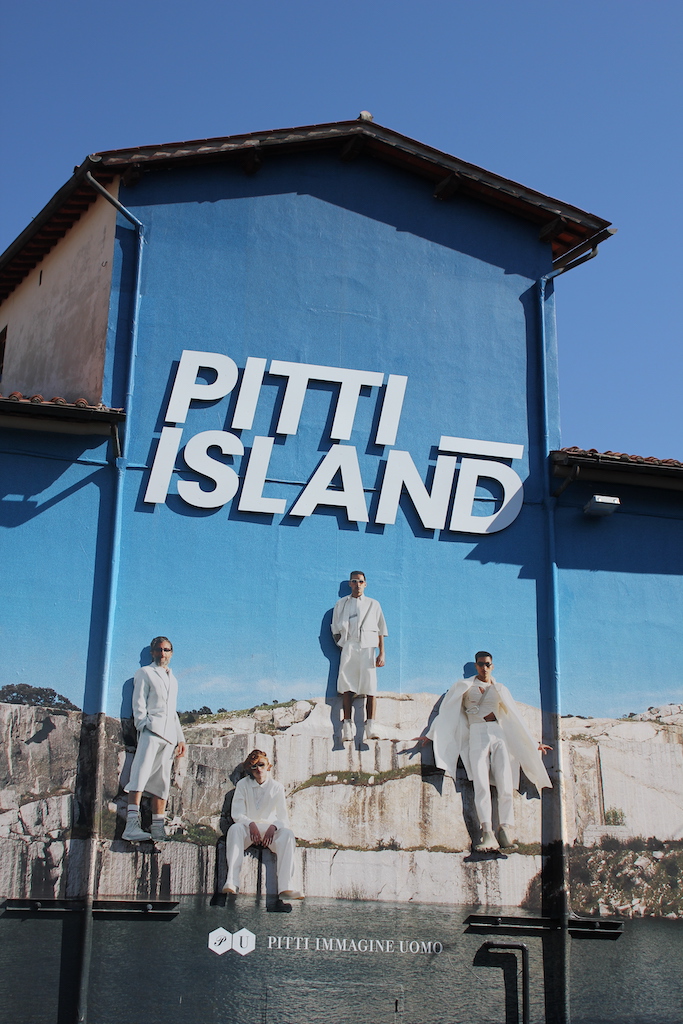 Installation "PITTI_ISLAND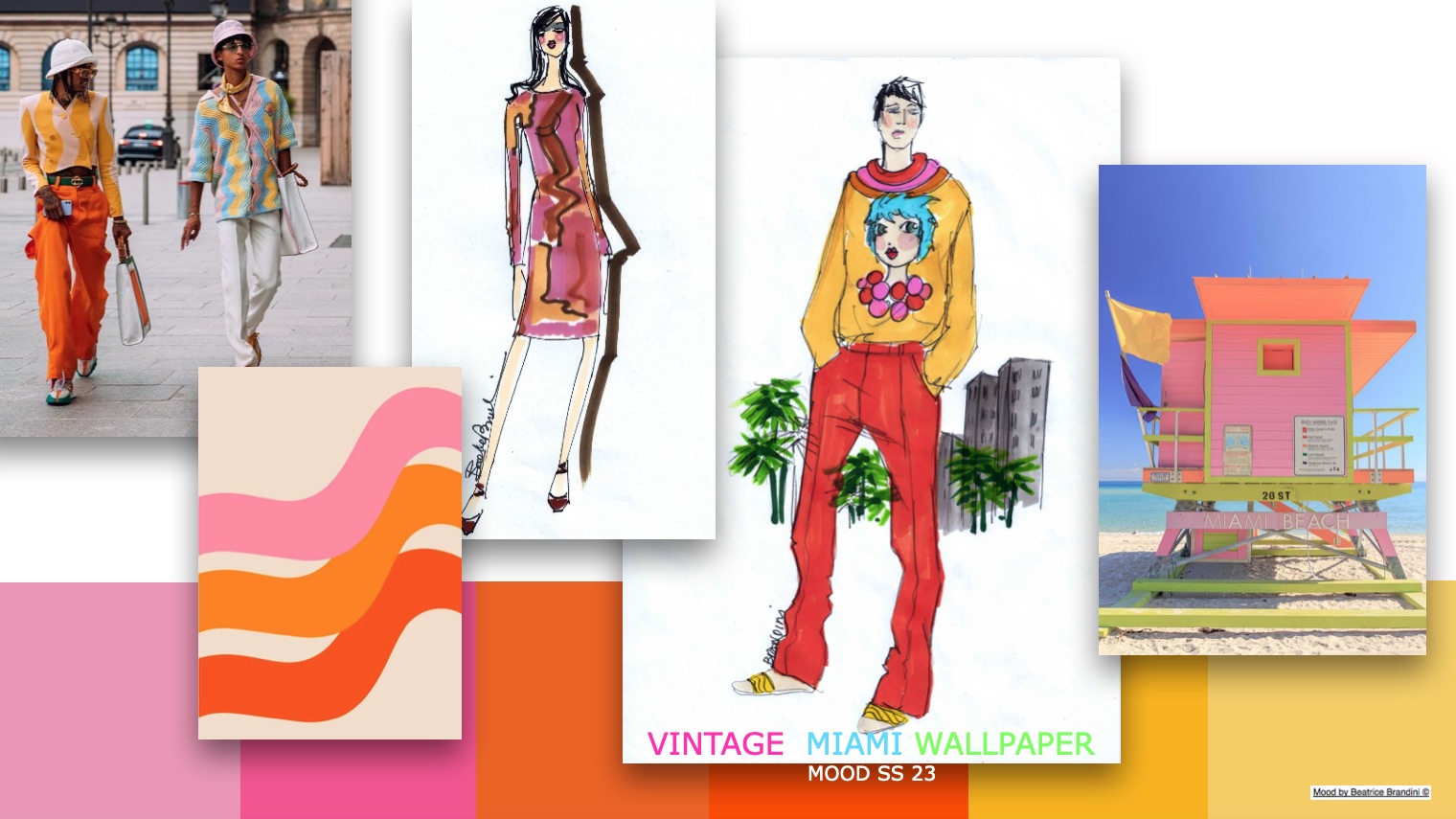 "Vintage Miami Wallpaper" mood by Beatrice Brandini
The 102nd Pitti Uomo event opened today, with a presence of 682 brands, for an edition that should mark the halfway point after two years of pandemic.
The dress will be the usual one, that is 4 days at the Fortezza da Basso from 14 to 17 June, 682 brands of which 38% foreign.
Exports continue to grow, the most important markets are France, Germany, the USA, but a positive sign is also represented by the domestic market, where growth of 22% is recorded. These are very important data that bode well and give a breath of fresh air to all the Italian textile industries.
The guiding theme of the show for this edition is PITTI_ ISLAND, an island as a fixed point, a physical and interior point, but above all a meeting and comparison point. An island as a concentrated space, a laboratory that experiments and diversifies, a wonderful island of men's fashion.
"PITTI_ISLAND, the guiding theme of summer 2022, will be an imaginary island, connected with the whole world in a mutual and constant exchange … to meet, to be together before resuming, each one, their own journey .. a perfect metaphor for ours salons and the objectives we want to achieve each edition, selecting the best of fashion creativity. " Agostino Poletto general manager of Pitti Immagine.
As always, I tried to collect some pictures of interesting things seen at the fair.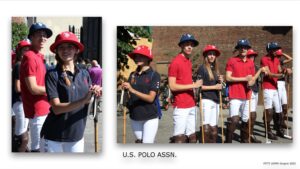 U.S. Polo Assn. Beautiful scenographic welcome at the entrance to the fair. The only official brand of the United States Polo Association (USPA).
Lion of Porches, an interesting Portuguese brand that develops its collections with beautiful Italian fabrics; founded in 2002, of international inspiration, the collections have a casual spirit with an eye to tradition. Pretty!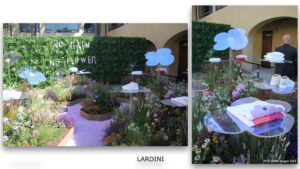 Lardini with its magical garden. Beautiful fabrics, cuts and colors… as always.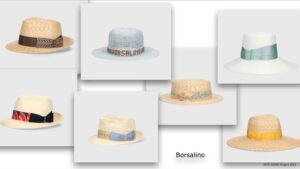 Borsalino, for the Spring Summer 2023 collection, Borsalino celebrates Water and Air, two natural elements from which everything originates, taking inspiration from Claude Monet and his wonderful impressionism. Hats that are a heritage to be protected and preserved.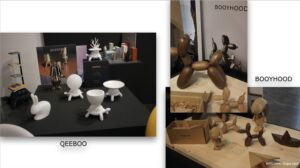 Qeeboo, born in 2016 in Milan from the inexhaustible inventiveness of Stefano Giovannoni, a famous designer who, with his objects, makes our life more playful and happy. I am in love with everything they create! Boyhood, wooden objects that take up simple shapes such as the paper boat we made as children, or Koons' iconic balloon dog.
Both brands are sold by Coolbox, an online store where you can find fantastic items dedicated to all people who are passionate about design.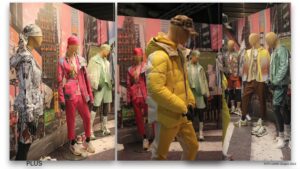 Plus, fine details and materials, customization with contemporary artists, for a style that enhances the uniqueness of each person.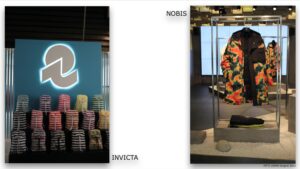 Invicta, this historic Italian brand needs no introduction which, for some years, has been shining with a rediscovered but new youth. Nobis, a very strong Canadian brand in outerwear. Style and quality.
Paul & Shark, a centennial knitwear company, which creates increasingly technological garments with an ever-increasing attention to sustainability, especially for dyes. Smart !!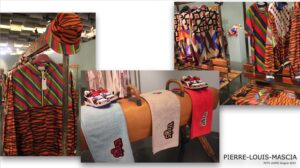 Pierre – Louis – Mascia brand that combines the creativity of Pierre-Louis Mascia and the manufacturing excellence of Achille Pinto. Luxury with a twist of fun that is really good for us.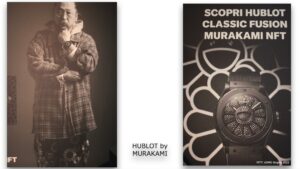 Hublot by Murakami, Hublot, continuing its expansion in the metaverse, has already created two Nft with the works of Takashi Murakami. The watch with the laughing flower dial is truly a must have.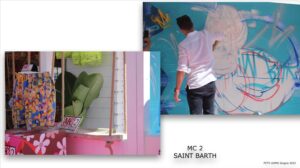 MC2 Saint Barth, costumes famous for quality and fit, the boxer inspired by the Simpsons is fun. A writers at work embellished the wall of the stand.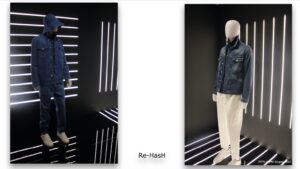 Re-Hash one of the most important players in denim. Creativity and sustainability in the choice of certified ecological fabrics in organic cotton.
Some streetstyle images taken during the sultry day of Pitti.
As always, I also prepared some inspirational moods
VINTAGE MIAMI WALLPAPER emphasizes the vitamin colors of yellow and orange. The mood is informal, but only apparently, since there is a great deal of work in the choice of materials, finishes, but above all in the creativity of the prints / applications reminiscent of manga or digital images, always treated with a slight irony. The world evolves quickly, but Miami has remained true to itself, in colors and atmospheres, still a little vintage.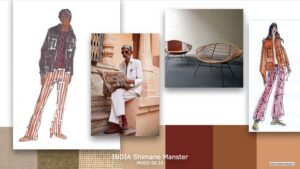 INDIA SHIMANO MASTER is a theme with colonial colors, but also with references to the strong shades of Indian spices. The mood is relaxed, with linen, gauze, impalpable cottons. Stripes and madras in the pattern. Saharian, soft trousers, all unlined and fluid.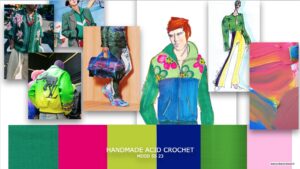 HANDMADE ACID CROCHET acid green, but also fuchsia and Prussian blue. An outlet of prints and embroideries, of great skill and creativity. We are in Alice's garden but also at MoMa. It's a fluid theme, there are no gender distinctions. Lots of handmade knitwear, Korean influences.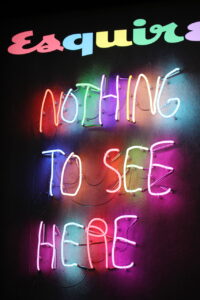 One of the claims from Esquire … but here, there were so many things to see!
Good life to everyone!
Beatrice