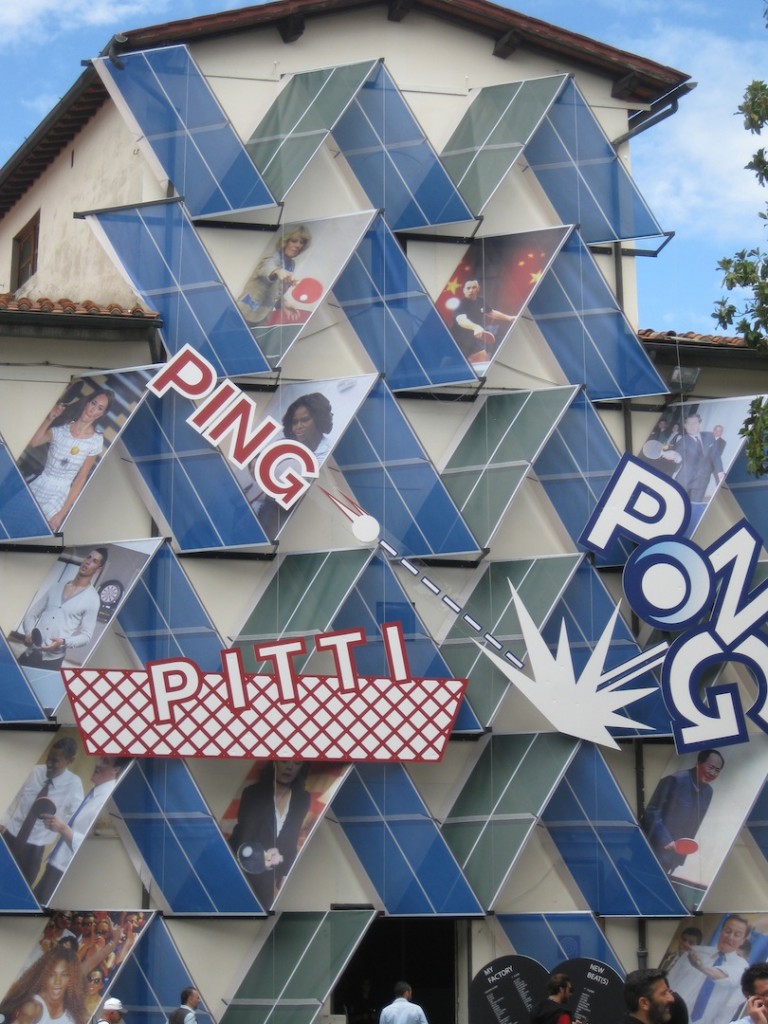 Entrance 86 ° Pitti Uomo leitmotif "Ping Pong", a metaphor for the response to the crisis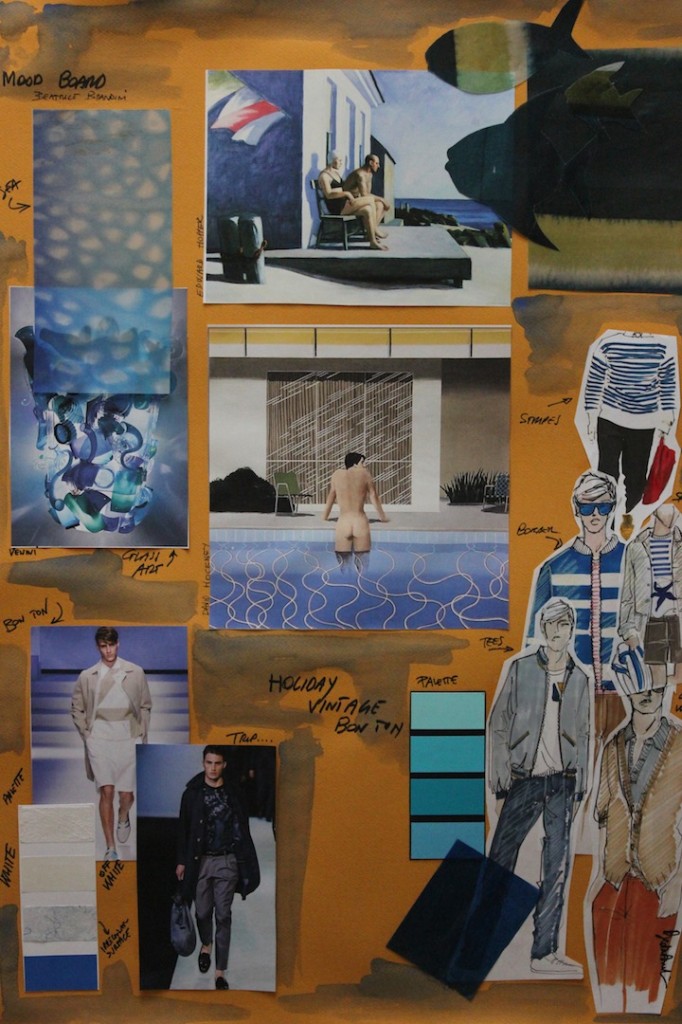 Mood Board "Holiday-Vintage-Bon Ton" Beatrice Brandini 
It opened yesterday the 86th Pitti Uomo, dedicated to the collections for next spring-summer 2015, and I have to say that there was an incredible energy… Multiple and different proposals presented at the exhibition by giant companies and small businesses, artisans and industries, historical brands and niche … but all united by the quality and style with innovative ideas, funny, stylish, classic, sports … for all tastes, for all styles, for all your needs …
G-Star Raw collaboration (with my "old" passion) Pharrell Williams, ethical fashion, good!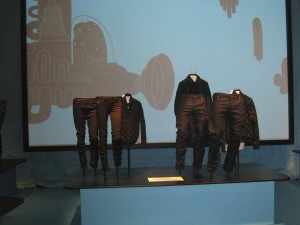 G-Star RAW  For The Oceans, collection with Pharrell Williams
Collection G-Star beautifully over the denim … G-Star Raw Baseball cap in denim, nice!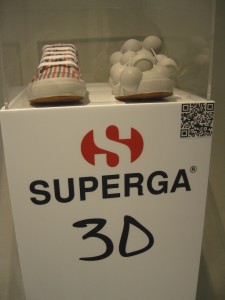 Superga, proposals in 3D, tartan 3D effect, Ping Pong 3D effect, for collectors! 
In economically difficult times, especially for consumption on the domestic market, the indicators of the system argue that fashion exports since 2009 (terrible year, with the collapse of Lehman Brothers) to date, has been growing, showing that small and medium-sized businesses operating in the textile industry have gone ahead despite everything, believing and helping especially in itself, thanks to its own product, once again synonymous with excellence in Italian.
Zabattigli of Capri, nice collection, nice suits, beautiful patterns and fabrics … I guess Peter Sellers in the 60s, he would have gone mad!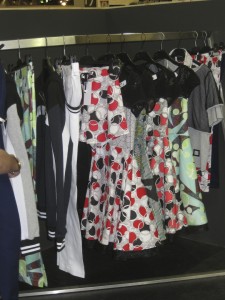 D.A.T.E. Hub, nice patterns for dresses and shorts from the 60's mood, a new and fresh proposal
D.A.T.E. Premium Sneakers, sketches to Pollock, lace, iridescent material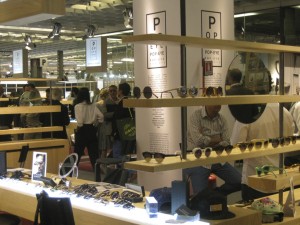 In collaboration with the MIDO fair in Milan, proposed in the context of high eyewear Pop-Eye. Absolutely new and unmissable (Vava stand)
Furoshiki, magic soles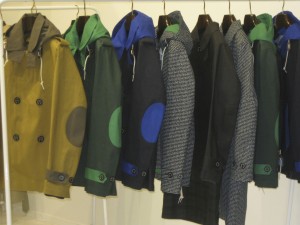 Mackintosh, these beautiful jackets nautically inspired, decidedly innovative colors and materials.
I've seen very interesting looks,  especially among the public and visitors (Pitti has become a sort of competition to see who comes up with the look more specifically, hoping to go to some cover or in some blog, Sartorialist has made school!). Amazing characters whose common denominator was the discovery of a new elegance, modern and eccentric, but true elegance, I have called it a modern dandy. Also I have never seen so many shorts worn in cities like inside Pitti, brought beautifully although not all were equipped with physique du role, but it's nice to see as well as classically and elegantly, you can dare and it is also what I love in fashion .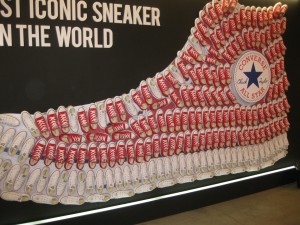 A maxi Converse, made by many Converse sneakers, charming!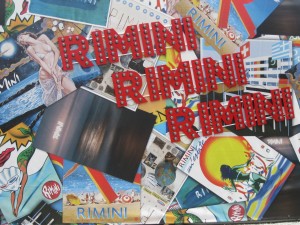 Happiness, t-shirts and not only,  mood Rimini Rimini Rimini
Kiton, many proposals for many male personality, all united by an idea of elegance.
Kiton, beautiful setting up 
Important to emphasize that in conjunction with the sixtieth anniversary of the event, Pitti Immagine has reorganized the exhibition space, creating events inside and outside the expo, stand amazing and completely different type of product, providing stimuli presented beyond the excellent product. Returning home, facing the many challenges of the market on a daily basis, you feel somehow more cargo, more purposeful, thinking once again that Italy, beauty, excellence, are inherent in our culture … DNA and that eventually we will succeed!
Richkids, I had already spoken in the post of the last edition of Pitti, finding their things kitsch and over the top for this hilarious and imaginative, in trend with cartoon style and playful these days. Irresistible these new necklaces with faces icon of our times (an other must have!). All acceptance hostess wore their baseball caps, so cute! 
How often do I have identified four key themes that I carried in 4 mood board of my own creation, with drawings, pictures, colors …two in this first "episode, two in the next.
Holiday/Vintage/Bon Ton e Matter, mood Board di Beatrice Brandini.
HOLIDAY – VINTAGE – BON TON: holiday atmosphere and vaguely retro, both as proportions as colors, prints and materials. Many embossed quilted and light, which, with molded base, created a sort of fancy upholstery Sixties flavor. Many stripes, shades from blue to blue, intense and dusty. Shoes loafers unusual colors or "slippers" Capri, made by hand. Keyword: the Capri of Jackie Onassis. 
MATTER: theme material with the colors of the earth. Wavy surfaces, threads infinite ethereal lightness mixed with twisted threads to create blur effects. Pockets, mesh, rubber, neoprene, knit-in jacquard, double, 3D prints and overturned, slim proportions. Floral prints and inspirational nature. Keyword: surface! 
ECCENTRIC – ART – CREATIVE: color, color, color. Neon laser pixels. Rubber, sneakers, sporty touch. Prints as palettes of art. Arabesques, geometric, abstract designs, portraits. Sneakers amazing, 3D, artwork, numbered, designer, customized. Keyword: get noticed! 
PALE: a retro-swing. Slim proportions, new tailoring. Patterns tie or micro-geometries, especially for shirts and accessories like ties. Finishes with grosgrain ribbons, buttons, it's the detail that makes the item unique and valuable. Colors pastellio very clear, almost faded, powdery. Dresses, suits impeccable. Lace-up shoes. Keyword: New elegance, a new Dandy!
Atelier Scotch nice collection, beautiful layout, I love you!
Atelier Scotch, some glimpses of the stand, fantastic!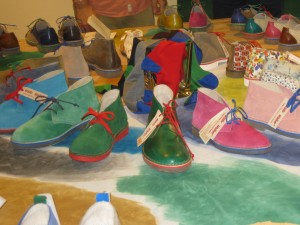 Colorful and beautiful shoes Wally Walker 
Woman in the Arena Strozzi, I was struck by:
Akep, creative knitting, proposals bon ton stripes coexist with other strong Aztec-inspired, all very interesting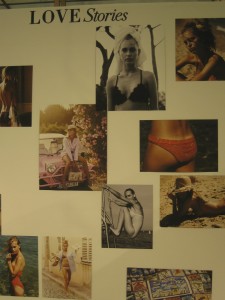 Wall Love Stories, delicious Dutch lingerie brand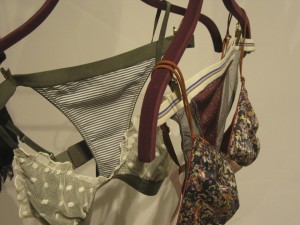 Love Stories, made me mad, exactly my idea of intimate, feminine, sexy but not vulgar, a little 'vintage. Entertaining the idea of breaking the complete, top and slilp,  with patterns and different materials.
See Mee, beautiful proposal of Bijoux 
Benedetta Cateni, another interesting proposal feminine, couture touch with irony
This first post was focused on a few things that seemed to me interesting and strong, tomorrow there will be more ….
Good life to all! 
Beatrice