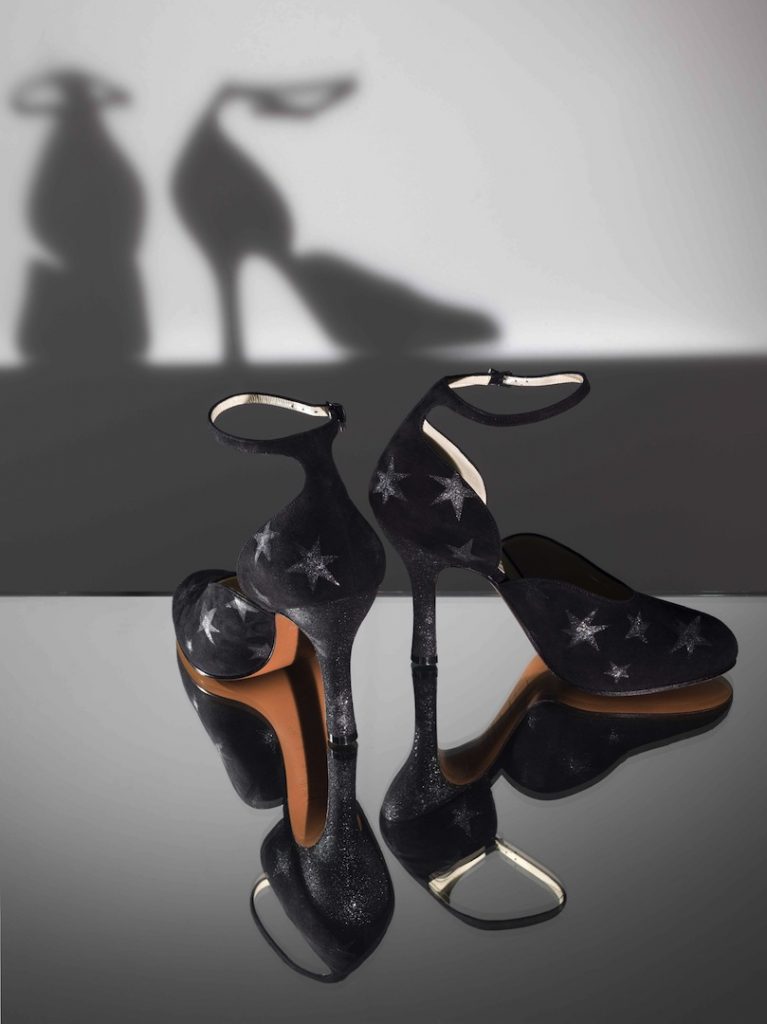 Salvatore Ferragamo, shoe "The Stars", 1926. Photo Arrigo Coppitz, courtesy Salvatore Ferragamo Museum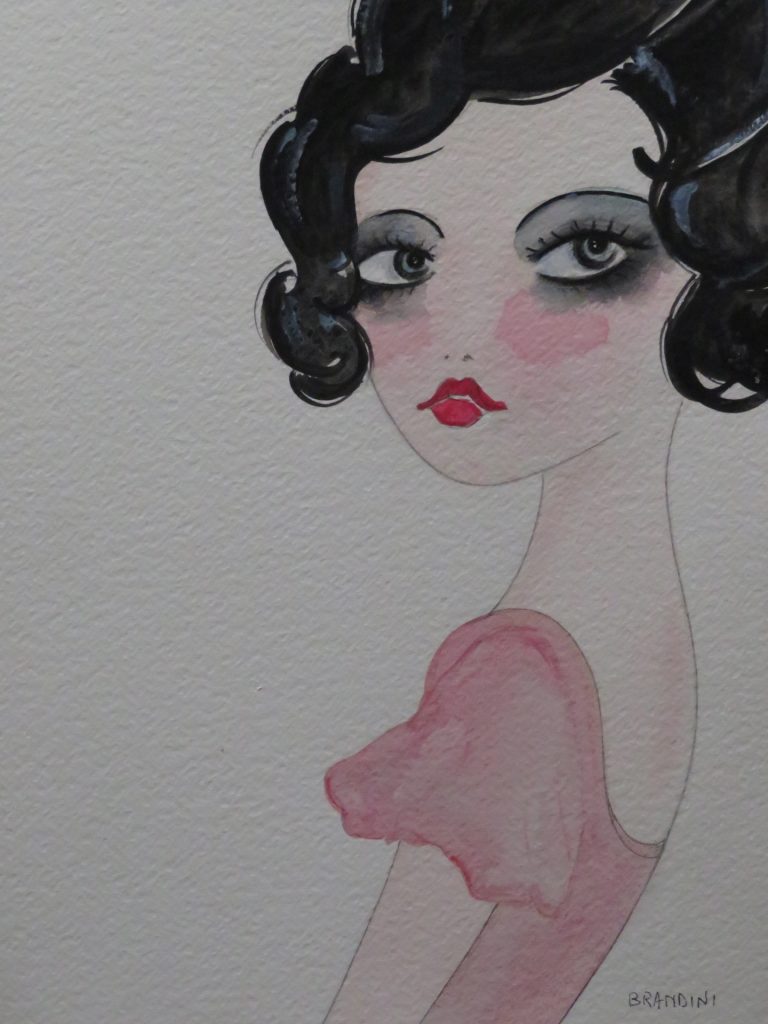 "Shelby" by Beatrice Brandini
A few days ago, a beautiful exhibition was inaugurated at the Ferragamo Museum at Palazzo Spini Feroni in Florence (open until May 2, 2018), which celebrates ninety years after Salvatore Ferragamo's return to Italy (1927), after twelve years spent in the United States.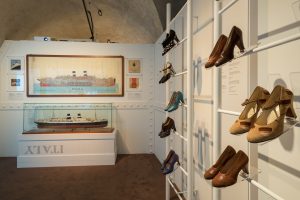 Glimpses of the exhibition "1927 The Return to Italy". Courtesy Salvatore Ferragamo Museum, Florence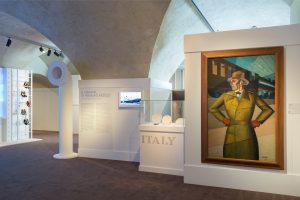 Glimpses of the exhibition "1927 The Return to Italy". Courtesy Salvatore Ferragamo Museum, Florence
Not yet seventeen, Salvatore Ferragamo left Naples with the intent of deepening his knowledge and a desire to create perfect shoes. It is important to emphasize that he did not leave his country to look for luck, a condition of many Italians of the time, Salvatore already worked in his shop in Bonito, Irpinia, he was already the cobbler with a shop that packed shoes for ladies all over the country. He had begun at eleven years. But America represented modernity, an irresistible appeal, for Salvatore, above all, a state-of-the-art site for upper/sole assembly machinery, and therefore a great opportunity.
I imagine his happiness and pride in returning to Italy after twelve years of being a rich man and above all successful. He had opened a shop first in Santa Barbara and then in Hollywood, attended by movie stars (hence the nickname coined in the United States "the star shoemaker"). Returning meant returning home, but also sharing with others what he knew for the benefit of his country, the enlightened will to create a synergy between industrialization (American) and craftsmanship (Italian). Italy was also launching a process of modernization, urbanism, architecture, technology and craftsmanship. On this latter aspect was based the will to retrieve "the craft" and the tradition of the Renaissance workshops, all aspects that pushed Salvatore Ferragamo to return home. And Florence, a symbol of culture and national style, was chosen by the creator as the home of his lab as well as the city in which he settled.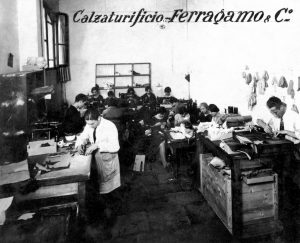 The Ferragamo shoe factory in via Mannelli 57, Florence. Courtesy Salvatore Ferragamo Museum, Florence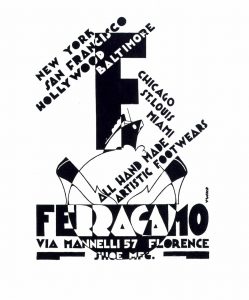 Lucio Venna, advertising drawing for magazine, 1928. Courtesy Salvatore Ferragamo Museum, Florence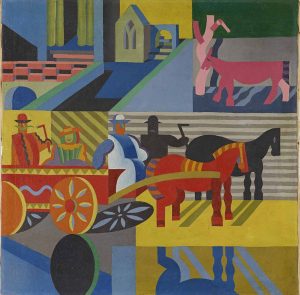 Fortunato Depero Napolitan cart, 1918. MART Archivio Fotografico e Mediateca, Trento e Rovereto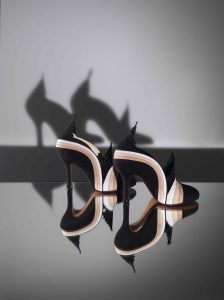 Salvatore Ferragamo, closed shoe 1925. Photo Arrigo coppitz, courtesy Museo Salvatore Ferragamo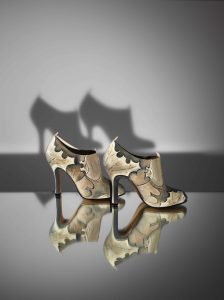 Salvatore Ferragamo, closed shoe "Autumn" 1926. Photo Arrigo coppitz, courtesy Museo Salvatore Ferragamo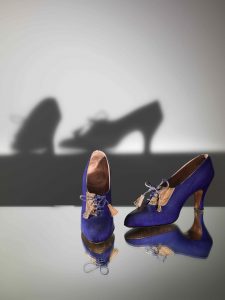 Salvatore Ferragamo, Oxford shoes 1929. Photo Arrigo coppitz, courtesy Museo Salvatore Ferragamo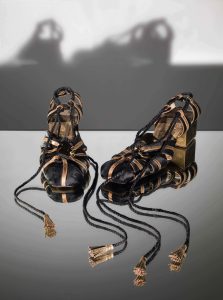 Salvatore Ferragamo, sandal, 1930 Photo Arrigo coppitz, courtesy Museo Salvatore Ferragamo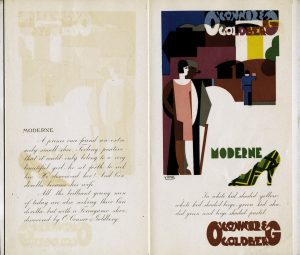 Lucio Venna, Moderne, 1930. Sketch made for Salvatore Ferragamo. Courtesy Museum Salvatore Ferragamo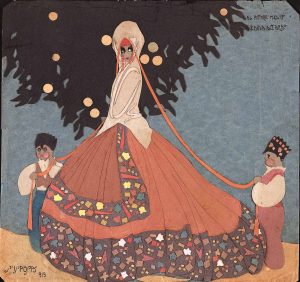 Adina Altara, The Bridge, 1919 coloured paper collage. Courtesy MAN 2017, Nuoro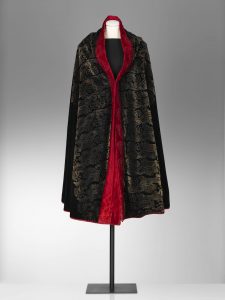 Maria Monaci Gallenga, Cape Manteau, 1925. Prato Museo del Tessuto. Photo Arrigo Coppitz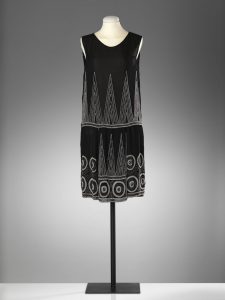 Parisian dressmaker's, Evening gown, 1925. Prato Museo del Tessuto. Photo Arrigo Coppitz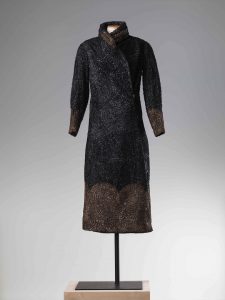 Le Merveilleuse, Cioat, 1926. Roma, Collezione Enrico Quinto e Paolo Tinarelli. Photo Arrigo Coppitz
The exhibition curator, Carlo Sisi, takes us by the hand on this magnificent journey; From the transatlantic on which Salvatore Ferragamo embarked on returning to Italy, the documents of American citizenship, the most significant footwear made for the cinema dive, the magnificent paintings and objects that witness the culture and aesthetics of those years. This exhibition, in addition to celebrating this important anniversary, emphasizes that Italy has been a source of ideas and experiments for over a decade. Florence, in particular, was the protagonist of these years, and in their creations were made men of immense talents, such as Gio Ponti with his veses for Richard-Ginori, Carlo Scarpa's designs for the windows of the Florentine shop of Cappellin , Cantagalli's tiles, and Thayaht, Balsamo Stella … It is also worth mentioning the Royal Institute of Art of Porta Romana, a true workshop of Tuscan and national creativity.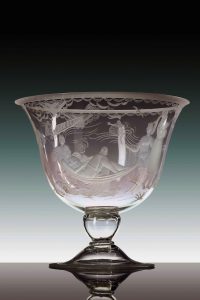 Guido Balsamo Stella, Bowl "Beach" 1926-1928. S.A.L.I.R., Venezia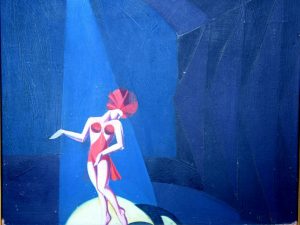 Pippo Rizzo, Ballerina or Scenery-dancer, 1926. Courtesy Collezione Alberto Wolleb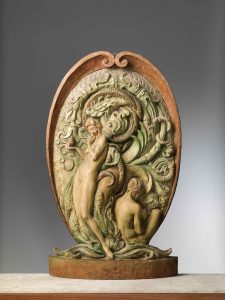 Antonio Maraini, Eva, 1923 Painted Plaster. Firenze Collezione privata. Photo Arrigo Coppitz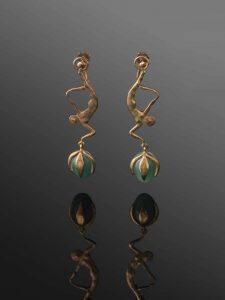 Dario Viterbo, Earrings, 1926. Collezione Antognini. Foto Arrigo coppitz
Mario Guido Dal Monte Folies Bergéres. 1928. Courtesy Museo del Novecento Milano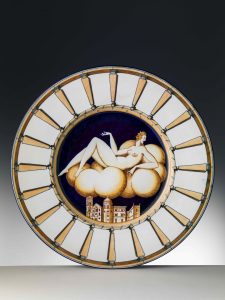 Società Ceramica Richard-Ginori Gio Ponti, "Donatella" plate, 1924. Photo Arrigo Coppitz per Museo Richard Ginori della Manifattura di Doccia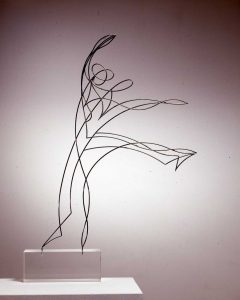 Giacomo Balla, Duo (Tik Tak dancers), 1921.1922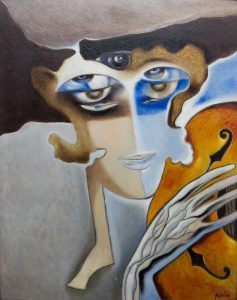 Alberto Martini, La Marquise en Euterpe, 1931. Courtesy Collezione F.G.
Very interesting is the third section in which the exhibition illustrates the themes of folklore and regionalism. A journey through the applied arts that, since 1923, Monza Biennals exhibit not only in Italy but in the whole world. A national identity made by many different local realities, the main characteristic of our country that we could define as the basis of the expression "Made in Italy"; Italy is protagonist with its international tourism powered by our artistic, naturalistic / landscaping, enogastronomic and naturally creative manufacturing heritage, without equal.
Also important is the room dedicated to "Italian Women". At that time, next to the traditional figure of mother and bride, dear to fascism, there was another type of woman, the protagonist in society, whom Salvatore looked to create his extraordinary products. Pictures and paintings of famous women who influenced the cultural and social scene of that decade (influence that persists today). Like Marchesa Casati, the Wulz, Paola Borboni and many others.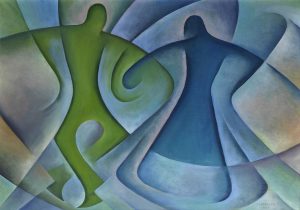 Thayaht (Ernesto Michahelles);,Charleston, 1929. Courtesy Archivio THAYAHT & RAM, Firenze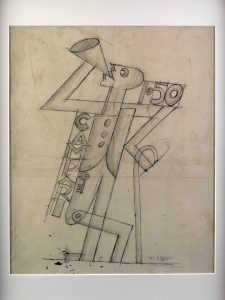 Fortunato Depero, Campari Cordial Davide Campari & C. Milano, 1928. courtesy Galleria Campari, Milano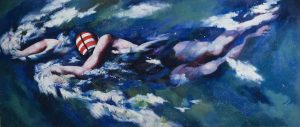 Umberto Primo Conti, The swimmer, 1925. Courtesy Archivio Banca Popolare di Vicenza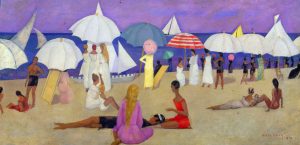 Moses Levy, Beach, 1920. Courtesy Società di belle Arti, Viareggio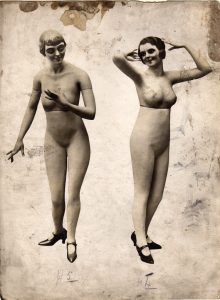 Stucchi, Recchia & C. Milano, papier-marché and plaster mannequins, 1920. Courtesy La Rosa Mannequins S.p.A.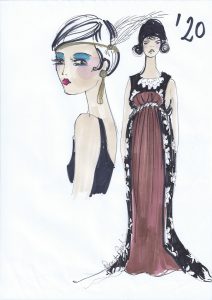 Beatrice Brandini sketches on fashion aesthetics of those years.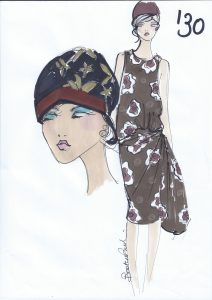 Beatrice Brandini sketches on fashion aesthetics of those years.
It's a really remarkable exhibition, a lot of works and all really important (even a selection of them would form a museum). I struggled to select only one part. In this regard I would like to thank the Ferragamo Museum for its valuable collaboration.
This success story reflects and understands how a desire made of passion, work, effort, determination, and courage can make the difference, until it is accomplished in the best possible way. The name Salvatore Ferragamo is known all over the world, especially thanks to its incredible shoes creations that have come right into the history of costume, books, museums and collections. A young boy called Salvatore wanted to make his dream come true … we all know how it ended up …
Finally, as I write this post, there are some good memories in me. One of my first working experiences was with Maison Ferragamo, I remember affectionately Giovanna Ferragamo, Anna Raggioli, Steven and Junichi, all of whom I could learn something.
Good life to everyone!
Beatrice