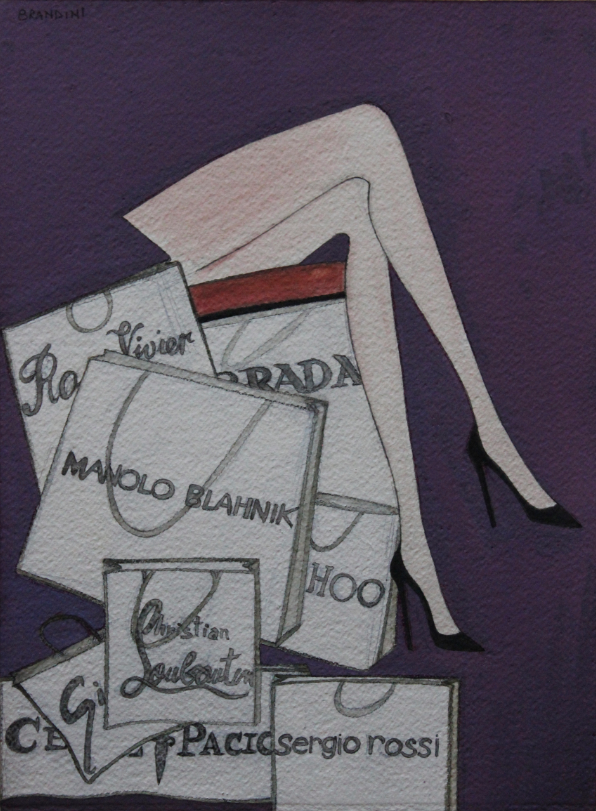 "Carrie try the shoes" of Beatrice Brandini
Maybe everything comes from here
Even more handbags, shoes as well as representing the "object of desire" for excellence, (I mean women), are something more.
In fact make us feel more beautiful and sensual especially when we want to give to our legs a different shape, making our walk more feminine, "winning" many or few inches. They make us feel secure to an interview, a meeting, a business meeting.  Excite  us in front of a window; remind us of our first kiss. The shoes are all this and much more.
Jessica Parker, alias Carrie Bradshaw, in Sex and the City with her beloved Manolo
Every season we are abducted by the creations of the greatest designers in the world, as by magic from every collection they create yet another marvel that we all would like to own.
Even the shoes are recognizable, surely you can not identify with clearly identifiable names (except for rare exceptions ), but they can be divided and recognized for their creativity, uniqueness, preciousness.
The crazy and magnificent creations of René Caovilla; red soles, unique quirk of the beautiful Christian Louboutin; Manolo Blahnik refined creativity; sensuality of Jimmy Choo shoes; and the buckle as unmistakable mark in the shoes of Roger Vivier, Ferragamo, Gucci,  and then the works of art by Sergio Rossi, Casadei and Giuseppe Zanotti design,  brands beloved from the stars around the world; the refined and elegant simplicity of Fratelli Rossetti; the classic precious of Pollini; aggression and sexy feminine of Cesare Paciotti . I must of Prada and Miu Miu, unmistakable at the feet of those who live in fashion.
Manolo Blahnik
Christian Louboutin
Roger Vivier
René Caovilla
Giuseppe Zanotti Design  
Jimmy Choo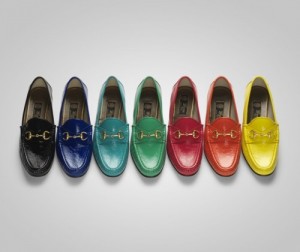 Mocassini con morsetto di Gucci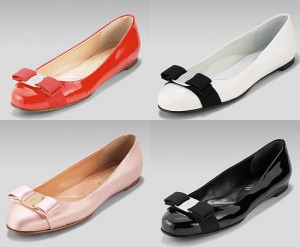 Ballerine con fibbia e fiocco in gros di Ferragamo
The allure of Repetto ballet flats. Born from a need for Brigitte Bardot who used them as a dancer before becoming an actress and international star that everyone knows. Bardot asked Rose Repetto to pack it a comfortable pair of flats for the famous mambo scene in  "And God Created Woman" film. Later it was also worn by Audrey Hepburn in Funny Face, the rest is history.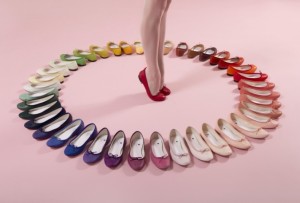 Repetto ballerinas, photos Matthieu de Martignac
The sneaker par excellence, the Converse All Star, simple but unique. Founded as a basketball shoe in the twenties, it has become a must. Present in all the wardrobes of models, bloggers, stars, etc. etc, in short, of all those women who wear them when they want to comfort, perfect to pair with skinny jeans and a simple t-shirt.
Converse All Star
The Hunter rain boots. a classic for rainy days. Kate Moss has worn them at the Glastonbury Music Festival, and certainly gave them (born for hunters and fishermen), a touch more glamor.
Hunter rubber boots, classic, and one in collaboration with Jimmy Choo
The footwear industry in the Italian territory has an immense and valuable historical, as well as skill and hand craftsmanship. Many of the most important names in the world produce their shoes in Italy, making use of master craftsmen that make these shoes artwork. I remember that when I worked for a major sports brand, when they had to produce shoes "civilians", beautiful and destined for a higher distribution channel, the realized here.  Do not forget, but rather strengthen and value this priceless heritage.
Some vintage shoes from my wardrobe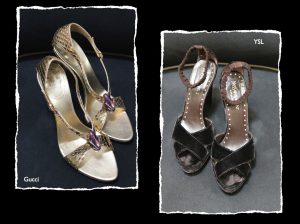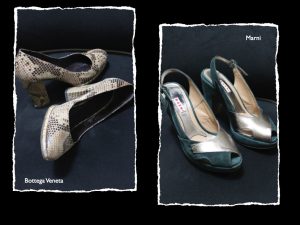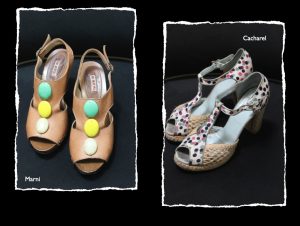 Our feet without the shoes would not be the same.
Good life to all!
Beatrice