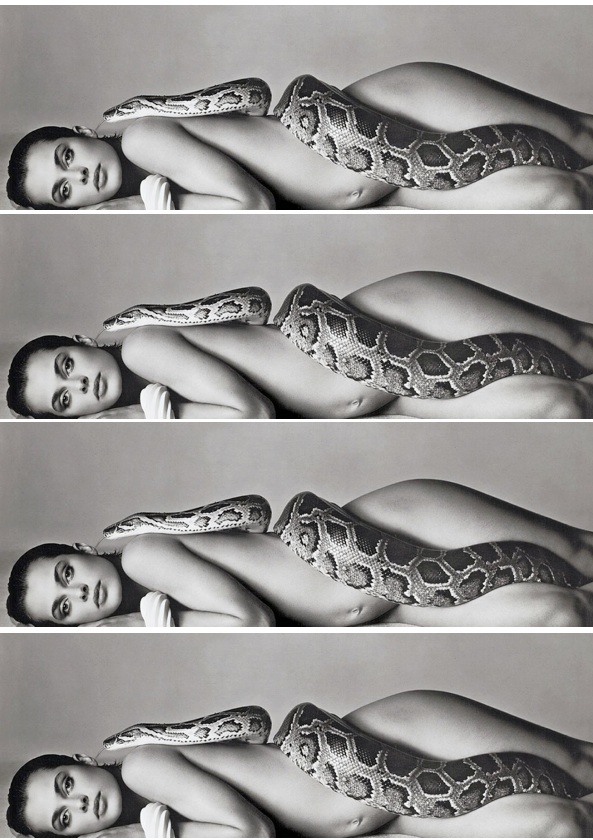 Nastassja Kinski, photo by Richard Avedon, 1981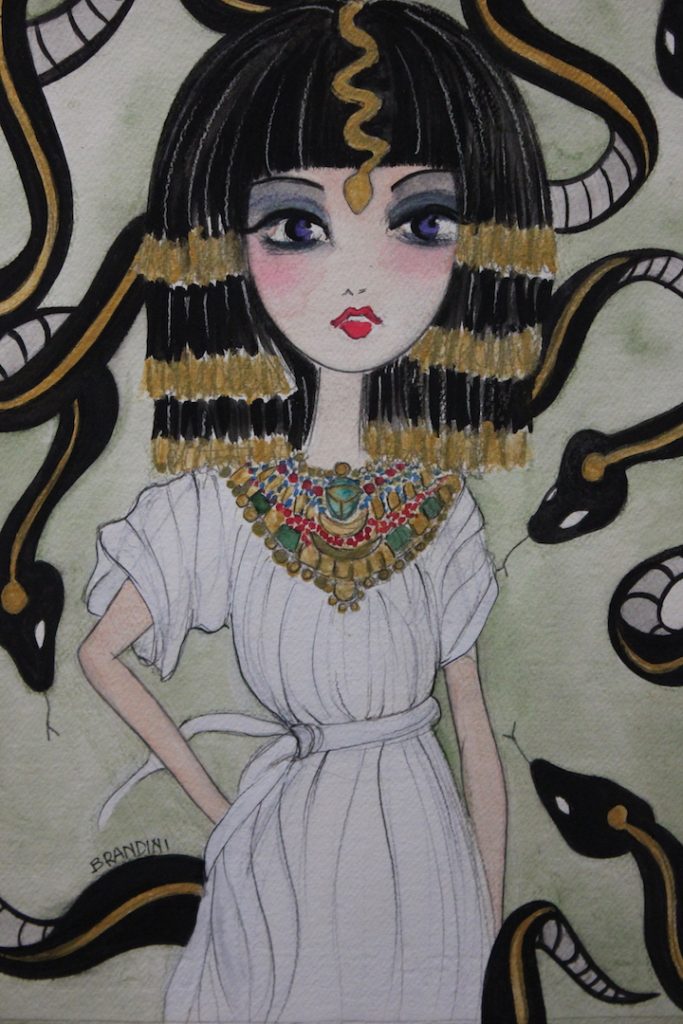 "Cleopatra" by Beatrice Brandini
In the beautiful Palazzo Braschi in Rome (magnificent lounges with refined neoclassical stucco), there is an exhibition promoted by the Superintendence for Cultural Heritage Capitolina, designed and created by Bulgari: "SerpentiForm – Art, Jewellery, Design." Exhibition dedicated to the many creative ways that the serpent has taken in the arts, from antiquity to the present day. I have collected some photos of the exhibition, adding others that I find always very interesting.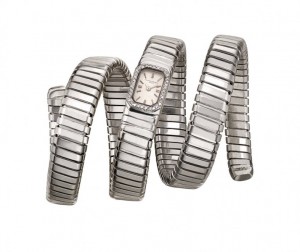 Bulgari bracelet-watch, 1960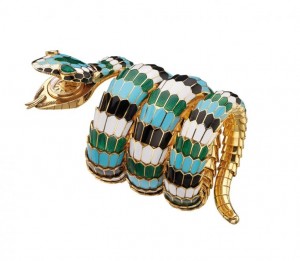 Bulgari bracelet-watch, 1968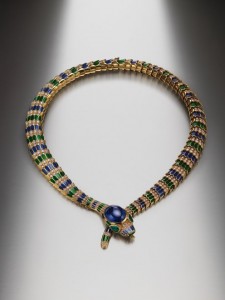 Bulgari collier, 1969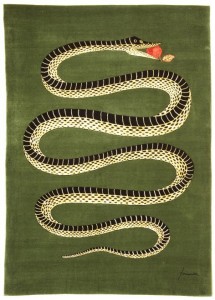 Carpet of Fornasetti "We love the snake"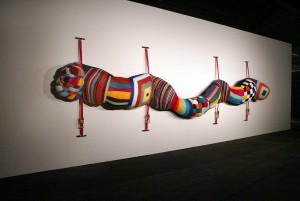 Joana Vasconcelos "Pantelmina#3", 2001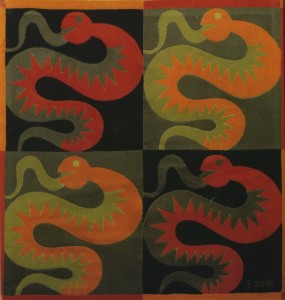 Fortunato Depero "Quattro serpenti", 1925
And in fact, already in ancient Rome that the snakes were the protagonists of jewelry, as well as in Egypt, China and India. Greetings, taking from time to time divine powers, fertility, creation or immortality.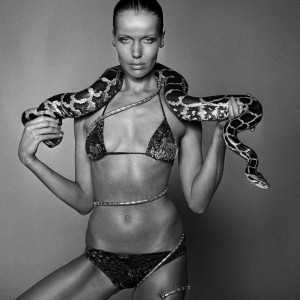 Veruschka photographed by Giampaolo Barbieri, Vogue Italy 1975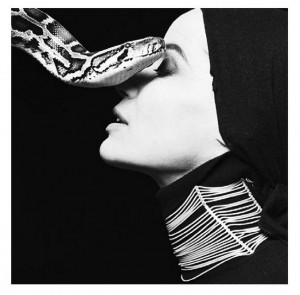 Veruschka photographed by Michael Comte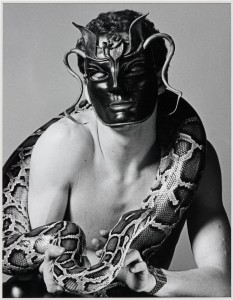 Photo by Robert Mapplethorpe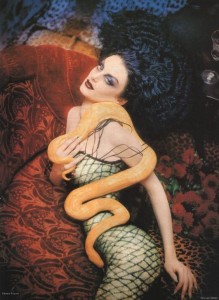 Photo by David La Chapelle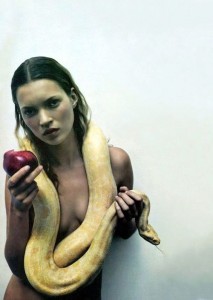 Kate Moss photographed by Mario Sorrenti, 1997
The snake is in our imagination a symbol, a legendary figure who has taken over the centuries many meanings. Symbol of temptation, from Adam and Eve to the Little Prince; the metamorphosis that could be a metaphor for the human (change skin behind a great suffering); of betrayal, with its venom; inevitability, in its life cycle is the eternity and indestructibility of nature, namely that the basic concept, often forgotten, in which nothing is created and nothing is destroyed; sexuality, some tribes still revere him as a symbol of fertility, and is often translated as a phallic symbol …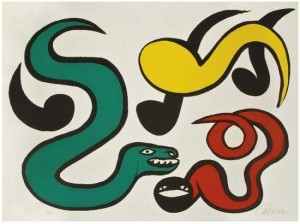 Alexander Calder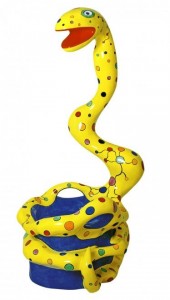 Pouf by Niki the Saint Phalle, 1982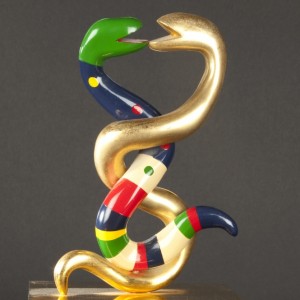 Niki the Saint Phalle sculpture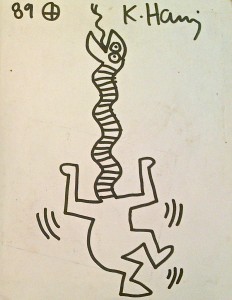 Keith Haring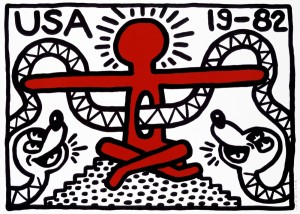 Keith Haring USA 19 – 82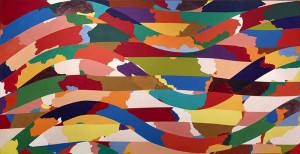 Piero Dorazio "Serpente", 1968
Bulgari has made a sort of talisman, stylistic stamp, iconic characterization of its high jewelry, transforming the snakes into a curved watches-bracelet that, from the forties to the present, have always characterized its collections.
The beautiful collection of Gucci for S / S 2016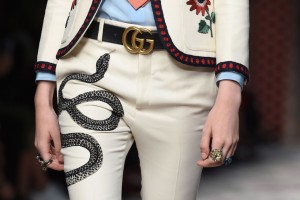 Gucci S/S 2016 collection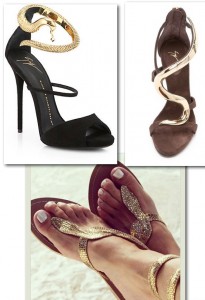 Beautiful Giuseppe Zanotti shoes

Dolce & Gabbana, S/S 2016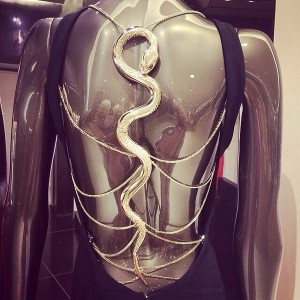 Roberto Cavalli
The exhibition, in addition to presenting those jewels that we all know, we have dreamed at least once in their life, or seen worn by unforgettable women, shows that the snake has inspired the work of great artists, through photography, painting, fashion or design.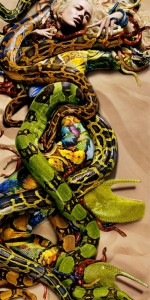 Raquel Zimmermann photographed by Nick Knight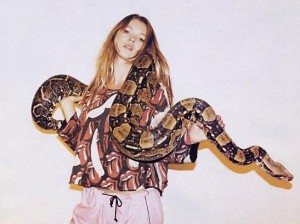 Kate Moss photographed by Juergen Teller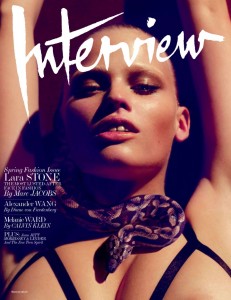 Lara Stone photographed by Mert Alas & Marcus Piggott
The exhibition also highlights the continuing relationship that the snake has always had with fashion, in fact, present many beautiful creations vintage, from theater archives or from movie sets, in which a prominent part is dedicated to the costumes worn by Elizabeth Taylor the 1963 for the film Cleopatra.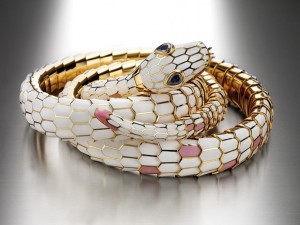 Bulgari Belt, 2010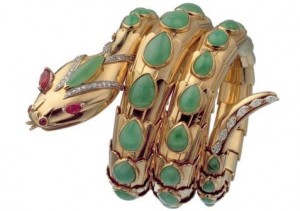 Snake bracelet by Bulgari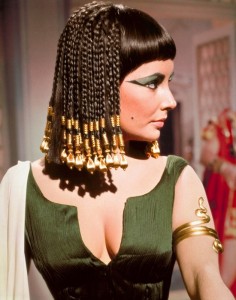 Elizabeth Taylor in the film Cleopatra, 1963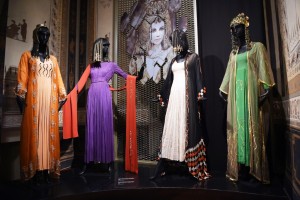 Cleopatra costumes in the exhibition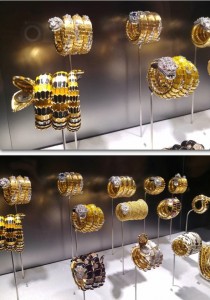 Glimpses of the magnificent Bulgari jewels inspired by the snake
Personally, I am terrified of snakes, but I recognize that it is one of the most beautiful forms and iconography that we can take from nature and make accessories, prints, patterns or magical details.
Great pictures of Guido Mocafico
It's really a beautiful exhibition to see, where art, fashion and magnificent jewelry are based and complement, an inspiration for creative or just for curious people who love beauty.
"Snakes Mood" by Beatrice Brandini
"Snakes Mood" by Beatrice Brandini
Eva by Beatrice Brandini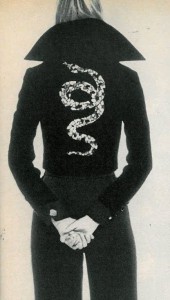 Blouson by Valentino, 1971
Good life to all!
Beatrice