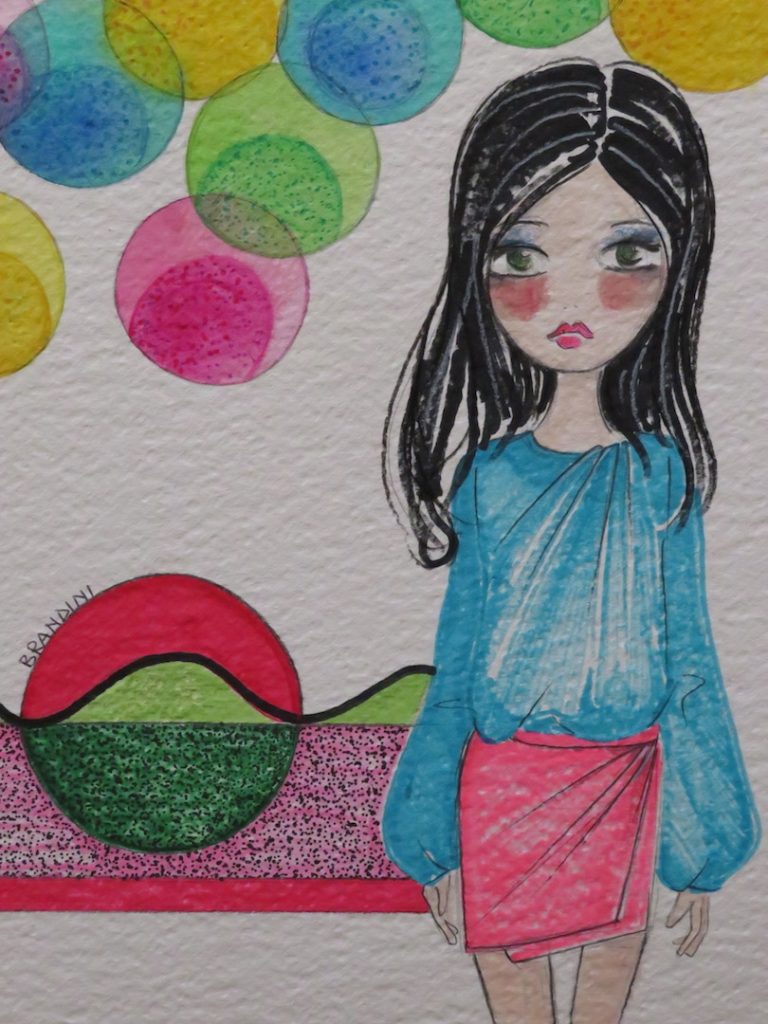 "Beverly" by Beatrice Brandini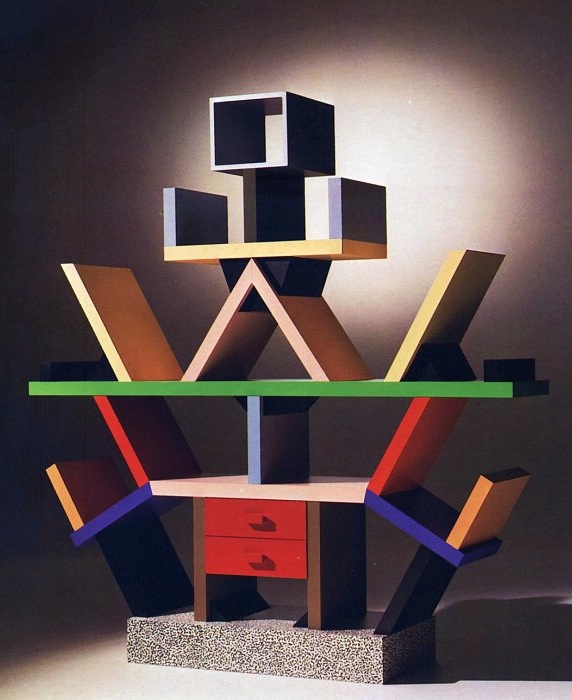 Sottsass Carlton bookcase, 1981 – Memphis     
I love Ettore Sottsass since I was a young student, I remember especially the Memphis group of which he was a founding member (along with Michele de Lucchi), as well as the main "master." In those years, the 80s, in which there not reigned a refined taste (I think the leggings, shoulder pads, the high-waisted jeans …), here are the objects of Memphis was a jolt in the art and planning scene, quite aligned with the trends of the time, hyper colorful, a little 'kitsch, absurd … but absolutely creative and, something that I appreciate in an object or a piece of furniture, something that made life more "light" something you excited … the object more emotional than functional … this was the heart of Memphis ….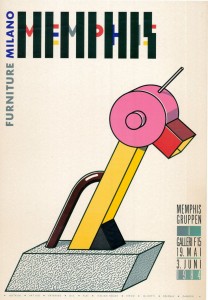 Memphis Banner, 1984 
For me, design is a way of talking about life. It is a way of talking about society, politics, eroticism, food and even design. Finally, it is a way of building, one possible figurative utopia or build a metaphor for life. Of course, for me, design is not limited by the need to give more or less the shape of a product intended to fool an industry more or less sophisticated; so, if you have to teach something about the design, first of all you have to teach something about life and you have to insist also explaining that the technology is a metaphor of life". Ettore Sottsass
Ettore Sottsass was many things, designer, architect, urban planner, photographer and painter; his many passions, his continuous research have approached various artistic currents, such as Rationalism, the Concrete Art Movement (MAC), Spatialism and Pop Art.
Ettore Sottsass: Typewriter "Valentine" for Olivetti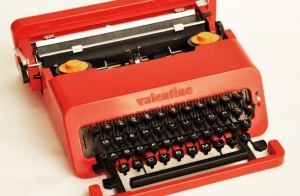 Ettore Sottsass: Typewriter "Valentine" for Olivetti
Ettore Sottsass "Seggiolina room"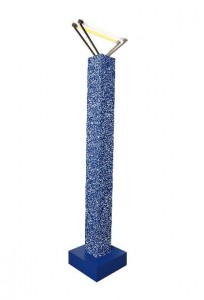 Ettore Sottsass lamp "Retraction"
He graduated in architecture at the Polytechnic of Turin in 1939. In 1947 he opened a design studio in Milan. In 1957 he became art director of Poltronova, the Italian company that has enlisted the greatest architects and designers in the second half of the last century. In 1958 he starts to work for Olivetti where, among the many important and innovative projects, will draw the typewriter for excellence, Valentine. In 1972 he participated in the exhibition of the MoMA in New York "Italy: The New Domestic Landscape". In 1979 the group Alchemy, which is sufficient to cite the "Seggiolina room" and the floor lamp "Intersection", both exhibited at the Design Forum in Linz. In 1981 he founded the Memphis group, from this point on, the furniture will never be the same …. The library "Carlton", totems and half Toyland, "Beverly", "Casablanca" … all projects have become icons of modernity. In the nineties, other projects and exhibitions … including the Venice Biennale.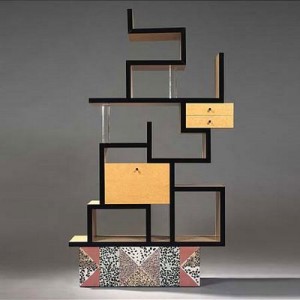 Ettore Sottsass library project for Memphis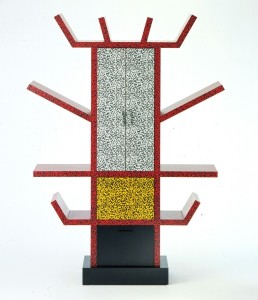 Ettore Sottsass "Casablanca", a project to Memphis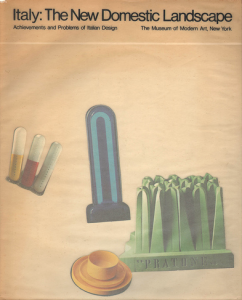 Poster exhibition MoMA in New York, "Italy: The New Domestic Landscape 
Difficult to frame the figure of Sottsass calling using a single expression, only one word …. Ettore Sottsass was a architect, a creative, ethical, humorous, conceptual, utopian … Hans Hollein, to Memphis, once wrote: "Do not there are dividing lines between sculpture, painting, architecture and design: Sottsass has long since surpassed those boundaries".
The ACME House in Maui by Ettore Sottsass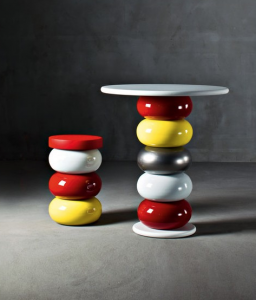 Table Serralunga project Sottsass and Associates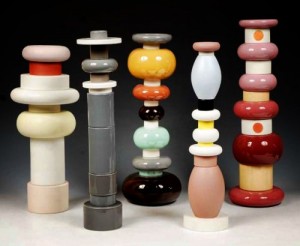 Ettore Sottsass series of ceramic vases "Totem"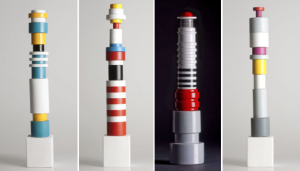 Ettore Sottsass series of ceramic vases "Totem"
I also like to remember an old interview in which he criticized the industrialized system design, travel exponentially increasing the production by, industrially to grow and earn more and more … to the detriment of the individual creativity of the designer and favor of the will, which cynically, especially thanks to the publicity, "builds" desires ….. I like to think that he was a real pure, that his creations had, as a first intention, to make life more beautiful, have fun, to meet the needs and requirements of man. For this reason, when designing electronic equipment for Olivetti, he tried to create products that do not alienate even more so those who used them, but on the contrary, could brighten …
Ettore Sottsass lamp "Tahiti", a project to Memphis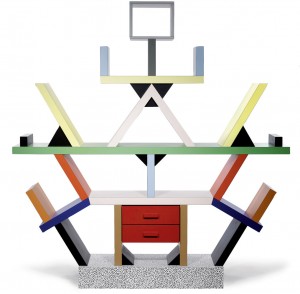 Ettore Sottsass library "Carlton" to Memphis
"For me, obsolescence is the sugar of life." Ettore Sottsass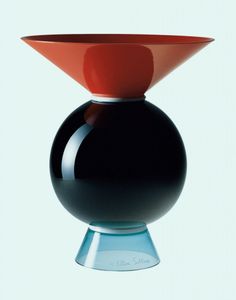 Ettore Sottsass vase for Venini 
Thanks great Ettore Sottsass, how I wanted to meet you, watching you, drinking a good glass of wine with you ….
Shoes Balenciaga inspired by Sottsass / Memphis,  2010 collection …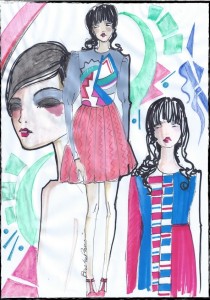 …drawing inspiration from Sottsass by Beatrice Brandini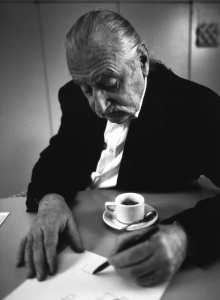 Ettore Sottsass 
Good life to all!
Beatrice