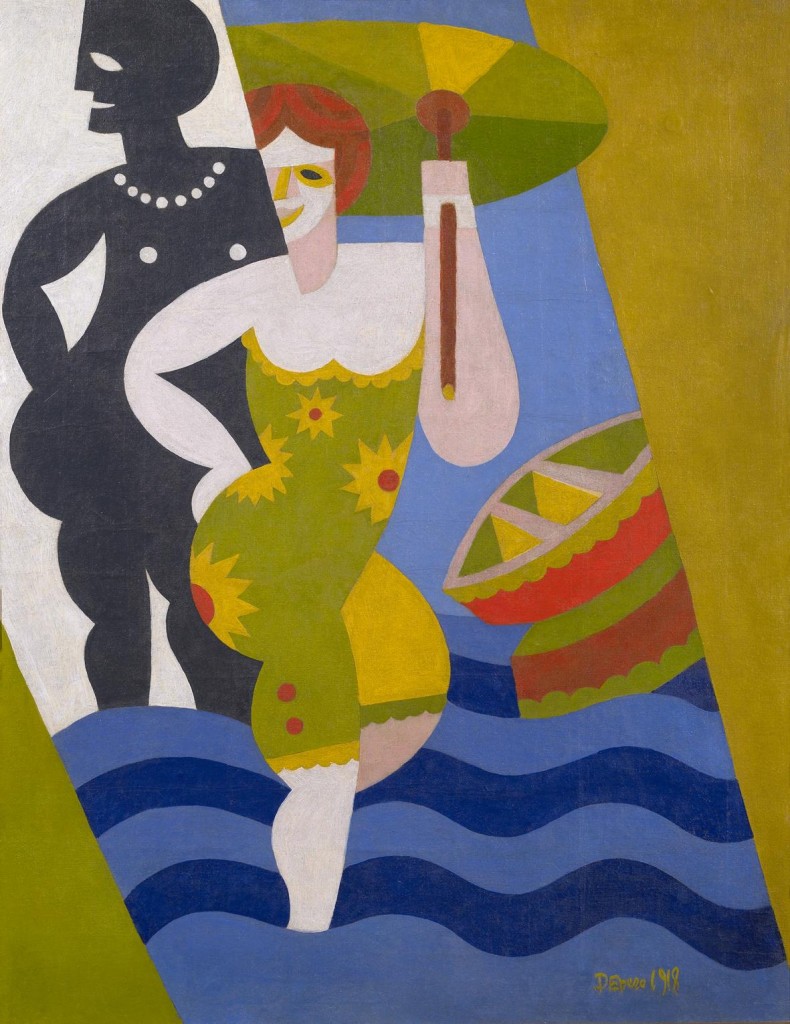 "Bathers" 1918 Fortunato Depero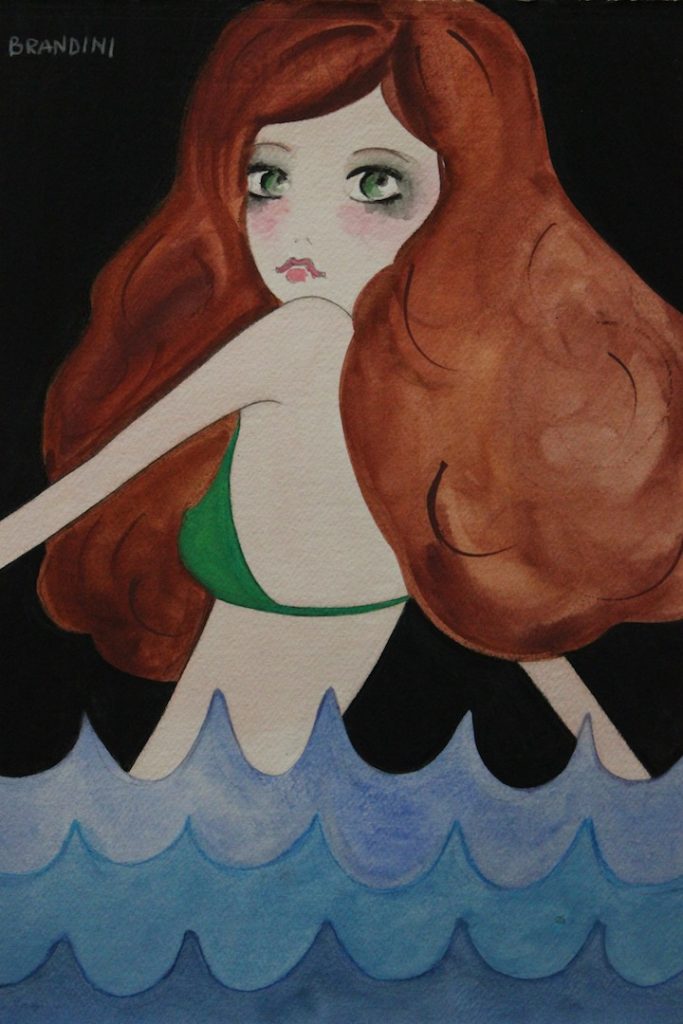 "Venus from the sea" by Beatrice Brandini
I have a great passion for the Beachwear's world, much to push me, back in 1996 until 2001 , to undertake an entrepreneurial activity by creating collections from the sea and accessories, sold in better department stores around the world. It was one of the best times (but also more complicated ), my entire professional life. It is not easy to be an entrepreneur only with your means and your talent, frankly no one is willing to help , by the supplier ( raw materials, façon… ), distribution, investment / banking …. Then when you think you resent made , because for example an inportant magazine as Amica asks one of your style, or one of the best shops in Forte dei Marmi and Milan, it makes you a good order …, in reality but you're just beginning the work. But we must not look back , too bad because I did very interesting things, according to many, and I have a book that bears witness to this great adventure and that, as I always say , I want to lead right into the coffin ….
Those below are some pictures of my past production … the first pictures back almost twenty years ago …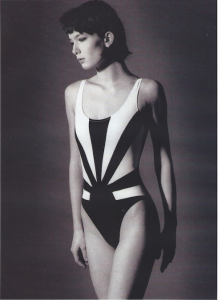 Beatrice Brandini Swimwear collection, 1996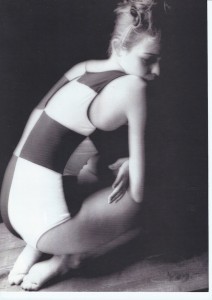 Beatrice Brandini Swimwear collection, 1997
Beatrice Brandini Swimwear collection, 1998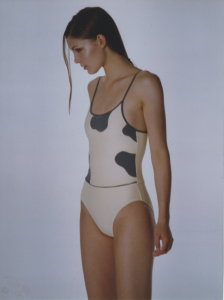 Beatrice Brandini Swimwear collection, 2000
Beatrice Brandini Swimwear collection, 2001
Beatrice Brandini Swimwear collection, 2002
I want to talk about Beach brands, some important, others are more niche, however those I prefer, and those have changed, for my opinion, the beach's world.. that, fortunately, still stand to make a beautiful product.
La Perla, Eres, Laura Urbinati, Tomas Maier … without forgetting Calzedonia that has revolutionized the concept Beach, creating a nice product, fast, good value for money, the first and only low cost of the bath (no specialized as them, not even giants like H & M or Zara).
La Perla, Collection SS 2014 
Italian brand, La Perla,  has always been synonymous with luxury and great craftsmanship in underwear and on beachwear. Recent years have also "improved", becoming more "modern" (very beautiful always, but previously a little too pretentious). The costumes of  La Pearla are the sculptures, jewelery and leggendary. The proposal, however, is very wide, there are also more basic, minimalist collections. Perfect fit, attention to detail, fine fabrics .. The most exclusive sea. Price range high.
Eres Beach Collection PSS 2014 
French brand Eres is highly refined and elegant. Excellent fit, very durable fabrics and colors. A cult classic in the world of bechwear. Price range high.
Laura Urbinati collection SS 2014 
Laura Urbinati is an Italian brand that I love for many years. In the time has always remained true to herself, combining style and attention to detail, the costumes are together conceptual, retro, fine …, all without ever "hype." Price range medium-high.
Tomas Maier Collection Swim 2014 
Tomas Maier Creative Director of Bottega Veneta, has re-launched the brand and making it international by exporting precious craftsmanship in the world (the bags). But few know that also produces its own line of beachwear. It 'a small but valuable collection, in this case I find it interesting for many years, long before he went to Bottega Veneta (Maier then worked for the Beach of Hermès). It 's very beautiful, consisting of a few references but all refined. It is complete with accessories and bathroom accessories. Price range high.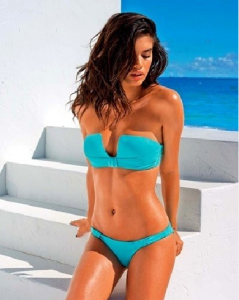 Calzedonia beachwear PE 2014
Finally Calzedonia ….
It differs from the brands just mentioned , certainly for price range , in this case much more affordable , but clearly also to a minor " research " , both from the point of view of raw materials and fit … But the collections are very cute suitable to the girl as the young lady, always in line with the latest fashion trends and more … But then I recognize this brand and its founder, Sandro Veronesi, they have changed the taste of the Italians against the swimsuit, less pretentious, more fresh, youthful, interchangeable, and so on, and created an international brand in the field of intimate ( Intimissimi ) and swiimwear ( Calzedonia ) has no rivals. Proposing collections continuous pace by investing in advertising with testimonials that are the envy of Victoria's Secret, and also in messages often " therapeutic ", valuing women in all their " facets " .
Some of my sketches from past collections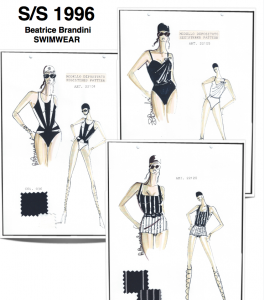 Beatrice Brandini Summer Collection 1996
Beatrice Brandini Summer Collection 1998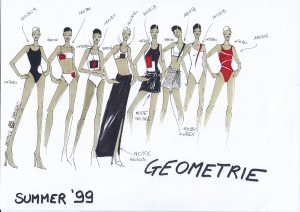 Beatrice Brandini Summer Collection 1999
Finally, some evergreen mood for the bathroom … even just to dream … TO EACH HER STYLE!!
Mood Beatrice Brandini "Exotic Glamour" e "Retrò"
Mood Beatrice Brandini "Hollywood Glamour" e "Vintage"
Mood Beatrice Brandini "Neon & Sport" e "Easy"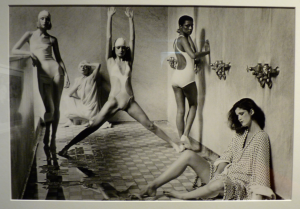 I conclude with what I think is one of the most beautiful photo theme Swim 
Deborah Tuberville, Vogue America 1975
Good life to all!
Beatrice