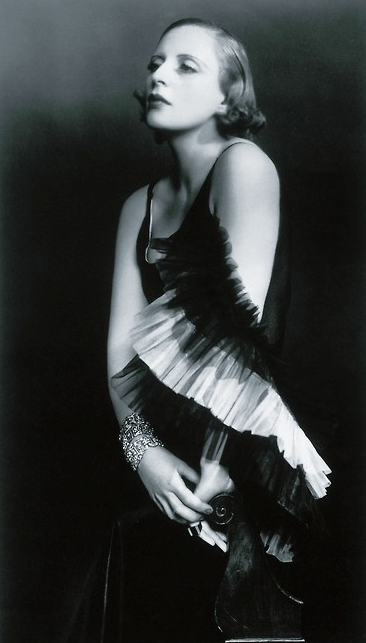 Tamara de Lempicka in a photo of the '30s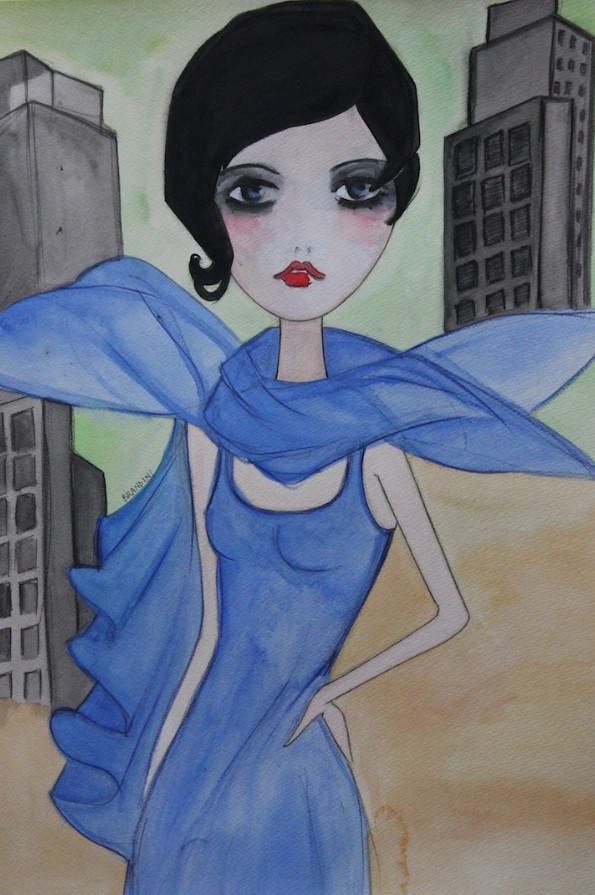 "Dorota" by Beatrice Brandini
"I do not follow fashion, I am fashion" Tamara del Lempicka
Another charismatic female figure, certainly predecessor and emblem of the modern woman is Tamara de Lempicka.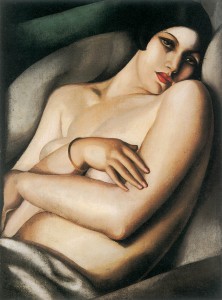 "Rafaela sur fond vert" 1927 A. Schulman collection
I've always tried to " follow " wherever she was exposed because  always been a great admirer. I love the Art Deco and Lempicka , pictorially, is the most famous representative, but having read some biographies on her adventurous life, my curiosity and admiration grew, fantasizing parallel lives …..
Exhibition in Rome at the Complesso Vittoriano, Spring 2011
Many incidents of note, one of all the origin of one of her most famous paintings, the self-portrait of 1932, driving a green Bugatti, which enjoys a scarf fluttering movement to the canvas, and her eyes, languid and decided, hypnotizes the viewer.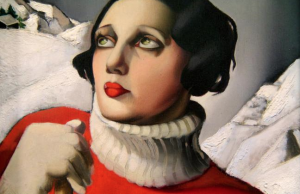 Particular "St. Moritz" 1929 Museum of Fine Arts in Orlèans
It is said that seeing her in the car and admiring her physicality and personality, the director of a German fashion magazine, Die Dame , on holiday on the Côte d'Azur, left an anonymous note in the window of the car and asked to meet her in a luxury hotel. Tamara showed up without fear or hesitation, the woman recognized the painter and asked to take a self-portrait to be able to publish on the  magazine's cover. The artist changed the color of the car (the real one was yellow) angering the director, Tamara replied that the preferred way with malice but also determination, aspects of her personality and of her success.
This episode also important to understand that this artist, despite some notoriety reached, didn't have too many scruples between art high or "low" ( illustration), reinforcing an important genre, the art given to fashion .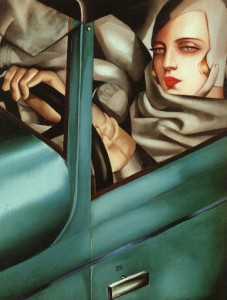 " Autoportrait " 1932 private Collection
Tamara de Lempicka owes her artistic training especially with André Lhote, representative a new Cubism, more stylized,  that we will find in many Tamara's paintings. She also passionate about Ingres, classical painter, who with his sensual and soft nudes influence her art, especially in the plasticity of bodies. Highlights include several trips to Italy, where she visited museums to study the works (among them Pontormo in the Uffizi) and the attendance of some Italian painters including Severini or Tozzi, often to Paris.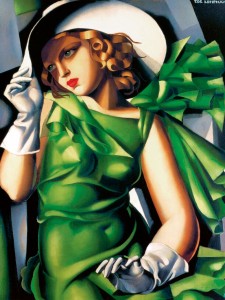 "Jeune fille en vert" 1929 Paris National Museum of Modern Art Centre G. Pompidou
The first personal exhibition is set up in 1925 in Milan, at the Poetry  Studio of the Marquis of Castelbarco. Since this exhibition will reveal her undoubted talent and her incredible artistic talent. However, in my opinion, the most important feature of this artist is, from the outset, unique and very recognizable style. Usually the artists through various stages, experimenting with different techniques and styles, adhering to current artistic /cultural … For Tamara style and sign have been clear from the outset. In fact, if we take a work of twenty years and compare it with a forties / fifties the differences are minimal (except for an interlude of abstract, the result of her stay in America ).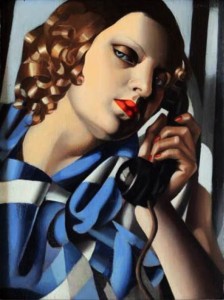 "Le téléphone " 1930 W. Joop collection
Is separated from her first husband and went to live in a house in Paris, which soon becomes hub of Parisian social life, as well as ideal backdrop of her paintings. Then meet the Baron Kuffner, his former lover and collector, with whom she married for the second time. However, from this marriage diminish its exhibitions and critics will be less attentive and interested in her work. Tamara de Lempicka becomes now better known as Baroness Kuffner.
The American exile, at the outbreak of World War II, makes her characters become more proud, almost arrogant, and the background of her paintings are characterized by uprightness buildings (New York rather than Los Angeles).
Her reputation is always great but is more related to her name to his art. In New York are triumphing artists such as Pollock, Rothko, De Kooning, distant aesthetics of Lempicka .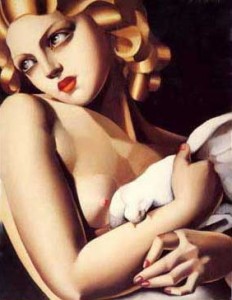 "Femme à la colombe" 1928-30  J. Nicholson collection
I am sorry to see that art, like fashion, often feeds on fresh prey, only to abandon them and replace them without much hesitation. Writing in these months of the incredibly creative characteres, immense talent, often known as their end was much less of their glorious debut. It is not always the case, see Picasso, but sometimes , too often, yes.  I would like that this does not happen anymore, I find it unfair and morally wrong.
Dresses 30s seen by Beatrice Brandini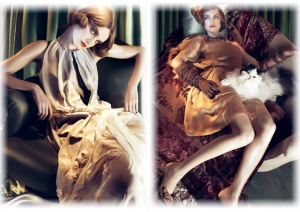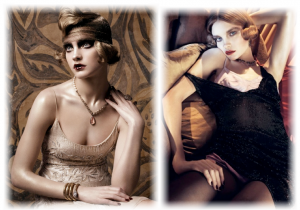 Natalia Vodianova Steven Meisel – Vogue Italy … Inspiration Lempicka
I agree that art, like fashion and like all forms of creativity, need a generational change, new ideas, new promises. But without necessarily having to abandon, or worse, denigrate "old". Designed by Albini, a dress from Schiaparelli, a picture of Lempicka, a song by Sinatra, a film by Antonioni, are timeless values, as well as beautiful " works/objects". Wanting the new at all costs not only does not always reward, from a qualitative point of view, but sometimes it could also mean living together, and draw inspiration from our history and from our past …. why not try?!
Good life to all !
Beatrice