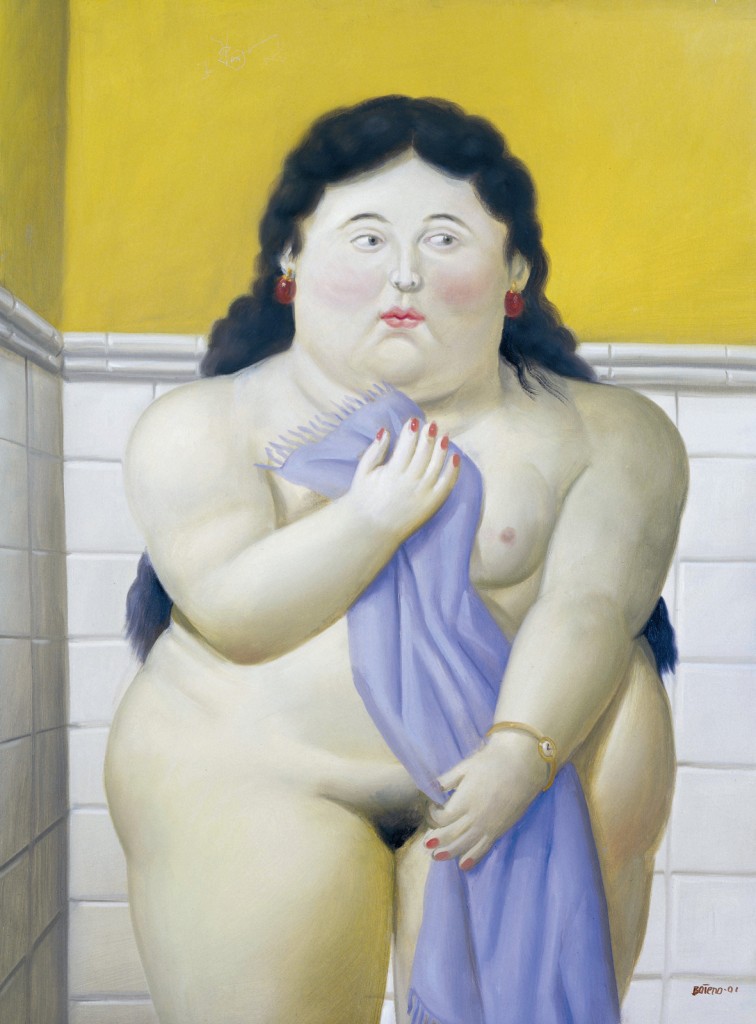 Fernando Botero's "Woman in the bath"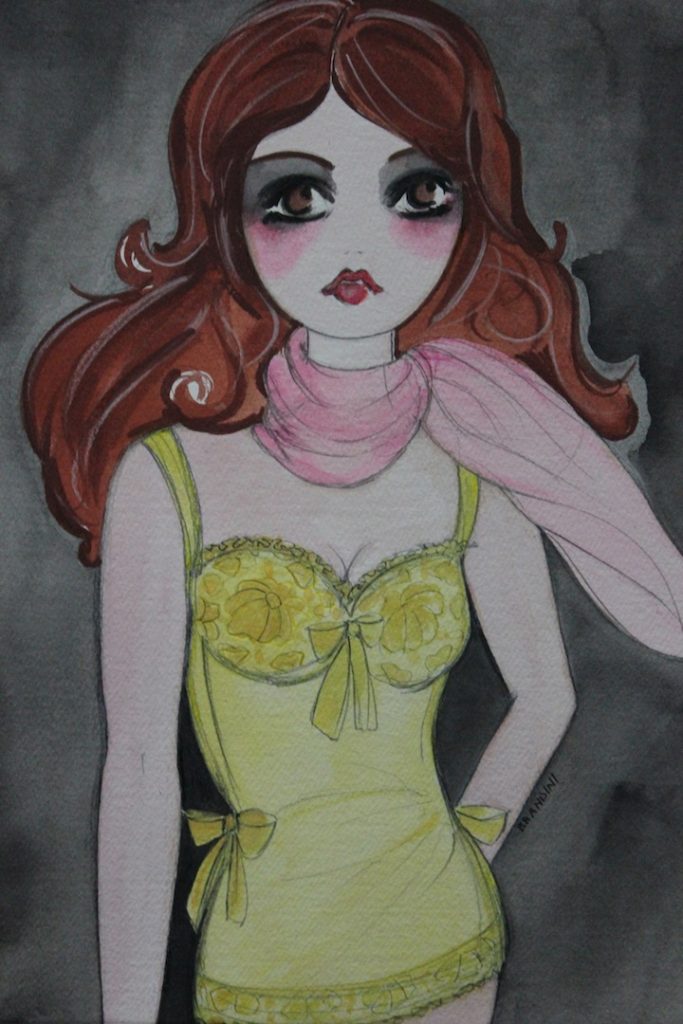 "VALERY" by Beatrice Brandini
… sometimes it is just a flaw to make our fortune … Beatrice
The opportunity to talk about this topic is a news that I was stunned, in a famous Parisian restaurant will settle at the table based on your looks, in a nutshell if you are beautiful you've got the best table in the middle of the room, if you are bad in a more hidden ….
From time immemorial the outward appearance has influenced behavior, determined strong or weak personality, particularly in adolescence, affected your happiness .
Buxom beauties of yesterday and today – Marylin, one of the most beautiful women in the world and Christina Hendricks (MadMan) newsgab.com
But in my small way I want to say STOP! Is not an important nose and above a pound more to make a woman (or a man) more or less fascinating, but they are our flaws that make us unique and special. Our special features are our " stamp ", are part of ourselves , and are often the result of heredity, an element that characterized our mother, or our grandfather. We live in the society based on the exterior and in the concept of a perfect beauty and youthful, but this is a "trick." Surely it is our duty to cure us and please us, first of all to ourselves, but must never become an obsession or a run to perfection.
As a child I was very thin (they called me Olive, from Popeye) and I have suffered a lot. Then I capitalized this physicality during adolescence. But only during the years, when I gained a few pounds, I think I had the greatest appreciation from others. We women are ruthless with ourselves, but it is not perfection that we follow the one that like our partners, often a roundness or softness in addition, are synonymous with femininity . Looking back, would not suffer as I have done as a child. So I would say to all teens to not get hurt, you do not suffer for your physical appearance or the cruelty of some fool who decries. Be yourself, feed your culture and your personality. Become UNIQUE.
      Fernando Botero "Monna Lisa"                                     Sculpture by Niki de Saint Phalle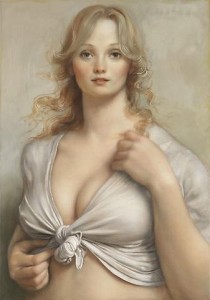 John Currin "Big Hands"
I think the art of Botero, Niki de Saint Phalle , promoters of a round beauty. Or the modern John Currin, my favorite artist, which is almost disturbing women with all their faults. We should take a cue from art where there is no single standard of beauty, a single code aesthetic.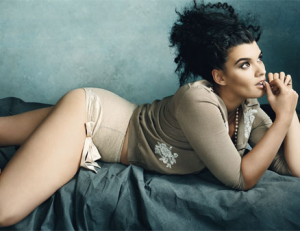 Crystal Renn for Glamour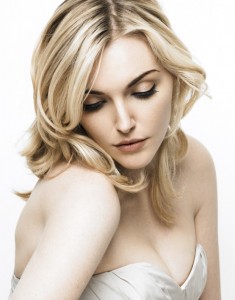 Sophie Dahl photo Ryan Michael Kelly
Some time the fashion world promotes an ideal of beauty misleading, but I also understand that a dress on the catwalk or in photos can be worn only by a model with a 40/42 size (anyway size 38 should be banned!). In reality they are very young women, if we imagine real women, women who have children or who have exceeded the threshold of thirty, I believe that they can not compete with that ideal, and above all would not be possible.
I have attached some photos that show how you can be stylish and even sexy with some roundness;  and if the temple of luxury and perfection, such as Vogue, has devoted some time ago (2011) a cover and a shooting  to real beauties, titled " Real Women ", we should brighten up and understand that everything is often a mental status.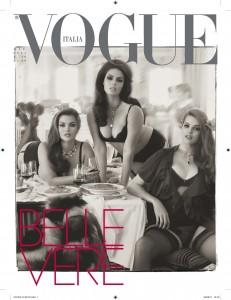 Cover Vogue Italia, photo Steven Meisel
Vogue Italia, photo di Steven Meisel
Remember that not only has the outward appearance, but especially your brain, and that the best is yet to come.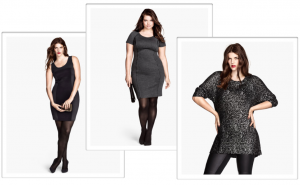 Proposals H&M, label L-3XL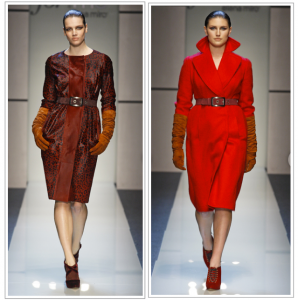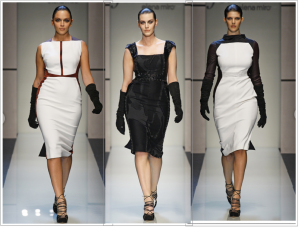 Proposals Elena Mirò A/I 2013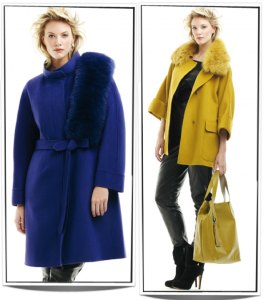 Proposals Marina Rinaldi A/I 2014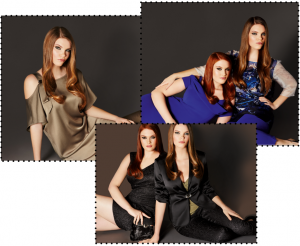 Proposals Persona A/I 2014
Tower of Pisa
Furthermore, "the beauty of our flaws" can also be applied to all "things". If you think about it some of them have become famous thanks to some imperfections. I do just one example, the Tower of Pisa, with its own gradient due to a "defect" is one of the most famous monuments in the world, so beautiful and unique that should the case (and luck) its uniqueness (is located right in the Square of Miracles, a place…, a fate!).
So let's also remember, that sometimes it is just a flaw to make our fortune …
Good life to all!
Beatrice